SPANISH CHICKEN CASSEROLE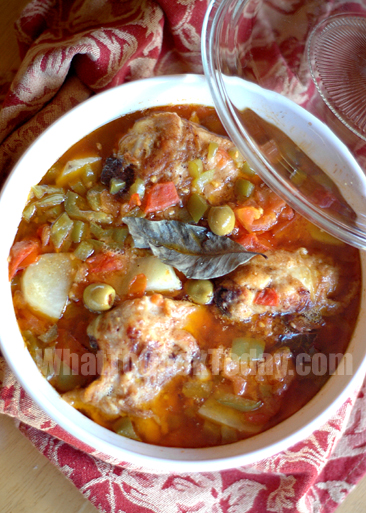 I always like casserole dishes. They are convenient. You throw everything in the casserole dish and you have a complete meal..pretty much!
This Spanish Chicken Casserole recipe is from the 1000 Classic Recipes from Around the World, Edited by Jo-Anne Cox and Elizabeth Towers. The bay leaf and the wine really kicked this casserole dish up a notch.
SPANISH CHICKEN CASSEROLE (4 servings)
1/4 cup all-purpose flour
1 tsp salt
Dash of pepper
1 Tbsp paprika powder
4 chicken portions
3 Tbsp olive oil
1 large onion (chopped)
2 garlic cloves (crushed)
6 tomatoes (chopped) or 15 oz can chopped tomatoes
1 green bell pepper (cored, seeded and chopped)
2/3 cup Spanish red wine
1 1/4 cups chicken stock
3 medium potatoes (peeled and quartered)
12 pitted black olives of stuffed Spanish olives (which were what I used)
1 bay leaf
COOKING METHOD:
1. Put the all purpose flour, salt, pepper, and paprika into a large ziplock bag
2. Rinse the chicken and pat dry with paper towels. Put them into the bag and shake to coat in the seasoned flour
3. Heat the oil in a large flameproof casserole dish or dutch oven. Add the chicken portions and cook over a medium-high heat for 5-8 minutes until brown on each side. Life out of the casserole with perforated spoon and set aside
4. Add the onion and garlic to the casserole and cook for a few minutes until brown. Add the tomatoes and bell pepper and cook for 2-3 minutes
5. Return the chicken to the casserole. Add the wine, stock and potatoes, and then the olives and bay leaf. Cover and bake in a preheated over at 375 F for 1 hour until the chicken is tender
6. Check the seasoning, adding more salt and pepper if necessary. Serve the chicken casserole hot with chunks of crusty bread or with rice
MORE DELICIOUS RECIPES HERE: