STIR-FRIED CHINESE VEGETABLE/ CHOY SUM
Choy sum or often called chai sim in Hokkian language or chai xin (literally means "vegetable heart") is a very common vegetables cooked in Southeast Asians' kitchen. This vegetable is almost similar to bok choy, but the stems are much thinner and greener. I like stir frying choy sum on its own and also uses it with noodles stir fry.
This is another easy vegetable recipe and needless to say, my girl's favorite as well. I don't remember me liking to eat vegetables when I was younger, but she just amazes me. Good girl!

STIR-FRIED CHINESE VEGETABLE/ CHOY SUM (2 servings)
What you will need:
½ lb (200 g) choy sum
2 cloves garlic (finely minced)
Salt to taste
1 tsp shaoxing wine
¼ cup of chicken stock
1 Tbsp corn starch mixed with 1 Tbsp of water
2 Tbsp canola oil
Instructions:
Wash the vegetables thoroughly and discard the water
Preheat a wok and add the oil. Add in the garlic and saute very briefly until fragrant, add in the vegetables and continue to stir. Season with salt, wine and chicken stock. Stir to mix. Add in the corn starch mixture and continue to stir until the sauce thickens
Serve immediately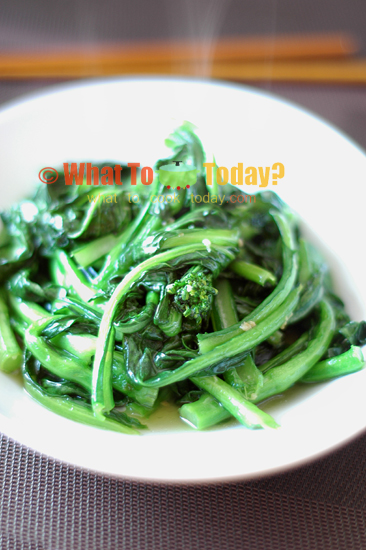 MORE DELICIOUS RECIPES HERE: