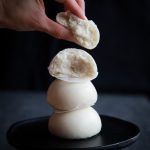 Soft Fluffy Chinese Steamed Buns Recipe (Mantou)
Learn how to make soft fluffy Chinese Steamed Buns. All the tips you need to know to make very smooth soft steamed buns with this recipe.
Print Recipe
300

gr

cake flour

About 3 cups, plus more for dusting. See note 2

4

gr

Instant yeast

About 1 1/4 tsp, see note 1

3

tsp

sugar

1

Tbsp

cooking oil

1/4

tsp

salt

optional

Start with 150 ml (about 1/2 cup) milk or water (room temperature)

plus more to dab the buns later
Place the flour, instant yeast, sugar, and cooking oil in a mixing bowl. If you are using a stand mixer, use a dough hook attachment. Gradually add in milk or water. You may need more than 150 ml or not. Add more teaspoon by teaspoon until the dough comes together and continue to knead for 5 minutes. If you are kneading by hands, about 10 minutes until the dough is no longer sticky and smooth. Then add in the salt and continue to knead until the dough is smooth again
Shaping into ultra smooth round buns:
Lightly dust your work surface with cake flour. Not too much. If you use a silicon pastry mat, you may not even need to dust with flour. Divide the dough into 12 equal portions. Keeping the dough covered and work with one dough at a time

Roll the dough into a long strip

Fold it like this

Roll it into a long strip again and try to push out any air or bubbles if any. Repeat this process 2 more times

Roughly roll it into a ball and then flatten with your palm into a circle

Tuck the edge into the middle with your finger and then press with the palm of your hand and continue with this tuck and press motion until you go around all the edge about 2 rounds at least. Please refer to my short video to make more sense

Then roll the dough into a smooth round ball in between the palm of your hand or as I did in the video. REALLY make sure the dough is smooth. If you going to fill the buns with filling, flatten the dough with your palm and then use a rolling pin to roll it out to form a circle about 4-5 inches, with a slightly thicker middle part. This is to support the weight of the filling. Don't roll the dough too thin. If you roll the dough too thin, the filling might make the steamed buns "wrinkle" later when you steam then gather the sides to enclose the bun and pinch to seal. Flip the bun so the seam side is down now

Cup the dough with both palms and move the dough in a circular motion to shape it taller. This part is important so your steamed buns come out tall instead of spreading to the side after steaming

Place on a piece of parchment paper. Lightly dab the surface of the bun with some milk using your finger to smooth the surface. Loosely cover with a saran wrapper or clean kitchen towel to prevent drying. Work with another dough and do the same

Let the dough rise at room temperature. If it's winter where you are, you can use your oven "bread proof" function to let them proof in there, or simply turn on your oven to lowest temperature and then turn off and after 15 minutes, place the shaped buns in there to let them proof. They won't necessarily double in size, but at least puff up to about 50% of original size. This may take about 15 mins at warm temperature. Do not overproof your dough
Steaming:
Most likely your steamer won't be able to accommodate steaming all buns at one go. You may need to steam in 2-3 batches, which means, the rest of the batches will sit longer and continue to proof while waiting for the steamer. Not good for the buns! Here's what you can do: Make sure the cover them with plastic wrap and then place them in the refrigerator to slow down the yeast activity or halt it all together until they are ready to be steamed

Bring the water in your steamer to a boil. Wrap the lid of your steamer with a kitchen towel to prevent moisture dripping back on the steamed buns as this will create "burn" spots

LOWER THE HEAT TO LOW (Yes, I type this in caps so you don't miss it!). Place the buns in there, leaving about 1-inch space in between and steamed on LOW heat for 8 minutes for medium buns like this

After 8 minutes, turn off the heat. DO NOT OPEN THE LID of the steamer. Let the buns sit there for 3 minutes like this. The buns will not sink or wrinkle due to the sudden change in temperature
Storing:
If you make extra and plan to store them, place them on a baking sheet, not touching each other, and then put the entire tray inside the freezer for about 1 hour. They will harden, but not completely frozen yet. Transfer to a freezer bag and they will not stick to each other anymore. Try not to keep for more than 1 month
You can use active dry yeast, but make sure to rehydrate the yeast in water or milk with 1 tsp of sugar. It will dissolves and be all foamy, about 10 minutes. If it's not, your yeast is not longer good. You can add the rest of the sugar into the dough later
You can also use 255 gr all-purpose flour (about 2 1/2 cups) + 45 gr (3/8 cups) cornstarch (or Chinese wheat starch (not wheat flour)) if you don't have cake flour. The texture is not really the same. Both are soft, but using cake flour has an even softer cake-like texture, which I like.
Serving:
1
piece (about 45 gr)
|
Calories:
96
kcal
|
Carbohydrates:
16
g
|
Protein:
1
g
|
Fat:
2
g