You may hear people who have traveled to or tasted Burmese food said that Burmese cuisine is somewhat a hybrid of Indian, Chinese and Thai.
If I may put it this way, Ametha pudeena samosa or beef and mint samosa is one of the examples of the Indian-inspired dishes.
The samosa is filled with ground beef that is cooked and flavored with cumin, coriander seeds, onion, garlic and mint. I found this samosa very delicious and flavorful.
The only "complexity" (if I may say so), is in wrapping the samosa into triangle shape. But again, I didn't find it awfully complex either. I did it, so you can too 😉
The tamarind sauce is really a wonderful complement to this beef and mint samosa. This will be a great appetizer dish. Recipe is adopted from The Food of Burma.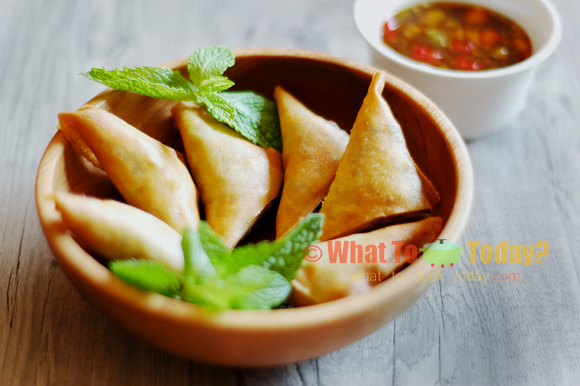 I highly encourage to weigh ingredients with a digital kitchen scale instead of using measuring cups as they are not very accurate especially when it comes to recipe that requires precision.
GRAMS TO CUPS CONVERSION
INGREDIENTS
1 1/2

tsp

cumin seeds

1

tsp

coriander seeds

1/2

tsp

black peppercorns

9

oz

(250 g) minced beef

4

cloves

garlic

-

, finely chopped

1/2

inch

-ginger

-

, finely chopped

1 1/2

Tbsp

canola oil

2

cups

finely chopped onions

1/2

cup

chopped mint leaves

1 1/2

tsp

salt

8-10

spring roll wrappers

-

, cut into 2 1/2 x 8 inches (6.5 x 20 cm) strips

1

cup

peanut oil for deep-frying
Tamarind sauce:
2

bulbs of garlic

-

, finely chopped

2

Tbsp

tamarind paste

1

tsp

grated fresh ginger

1

Tbsp

honey

1

Tbsp

soy sauce

1

tsp

fish sauce

4-5

bird's eye chili

-

(seeded if you like and chopped)
INSTRUCTIONS
Heat oil in a deep small pan and deep-fry until golden brown. Place on paper towel to drain extra oil. Place on serving platter. Serve with tamarind sauce
Preparing tamarind sauce:
Place the tamarind paste in a bowl and add about 2-3 Tbsp of lukewarm water. Mash with fork to extract the tamarind and then strain off to get the tamarind juice. Place the extracted tamarind juice and everything else in a bowl and mix well. Have a taste, it should be sour, sweet and salty