Mom's Quick and Easy Sambal Tomat Ikan (Indonesian Fish Sambal)- Baked whole fish is smothered in delicious and spicy tomato-based sambal sauce. Make sure you cook enough rice for the sambal.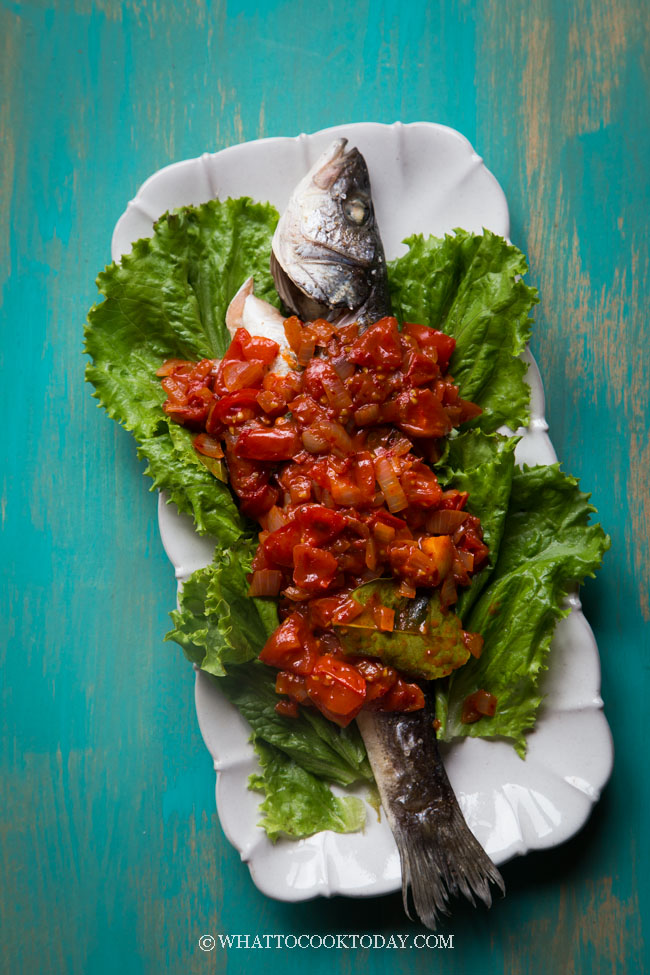 I GREW UP WITH MOM'S SAMBAL TOMAT IKAN
My mom and I are both fish eaters. We love fish a lot. When we refer to fish in Indonesia, usually it's a whole fish. Hardly there are any fish fillets, unless you fillet yourself. Mom will usually deep fry or steam the whole fish and then smothered the fish with this delicious sambal tomat.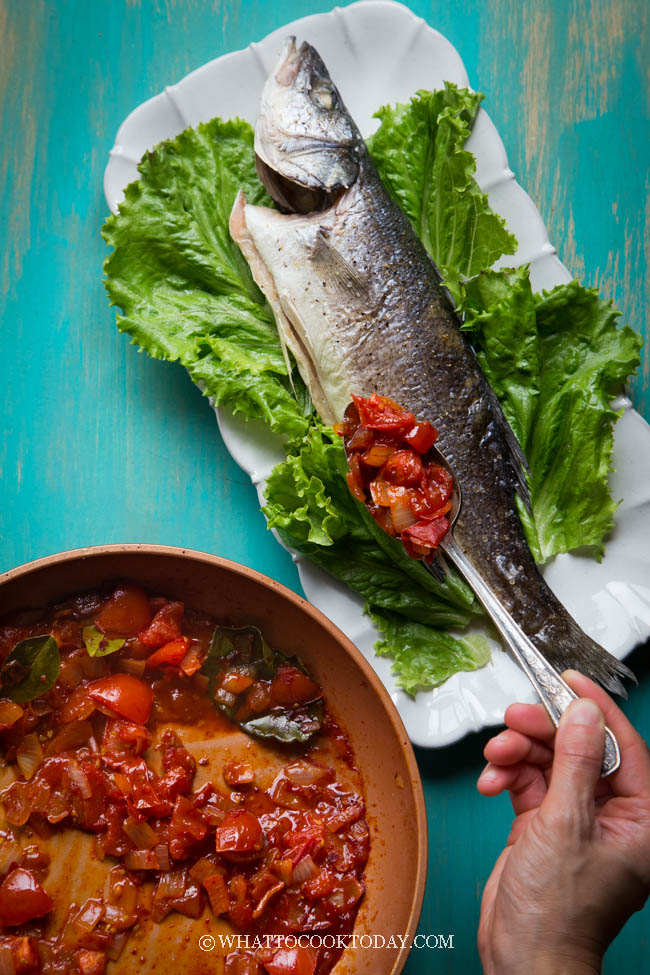 MOM'S QUICK AND EASY SAMBAL TOMAT IKAN
My mom likes to include tomato in her sambal used to make sambal ikan, which is pretty similar to the Javanese version of sambal tomat, but this is more of her version. The sambal ingredients are ground and then cooked with tomatoes. The taste is more at the sweet side than savory. Mine looks more of a "rustic" version. You can definitely grind the tomato along with the chili too for a smoother texture.


WHAT KIND OF FISH TO USE TO MAKE SAMBAL TOMAT IKAN?
In Indonesia, people like to use small-size whole fish like Ikan Selar (Yellowtail scad), ikan tenggiri/tongkol (mackerels), ikan kembung (which is also translated into mackerel in english) to make sambal ikan. I use whole sea bass in this recipe. You can definitely also use white fish fillet such as tilapia, cat fish, swai, just to mention a few, if you don't want to deal with whole fish.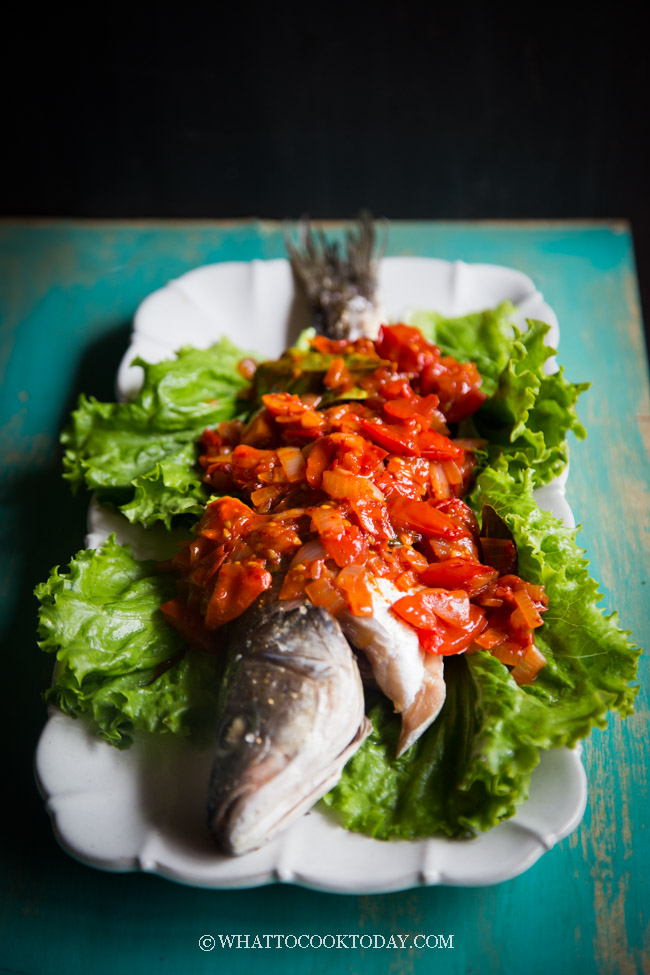 IF YOU CHOOSE TO DEEP FRY THE FISH
If you choose to deep fry the fish, make sure you have enough oil so that the fish can "float" as you fry it or the skin will get stuck to the bottom of the pan and get ripped.
IF YOU CHOOSE TO STEAM THE FISH
Place the fish on a plate and then steam on high heat for about 12 minutes or until cooked through. Discard the liquid after steaming and spoon the sauce over.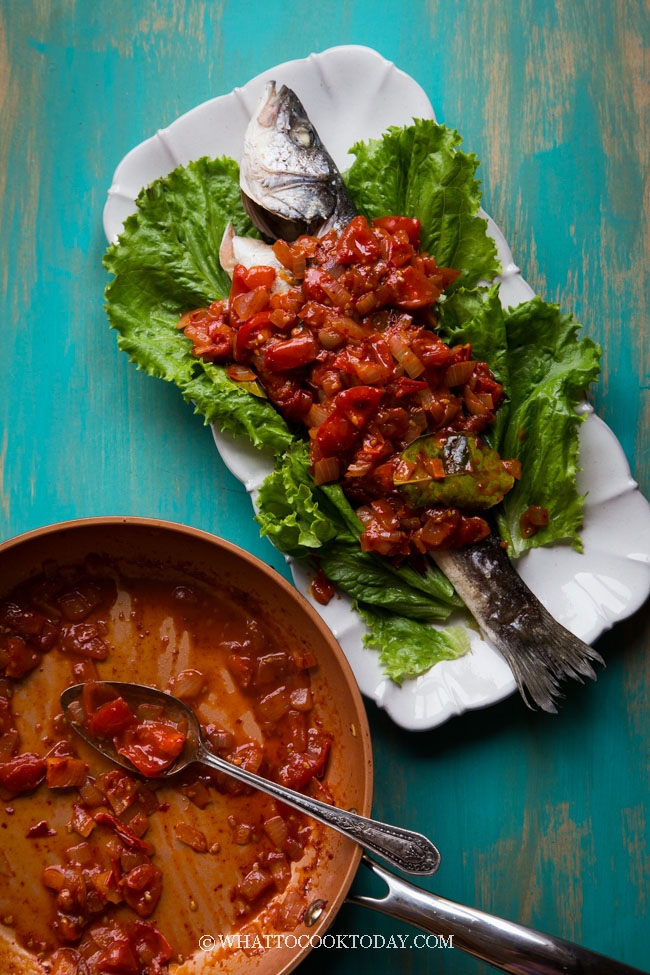 This blog post contains affiliate links. I earn a small commission when you made purchase at no extra cost to you. Learn more.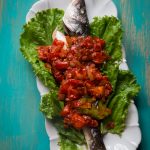 Quick and Easy Sambal Tomat Ikan (Indonesian Fish Sambal)
Ingredients
1 ½

lbs

whole fish

scaled and gutted

2

large

tomatoes

(diced)

1

Tbsp

cooking oil
Ingredients to grind:
125

gr

Cayenne peppers

3

-4 Thai chili

more if want it spicier

5

shallots

(peeled)

2

cloves

garlic
Seasonings:
1

Tbsp

coconut sugar

or more to taste, you can use brown sugar

½

tsp

salt

or more to taste
Instructions
Bake the fish:
Preheat oven to 400 F. Line your baking sheet with parchment paper. Pat the fish dry with an absorbent paper towel. Rub the body of the fish with about 1 tsp of cooking oil on both sides. Season with a small pinch of salt and pepper, this is optional if you don't want to

Place the baking sheet in the oven, 3rd rack from the top and bake for about 20 minutes or until the fish is cooked through. The flesh will flake easily if it's cooked through, if not, cook a bit longer
While the fish is baking, prepare the sambal:
Place the ingredients to grind in a food processor and process into a fine or rough paste, it's up to you

In a medium-size skillet, preheat 1 Tbsp of oil. Add in the ground chili mixture and aromatics for 1 minute. Add tomatoes and seasonings and continue to saute until the sambal turns slightly darker in color (the sugar will caramelize and darken the sambal) and the tomatoes are soft and mushy and the sauce is slightly thickened as the water evaporates. Have a taste. The sambal should taste more at a sweet side and a bit salty. Adjust by adding more sugar to your liking
Serving:
Place the cooked fish in a serving platter and pour the sambal over it. Serve immediately