Easy 10-Minute Kaya Jam (Coconut Jam)- Making a kaya / srikaya jam used to be a lot of hassle with all the hours of stirring, but not with this recipe and you still get a smooth, rich, delicious kaya jam.
MY OBSESSION WITH KAYA STARTS IN EARLY CHILDHOOD
I remember the image of this two little girls anxiously waiting to taste the kaya cooking inside a double-boiler. The lovely lady would grab two spoons and handed a big spoonful of the jam to each of the girl. The glow and the delight on their faces!! Those little girls are my sister and I and the lovely lady was my late aunt. She made the best kaya, or what we call it srikaya in Indonesia. Named as such because of its rich (kaya) and creamy nature.
MAKING KAYA IS NOT A QUICK BUSINESS (IF YOU DO IT THE TRADITIONAL WAY!)
Kaya is my favorite jam EVER (repeat: EVER!). I never really appreciated it until after I'm far away from home and the only way to get a hold of kaya was to get a store-bought one, which is never the same compared to the home-made one. You look at the ingredients list and immediately you got turned off. But, making a kaya means A LOT OF STIRRING! and for hours! Mom often says "if you stop stirring, then you'll end up with scrambled eggs" and I she wasn't exaggerating when she said that. That's the traditional way! UNTIL…I discovered this 10-minute kaya recipe from KT. I've made it twice since I discovered it a few days ago.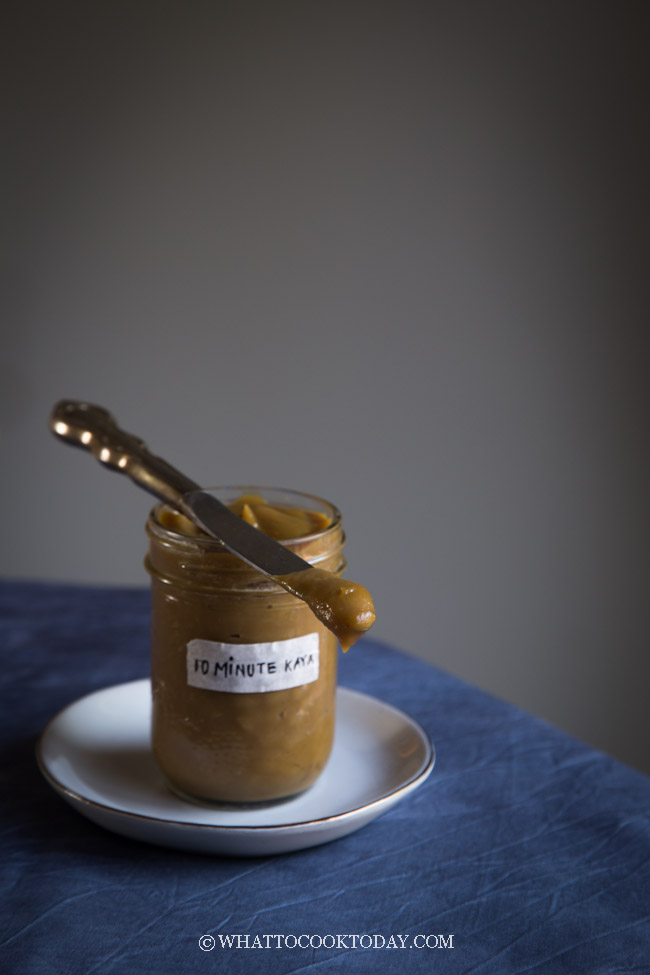 WHY 10-MINUTE KAYA RECIPE MUST BE IN YOUR RECIPE COLLECTION
If you are kaya aficionado like I am, then you should make your own kaya using this recipe. Like for real! I was a bit skeptical at first, but I've made it twice and both times they come out excellent. Smooth, creamy, and tasted just like kaya should be! And you are spared from standing next to your stove for the next one hour!
WHAT MAKES THIS 10-MINUTE KAYA RECIPE WORKS
How traditional kaya is made: Traditional kaya is made with coconut cream, sugar, and whole eggs. My mom said to me that I need to stir the eggs and sugar by hands without any heat until the sugar melted. She said it may take about 1 hour. Mom, I love you, but I haven't made kaya for so long because of that reason! Then the whole mixture of coconut, sugar, and beaten eggs need to be strained and cook in double boiler. You can't walk away once you turn on that heat. I gotta continue to stir until the mixture started to thicken into smooth custard consistency and no longer runny, close to one hour!
Now, you will be curious why this kaya recipe can be done in 10 minutes. Here are the reasons explained:
1. Use only egg yolks instead of whole eggs
Egg whites need to be cooked at a very low temperature or it will turn lumpy, so that's why traditionally it was stirred over low heat for so long and water needs to evaporate to achieve that smooth thick consistency
2. Use coconut sugar/ palm sugar
Some traditional recipes require caramelizing the sugar to achieve that golden brown. Replacing some of the regular white sugar with coconut sugar/palm sugar is such a brilliant idea. It gives that exact same taste and pleasant aroma to the kaya
3. Use coconut cream
I don't have access to freshly squeeze coconut milk/cream here in the U.S., at least not where I am. So I use canned coconut cream, which is thicker than regular coconut milk.

DISCLOSURE: This post contains affiliate links, which support this site at no extra cost to you. Learn more.
TIPS FOR HOW TO MAKE 10-MINUTE KAYA SUCCESSFULLY
1. Use coconut cream
Do not use coconut milk as this is more diluted and you won't be able to make this kaya in 10 minutes for sure!
IMPORTANT TIP: Do not shake the can before opening the coconut cream.
The top is usually cream and the bottom usually has some water. I scoop all the cream out from the can and trying not to scoop out any of the water. The less water you have, the better chance you can get this done in 10 minutes. I like to use this
brand
for coconut cream. You can use Thai brand like Aroy-D or Chaokoh as well. I've used those before too.
2. Use palm sugar or coconut sugar
This will save one step from having to caramelize sugar (I don't like to caramelize sugar!). Palm sugar or coconut sugar is a perfect addition to achieve that golden brown and add a nice aroma to the kaya
3. Separating egg yolks from the white
Make sure you separate the egg yolks from the white very carefully. Leaving as little trace of egg whites as possible when separating. If there is a trace of egg whites, you can run the egg yolks through the sieve. This is to ensure you don't get any lumps in the kaya. Otherwise, beat the yolks until smooth. Just using regular fork is fine. Run it through the sieve if you want to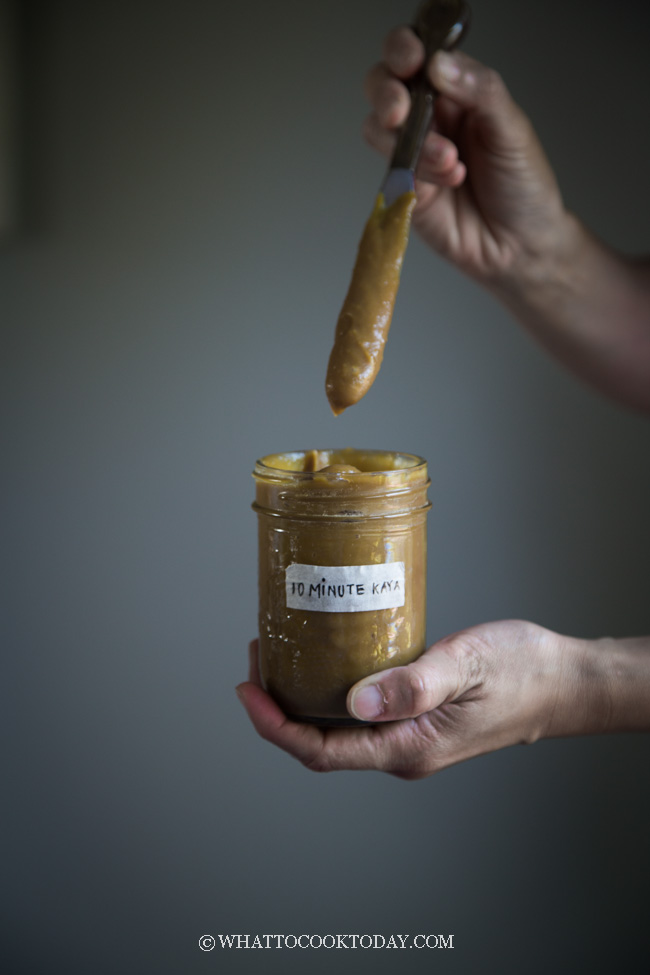 So, please ask me again if I will ever make kaya the traditional way again or not! The answer is HELL NO! No way! This 10-minute kaya recipe is the only recipe I ever need now! Thank you so much, KT for this incredibly easy 10-minute kaya recipe! Such a life saver!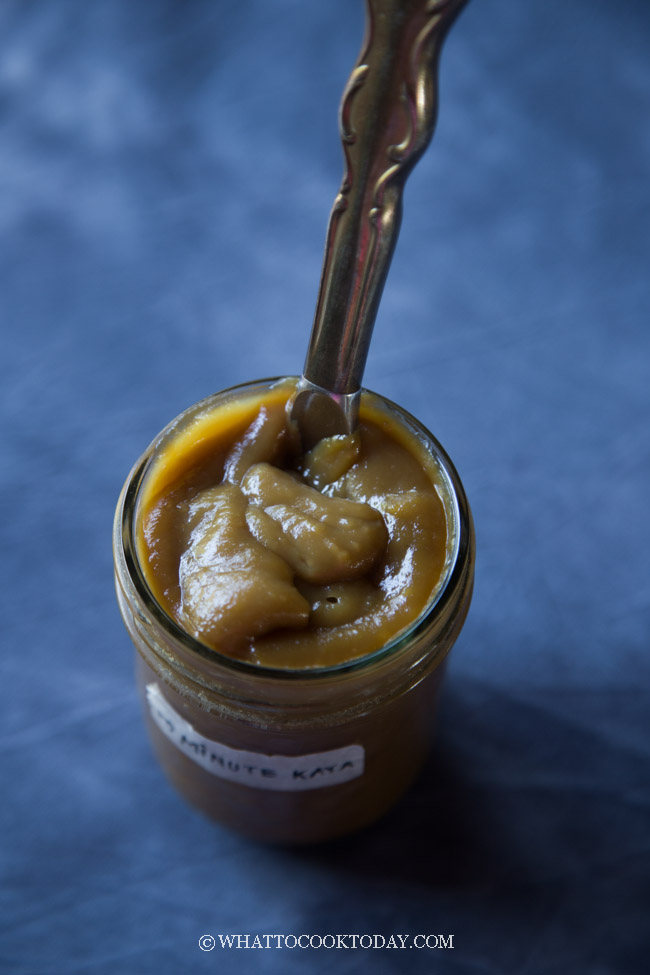 Recipe was originally published in July 2016 but updated with this easy method and new photos. Recipe is adapted from KT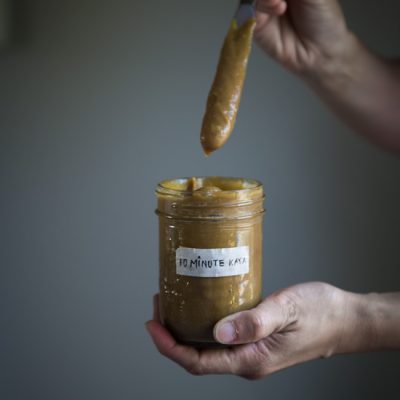 Easy 10-Minute Kaya Jam (Coconut Jam)
Making a kaya / srikaya jam used to be a lot of hassle with all the hours of stirring, but not with this recipe and you still get a smooth, rich, delicious kaya jam in 10 minutes.
PIN RECIPE
PRINT RECIPE
Instructions
Separating egg yolks from the whites:
Make sure you separate the egg yolks from the white very carefully. Leaving as little trace of egg whites as possible when separating. If there is a trace of egg whites, you can run the egg yolks through the sieve. This is to ensure you don't get any lumps in the kaya. Otherwise, beat the yolks until smooth just using a regular fork is perfectly fine. Run it through the sieve if you want to
Tempering the egg yolks:
Place coconut cream, both sugars, and pandan leaves in a saucepan over medium heat and just cook until the sugar melted. It shouldn't be boiling, just heated to warm

With one hand still beating the egg yolks, the other hand holding the saucepan with coconut cream, very gradually pour 1/4 of the coconut cream mixture. Then you can pour the egg mixture back to the saucepan. Stir to mix everything and then place this on the stove over medium heat

Continue to stir over medium heat. The mixture started to thicken for me at around 8 minutes mark and continue to stir. It may still appear a bit runny, but it will continue to thicken once it cools down completely. Discard the pandan leaves
Storing:
Once the kaya has cooled down completely, transfer to a glass jar and secure the lid. Put in the refrigerator for up to 1 week. I do not recommend freezing as they tend to separate