Make this delicious vegan eggless kaya jam using sweet potato or pumpkin puree with only 5 ingredients. The eggless kaya jam is creamy and equally satisfying. Perfect for that toast in the morning!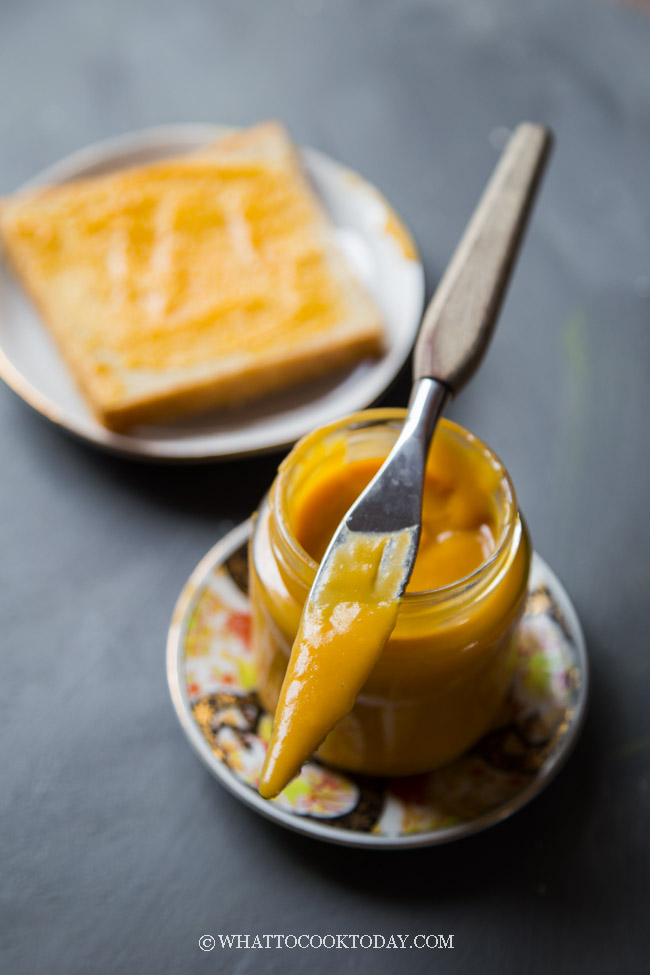 Smooth creamy and rich kaya jam is one of the quintessential jams loved by many in Southeast Asia. Traditional rich creamy kaya is usually made with eggs and involved hours and hours of stirring unless you have tried my Easy Authentic 10-minute Kaya Jam, which will change your kaya experience forever 🙂 This eggless kaya jam is very satisfying with that smooth creamy texture.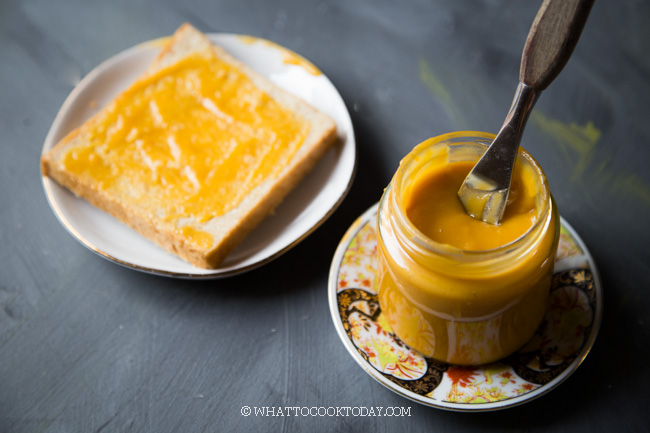 ONLY 5 INGREDIENTS
1. SWEET POTATOES
I used sweet potatoes to make this eggless kaya. You can also use pumpkin, purple sweet potatoes, ube yam, or similar tubers
2. COCONUT CREAM
Use canned coconut cream and not the one for drinking as beverage. Coconut cream is much thicker than coconut milk. You can use coconut milk too, but it will be runnier
3. PALM SUGAR / COCONUT SUGAR
Palm sugar gives a nice aroma. Coconut sugar is a great substitution too. If you can't find either one, brown sugar is perfectly fine too
4. PANDAN LEAVES
Pandan leaves add a nice aroma. It's like the vanilla of Southeast Asia 🙂 Simply omit if you don't have any
5. SALT
A small pinch of salt brings out the flavor of the overall kaya, even in a sweet creamy jam like this
HOW TO EASILY MAKE EGGLESS KAYA FROM SCRATCH
1. Peel the sweet potato or pumpkin and cut into large chunks. Steam over high heat for 15-20 minutes or until fork-tender


2. Put this in a blender along with the rest of the ingredients, except for pandan leaves. Blend into a smooth consistency


3. Pour this into a saucepan and add pandan leaves


4. Cook over medium-low heat and keep stirring until sugar melts. It will turn watery a bit when this happens. Don't worry and continue to stir until the mixture thickens slightly


5. Remove from the heat. It may seem runny at first, but you will see when you put it in the fridge it will thicken considerably because the coconut milk will solidify and thicken it. Transfer to a jar and let it cools down completely and then secure with a lid and store in the fridge for up to 2 weeks

How simple is that 🙂 This may seem runny at first, but as it cools down it will thicken further. It will be even thicker once you put it in the fridge because the coconut cream has solidified. So, it's a great start to cook it to a consistency that is still a bit runny.

DID YOU MAKE THIS GOLDEN CRISPY SALTED EGG YOLK RECIPE?
I love it when you guys snap a photo and tag to show me what you've made 🙂 Simply tag me @WhatToCookToday #WhatToCookToday on Instagram and I'll be sure to stop by and take a peek for real!

Creamy Eggless Kaya Jam (Eggless Vegan Coconut Jam)
Ingredients
500

gr

mashed sweet potatoes

or pumpkin, about 2 cups

200

ml

coconut cream

about 3/4 cups

150

gr

coconut sugar

or use brown sugar, about 3/4 cups or more to taste

5

pieces

pandan leaves

knotted

Small pinch of salt
Instructions
Peel the sweet potato or pumpkin and cut into large chunks. Steam over high heat for 15-20 minutes or until fork-tender

Put this in a blender along with the rest of the ingredients, except for pandan leaves. Blend into a smooth consistency. It will be quite thick at this point

Pour this into a saucepan and add pandan leaves. Cook over medium-low heat and keep stirring until sugar melts. It will turn watery a bit when this happens. Don't worry and continue to stir until the mixture thickens slightly. Don't cook it until too thick because it will thicken further when you refrigerate. It should coat the back of your spatula but still a pourable thick consistency, about 8-10 minutes

Remove from the heat. It may seem runny at first, but you will see when you put it in the fridge it will thicken considerably because the coconut milk will solidify and thicken it

Transfer to a jar and let it cools down completely and then secure with a lid and store in the fridge for up to 2 weeks
Recommended products:
If you want a richer version of traditional kaya, you will like this: