Make this popular Singapore and Malaysia Chinese rojak made with a combination of fresh fruits, vegetables, you tiao tossed in sweet, savory, spicy, umami, nutty rojak sauce.


Rojak or we call it rujak in Indonesia is popular street food. Indonesian rujak is usually made with mainly fresh fruits (rujak buah) with rujak sauce pretty similar to Chinese-style rojak that is popular in Singapore and Malaysia. Rojak/rujak also has a secondary meaning of "mixture of different things". This is often used in an everyday conversation, similar to gado gado, which also has similar secondary meaning with rojak/rujak.
SPECIAL INGREDIENTS
1. HAE KO (PETIS UDANG)
Chinese rojak uses a thick gooey hae ko (petis udang) or also known as prawn paste. It is usually black in color and sweeter in taste compared to regular shrimp paste. Indonesia rujak doesn't use hae ko, at least not the one that I grew up eating. I can't find hae ko here and so I skip it and make a rujak sauce more similar to Indonesian style in the recipe below
2. TORCH GINGER BUDS (BUNGA KENCONG)
Traditionally, Chinese rojak has shaved of torch ginger buds added. It adds an amazing flavor to the overall dish. Simply skip it if you can't find any. I can't find any here.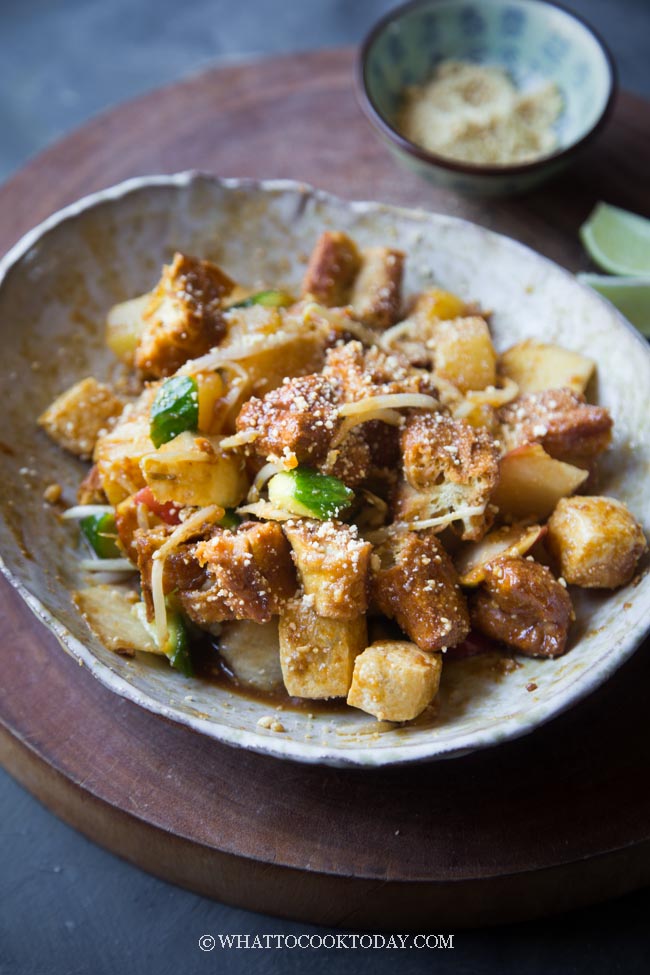 FRUITS AND VEGGIES TO USE
There is really no hard and fast rule here as what you must use in rojak, but here are just some suggestions.
Fruits: Pineapple, apple, green mango, guava, ambarella (kedondong)
Vegetables: Jicama, beansprouts, cucumber
HOW TO MAKE EASY CHINESE ROJAK
1. PREPARE THE SAUCE
Put all ingredients for the sauce on a platter or in a bowl and stir to combine. Alternatively, you can use a blender too if you like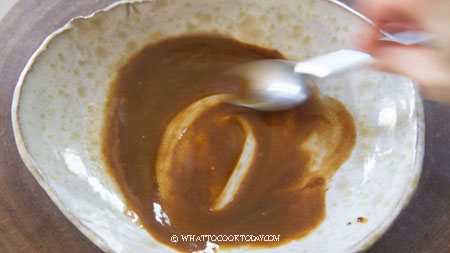 2. ASSEMBLING
Put the fruits, veggies, beansprouts, on a serving platter.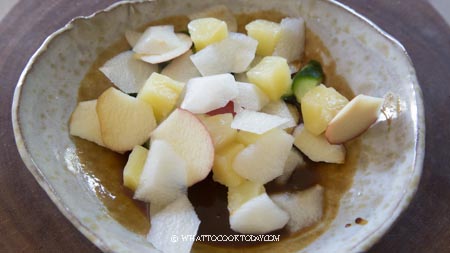 Cut some you tiao, beancurd puffs, blanch beansprouts on top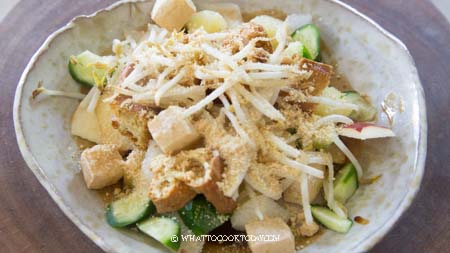 Drizzle with some of the rojak sauce to your taste. Toss to mix everything and sprinkle with some toasted chopped peanuts or peanut powder (which was what I used)

I love the different texture and robust flavor in a rojak. You will find sweet, hint of savory, umami, nutty, and spicy (if you use chili). There are crunchy and crispy texture that just feels so refreshing at the same time.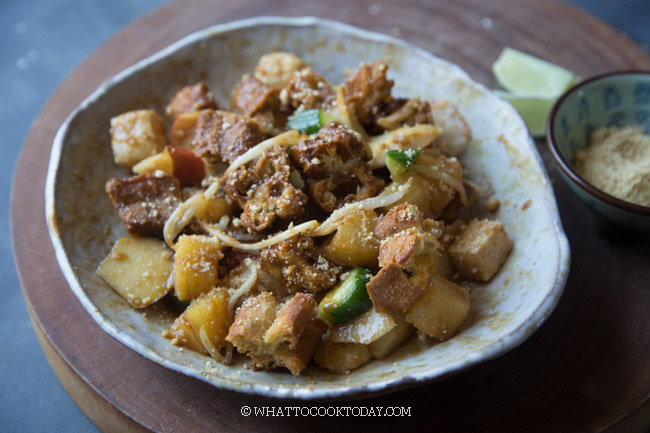 Rojak is best served the same day it is prepared. You can make the sauce ahead and keep in the fridge for up to one week.
DID YOU MAKE THIS EASY CHINESE ROJAK RECIPE?
I love it when you guys snap a photo and tag to show me what you've made 🙂 Simply tag me @WhatToCookToday #WhatToCookToday on Instagram and I'll be sure to stop by and take a peek for real!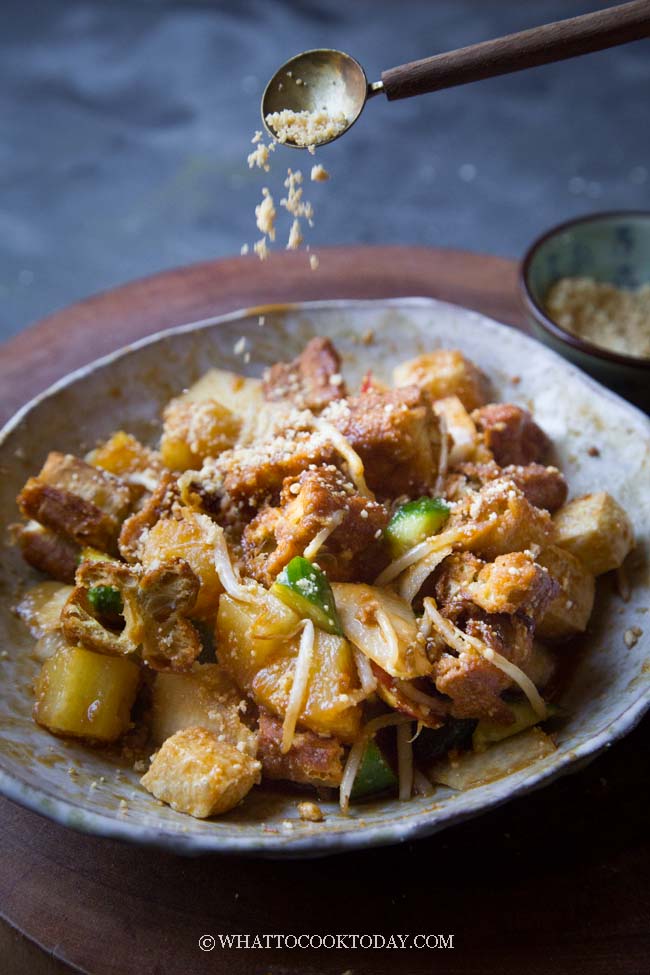 Chinese Rojak (Chinese Mixed Fruit and Veggie Salad)
Ingredients
1

large

cucumber

1

small

jicama

1

large

apple

½

small

pineapple

4

strips

you tiao

2

cups

beancurd puffs

3

cups

beansprouts

blanched

1

torch ginger buds

I can't find any
Rojak sauce with hae ko:
60

gr

tamarind paste

4

Tbsp

sugar

or use brown sugar or coconut sugar

90

gr

Hae Ko

Petis udang

3

Tbsp

hot water

1

Tbsp

chili powder

optional
Rojak sauce without hae ko:
Topped with:
5

Tbsp

roasted peanuts

finely chopped
Instructions
If you don't have hae ko:
Put all the ingredients under "Rojak sauce without hae ko" in the recipe above in the blender and blend into a thick gooey mixture
Prepare rojak sauce:
Add all ingredients in a bowl. Stir to combine. Have a taste and add more sugar if needed. The sauce is more at the sweet side. Set aside
Prepare the fruit and veggies:
Wash and peel some of the skin off the fruits (depending on what kind of fruits you use, some you don't need to). I didn't peel the skin off the apple. Peel the skin off jicama and pineapple. Cut into bite-size pieces. If using torch ginger buds, shave the flower into small pieces

If using beansprouts, blanch them in boiling water for 20-30 seconds and then refresh with cold water. Set aside

Crisp up the you tiao and beancurd puffs in the air fryer, toaster oven or oven at 350 F for 5-10 minutes or until crispy
Assembling:
Put the fruits, veggies, beansprouts, on a serving platter. Cut some you tiao and beancurd puffs on top. Drizzle with some of the rojak sauce to your taste. Toss to mix everything and sprinkle with some toasted chopped peanuts or peanut powder (which was what I used)
YOU MAY ALSO LIKE GADO GADO