Learn how to make Indonesian Gado Gado salad like how the local Indonesian would with an amazing gado gado sauce to go with.
INDONESIAN GADO GADO
Gado gado is absolutely one of my favorite Indonesian salad. The salad is usually built on mainly cooked vegetables, though sometimes there's a mixture of raw veggies like cucumber too. Sometimes lontong pieces are used in gado gado too. The gado gado is then served with delicious and creamy gado gado sauce and toppings like prawn crackers and emping crackers. Gado gado means everything mixed together. Gado gado can be a complete meal of its own because it usually includes meatless protein like tofu and eggs.

WHAT VEGETABLES TO USED IN GADO GADO?
The vegetables you want to use is really up to you. In Indonesia, they usually prepared gado gado with blanched cabbage, boiled potatoes, tomatoes, cucumber, blanched beansprouts. You can have all of these or any combination of these, or your own favorite veggies.  These are just what typically seen in Indonesian gado gado. In this photo, you can see that I use a combination of chopped Romaine lettuce and blanched green beans,tomatoes, and cucumber. I actually like crunchy lettuce over boiled cabbage, but it's just my personal preference. My point is, you can use what you like.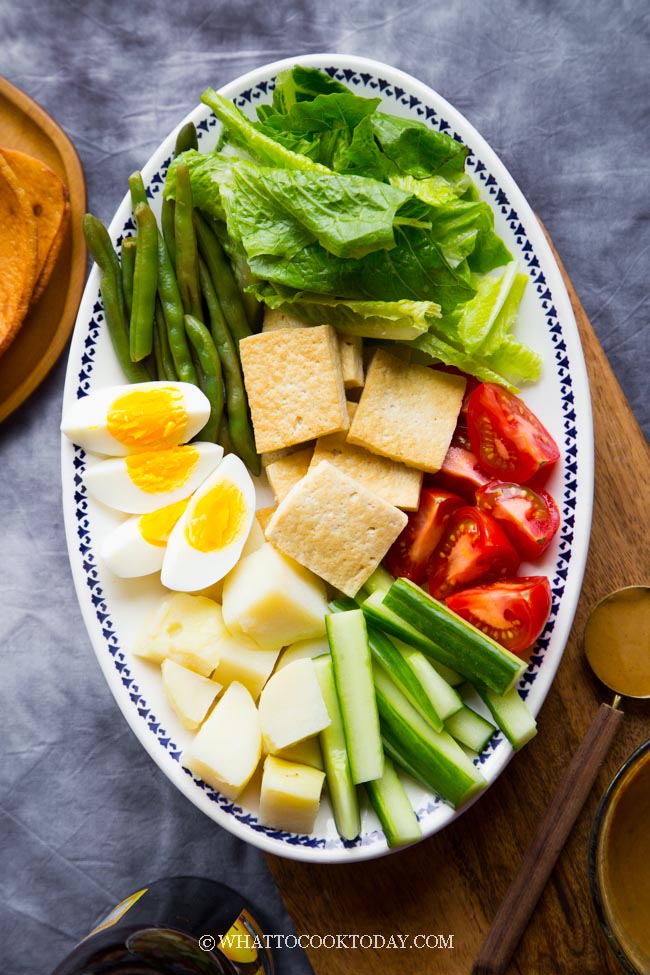 GADO GADO SAUCE
Gado gado sauce is made with ground peanuts, spices, herbs, kecap manis and coconut milk. Doubled up on the recipe for the dressing then you can have gado gado again without having to go through all the prep. You can store the extra in the refrigerator for up to a week.
CAN I USE PEANUT BUTTER TO MAKE GADO GADO SAUCE?
Yes, you certainly may. In fact, it's a great short cut. You can use either chunky peanut butter or smooth peanut butter. Just adjust the amount of coconut milk so that you get the consistency for the sauce you like, not too thick, not too thin.

TOP TIPS YOU NEED TO KNOW TO MAKE GADO GADO AT HOME
1. Prepare things ahead
You can make boiled eggs, boiled potatoes and blanch the veggies like cabbage, beansprouts, and green beans the day before. They can be kept in the refrigerator until you are ready to serve the gado gado the next day
2. Only pour the gado gado sauce right before serving. This will prevent your gado gado from looking like a big watery mess.
3. Do not boil the coconut milk on high heat. This will "break" the coconut milk and make the gado gado sauce not smooth

PUTTING GADO GADO TOGETHER
There's no hard and fast rule here, but here's how I build my gado gado from beginning to finish
1. Pile on the lettuce or cabbage (if that's what you use)


2. Add the rest of the veggies: tomatoes, green beans, sliced cucumbers


3. Add the protein: in this case tofu and eggs


4. Drizzle with gado gado sauce generously


5. Drizzle with kecap manis (optional, I like it)


6. Add some crispy fried shallots (bawang goreng)


7. Some prawn crackers or emping crackers on the side and TUCK IN!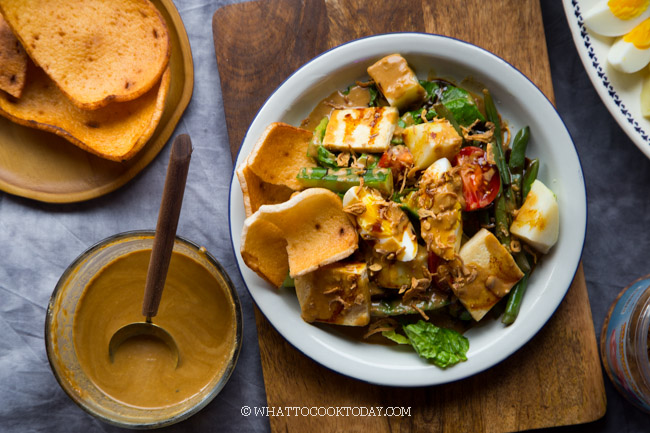 Gado gado can be a satisfying meal of its own.

How To Make The Best Gado Gado Salad
Ingredients
450

gr

extra firm tofu

cubed

2

medium size potatoes

2

hard-boiled eggs

peeled and quartered

100

gr

cabbage

sliced and blanched, sliced

125

gr

bean sprouts

blanched

125

gr

green beans

cut into 2-inch length and blanched

1

large tomato

quartered
Gado gado sauce:
100

gr

raw roasted unsalted peanuts

see notes

3

Tbsp

Indonesian sweet soy sauce

kecap manis or more to taste

80

gr

coconut sugar

or more to taste

½

tsp

salt

50

ml

water

or more if you like the sauce a bit thinner

300

ml

coconut milk
Aromatics:
1

inch

galangal

or use 2 Tbsp of galangal powder

4

red chilis

optional

4

shallots

peeled

3

cloves

garlic
Serve with:
Fried shallots crisp

bawang goreng

Prawn crackers

Emping crackers

Juice of fresh lime

optional
Instructions
Things you can prepare the day before:
Boil the potatoes until fork tender. Peel the skin and cut into bite-size pieces. C. Place the eggs in a water and bring to a boil. Turn off the heat and cover and let it sit for 10 minutes. Drain off water and submerge in cold water and peel when the eggs are cool (easier to peel)

While potatoes are cooking, preheat about 1 Tbsp of oil in a large non-stick skillet. Add in the cubed tofu and pan-fried until golden brown on all sides. Set aside
Preparing gado gado sauce:
Place the aromatics in a food processor and finely chopped them. Preheat about 1 Tbsp of cooking oil in a saucepan. Stir fry the ground aromatics for about 5 minutes or until fragrant. Add all the gado gado sauce ingredients and the herbs

Bring to a gentle simmer. Do not boil or the coconut milk will turn frothy and break. Let it simmer for another 5 minutes.Have a taste. It should be more at the sweet side. Add more palm sugar/coconut sugar if needed.
On the day of serving:
Arrange the cabbage/lettuce on a large serving platter. Topped with bean sprouts, green beans, tomatoes, potato cubes, tofu cubes, and slices of hard-boiled eggs. Pour the dressing on top of the salad right before serving. Garnish with fried shallots crisp and some crackers if you want to
Notes
You can also use the same amount of creamy or chunky peanut butter instead of peanuts
OTHER INDONESIAN SALAD WITH PEANUT-BASED SAUCE