Rice Cooker or Instant Pot Ketupat and Lontong (Rice Cakes)- Learn how to easily make ketupat or lontong (nasi impit) using rice cooker or Instant Pot. No more wrapping and hours of boiling.
I've never made ketupat from scratch but I have made lontong from scratch. While it's not difficult, but sure takes a long time to boil the rice and not to mention some of them might burst during cooking if I filled up too much rice in the banana wrap. Long story short, I don't like to make lontong from scratch for those reasons.
WHY YOU WILL LIKE RICE COOKER OR INSTANT POT LONTONG AND KETUPAT
1. Convenient
Now this rice cooker or instant pot lontong and ketupat is life-changing. It's quick to make and pretty effortless
2. Time-saving
Yeah…for real, time-saving! I used to have to boil lontong for 2-3 hours
3. Most people own either rice cooker or Instant Pot
In this modern day, either one of this equipment has become kitchen essential. You can use the pressure cooker feature of Instant Pot or the rice feature on it. Pretty cool!
ARE KETUPAT AND LONTONG THE SAME?
Both ketupat and lontong are made with white rice. Ketupat is usually wrapped in a case made of coconut leaves that are weaved into beautiful patterns and then boiled. Lontong is usually wrapped in banana leaves and then boiled. So, they are pretty much the same but the difference is on the wrapping.
THIS RECIPE WORKS FOR BOTH KETUPAT AND LONTONGSince no wrapping is needed, technically this recipe can be used in a recipe that calls for ketupat or lontong.
RICE TO WATER RATIO
I've tried to make this rice cooker ketupat or lontong several times with different ratios. Mom told me that this really depends on the type of rice and also whether the rice is "new" or "old". I used Thai jasmine rice.
Mom used 1:4 ratio and that's my starting point and here's what I found out:
RICE : WATER RATIO
1:4 = The rice cakes came out way too soft for me. My mom in Indonesia used regular white long grain rice and hers came out perfect. So she sticks with this 1:4 ratio
1:3 = The rice cakes came out much firmer now but still a tad too sticky for my liking
1:2 = This works perfectly for me
Mom said "older" rice absorbs more water compared to "newer" batch of rice grains. My mom said in Indonesia, they sold rice specifically for making lontong, which is usually cheaper and lower quality and absorbs lots of water.You definitely need to play around with the ratio, but I would say you can start with the middle, 1:3 ratio
HOW TO MAKE KETUPAT AND LONTONG USING RICE COOKER OR INSTANT POT
I guess you can almost call this ketupat instant or lontong instant. Instant in the sense that no wrapping and long hours of cooking to make this Indonesian rice cakes. Here's how:
1. Rinse your rice in several changes of water
This part is to get rid of any excess starch and impurities. Drain off completely so that your water measurement is accurate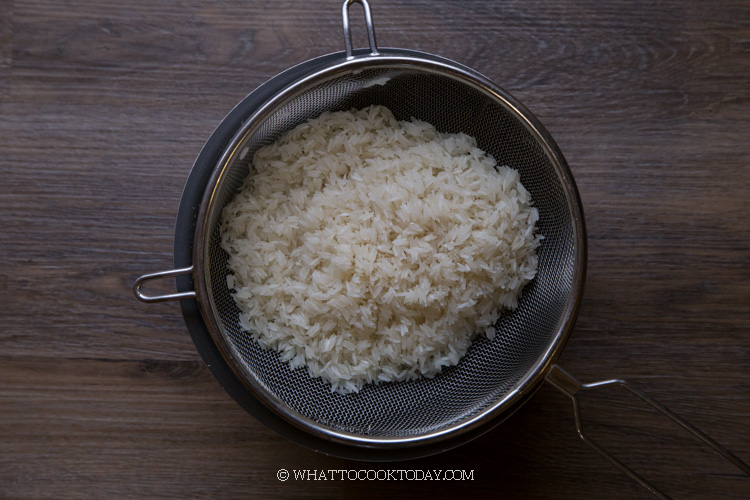 2. Transfer to inner pot of rice cooker or instant pot and add water
I use rice to water ratio of 1:2 (read explanation above)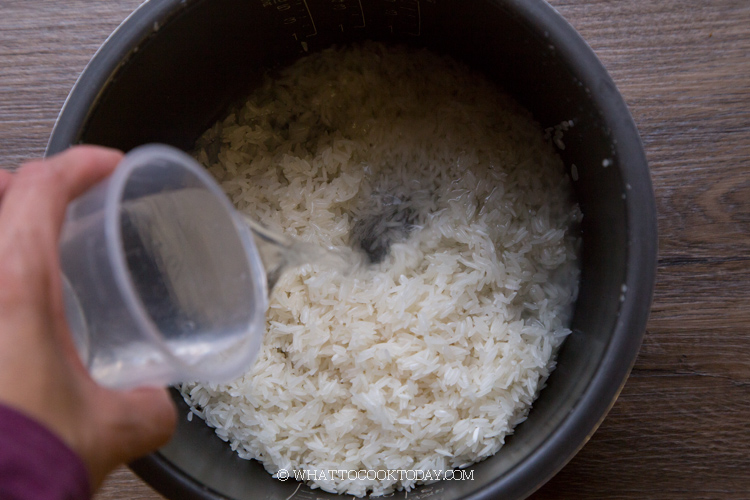 3. Cook on a rice cooker or instant pot
RICE COOKER: I use the white rice setting on the rice cooker, which takes about 20 minutes to cook
INSTANT POT PRESSURE COOKER FEATURE: Turn the steam release valve to sealing, press pressure cooker then high pressure and set timer to 3 minutes and then wait 10 minutes to release pressure fully
INSTANT POT RICE FEATURE : Turn the steam release valve to sealing, press RICE and the timer will be set automatically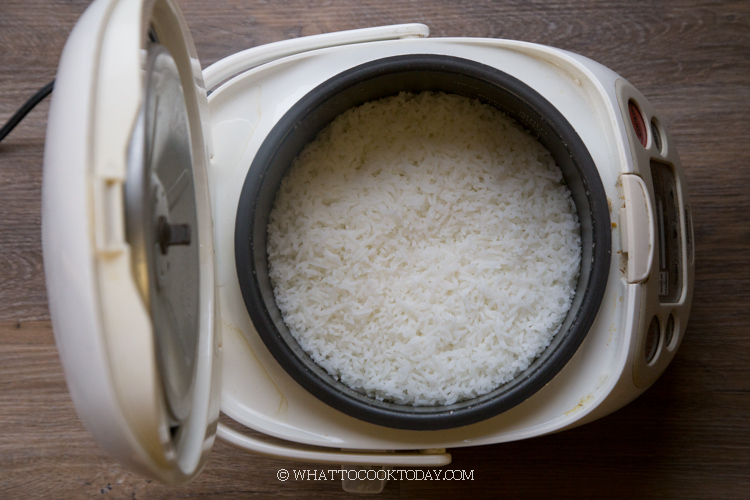 4. Mold the rice while warm
Once the rice is done cooking, immediately transfer to a heat-proof loaf pan or container and use the rice paddle to spread, press and REALLY push the rice to pack them down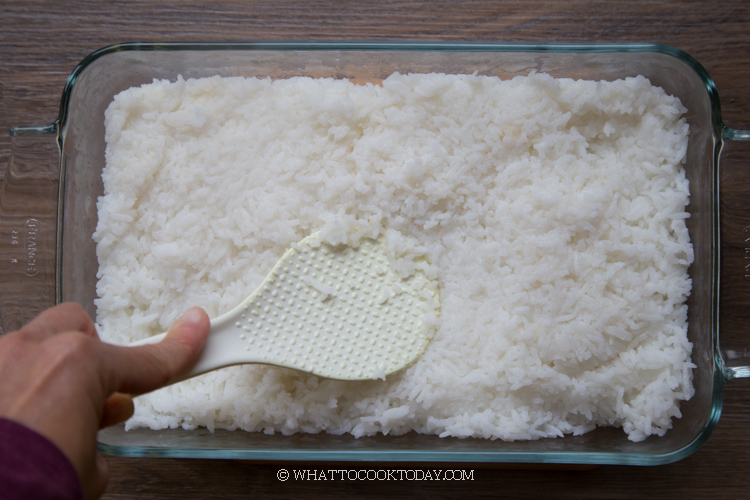 5. Use parchment paper to really pack it down
Once all the rice is in the container, cover with a piece of parchment paper and use your palms to really push them down to make sure you pack it down so the rice really sticks to each other to form a large piece of cake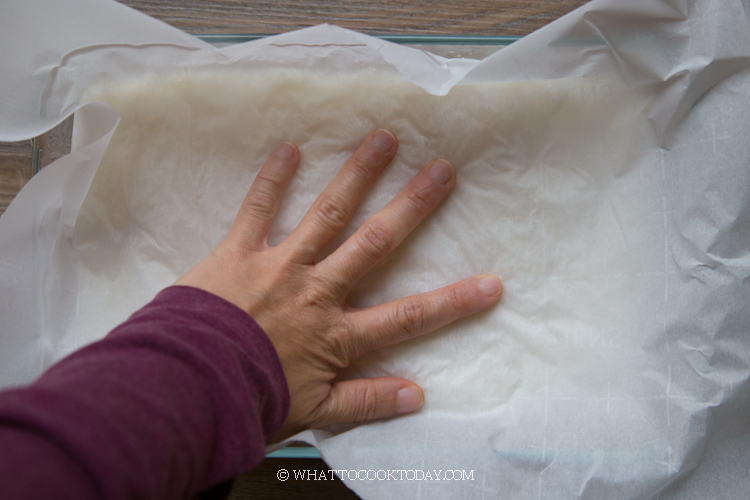 6. This is how it will look like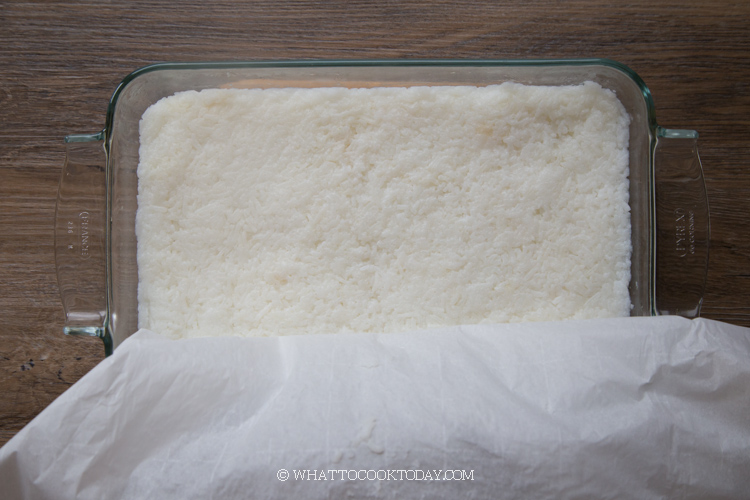 7. Let the ketupat or lontong cool down
You can let them cool down at room temperature or let them cool down a bit and then cover with plastic wrap and place in the refrigerator for 1 hour before cutting.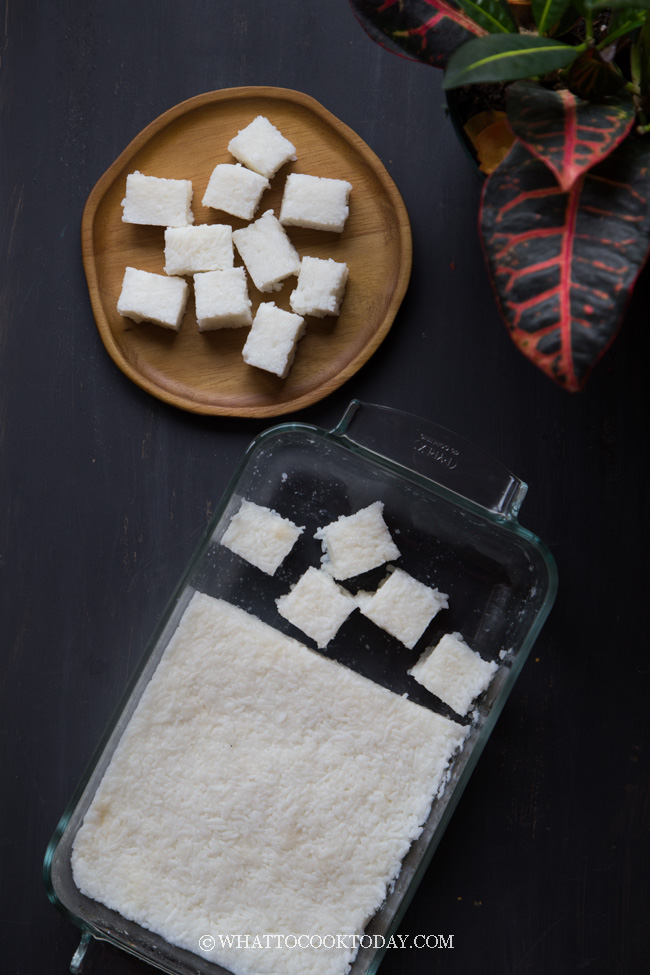 WHAT TO SERVE WITH THIS RICE COOKER KETUPAT OR LONTONG
Here are several ideas to get you started 🙂
Lontong Sayur
Soto Banjar
Ketoprak
Tahu Goreng Kecap
Sate Padang
Sate Ayam Bumbu Kacang
Gado Gado
I love lontong sayur and that's what I served the rice cooker lontong with that day.

HOW TO STORE LEFTOVER RICE COOKER LONTONG OR KETUPAT
They can be kept in the refrigerator for up to 5 days. They tend to harden the longer you keep them. Use a moist heat, such as steamer to steam them briefly like 5 minutes and they will soften again.
This blog post contains affiliate links. I earn a small commission when you made purchase at no extra cost to you. Learn more.
Rice Cooker or Instant Pot Ketupat and Lontong / Nasi Impit (Rice Cakes)
Instructions
Rinse the rice in several changes of water and then completely drain off the water
Using rice cooker:
Transfer the rice to inner pot of rice cooker. Add water. I use white rice setting in my rice cooker
Using instant pot pressure cooker feature:
Transfer the rice to inner pot of instant pot. Add water. Cover the lid. Turn the steam release valve to sealing. Press pressure cooker, then high pressure. Set timer to 3 minutes. When it's done, wait 10 minutes and then release pressure and proceed to moulding the cake
Using instant pot Rice feature:
Transfer the rice to inner pot of instant pot. Add water. Cover the lid. Turn the steam release valve to sealing. Press RICE and the time will automatically be set. When it's done, wait 10 minutes and then release pressure and proceed to moulding the cake
Moulding the cake:
After it's done cooking, immediately transfer to a pan, about 7 or 8 inches square pan (bigger pan will yield shorter cake). Use the rice paddle or the back of the spoon to spread and really push the rice down to pack it. Repeat this process until all the rice is in 

Once all the rice is in, use a parchment paper to cover the top of the rice and use your palms to gently push down all over the surface to ensure you really pack it down and to smooth the surface. You can also use a dough scraper to help you smooth the surface to make it nicely flat and even

Let cool at room temperature for 3-4 hours or cover with plastic wrap and refrigerate for at least 1 hour before cutting