Soto Banjar (South Kalimantan Chicken Noodle Soup) – Originated from one of the provinces in Indonesia, South Kalimantan, this popular chicken noodle soup is made with aromatic herbs and spices and served with shredded chicken meat, potato pancakes, rice cakes, half-boiled eggs. Instant pot recipe is included.
Soto is a popular Indonesian-style chicken soup. They can be easily found as street food or in the restaurants pretty much anywhere you go in Indonesia. The varieties on each province or islands are countless. Some are with clear soup and some with coconut milk. I've made soto ayam before and this version was what I grew up eating at my hometown, Medan. Soto ayam Medan has coconut-based soup. Soto banjar has clear soup.

When I lived in Jakarta for a short while, there are several different varieties of soto that I've tasted before. The basic ingredients for soto can be pretty similar with few differences in spices and herbs. In Medan, soto ayam is typically served with white rice. Soto Banjar is served with bean thread noodles or in my case, I use thin rice noodles, ketupat (rice cakes)-which I didn't have, but I use lontong instead. Soto banjar is also served with perkedel kentang.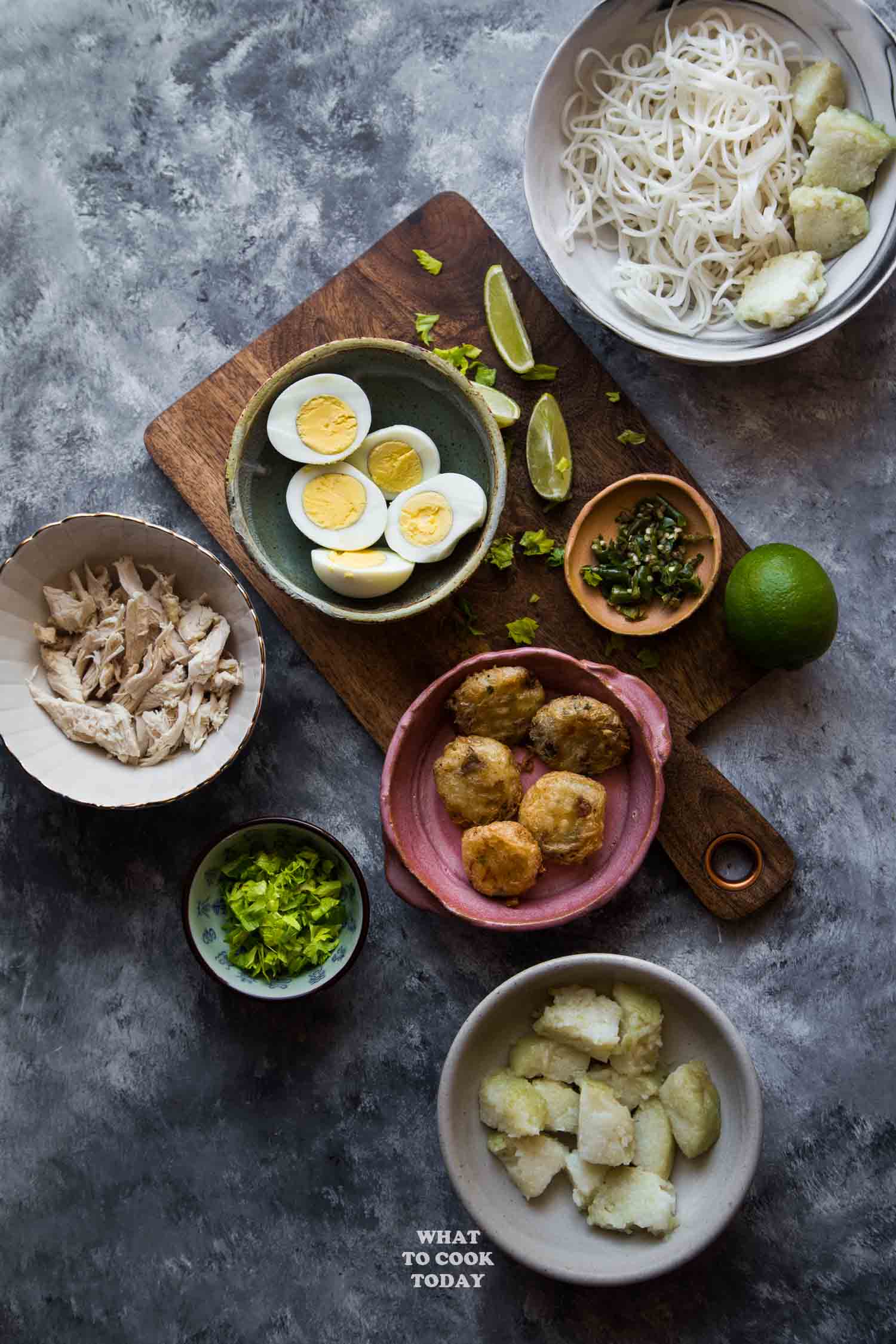 Traditionally, the chicken is also briefly fried before the meat is shredded. I didn't fry the chicken and just shred the meat.

WHAT IS BANJAR?
This soto Banjar comes from the island of South of Kalimantan (Kalimantan Selatan), in particularly, the city of Banjarmasin (or in short, Banjar).
I PREFER PRESSURE COOKING THE CHICKEN
Why? I guess you know why. The chicken is tender without losing taste. Traditionally, the chicken is boiled and then the meat is shredded, but I found that you ended up with meat that has lost most of its taste.
DOES PRESSURE COOKING SAVE MORE TIME?
Not in this case. The amount of time for cooking is still about the same, but it tastes way better. The meat is tender and still flavorful, yet you have the "essence" from the chicken. The juice that drips while it was being pressured cooked is then used to make the broth
WHAT A LONGGGGG LIST OF INGREDIENTS
Yes it is. They are mainly spices and herbs though. Please don't get intimidated by that. All the spices and herbs you can easily found at major grocery stores. There are few you might have to source at your local Asian grocery stores, but if you really can't find it, I won't sweat it.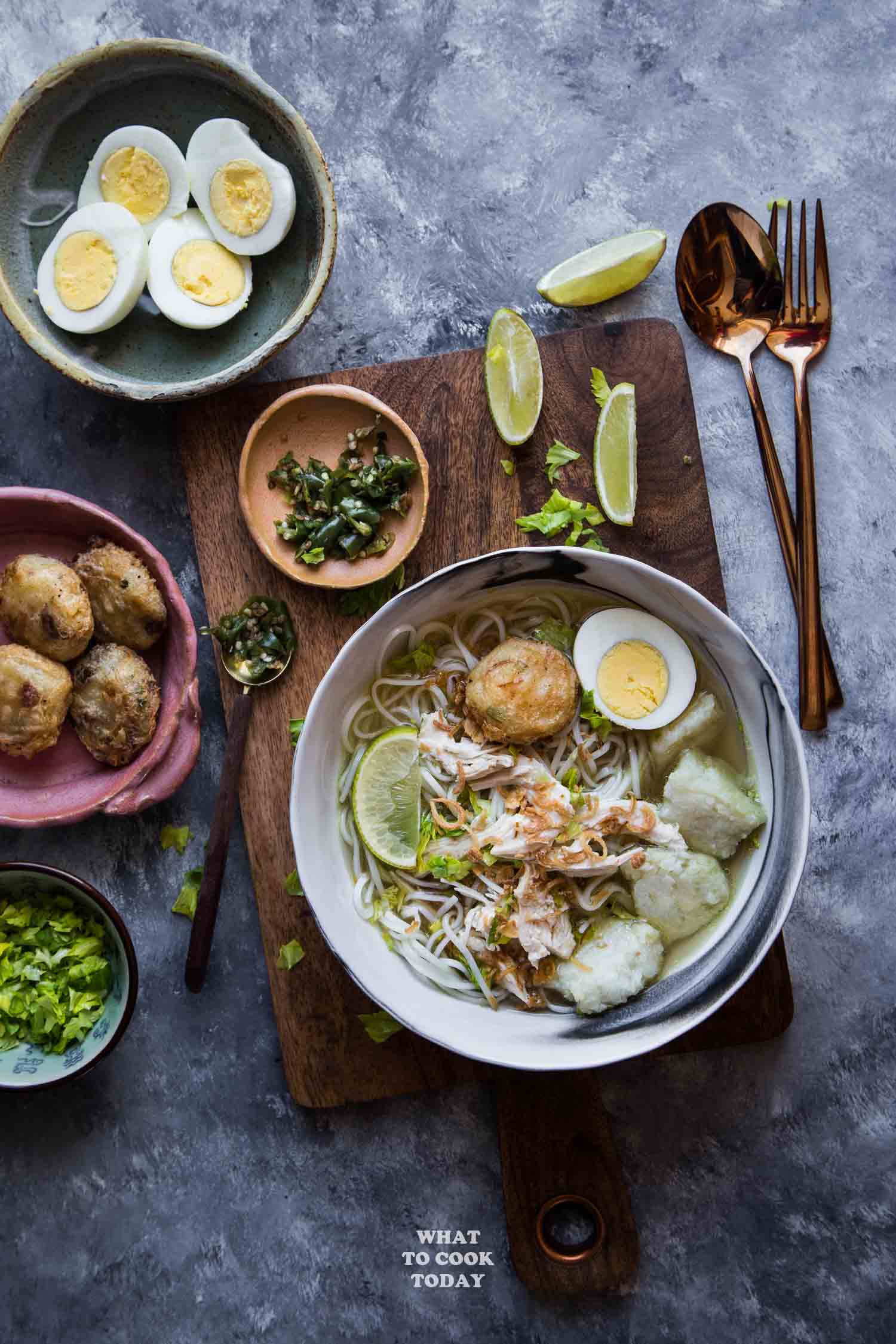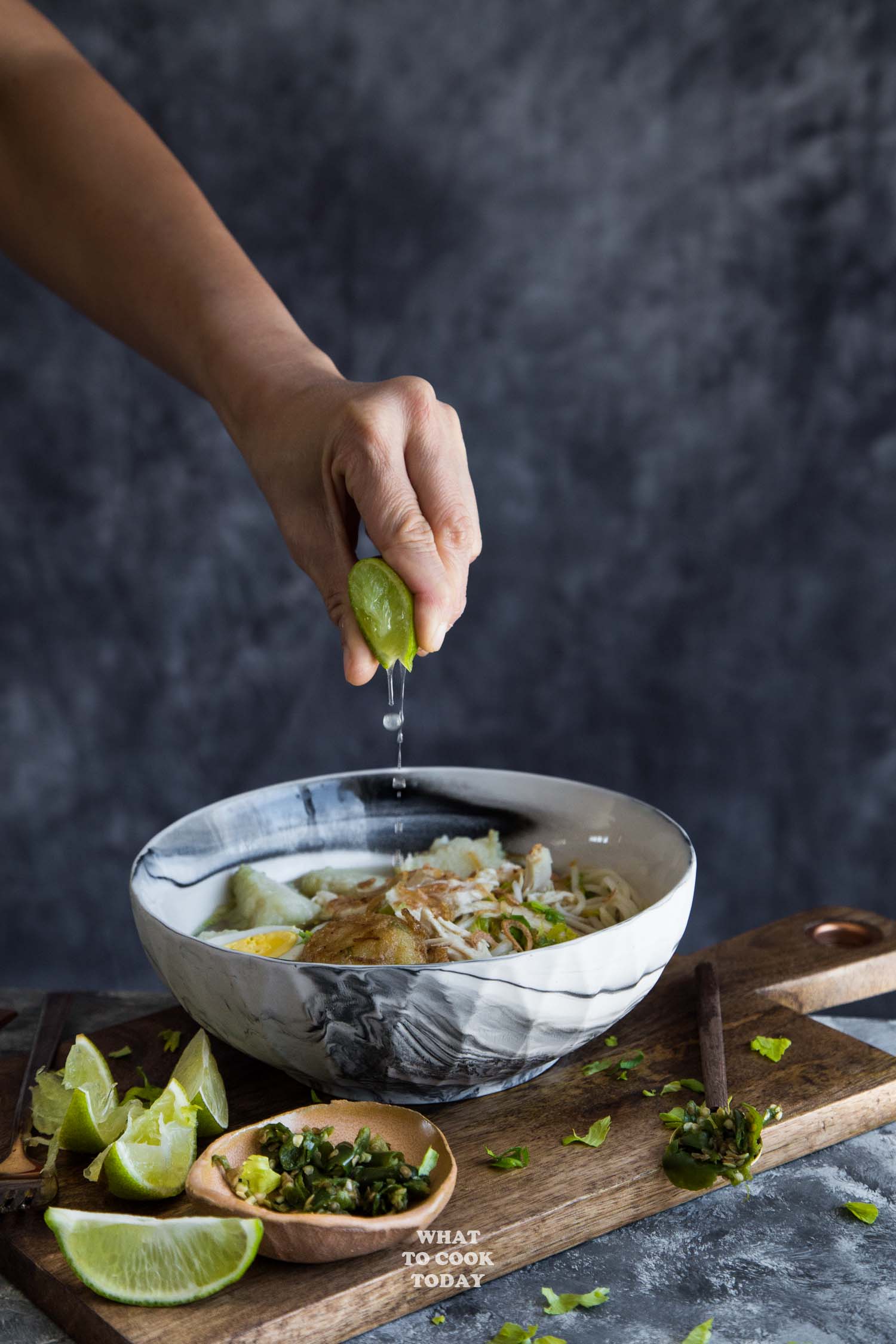 This blog post contains affiliate links. I earn a small commission when you made purchase at no extra cost to you. Learn more.
*Recipe is written for 6-quart Instant Pot. Cooking time should remain the same for 8-quart size but will take longer to pressurize. For mini duo (3-quart), I suggest to half the recipe and use the same amount of time to cook*
Soto Banjar (South Kalimantan Chicken Noodle Soup)
Ingredients
Rice noodles or bean thread noodles

enough for 4 to 6 servings

3

lbs

whole chicken

½

tsp

salt

¼

tsp

pepper

2

Tbsp

cooking oil

6

cups

water

Salt

to taste
Ground ingredients:
5

cloves

garlic

(peeled and sliced)

4

shallots

(peeled and thinly sliced)

8

candlenuts

sub with macadamia nuts
Spices and herbs:
3

kaffir lime leaves

(tear edges to release flavor)

2

stalks of Chinese celery

save the leaves

5

cloves

1

medium

cinnamon stick

¼

tsp

nutmeg
Serve with:
2

cups

mung bean sprouts

(blanched)

3

hard-boiled eggs

(cut into halves)

Fried shallots crisp

Fresh limes

Lontong

or ketupat
Instructions
If you are using rice noodles, cook them in boiling water for 2-3 minutes. If using bean thread noodles, soak the noodles until soft about 15 minutes. When ready to use, just briefly cook them in boiling water for 1 minute or less
Cooking on Instant Pot:
Rub the chicken some salt and pepper all over. Pour 2 cups of water into the pot. Place the chicken on top of the trivet and carefully place inside the pot. Close the lid and turn the steam release handle to seal. Press pressure cook, high pressure and set the timer for 25 minutes. When the timer is done, wait for 5 minutes and then release pressure

While the chicken is cooking, preheat 1 Tbsp of oil in a pan and saute the ground ingredients, spices, and herbs until fragrant, about 5 minutes or so

Very carefully remove the chicken from instant pot and let it cool down for 10 minutes. Then cut the thighs, drumsticks, breast meat off. You are left with the carcass and wings. Put this back into instant pot. Add 6 cups of water along with the sauteed spices

Cover the lid. Turn the steam release handle back to seal. Press pressure cooker, high pressure and set timer to 15 minutes. Release pressure immediately after the timer is up. Strain the stocks and discard the solid. Have a taste of the broth and season with salt to your taste.

Proceed to "If you choose to fry the chicken" if you want to, otherwise, shred the meat when it's cool enough to handle
Cooking on stove-top:
Cut the chicken into large pieces such as thighs, drumsticks, etc. Place the chicken into the pot and add enough water to cover the chicken. Bring it to a boil and then remove from the heat. Carefully discard the water and rinse the chicken off with cold running water. Give the pot a good rinse as well

Preheat the clean pot and then add 1 Tbsp of cooking oil, add the ground ingredients, and spices and herbs and saute until fragrant, about 5 minutes. Add chicken pieces and add water, enough to submerge the chicken. Bring to a boil and then lower the heat to let it simmer for the next 30 minutes or until the chicken pieces are cooked through

When the chicken is cooked, carefully remove from the pot and place on a platter, when cool enough to handle, proceed to "If you choose to fry the chicken" if you want to, otherwise, shred the meat and discard the bones. Strain the soup and discard the rest of the vegetables. Season with salt to your taste
If you choose to fry the chicken:
Preheat about 1-inch of oil. Cut the chicken into large pieces and then fried the chicken briefly until golden brown. Shred the meat when it's cool enough to handle
Making green chili:
Remove the stems from the chili. Bring a small pot of water to a boil. Boil the chili for about 10 minutes. Discard water and if you have mortar and pestle, coarsely ground it or use a food processor to do so
Serving:
When ready to serve, portion the noodle and lontong pieces into an individual serving bowl. Add chicken meat and mung bean sprouts. Ladle the soup over. Garnish with 1/2 of the hard-boiled eggs, perkedel, celery leaves, and fried shallots crisp. Squeeze 1/2 of the fresh lime juice over each bowl. Serve with perkedel and green chili on the side


You might also like:
SOTO AYAM MEDAN