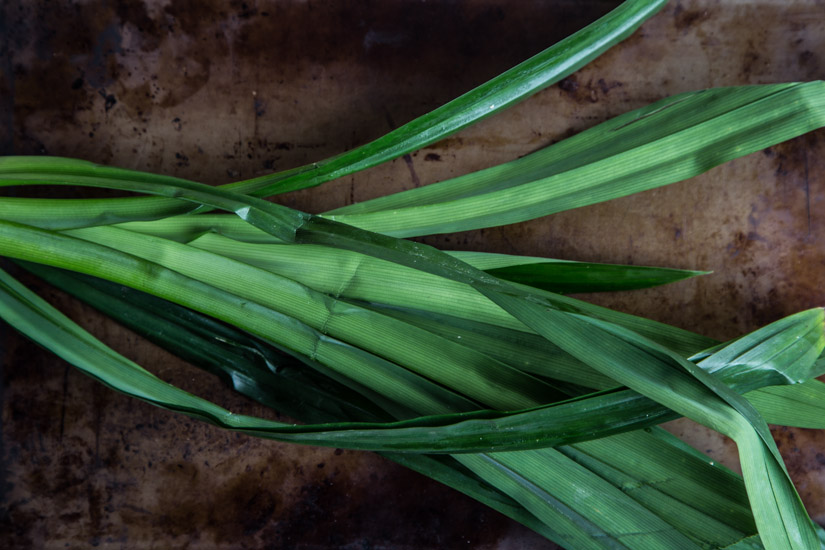 Pandan leaf (daun pandan) is probably one of the most underrated ingredients outside of Southeast Asia. Pandan leaves are being used extensively in both sweet and savory dishes in Southeast Asia countries like Indonesia, Malaysia, Singapore, Thailand, The Phillipines, and Vietnam.
Culinary use of pandan leaves
Flavoring: It has an incredibly sweet and mild aroma. The leaves are usually not eaten, but included in cooking to flavor up rice, cakes, and sauces
Coloring: Pandan juice and extract are green in color and when included in dishes, will tint the dishes green. So it is a natural green food coloring
Other usage of pandan leaves
Air freshener: My dad used to place big bunch of pandan leaves at the back of his car. The car smells sooo good and made me feels so hungry ha..ha.. He usually left the leaves there until they dry up and wither and replaced with new bunch
Where to buy pandan leaves?
Usually available in the frozen section of Asian grocery store. In summer time, fresh pandan leaves are available some times at the refrigerator section (not freezer).
Substitution: I can't find anything close! You can try store-bought pandan extract (affiliate link). I haven't found any that I like.