Soft cottony (like..seriously soft!) pandan chiffon cake infused with the amazing flavor of pandan leaves or known as screwpine leaves is a big hit in Southeast Asia. A big hit in our house too. Only took me 5 years later to make it. Ha!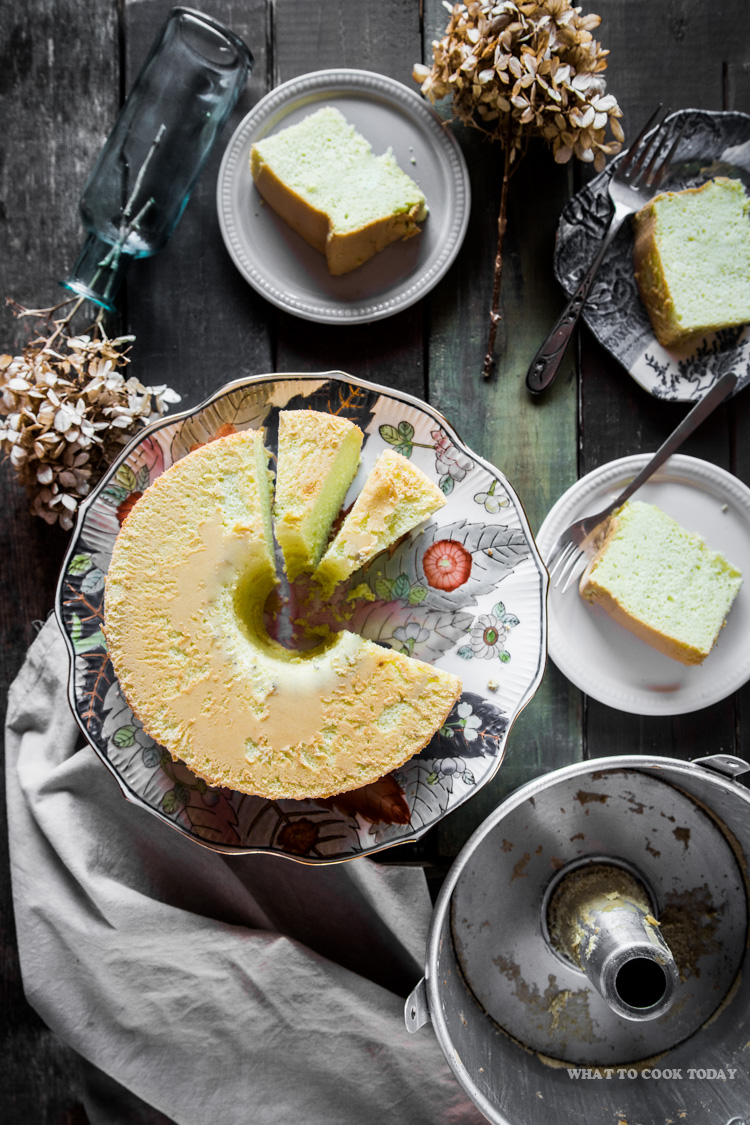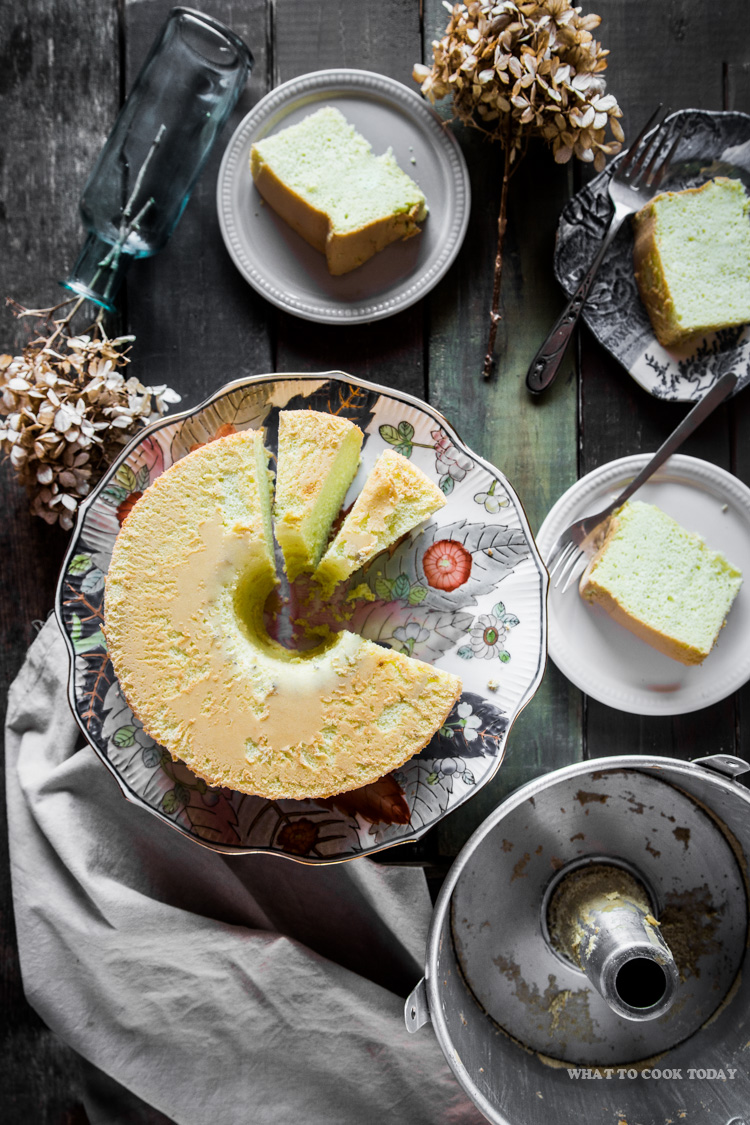 My kids keep sprouting while I start counting wrinkles on my face. There are still so many things left undone and not started! I can't believe it's November. Every year we ask the same question. Where has time gone? Yet, I still don't have the answer for that. Do you? Every year I told myself I'm going to be VERY organized. I usually am at the beginning of the years and then what I've written down have just left as well…written down! This Pandan chiffon cake that I'm writing while brushing my teeth for example. I've been wanting to make this cake for the past 5 years! What ?!? I know! Not sure what the hold up! I finally just decided to crack 6 eggs and started whipping the meringue !!! When that happened, I made three chiffon cakes in two weeks. That's me! always at the extreme side!
Pandan chiffon cake is very well loved in Southeast Asia. In case you are wondering what pandan is, it is a leaf. Also known as screwpine leaves. They are so flavorful that I seriously want to bottle up the flavor and turn it into a fragrance. My dad used pandan leaves as car fragrance before. Anyway, back to the cake. I love chiffon cake for its soft and bouncy texture. I have to admit the real challenge in baking this cake is perhaps in whipping up the meringue (at least to me). I failed the first time, but succeeded subsequently. I strongly encourage you to use the chiffon pan with removable base. I tried with the nonremovable base and getting the cake out of the pan was pretty disastrous. I think it's doable, but I haven't figured out how to get it out without cracking the top of the cake.
All in all, it was very satisfying to successfully make a soft and bouncy pandan chiffon cake. That's why baking is addicting. I get it. I still don't like the measuring, though 🙂
Recipe is adapted from Christine's Recipe.
Pandan chiffon cake (for 8-inch or 20 cm cake)
Ingredients
Extract pandan juice:
30

fresh pandan leaves

washed and finely chopped

100

ml

coconut milk
Thick batter:
5

egg yolks from large eggs

20

gr

sugar

3

Tbsp

cooking oil

100

gr

cake flour

1

tsp

baking powder

1/4

tsp

salt
Meringue:
5

egg whites from large eggs

room temperature

1/2

tsp

cream of tartar

60

gr

of sugar
Instructions
Extracting juice from Pandan leaves (screwpine leaves)
Place the chopped pandan leaves in the blender with the coconut milk and blitz away until it becomes a paste

Place a strainer over a large bowl and pour the pandan paste over it and do your very best to squeeze as much juice as you want. Squeeze until you can no longer get anything out from it (literally!). Measure to get 100 ml of the pandan coconut milk mixture
Mixing the thick batter:
I suggest to separate the yolks and whites a bit earlier (about 30 mins or so)so that the egg whites have time to come to room temperature. It whips better at room temperature

Place all the ingredients for thick batter in a large mixing bowl and stir to mix everything and make sure there's no lumps
Whipping the meringue:
Preheat your oven to 330 F. Place the rack at the lowest level

Place the egg whites in a clean bowl. You will have trouble whipping your meringue if there's trace of grease in your utensils or bowls. Beat the egg whites on medium speed, add in the cream of tartar and gradually add in the sugar as you beat. I beat them for around 8-10 minutes to get to the firm peak. You will know you get to the firm peak when you hold your mixer up and your meringue will not drip anymore

Gently fold in 1/4 of the meringue into the thick batter and then fold to mix and then continue on with second batch and fold again to mix. Continue to do this until you are done with the meringue and the batter and meringue are nicely mixed

DO NOT grease your chiffon pan. The cake needs to cling to the pan to rise. Give the pan a strong tap on the side for a few times before pouring in the batter to remove any air bubbles. Smooth the batter with rubber spatula. Pop into the oven and let it bake at 330 F for 30 minutes and then turn the oven down to 300 F and bake for another 30 minutes . DO NOT open your oven door at least for the first 30 minutes or you will deflate the cake

Don't be alarm if your cake has some cracks on top. What you are looking at will become the bottom of your cake. I find that baking at this temperature in my oven prevents the cake from cracking

Once out of the oven, carefully invert the pan upside down. Your chiffon pan may have the little stands for you to invert, but I find it not high enough. I use a glass jar and set the inverted pan on top of the jar and let it cool down completely. Please don't be tempted to remove from the pan if it's still warm. It takes about one hour to cool down completely

Once it's cool down completely, use a spatula knife to run through the edge of the cake to help release the cake. Gently push the base of the pan down. Use the knife again to run through the top of the cake to help release it from the base of the pan. There you have it !!! 🙂 Enjoy and try to finish it within 3 days. Ours were gone in one day!!!!
Recipe Notes
I prefer the fresh screwpine leaves because the flavor is really amazing. But if you choose to use store-brought pandan extract, that's totally fine too. You can use 1 tsp of the pandan extract