Nasi Bakar Bumbu Rendang (Indonesian Rendang Grilled Rice) – Aromatic coconut rice is topped with rendang sauce, meat, and other toppings and then wrapped in banana leaves and grilled.
When I make some rendang, it is usually a big pot of it to last us about 2 days. On the second day, it's great to be able to turn the rendang into a brand "new" dish. Well..sort of! Nasi bakar bumbu rendang is one of the popular street foods. It's my favorite too! A while ago I made this Nasi Bakar Ayam Kemangi (Grilled Rice with Chicken and Basil) and it was a pretty big hit at our house. The kids love it too.
There is really no "fixed" recipe of what you can put on you nasi bakar. Pretty much anything your heart desires. Some put fried fish, tempeh, or just the plain coconut rice served with other dishes.
Some of the readers asked me before if banana leaves really impart that aroma to the rice and the answer is yes! Banana leaves are not edible, but when you wrap your food in it and boil, grill, or bake them, the aroma is incredible! It has that unique smoky aroma to it! If you don't have banana leaves, you can use aluminum foil to wrap the rice and grill them, but of course the aroma won't be the same.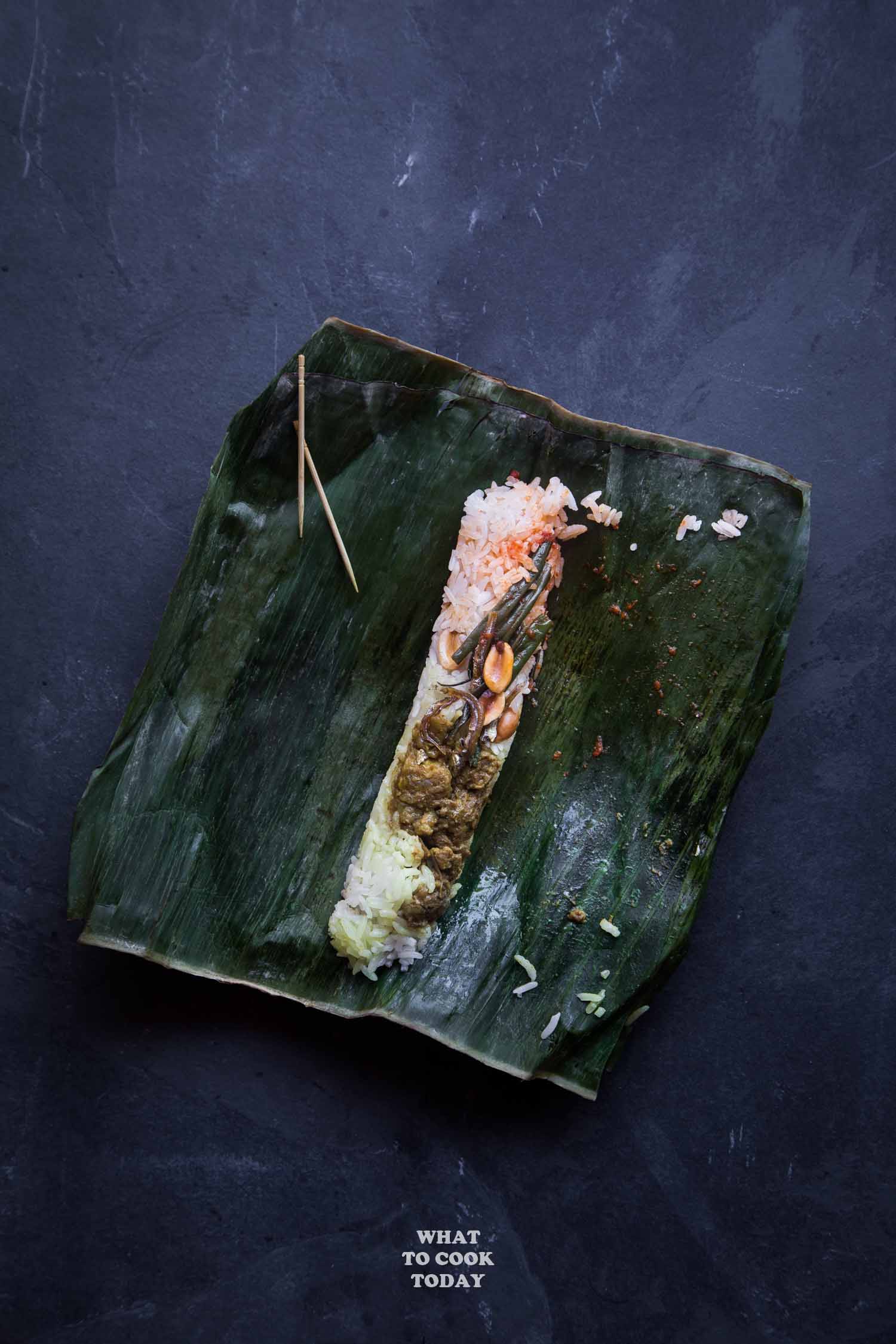 Nasi Bakar Bumbu Rendang (Indonesian Rendang Grilled Rice)
Ingredients
Coconut rice:
1

Tbsp

cooking oil

2

cups

of white long grain jasmine/basmati rice

8

fresh kaffir lime leaves tear edges to release flavor

3

fresh bay leaves

1

stalk of lemongrass cut into half and bruise with heavy object

1

cup

of coconut milk

2

cups

chicken stock

½

tsp

salt
Toppings:
For wrapping:
6 to 8

pieces

of 10 x 10 inch banana leaves thaw if frozen

wiped clean with damp cloth

Tooth picks
Instructions
Preparing toppings:
Cut the green beans/long beans into about 3-4 inches long. Bring a medium pot of water to a boil and cook for 5 minutes or until the beans are tender but not mushy. Discard water and refresh the beans with cold water. Set aside

Preheat a small to medium pan. Add cooking oil. Stir fry the dried anchovies until crispy, around 5 minutes or less. Add the peanuts and continue to stir fry until it is slightly golden brown. Add the sugar and salt. Stir to mix everything. Remove from the heat and set aside
Cooking rice:
Briefly rinse the rice with clean water and drain the water. Set aside. Preheat a large pot with cooking oil. Add aromatics: kaffir lime leaves, bay leaves, and lemongrass and stir fry for about 1 minute until fragrant. Add the rice and pour in the coconut milk ,chicken stock, and pinch of salt. Give it a good stir. Bring to a gentle simmer and cover the pot and let it cook for the next 20 minutes. Turn off the heat. Let it sit for another 10 minutes while you are preparing other things. Uncover and check on the rice. It should be fluffy and cooked through. Fluff the rice with a fork
Wrapping:
Place one sheet of banana leaves on your working surface. Scoop about 1/2 cup of the rice (it's really up to you how big or small you want your rice packet be) and place in the middle of banana leaves or you can place more at the side near you. Make a shallow dent along the rice and arrange few pieces of rendang meat on top of it followed by some of the rendang sauce. Place about 1 tablespoon of fried anchovies and peanuts. A small scoop of sambal or fresh chili (it's up to you). Few pieces of green beans. Fold both sides over and the bottom flap over the rice then roll to the top. This will give you a much rounder wrap

Preheat your outdoor grill or in my case grill pan (because it's winter when I made this). Place each packet on the grill and let it grill until the banana leaves have grill marks on them. The aroma is amazing. Ready to be served
Have you tried these?
Nasi Bakar Ayam Kemangi (Grilled Rice with Chicken and Basil)