Nasi lemak served in Singapore and Malaysia is not complete without this sambal to accompany it. This recipe is really good that you probably will find a reason to eat it with anything you possibly can.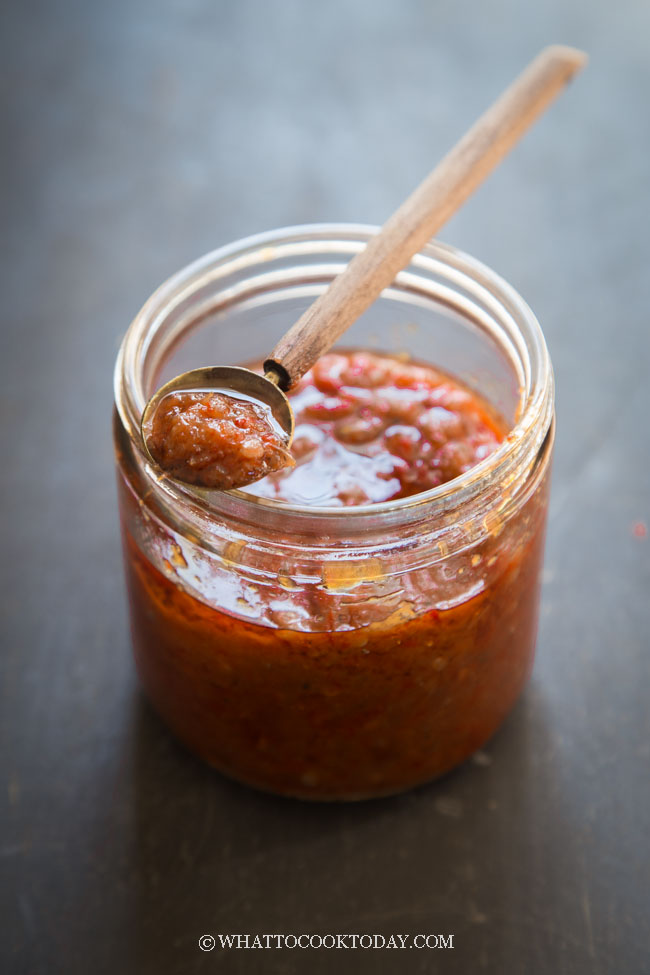 Growing up with Southeast Asian foods, you can't have too many sambal chili recipes. Sambal is a red chili paste that usually serves as a condiment to many different dishes in Southeast Asia, especially in Indonesia, Malaysia, and Singapore. This particular sambal chili recipe is made to accompany the Singapore or Malaysia Nasi Lemak. The nasi lemak simply is not complete without the sambal chili.

TYPE OF RED CHILI TO USE
You can use dried or fresh red chilies. Dried red chilies are abundant here. It's harder for me to find fresh red chilies. If I do find fresh red chilies, usually they are red jalapeno peppers or red Anaheim/Fresno peppers. Definitely don't use all Thai red chilies as it will be too spicy. Sambal nasi lemak is not meant to be overly spicy.
HOW TO MAKE THE BEST SAMBAL FOR NASI LEMAK
1. Pan fry the dried anchovies in 1 tsp of oil until crispy. Remove and set aside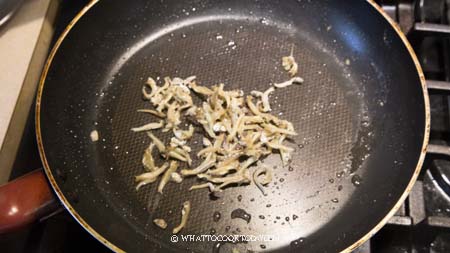 2. Place the chilies, onion, garlic, lemongrass, pan-fried anchovies, dried shrimp, and oil in a food processor and process into a fine paste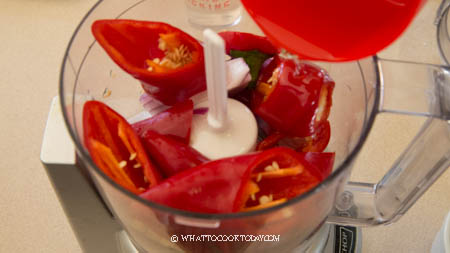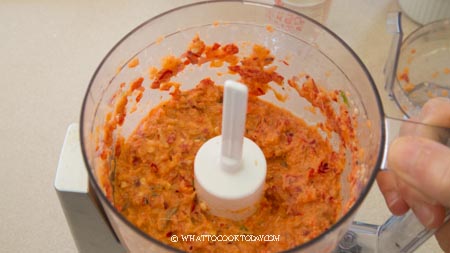 3. Pour this into a pan and stir fry until the chili mixture for about 5 minutes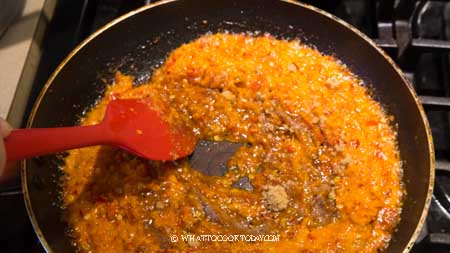 4. Add the seasoning and continue to stir fry. The paste will get drier and color will turn darker as the sugar carmelizes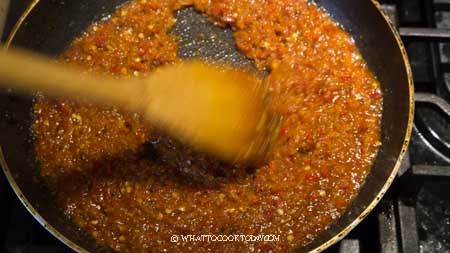 5. Cook for another 10-15 minutes until the oil starts to separate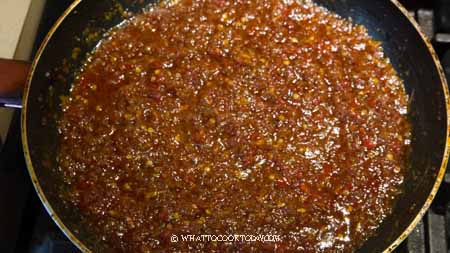 6. Have a taste and adjust to your taste by adding more coconut sugar as needed. The sambal is more on the sweet side. Let it cools down completely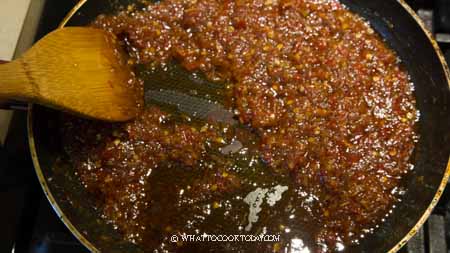 TIPS
1. The longer you cook them, the longer their shelf-life. The oil will help to "preserve" the chili too.
2. Keep them in a glass jar sterilized with hot boiling water and then let the jar dry completely. This will helps to prolong shelf life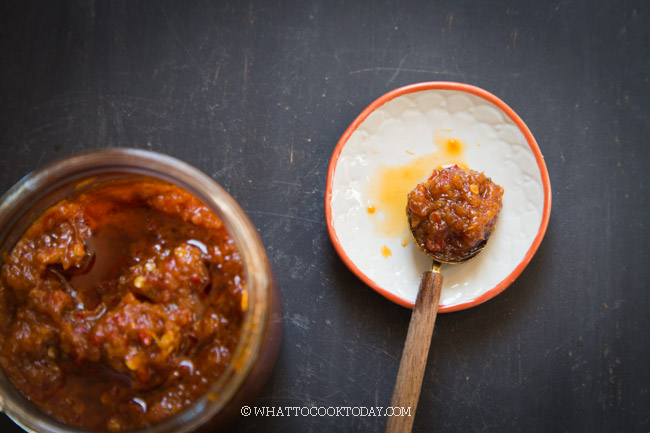 HOW TO STORE
REFRIGERATOR: This sambal can be kept in the fridge for up to 1 week or 2 weeks max in a sterilized jar
FREEZER: For longer storage, I recommend portioning the sambal into smaller portions and freeze them. They can be kept frozen for up to 3 months. So if you make the sambal in big bulk, this is the storing method you want to go for.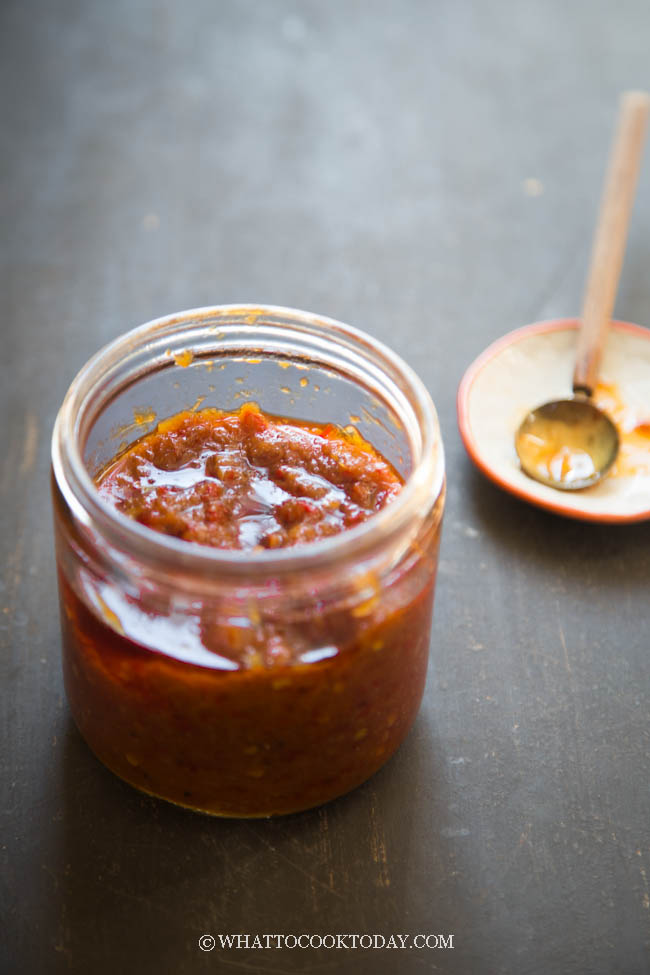 DID YOU MAKE THIS SAMBAL NASI LEMAK RECIPE?
I love it when you guys snap a photo and tag to show me what you've made 🙂 Simply tag me @WhatToCookToday #WhatToCookToday on Instagram and I'll be sure to stop by and take a peek for real!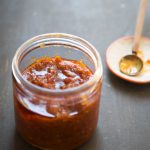 How To Make The Best Nasi Lemak Sambal (For Real!)
Ingredients
100

gr

red chilies

you can use dried or fresh chilies

4

Thai red chili

for extra spiciness, optional

1

large

purple onion

quartered

5

cloves

garlic

peeled

1

stalk

lemongrass

white parts only, cut into large chunks

20

gr

dried anchovies

30

gr

dried shrimp

½

cup

cooking oil
Seasonings:
20

gr

belacan

or substitute with wet shrimp paste

1

tsp

tamarind paste

80

gr

coconut sugar

or more to taste. You can use brown sugar or white sugar too

½

tsp

salt

or more to tastse
Instructions
If using dried chili, soak them in warm water until soft. Soak the dried shrimp in warm water until soft

Pan fry the dried anchovies in 1 tsp of oil until crispy. Remove and set aside

If you use dry belacan/terasi block, cut into smaller pieces and dry roast it on a dry pan for about 5 minutes until fragrant

Place the chilies, onion, garlic, lemongrass, pan-fried anchovies, dried shrimp, and oil in a food processor and process into a fine paste

Pour this into a pan and stir fry until the chili mixture for about 5 minutes. Add the seasoning and continue to stir fry for another 10-15 minutes until the oil starts to separate. The longer you cook, the longer they'll keep

Have a taste and adjust to your taste by adding more coconut sugar as needed. The sambal is more on the sweet side. Let it cools down completely. Transfer to a glass container and they can be kept in the fridge for up to 2 weeks or portion them out into silicone ice cube trays and freeze them for one hour then transfer to a freezer bag. You can get one out and thaw in the fridge overnight before planning to use them