Rice is topped with various vegetables and toppings and served with tea soup made of tea leaves, nuts, seeds, and herbs. My simplified version of the traditional Hakka Lei Cha Rice.
WHAT IS POUNDED TEA RICE/THUNDER TEA RICE?
The name thunder tea rice is actually not the right translation for this Hakka lei cha rice. Quoting from one of the readers who shared this: "The name "thunder tea rice" is actually misleading. The Chinese characters of "thunder" (雷)and "pounding"(擂) are two different words, and yes, in this case, it is "pounding", before the appearance of a blender, that's how people made it——by pounding/grinding it. "Thunder Tea" is really the lazy mistranslation of some Malaysians". So it should be Pounded Tea Rice instead of Thunder tea rice 🙂
Lei Cha is a traditional rice dish accompanied by several sides of vegetables, toppings like nuts, tofu, etc. The whole thing is then drenched in tea soup.
The special thing about this is, at least to me, the tea soup. I'm sure many Hakka families have slightly different recipes to prepare the lei cha concoction. This recipe uses basil leaves, mugwort leaves (ai cao ye), mint leaves, coriander leaves, peanuts, sesame seeds, peppercorns, tea leaves, and salt. I can't find mugwort leaves here in the U.S., so, I omitted that from the recipe and used the rest of the ingredients to prepare the lei cha.
MY FIRST ENCOUNTER
I never knew of thunder tea rice until many years ago, a Malaysian friend introduced me to this dish. I thought it was weird at first, but I couldn't say I didn't like it either. The color of the tea soup was not a particularly attractive sight either. The family prepared it from scratch and there were at least 6-7 vegetable side dishes to go with the rice. The more I ate it the more I grew to like it, especially when I drenched the rice and everything else in that tea soup. Then I found it at the Food Republic in Singapore and it made it into my weekly thing for dinner 🙂
TASTE
Healthy eating never tastes so good! To me at least! But I think you either like it or not kinda thing! There are slight bitterness, sweetness, and savouriness in this dish coming from veggies, toppings, and the tea soup. It's definitely an acquired taste.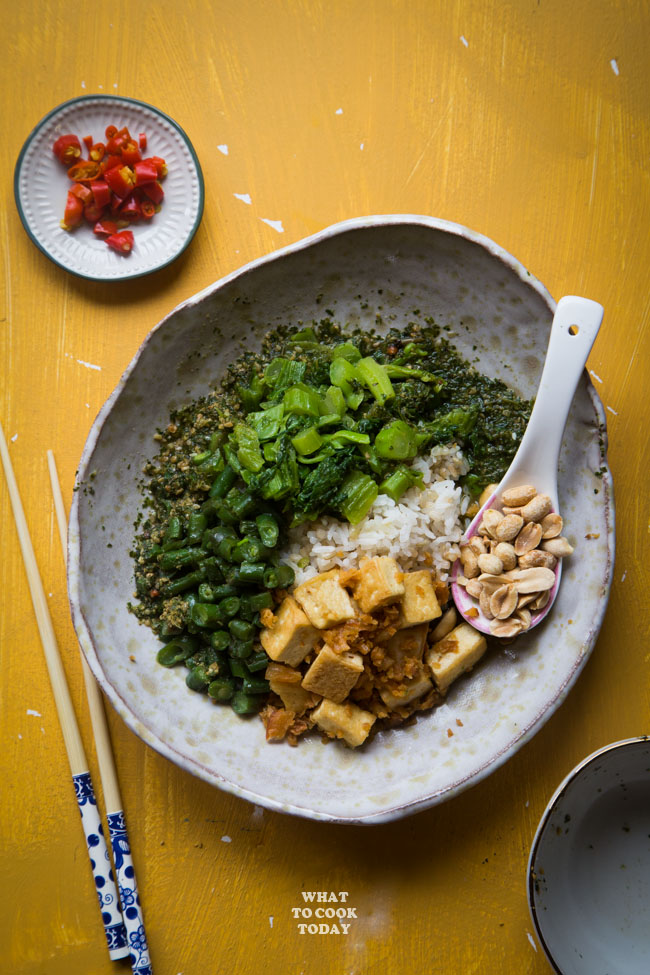 THE HIGHLIGHT OF THUNDER TEA RICE IS THE TEA SOUP
Yes, despite all the vegetables and toppings, what makes lei cha rice special is the tea soup. Lei Cha literally translated to pounded tea. Traditionally, the tea paste is made by pounding all the ingredients in a huge mortar and pestle. In these modern days, people use blender or food processor to get the job done 🙂
The tea paste is made with basil leaves, mint leaves, coriander leaves, mugwort leaves (ai cao ye), peanuts, sesame seeds, tea leaves, ginger, and salt. The recipe might differ slightly from family to family, or even from region to region.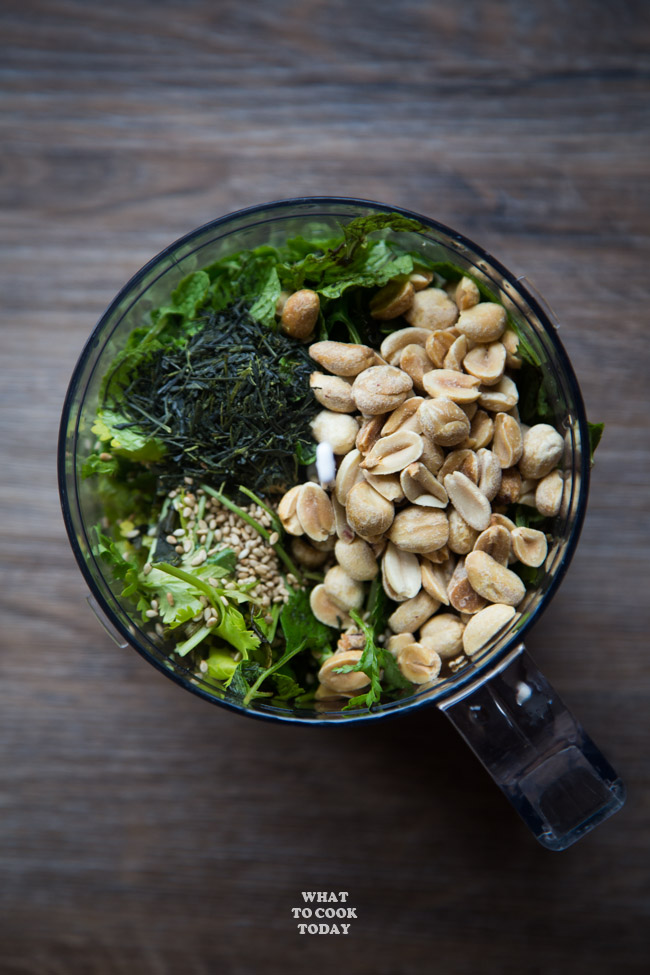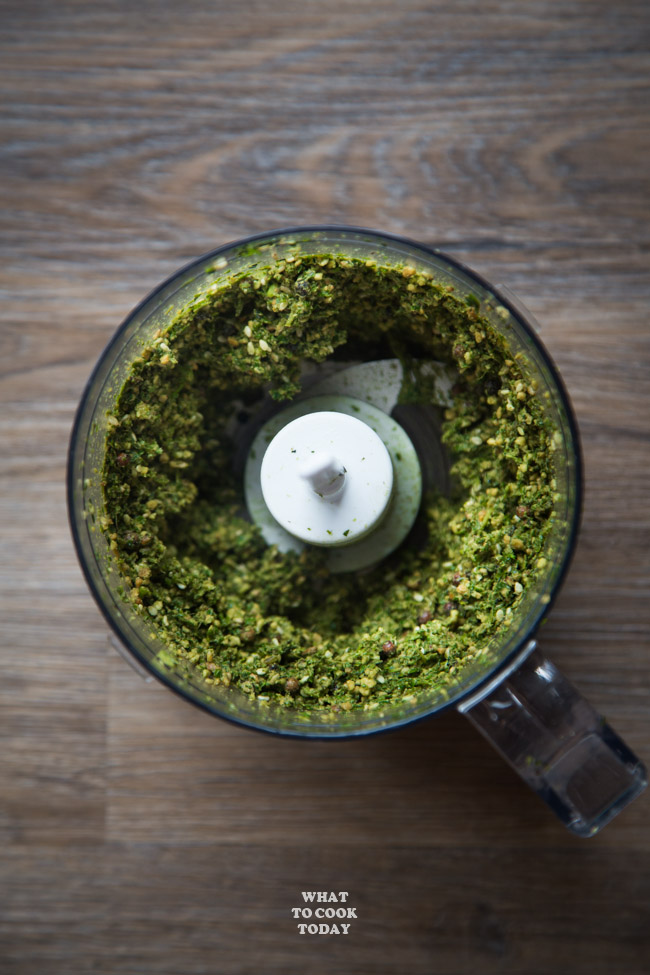 MY VERSION OF LEI CHA IS LESS ELABORATE (SIMPLIFIED)
I didn't have 10-12 vegetable side dish and toppings to go with the rice.
I only used 3 kinds of veggies: green beans, choy sum, mustard greens. In the video I used: green beans, kale, cabbage. All of the veggies are usually chopped up into little pieces. The toppings I used are: roasted peanuts, extra firm tofu (tau kwa), preserved radish (chye poh), and dried shrimp (omit for vegan and vegetarian).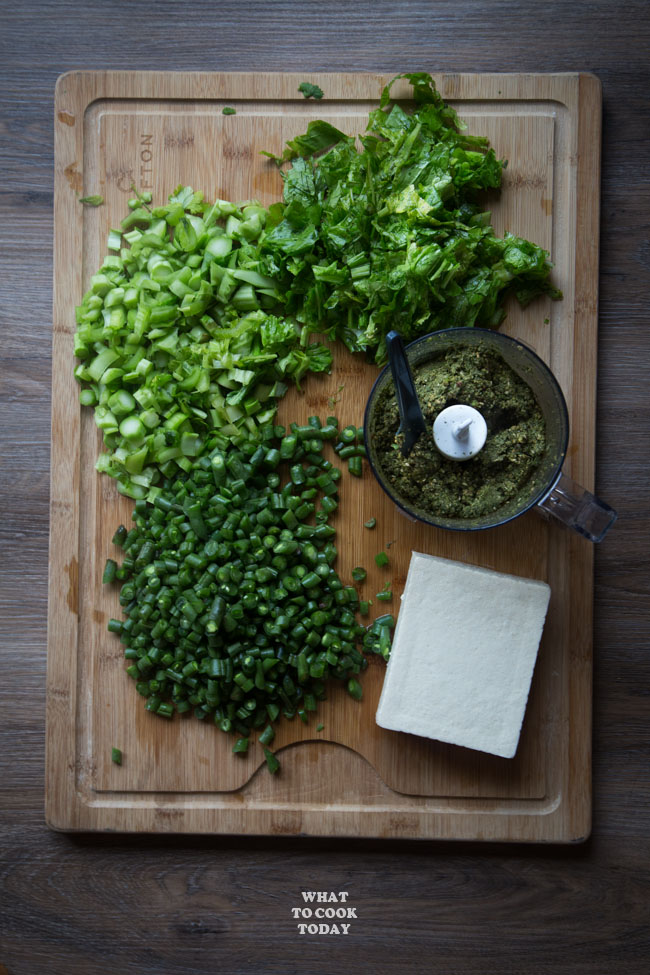 WHAT KIND OF TEA LEAVES TO USE?
I used loose green tea leaves. But you can use Chinese tea leaves like oolong can be used. They might taste a bit bitter if you don't mind it.
HOW DO YOU SERVE LEI CHA RICE?
The dish is usually served with some rice (can be brown rice or regular rice) in a bowl together with all the different sides of vegetable, toppings and then drenched with the tea soup. Here's how in a nutshell:
1. Pour about 1 cup (or more) of boiling water into the tea paste you prepare. Pour more water if you want it more diluted.
2. Portion out rice in a deep plate or bowl. Arrange vegetables and toppings on top of the rice
3. Just before serving, pour the tea soup over the rice
4. Stir everything up and tuck in. It may look like a mess of things, but this is really my thing! I love things mixed up like this 🙂 All the flavors and textures combined! THE BEST! Perhaps that's one of the reasons why I like thunder tea rice a lot!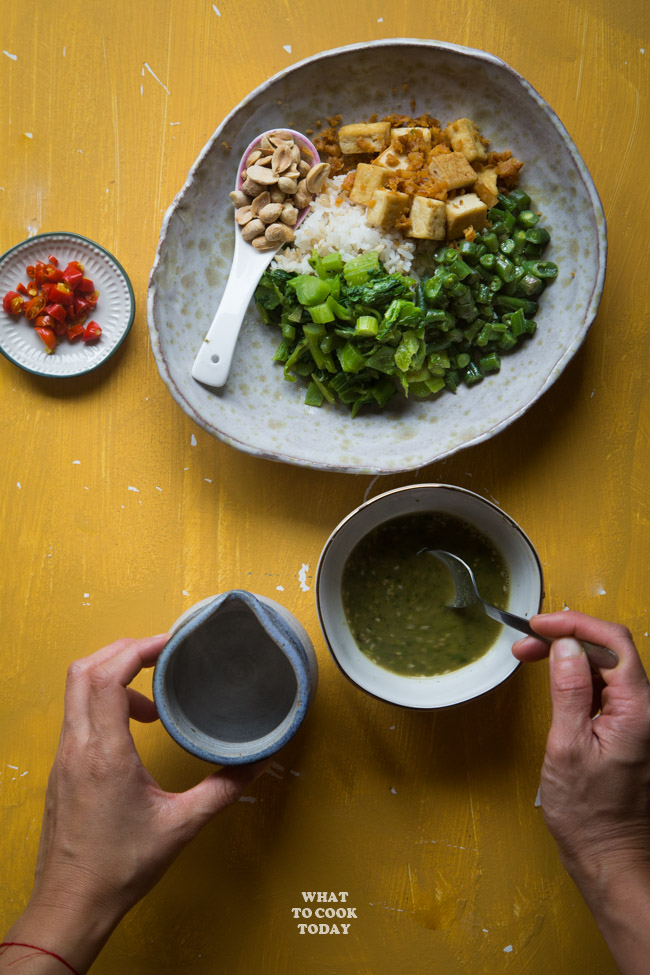 THUNDER TEA RICE CAN BE MADE INTO VEGAN AND VEGETARIAN-FRIENDLY
For Vegan: just omit the dried shrimp
For Vegetarian: omit dried shrimp and garlic
THE TEA PASTE CAN BE MADE IN BIG BATCH AND FREEZE
The tea paste can be portion out into smaller serving portions and freeze up to 6 months and then just thaw in the refrigerator before serving. That makes it more convenient to have lei cha rice anytime you want 🙂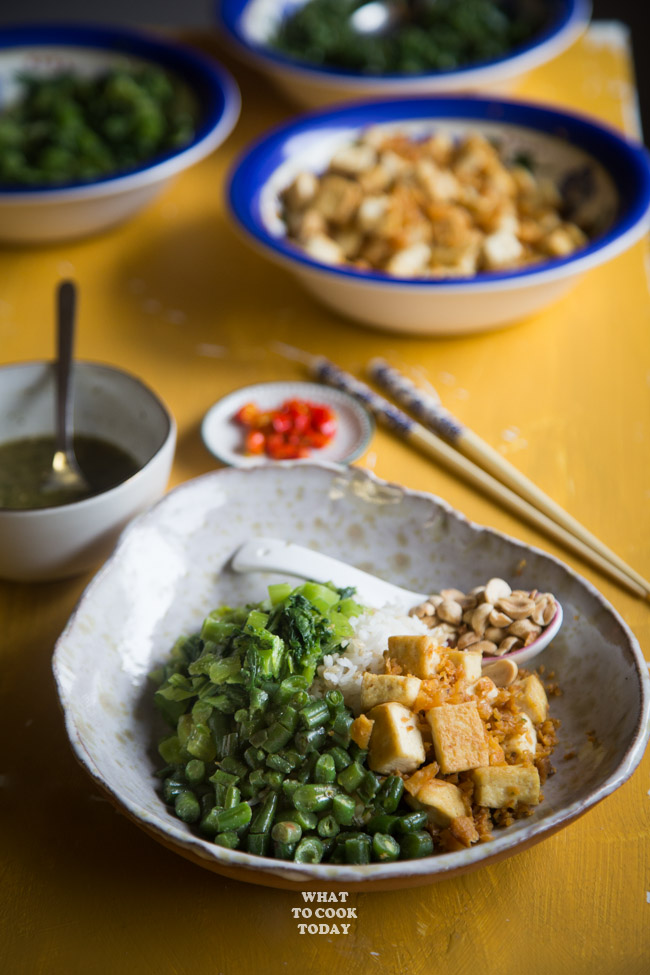 This recipe was originally published in 2012 and now updated in 2020 with videos, new photos, and to improve recipe instructions.
Thunder Tea Rice (Hakka Lei Cha Rice)
Ingredients
Cooked white or brown rice enough to feed 4-6 people
Vegetables:
300

gr

Chye sim

chop into little pieces

300

gr

mustard greens

chopped into little pieces

300

gr

long beans /green beans

(cut into 1/2-inch pieces)

300

gr

Mani Cai (sweet leaf bush

pick the leaves. omit if you can't find

3

cloves

garlic (divided)

finely minced

4

Tbsp

cooking oil

divided
Seasonings for veggies:
Vegetarian oyster sauce

to taste

Sugar

to taste

Salt

to taste
Toppings:
50

gr

dried shrimp

soaked until soft and drain off water, omit for vegetarian

100

gr

chopped preserved radish (chai po)

(wash with water to get rid of some of the saltiness)

200

gr

Extra firm tofu (tau kwa)

(cut into small cubes)

100

gr

roasted peanuts
Tea Soup Ingredients:
50

gr

basil leaves

or 25 gr dried basil leaves

10

gr

mugwort leaves (ai cao ye)

omit if you can't find

20

gr

mint leaves

50

gr

coriander leaves

80

gr

roasted peanuts

1

Tbsp

sesame seeds

1

Tbsp

green tea leaves

½

tsp

Salt

or more to taste
Instructions
Soak preserved radish:
Soak the preserved radish in water to get rid of extra saltiness. Discard water and press out any excess water from the radish
Press the tofu:
I use extra-firm tofu and still there are quite a bit of liquid in there. Place the tofu on a cutting board lined with absorbent paper towel. Cover with another paper towel on top of the tofu and then place a heavy object on top and let it sit for 15 minutes

Remove the heavy object and be surprised by how much liquid is soaked by the paper towel. Repeat this one more time for another 15 minutes. Then cut the tofu into 1/2-inch cubes
Pan-fry the tofu:
Put about 1 tsp of oil in a non-stick skillet. Pan fry the tofu pieces until they are golden brown on all sides. Set aside
Cook the vegetables:
Heat about 1 Tbsp of oil in a wok. Add chye sim and 1/3 of the garlic and stir fry until soft but not mushy. Season with salt to your taste. Remove from the wok. In the same wok, add 1 Tbsp of oil. Add long beans and stir fry until the beans are soft. Season with seasonings to your taste. Remove from the wok. Last but not least, add another 1 Tbsp of oil. Add mani chye (if using) and stir fry until they are soft. The same thing for mustard greens. Season with salt to your taste. Set aside
Cook the toppings:
In the same wok, add another 1 tsp of oil. Add garlic and stir fry for 30 seconds. Add dried shrimp (if using) and cook until fragrant, about 1 minute. Set aside

Add 1 Tbsp of oil. Add chai po and season with a bit of sugar. Stir fry for about 5 minutes and then remove from the wok
Prepare the soup:
Place all the ingredients for tea soup in a food processor and process into a paste. Add a bit of water to help things going in there. Place this paste in a large bowl
Serving:
For each serving, scoop out about 2-3 Tbsp of the tea paste and pour about 3-4 Tbsp of hot boiling water and then stir and let it sit for 15 minutes

Portion rice in a deep platter or bowl. Arrange all the veggies and toppings. Just before serving pour the soup over the rice and serve immediately
Recommended products:
Nutrition
Nutrition Facts
Thunder Tea Rice (Hakka Lei Cha Rice)
Amount per Serving
% Daily Value*
* Percent Daily Values are based on a 2000 calorie diet.