Easy Seafood Mee Goreng/ Seafood Fried Noodles – Malay style stir-fried noodles with seafood and spicy seasonings are super easy to fix and perfect for any day of the week.
The thought of mee goreng made me feel all nostalgic. It's one of my favorite street/hawker food when I lived in Indonesian and Singapore. I wrote at length about Indonesian Mie Goreng a while ago. I believe every country around the world has its own version of mie/mee goreng.

WHAT IS MEE GORENG?
Mee means noodles and goreng is loosely translated to fry/stir-fry in this case. I wrote "mie goreng" for Indonesian mie goreng because that's how we wrote "mie" in Indonesian language. Mee is more commonly used in Singapore and Malaysia. This seafood mee goreng is more of the Singapore Malay style. Of course, each country has a slightly different version, but they don't deviate too much. Mee goreng is basically a stir-fried noodle 🙂 It's a highly popular street/hawker food in Indonesia, Malaysia, and Singapore.

WHAT KIND OF SEAFOOD CAN I USE IN THIS RECIPE?
I only used shrimp in this recipe, but squid, slices of fish cakes, and crab meat are commonly used for seafood mee goreng.
WHAT IF I DON'T LIKE SEAFOOD?
You don't have to use seafood if you are not a seafood eater. Some people use meats of their choices like chicken. Pork is not commonly used because this is more of a Malay style mee goreng and so usually ingredients need to be halal (no pork).

HOW TO MAKE GOOD SEAFOOD MEE GORENG IN A NUTSHELL
1. Fresh noodle is best
If you can get fresh egg noodle, use that. If you must use dried egg noodles, make sure you don't overcook them
2. Make sure your wok/skillet is hot
Heat is very important in making pretty much any stir-fried noodles
3. Cook the seafood first
Seafood cooks quickly and so you don't want to overcook them. Stir fry them first and then dish out
4. Cook aromatics next
Stir-frying aromatics will add an extra depth of flavor to your overall dish
5. Cook the eggs
Crack in eggs and let them set a little bit before stir frying them
6. Cook veggie next
It's cabbage in this case and stir fry until it's soft but still have a slight crunch
7. Add noodles, seafood, and seasonings
These are usually added last. Give it a good stir so the seasonings are picked up by everything in the wok/skillet
8. Garnish and serve immediately
Mee goreng tastes best when served straight away
HOW TO STORE AND REHEAT SEAFOOD MEE GORENG
Store: you can store leftover in the refrigerator for up to 3 days
Freeze: I personally don't recommend freezing seafood mee goreng just because the texture of the seafood and noodles won't be the same after reheating
Reheating: You can reheat in the microwave or reheating them by stir frying again on the wok/skillet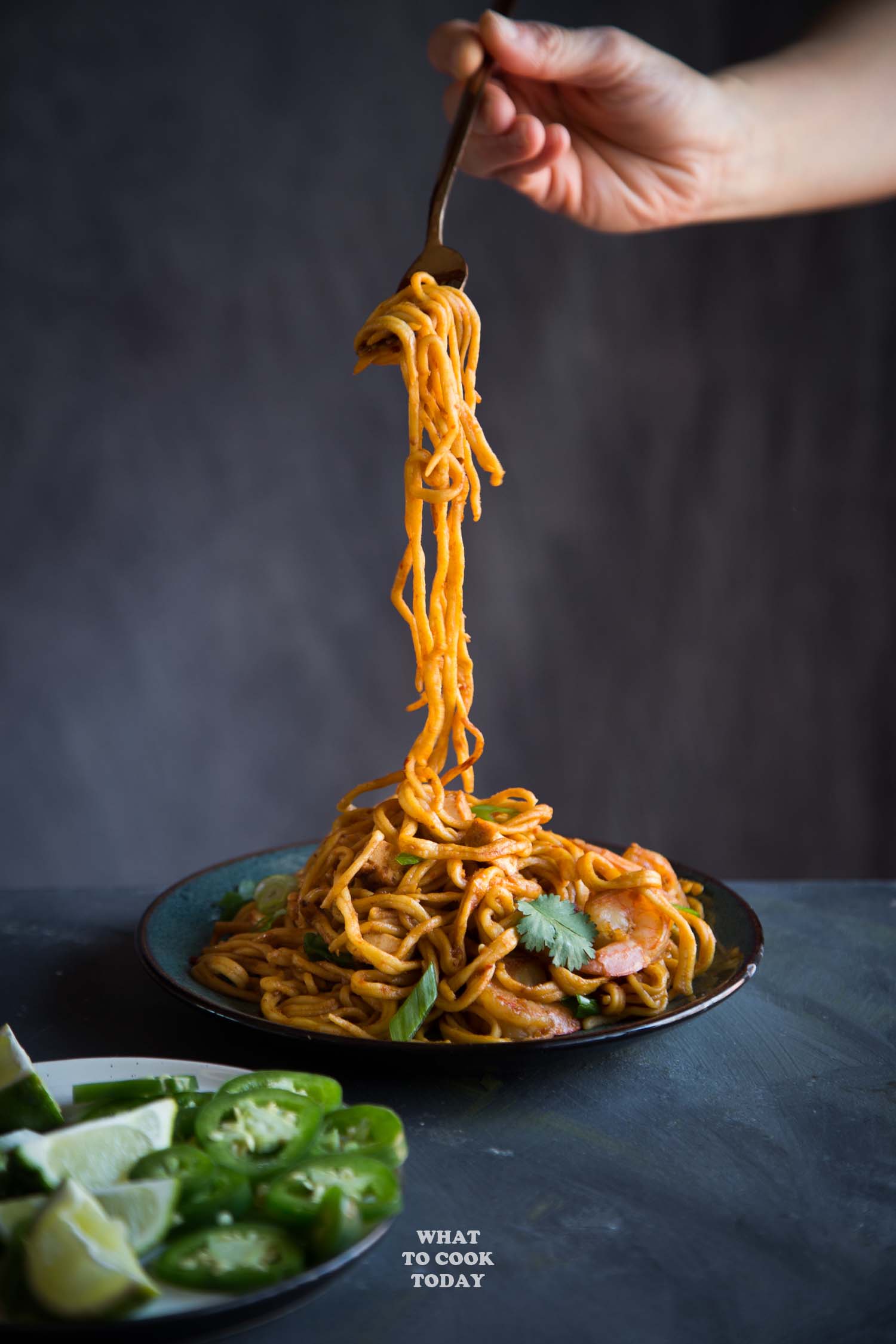 This blog post contains affiliate links. I earn a small commission when you made purchase at no extra cost to you. Learn more.
Easy Seafood Mee Goreng/ Seafood Fried Noodles
Ingredients
1

lb

fresh egg noodles

2

cups

cabbage

shredded

4

Tbsp

canola oil
Seafood you can use in mee goreng:
100

gr

large shrimp

(shelled and deveined)

100

gr

squids ring

80

gr

fish cake

thinly sliced

2

eggs

80

gr

fried tofu puffs

(cut into 1/2-inch cubes)
Aromatics:
1

medium onion

thinly sliced

2

Tbsp

chopped ginger

1

large

jalapeno peppers

sliced into rings
Seasonings:
2

Tbsp

soy sauce

or more to taste

3

Tbsp

ketchup

2

Tbsp

chili sauce

use store-bought chili sauce is fine
Garnishes:
1

stalk

green onion

finely chopped

1

Tbsp

coriander leaves

chopped

Kalamansi or lime
Instructions
Preheat a wok or skillet with oil. Add the seafood and stir fry quickly until they turn color and cooked through. Do not overcook them. Dish out to a serving platter. To the same wok, add the onion and ginger and stir fry for about 1 minute. Crack in eggs to the same wok and stir-fry for 2 minutes

Add cabbage and stir fry for another 1 minute. Add noodles followed by seasonings and the seafood you pre-cooked earlier. Stir fry to mix everything.

Garnish with chopped green onion, coriander leaves, and squeeze juice of lime/kalamansi. Serve immediately