If you love Hainanese chicken rice, you need to make it with this easy yet delicious recipe in your instant pot using a pressure cooker or rice setting. Can be cooked using rice cooker too.
They say you can't visit Singapore without eating Hainanese Chicken rice. It is Singapore's National dish. My addiction to Hainanese chicken rice was exacerbated when I lived in Singapore for 3 years. Don't be fooled by its pale appearance, this baby is anything but tasteless. Even my kids love Hainanese chicken rice. I used to not making it often because it's a little bit of work, but ever since we own a pressure cooker (Instant Pot), making this pressure cooker Hainanese chicken rice has been a breeze and so much faster! This pressure cooker Hainanese chicken rice has now become our weekly staple.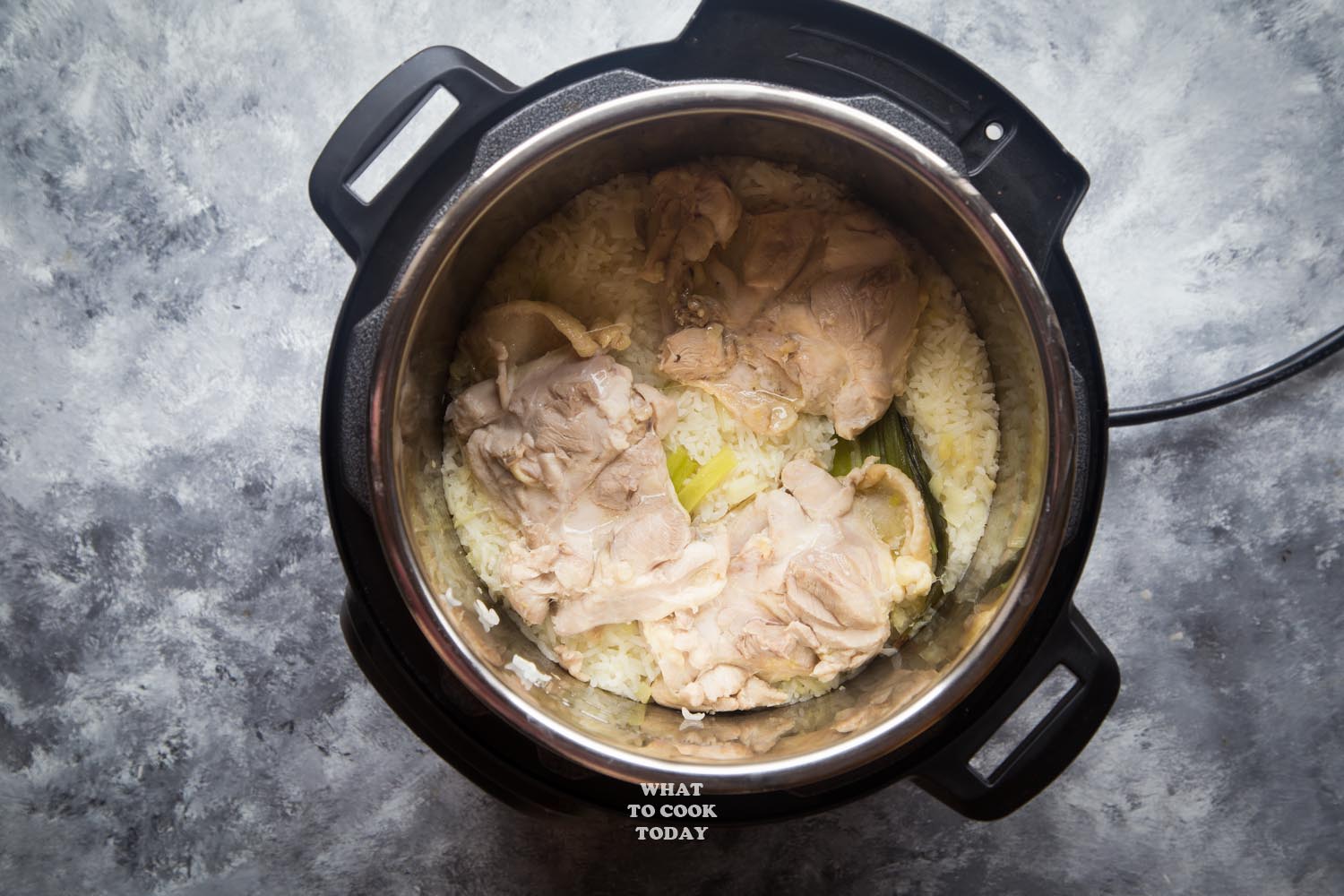 WHAT IS HAINANESE CHICKEN RICE?
Hainanese Chicken Rice is comfort food for most people in Asia, including me. So-called due to its roots in Hainan cuisine and its adoption by the Hainanese overseas Chinese population in the Nanyang area (present-day Southeast Asia).
Traditionally, the whole chicken is basically gently "poached" and resulted in very tender meat. No other messing around with the chicken after that. The chicken is "pale" in color, but don't let that color fools you because it is definitely not pale in taste I can tell you. The rice that is served with the chicken is cooked with garlic, shallots, pandan leaves (screwpine leaves) = FLAVORFUL! In Southeast Asia, most dishes are served with chili and chicken rice is no exception. You gotta have the chili sauce made for this chicken rice (sorry, I forgot to include it in the photos LOL). The ginger garlic paste is a must to accompany Hainanese chicken rice.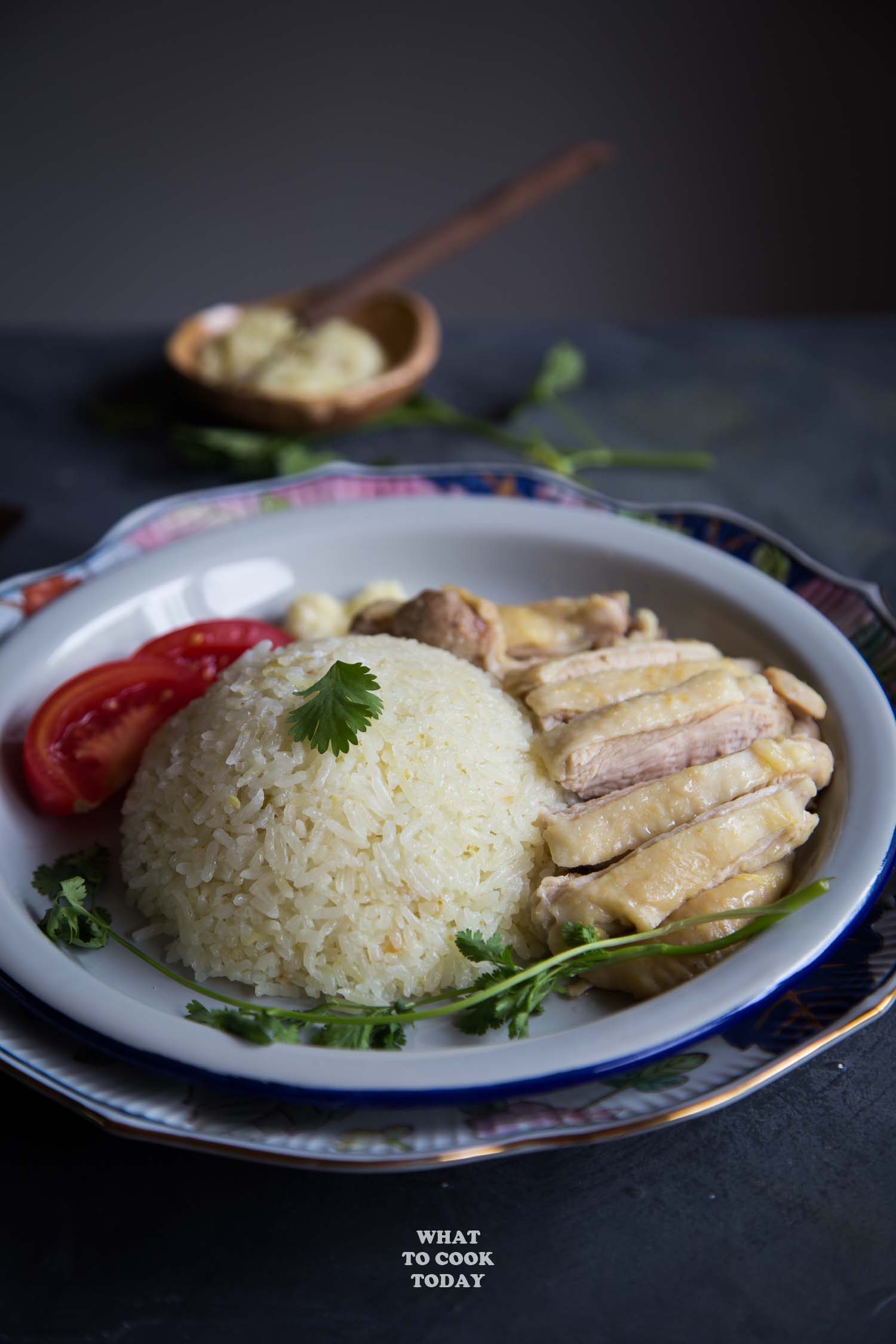 WATCH HOW I MADE HAINANESE CHICKEN RICE WITH INSTANT POT
HOW TO MAKE HAINANESE CHICKEN RICE PASTE
1. Place garlic, shallots, ginger, salt, sugar, and cooking oil in a food processor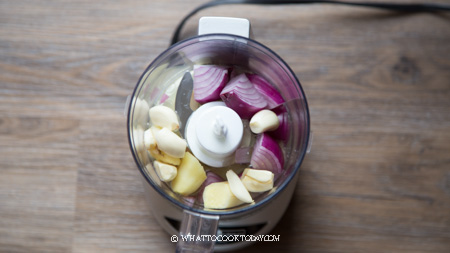 2. Process into a fine paste

HOW TO MAKE GINGER GARLIC SAUCE FOR HAINANESE CHICKEN RICE
1. Place ginger, garlic, sesame oil, chicken broth, salt and sugar in a food processor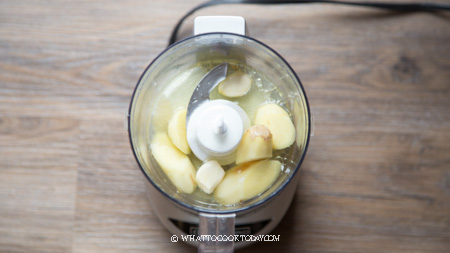 2. Process into a fine paste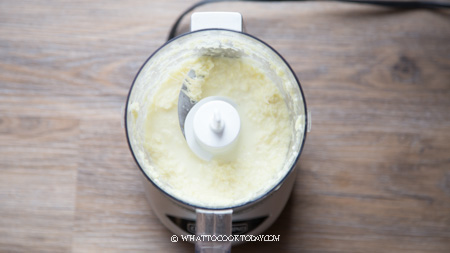 HOW TO COOK HAINANESE CHICKEN RICE WITH INSTANT POT PRESSURE COOKER
1. EXFOLIATE THE CHICKEN: Rubbing salt all over the skin of the chicken will ensure you get a nice silky smooth skin. Take care not to tear the skin though.


2. SAUTE CHICKEN RICE PASTE: Saute the paste until fragrant with saute mode on the instant pot.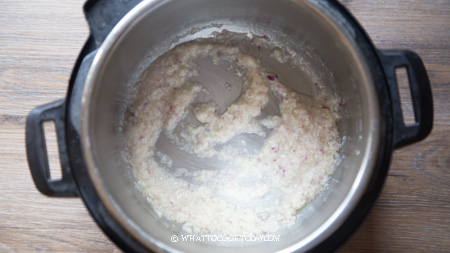 2. DEGLAZE: Add chicken stock and deglaze the bottom of the pot


3. LAYER THE CHICKEN PIECES: Arrange the chicken pieces, skin side up.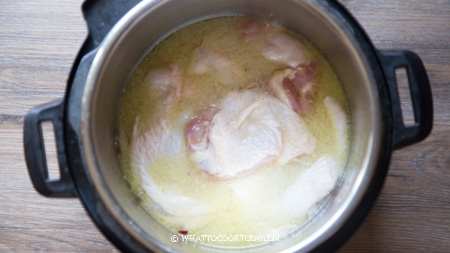 4. SPRINKLE IN THE RICE: Sprinkle the rice on top and gently push the rice into the liquid so the rice will get cooked properly. Add pandan leaves.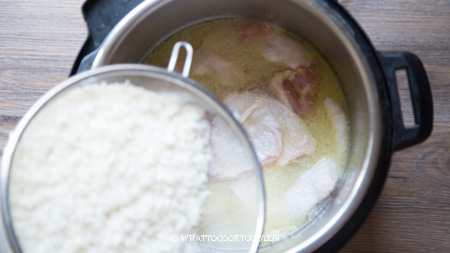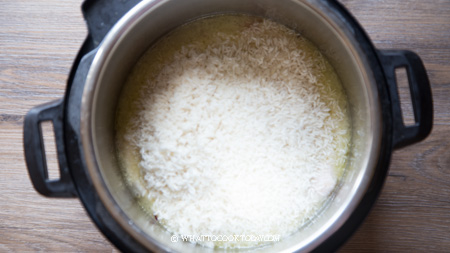 5. PRESSURE COOK: Pressure cook on high for 8 minutes and then wait 10 minutes to release pressure. The residual heat will continue to cook the chicken, so no worries about the chicken being raw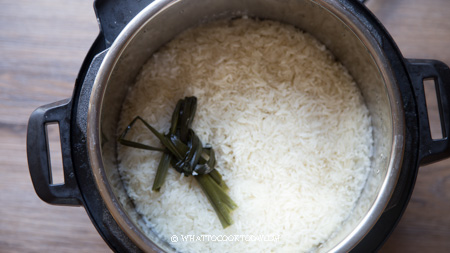 5. REMOVE THE CHICKEN PIECES: Unlock the lid and carefully remove the chicken pieces onto a cutting board. Brush with some sesame oil and soy sauce combination on the skin (this is totally optional). Let them rest for 5 minutes before slicing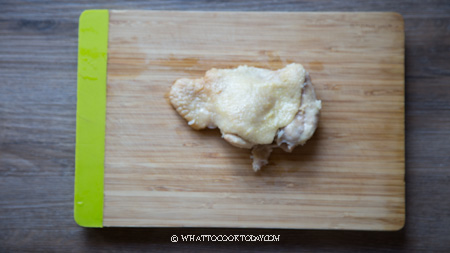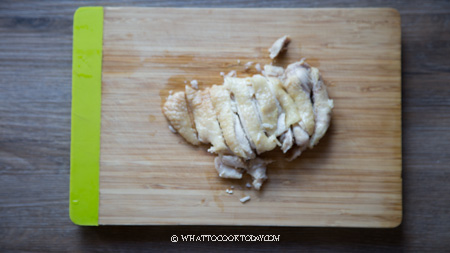 6. FLUFF THE RICE: The bottom of the pot may be still slightly wet. Don't worry. Fluff the rice with a rice paddle and stir to mix. Close the lid back and let it sit for another 5-10 minutes and the liquid will get absorbed by the rice
COOK'S TIPS
1. THE RICE
Make sure you wash the rice until the water is clear and then drain the water off completely. This is important so that the water to rice ratio is accurate.
2. SAUTE THE AROMATICS
Instead of dumping everything in the pot and let it cook, I like to stir-fry the aromatics first. Mom always reminds me to do so because it helps to enhance the flavor of the aromatics. The best thing is, you can do all this in the same pot by using the saute function of an Instant Pot.
3. USE THE SAME CUT OF MEAT
We will be using boneless meat, but with its skin intact. The oil from the skin helps to contribute flavor to the rice. It's important to use the same cut of meat, for example, I'm using all boneless chicken thighs. I keep the skin and just remove the bones myself. You are welcome to use breast meat too, but make sure it has skin on it.
4. ICE WATER BATH (OPTIONAL)
Once the chicken is done cooking, submerge them in cold ice water bath. This will stop the cooking process to ensure that tender meat and also gives you that nice smooth skin
HOW TO PREVENT RICE STICKING TO INSTANT POT AND CAUSES BURN DISPLAY
1. Deglaze
This is applicable when you cook something like this recipe where you saute first before pressure cooking. Saute the ingredients and then add the liquid and scrape the bottom to make sure you get all the bits and nothing is stuck to the bottom of the pot.
2. Add the rice last
After deglazing, layer whatever you need to layer, like meat or veggies. Then sprinkle in the rice and use a spatula to gently push the rice down so it is submerged in the liquid to cook properly. So the rice doesn't really "touch" the bottom of the pot and has less chance to get burn
3. Use RICE setting.
If you've tried the above and still get the BURN message, use the "RICE" setting on Instant pot instead or use your rice cooker. Detail instruction on both methods are on the recipe card below. Just know that the chicken may be a bit more overcooked compared to manual pressure cooker setting.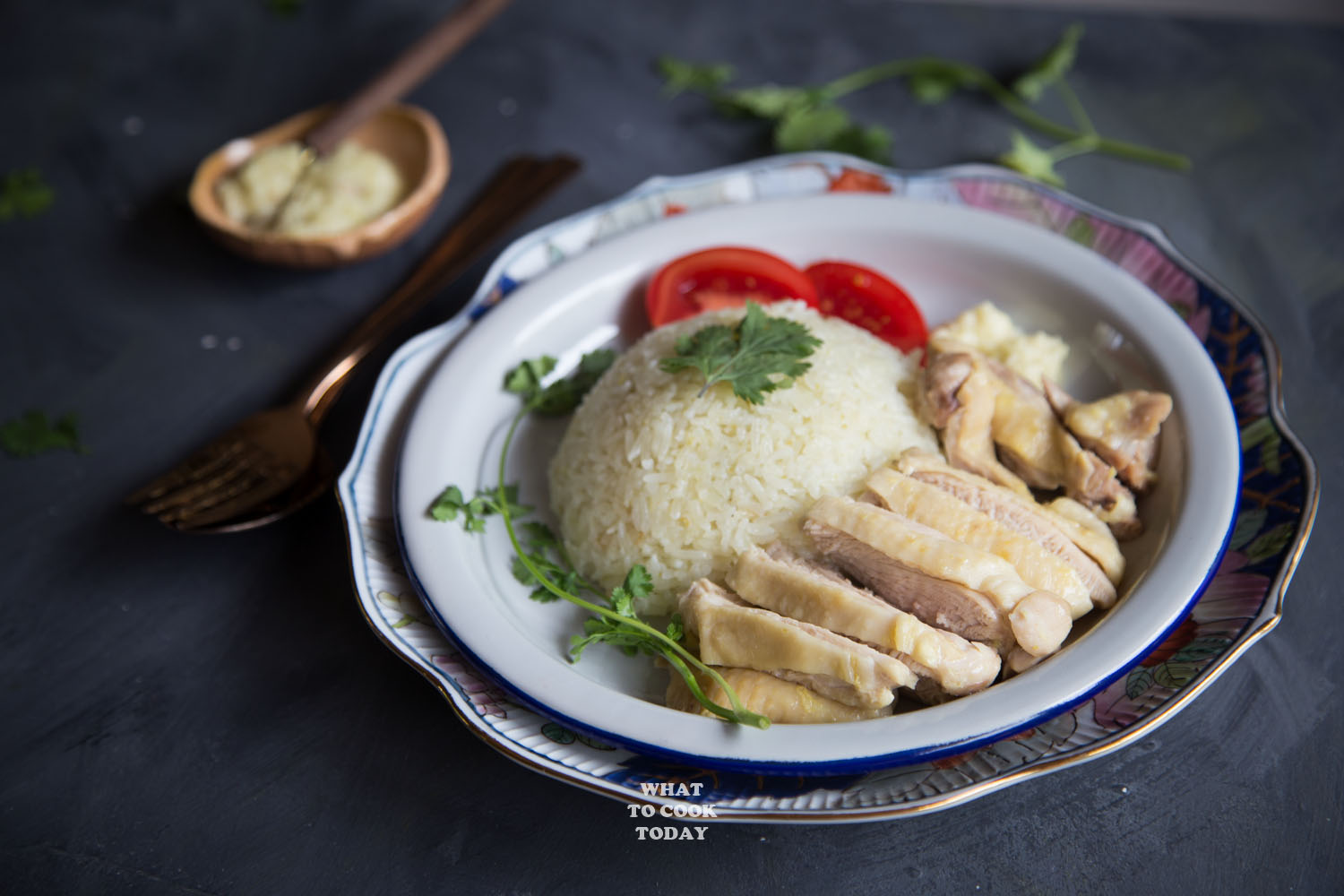 HOW TO SERVE HAINANESE CHICKEN RICE
1. Get an individual serving plate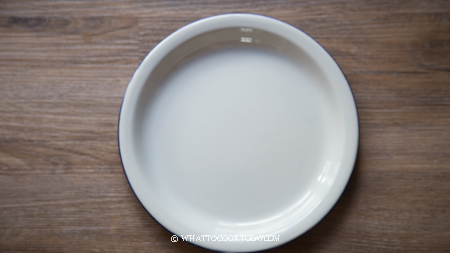 2. Scoop the rice and pack it into a deep rice bowl and then inverted onto a plate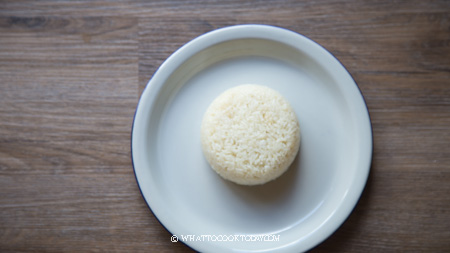 3. Arrange the sliced Hainanese chicken pieces (on the side or on top of the rice is fine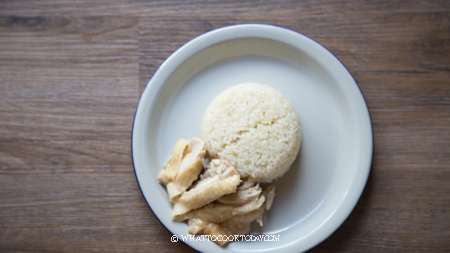 4. Garnish with some slices of cucumber and/or tomatoes (not shown in the photo)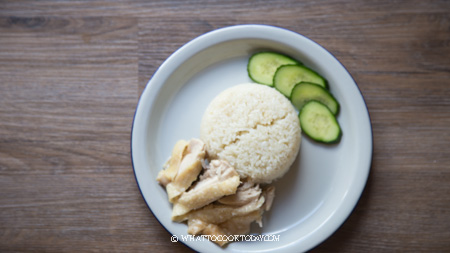 5. Garnish with some fresh cilantro leaves and serve with ginger garlic sauce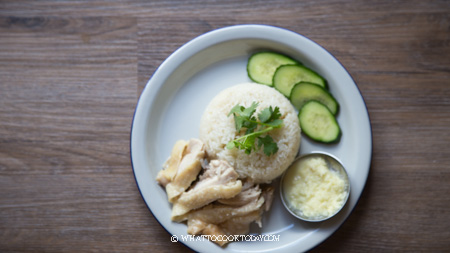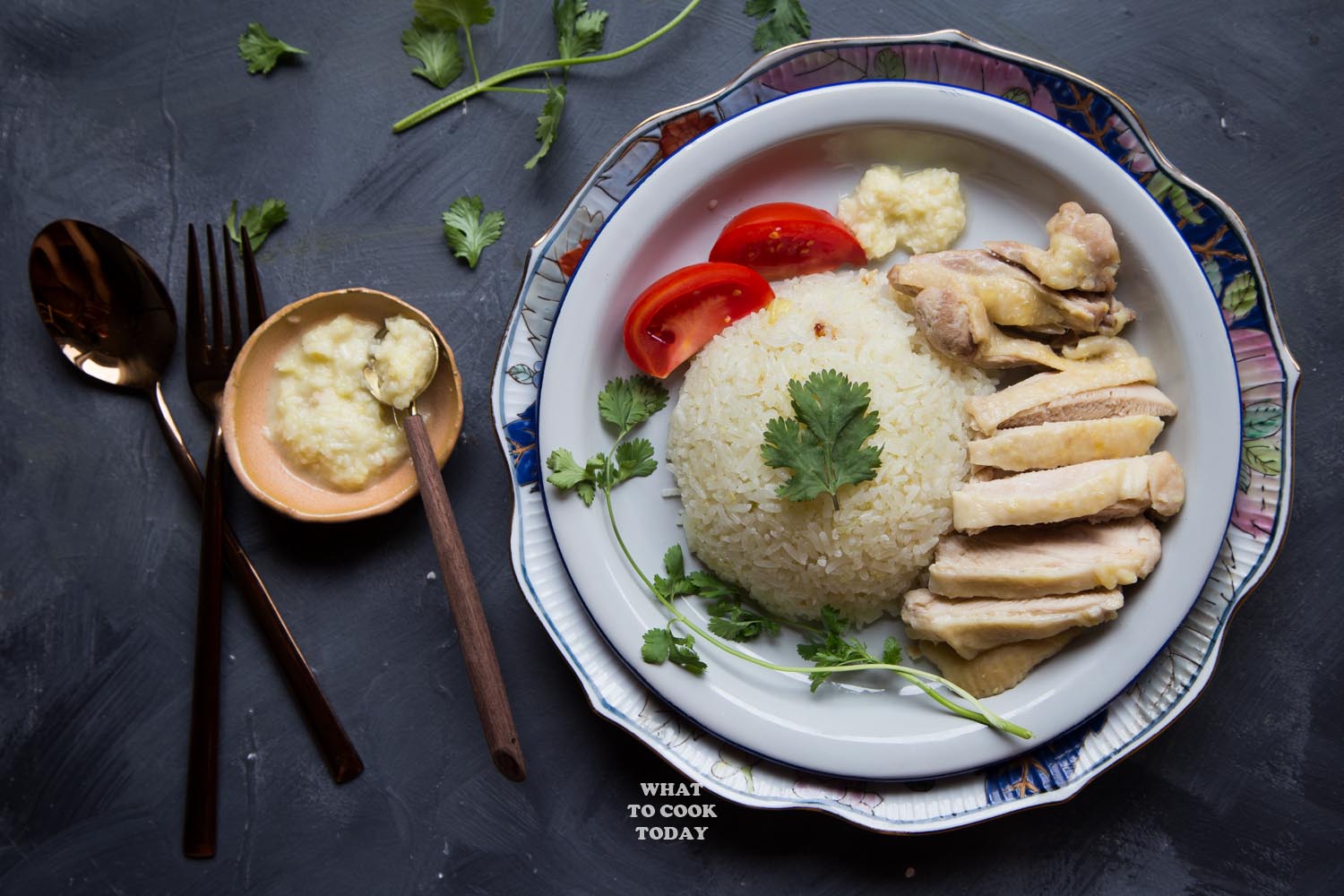 Now are you ready to chow? because I am 🙂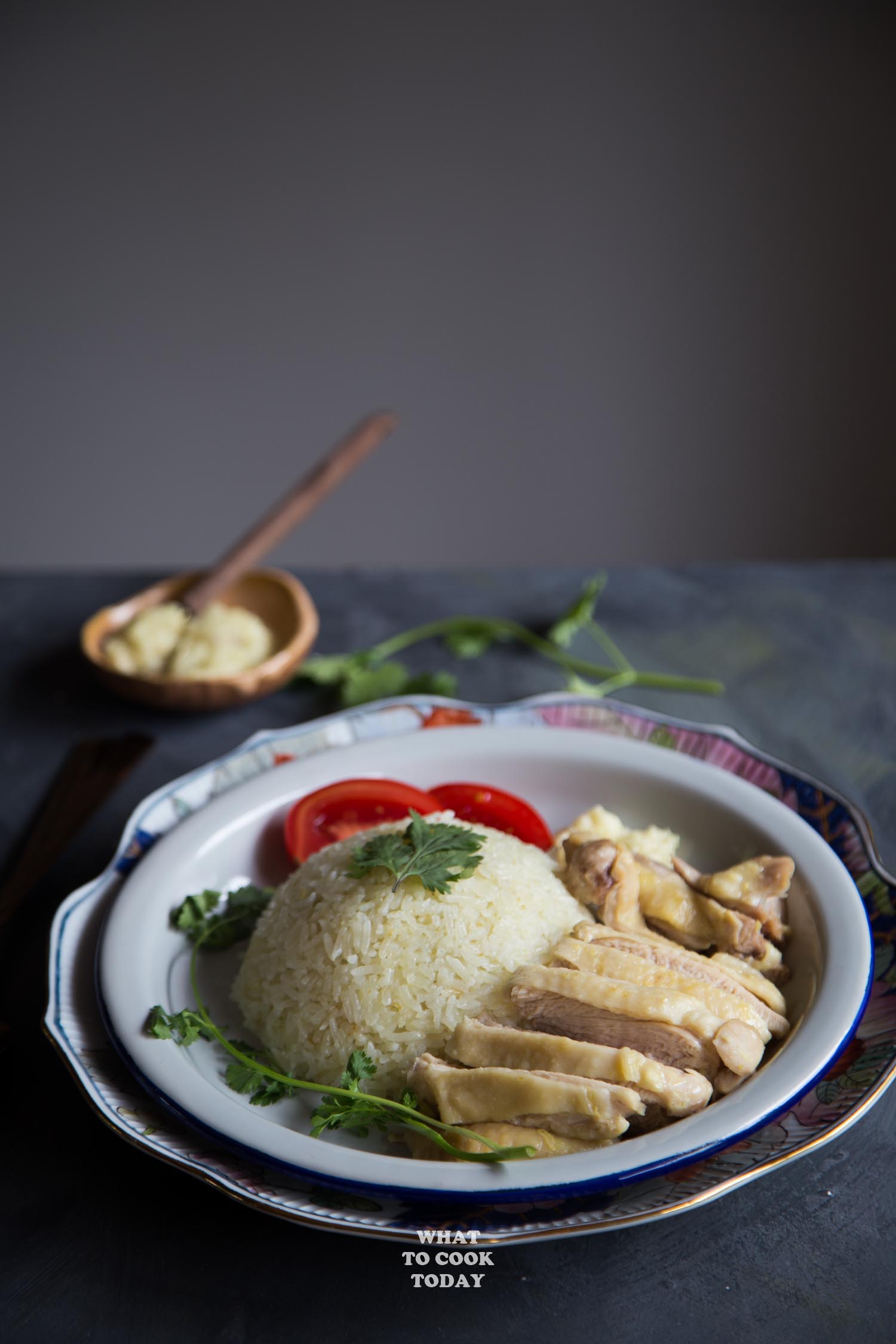 *Recipe is written for 6-quart Instant Pot. Cooking time should remain the same for 8-quart size but will take longer to pressurize. For mini duo (3-quart), I recommend to half the recipe and use the same amount of time to cook*
* 12/3/2018: Based on some of the mixed feedbacks from you guys who have tried this recipe, I've updated the cooking time for the pressure cooker after several rounds of testing and added another method of making this Hainanese Chicken Rice using "RICE" setting on Instant pot"
Easy Pressure Cooker Hainanese Chicken Rice
Learn how to make delicious, easy, and quick Hainanese chicken rice with a pressure cooker or RICE setting on Instant pot. Can be cooked using rice cooker too.
PIN RECIPE
PRINT RECIPE
Ingredients
For the chicken:
800

gr

boneless skin-on chicken thighs

about 2 lbs, see notes

Salt

for rubbing the chicken

Ice water bath

optional
Chicken Rice Paste for cooking rice :
6

cloves

garlic

peeled

3

large

shallots

peeled

1

thumb-size of ginger

peeled

1 1/2

tsp

salt

1

tsp

sugar

3

Tbsp

cooking oil
For Ginger Garlic Sauce:
60

gr

ginger

peeled

1

clove

garlic

1

tsp

sesame oil

1

Tbsp

chicken broth

or use water

1/4

tsp

salt

or more to taste

1/2

tsp

sugar
For the chili sauce:
4-6

red chilis

stemmed

4

Tbsp

chicken broth

or use water

1

clove

garlic

1

shallot

1/4

tsp

salt

or more to taste

Juice of 1 lime
For brushing on chicken after cooking (optional):
Garnishes:
Cilantro leaves

Slices of fresh tomato

Slices of fresh cucumber
Instructions
Things you can prepare ahead:
Place the ingredients for aromatics and seasonings for rice in a food processor and grind into paste. You may need to scrape the food processor bowl few times to make sure everything is grinding evenly. Transfer to a container and save in refrigerator. Give the food processor a quick rinse with water and then place all ingredients for chili sauce in the food processor and grind into paste. Transfer to a container and it can keep in the refrigerator for up to 1 week

Place ingredients for ginger garlic sauce in a food processor and blend into a smooth paste. Cover and store in the refrigerator. They can be kept in the refrigerator for up to 1 week

Pat the chicken thighs dry and then rub with some salt all over the skin. Then rinse the salt off and pat it dry with an absorbent paper towel
Cooking with Instant pot using high pressure setting:
Press saute on instant pot. When it's hot, pour in the aromatic paste (which already has oil in it) and stir fry for about 1-3 minutes. Pour in the chicken broth. Turn off saute mode. Use a wooden spatula to really scrape the bottom of the pot so nothing is stuck there and causes burn later. Add the better than bouillon. Stir to mix everything. Turn off saute mode

Layer the chicken pieces. Skin side up. Sprinkle in the rice and use a wooden spatula to gently push the rice down so it is covered by liquid

Close the lid. Turn the steam release valve to seal. Press pressure cook on high and set timer to 8 minutes. When the timer is up, wait for 10 minutes and then release pressure completely and proceed to the "serving" step below

Use a rice paddle to fluff the rice and gently remove the chicken pieces from the bottom to a platter. The bottom of the pot will still be slightly "wet", but don't panic. Fluff the rice again and stir to mix everything. Close the lid back and let it sit for another 5-10 minutes and the rice will reabsorb the liquid. Proceed to serving step below
Cooking with Instant pot using RICE setting:
Press saute on instant pot. When it's hot, pour in the aromatic paste (which already has oil in it) and stir fry for about 1-2 minutes. Pour in the chicken broth and turn off saute mode. Use a wooden spatula to really scrape the bottom of the pot so nothing is stuck there and causes burn later. Add the better than bouillon. Stir to mix everything. Turn off saute mode

Layer the chicken pieces. Skin side up. Sprinkle in the rice and use a wooden spatula to gently push the rice down so it is covered by liquid

Close the lid. Turn the steam release valve to seal. Press RICE and it will show up as "auto". When the timer is up, wait for 10 minutes and then open the lid and proceed to the "serving" step
Cooking with rice cooker:
Preheat a large skillet. Pour in the aromatic paste (which already has oil in it) and stir fry for about 1-2 minutes. Add the rice and stir fry for another minute. Turn off the heat. Transfer to the inner pot of your rice cooker. Add the chicken broth and stir to mix everything. Lay the chicken pieces on top. Close the lid and use your "white rice" setting. It will take about 15-20 minutes to cook. When it's done cooking, wait 10 minutes. Proceed to "serving" step below
Serving:
Carefully remove the chicken thighs and then submerge in ice water bath, if you choose to do this step. This will shock the chicken and stop the cooking process and also create that nice silky smooth skin. Transfer to a cutting board. Wait 5 minutes and then slice the chicken. Brush with the soy sauce sesame seasonings if you want to. It adds extra taste to the chicken

Fluff the rice with a fork or rice paddle. Keep them warm if not serving yet. When ready to serve, Scoop out rice into a Chinese-style rice bowl. Pack the rice in and place a serving plate on top of the bowl and quickly invert it. You will have a dome-shape rice now. Place the sliced chicken on the plate. Garnish with fresh cilantro leaves, slices of tomato and/or cucumber

Serve immediately with the chili and ginger garlic sauce
Notes
If you use bone-in chicken thigh, add another 5 minutes to cooking time with Instant Pot pressure cooker
You might also like this version of Hainanese Rice I grew up with in Indonesia.
Nasi Hainam Medan / Medan-style Hainanese Chicken Rice

OR this Hainanese Pork Chop that is totally delicious