Seriously GOOD Homemade Garlic Naan – Homemade garlic naan that is so soft, stretchy, and garlicky that you will love tearing and can't stop eating these naans. My kids go crazy with these naan bread.

I chose to type this recipe at 10:00 pm at night and I had no one else but myself to blame. My mind is just lusting over the thought of me tearing these soft stretchy naans endlessly. STOP! (but kinda don't stop?) Anyway, my brain is almost near to this "Let me rest" point. It's been a LONG LONG day of photo taking, cooking, and projects. It's pretty exhausting but kinda fulfilling at the same time.
This seriously good homemade garlic naan bread recipe uses yeast to leaven the bread. It's not as quick as the no-yeast version of naan bread, but it's so worth it! I love the good ol' yeast versus just leavening the bread with baking powder. I'm telling you, my kids literally fought over the last piece! (and I thought I made too much!)

This post contains affiliate links, which support this site at no extra cost to you. Learn more.
TIPS ON MAKING A SERIOUSLY GOOD HOMEMADE GARLIC NAAN
1. The flour
I believe naan bread and other flatbreads is made with
Chakki Atta flour
, which is a stoneground wheat flour, in India. They have high gluten content and can resist that tearing and give you soft yet chewy texture that I craved for in naan or any bread realy! The closest substitution for this is bread flour.
2. Good kneading
If you have a standmixer or mixer that can knead the dough, please use it. I swear it makes a huge difference compared to when I'm the one who knead it LOL! I'm horrible at that. But if you are good at that, then you don't need a machine to do the job. The kneading contributes to the softness, light, airy, and chewy texture.
I DON'T HAVE A TANDOOR, CAN I STILL MAKE NAAN BREAD?
It's not a news anymore that naan is traditionally cooked in a tandoor on a very high heat. Cooking the naan in the pan really works for me too. I get that nice bubbly and a bit of char and the bread still turned out soft and chewy and I just love tearing them to eat.
CAN I ALTER THE RECIPE?
1. Dairy-free
You can opt-out of using yogurt. I've made it once without yogurt and just add a bit more water teaspoon by teaspoon until the dough comes together into a nice mass. I like having yogurt in there for that hint of tang.
2. Toppings
You can add sesame seeds or nigella seeds after cooking the naan bread
SHOULD I USE GHEE OR BUTTER?
Ghee will get my vote, but butter is definitely acceptable too.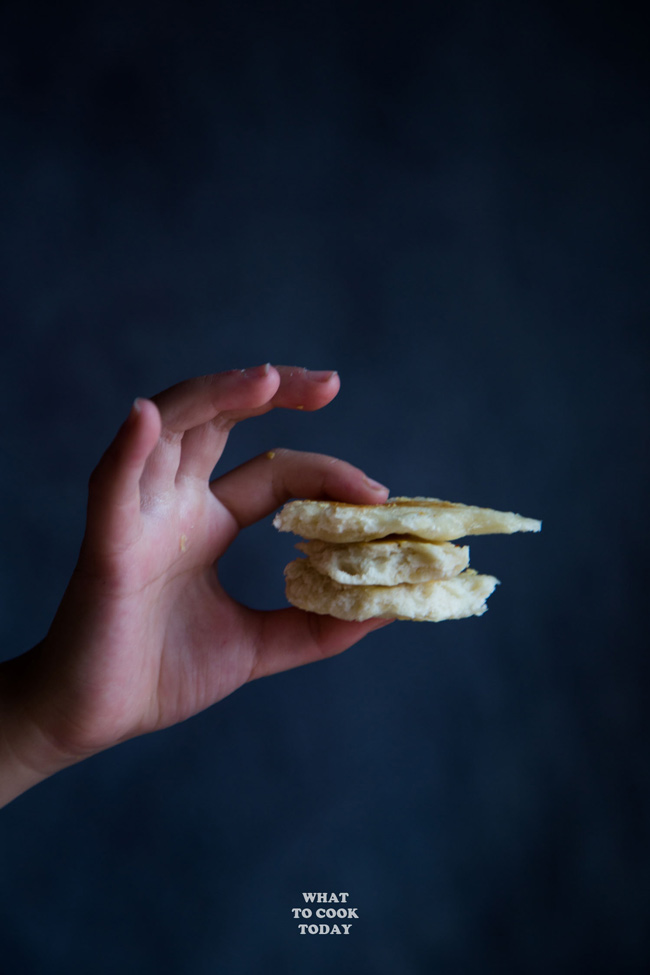 I first saw the recipe for Naan at Jamie Oliver's site a few years ago and have modified it to as shown below.
Seriously GOOD Homemade Garlic Naan
Homemade garlic naan that is so soft, stretchy, and garlicky that you will love tearing and can't stop eating these naan
Print
Ingredients
2

tsp

active dry yeast

1

cup

lukewarm water

1/2

Tbsp

sugar

3 1/3

cups

bread flour

about 465 grams

1

tsp

salt

1

tsp

baking powder

6

cloves

garlic

peeled and grated

1/3

cup

whole-milk plain Greek yogurt
Brush with:
1/2

cup

melted ghee

or use butter

2

cloves

grated garlic
Stand Mixer I use:
Instructions
Mix the melted ghee/butter with grated garlic for brushing the naan later. Set aside
Making the dough:
Place the yeast, lukewarm water and sugar in a bowl. Let it sits until foamy, around 10 minutes.

In a mixing bowl, combine the flour, salt, and baking powder. Add yeast, cooking oil, garlic, and yogurt
If kneading with stand mixer:
Attach the dough hook and let it knead on low speed for about 5 minutes or so. Until the dough is no longer sticky to the bowl and comes together into a nice silky mass. It may be just a tiny bit sticky to the touch, but I know when this is the case, the bread will come out soft
If kneading by hand:
Work through the sticky stage and knead until the dough is no longer sticky about 10-15 minutes. It will come together as smooth
Resting:
Lightly oil the bowl and then cover and let it rises in a warm place until doubled in size (45minutes to 1 hour)
Shaping:
Lightly dust your working surface and your hands with flour. Place the dough on it and punch it down and knead it a few times and roll it into a long log and divide into 8 to 10 equal pieces of dough. Keep them covered and work with one dough at a time. Roll the dough out into about 6-inch irregular oval shape. Roll it slightly thicker at the edge
Cooking on stove-top:
Preheat your non-stick pan. Brush the skillet with some melted ghee. Place the naan on the skillet and let it cook until the naan start to puff up and you see light brown spots (my favorite parts) about 1-2 minutes. Brush with some ghee/butter and flip to the other sides and cook for another 1 minute or less. Remove from the heat and brush with more melted ghee and garlic combo if you wish. Continue with the rest of the dough and stack them up as you cook them. Serve warm with some fresh cilantro leaves or other dishes
Storing and reheating:
They can be refrigerated for 2-3 days. You can also freeze them in tightly sealed bag. When I want them, I just thaw them in the refrigerator and then sprinkle with some water and cover with aluminum foil and reheat in the oven at 350 F for 10 to 15 minutes until warm OR you can just throw them on the grill. They heat up nicely too. We get rid of our microwave a while ago, but I believe you can reheat it in the microwave too after thawing. Just be sure not to use aluminum foil in there though


You might also be interested in these:
ROTI BAWANG MEDAN (CARAMELIZED ONIONS BAKED BUNS)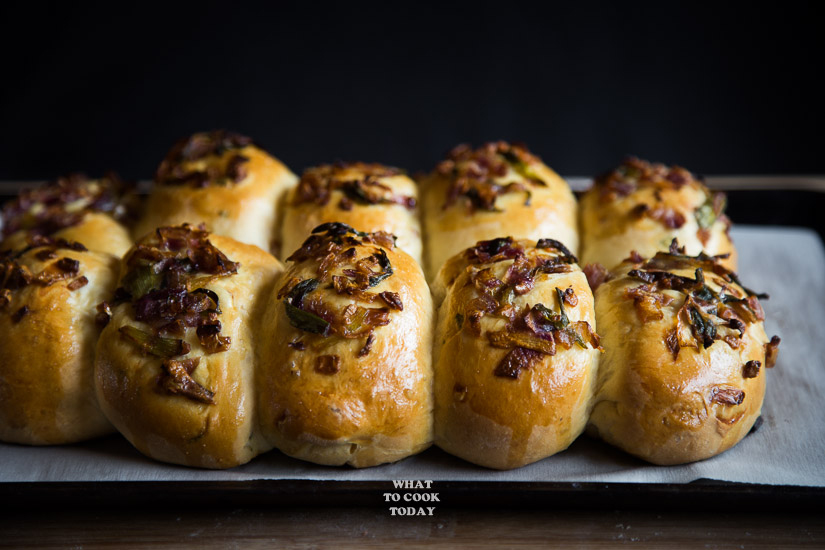 CARAMELIZED ONION SCALLION CLOUD BREAD