Nasi Hainam Medan/Medan-style Hainanese Roasted Chicken Rice – Roasted chicken is served with aromatic rice and other signature Indonesian-Chinese side dishes and entrees that make it uniquely Medan-style Hainanese Roasted Chicken Rice.
This nasi Hainam Medan is one of my childhood favorites. Dad always brought us to a movie every Sunday evening and after a movie, we would stop by somewhere to have dinner. One of the eating places that was often in the rotation is at this street named Selat Panjang. The whole length of the street is filled with people selling food at their houses. Houses are typically multi-levels in Indonesia, at least 2-3 story high. It's pretty typical that people will sell food or do business in the first stories of their houses and the 2nd levels onwards are their living quarters!
The shops aren't usually equipped with air conditioners and only have ceiling fans spinning at full-speed. So, this one shop sells nasi Hainam Medan and also nasi tim ayam and dad knew to order either one for me and my sister usually. We have other favorites too, but nasi Hainam Medan was what I usually ordered.
WHAT SO SPECIAL ABOUT THIS NASI HAINAM MEDAN?
Hainam means Hainan. So, this is still a Hainanese style chicken rice, but it's a roasted chicken and in Medan, they are served with other side dishes like acar kuning timun (cucumber carrot pickles), sometimes fresh slices of cucumber, tomatoes and also entrees like sambal goreng kentang, sambal udang serai, roasted pork belly with cracklings, spiced boiled eggs. You don't have to have all of those I mentioned. I do recommend to have at least the cucumber carrot acar and sambal kentang or sambal udang serai. I think that's what makes it Medan-style 🙂
It may seem like a lot of work for this dish. The acar kuning timun can be made ahead and if you really don't want to serve it with other suggested side dishes and entrees, you don't have to. But that ginger garlic sauce is a must though!:)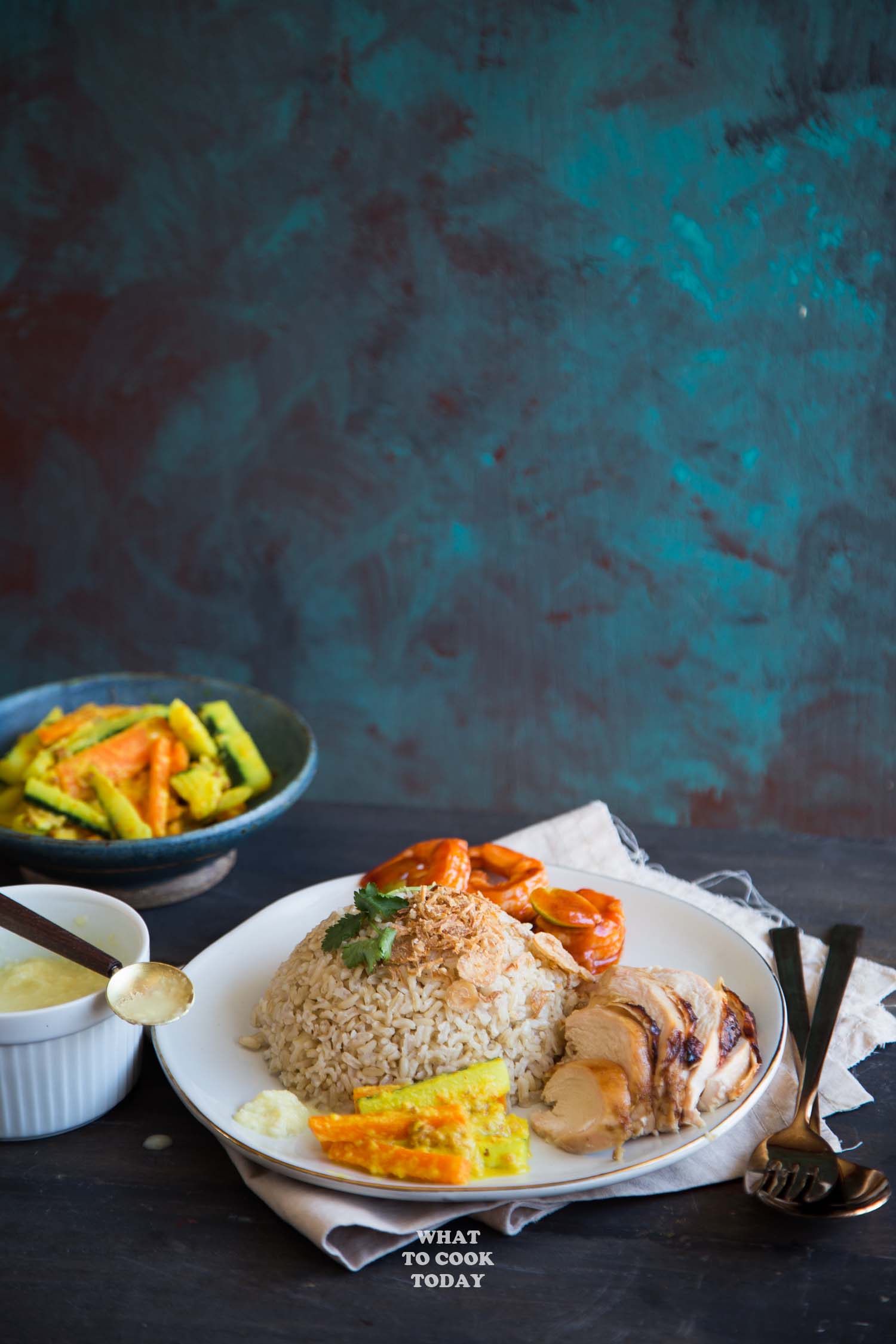 This blog post contains affiliate links. I earn a small commission when you made purchase at no extra cost to you. Learn more.
Nasi Hainam Medan/Medan-style Hainanese Roasted Chicken Rice
Ingredients
Instructions
Preparing the chicken:
Gently rub the salt all over the skin and any crevices. You don't want to tear the skin apart. Rinse with water and then use an absorbent kitchen towel to pat it dry

Mix all the ingredients for marinade in a bowl. Rub this all over the skin and the cavity of the chicken. Very gently slide your fingers underneath the skin to "separate" the skin and the flesh, without tearing the skin. This will help to make that skin crispy. Insert the green onions and ginger into the cavity of the chicken. Use a kitchen strings to tie the two legs together. Place the chicken breast side up on the roasting pan and put it in the refrigerator to let it air dry overnight or at least 8 hours
Cooking the chicken:
Remove the chicken from the refrigerator to let it come to room temperature before cooking, about 30 minutes before you plan to roast the chicken. Preheat oven to 425 F. Place the rack 3rd from top. Pour about 1/2 cup of water on the roasting pan and roast the chicken for 30 minutes. After that, very carefully use a tong to turn the chicken over and roast for another 20 minutes. After that turn it once again (so we are back to breast side up again) and roast for another 20 minutes. Add more water to the pan if necessary. The thermometer should read 165F when you insert it into the thigh and the juice should be clear and not bloody. If it is, then roast a bit longer

Remove from the oven and let it rest for 10 minutes before cutting them up into serving pieces
Making acar kuning timun (can be prepared the day before):
Cut the carrots and cucumber into sticks, about 2-3 inch length. Preheat a medium saucepan. Add in cooking oil and then saute garlic, shallots, turmeric until fragrant, about 1 minute. Add cucumber, carrots, coconut cream, sugar and vinegar and bring to a gentle simmer, do not boil it. Remove from the heat and sprinkle with the roasted peanuts. Can be stored in the refrigerator for up to 1 week
Serving:
Scoop some rice into a bowl, pack it down and then inverted into a serving platter. Sprinkle with some bawang goreng. Serve with the roasted chicken, the suggested side dishes and other entrees and ginger garlic sauce and chili sauce on the side


You will most likely enjoy this Hainanese Chicken Rice too:

OR this Hainanese Pork Chop: