Chicken and rice are cooked separately with seasonings and then steamed together in a bowl and then inverted onto a plate for its dome-shape presentation. Rice can be steamed on the stove or Instant Pot pressure cooker.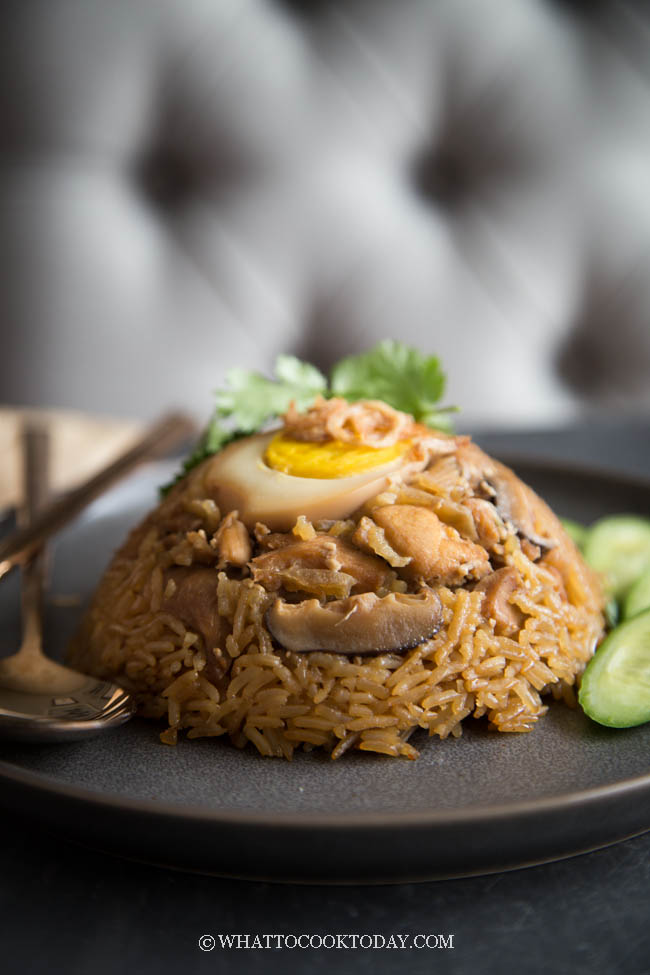 This Indonesian-style steamed rice with chicken and mushroom is my mom's recipe and it's one of my all-time favorite that I'd love to share with you. It is known as nasi tim ayam jamur at my home town, this famous dish is a favorite among the local and commonly sold at the Chinese eatery places in our small home town. Nasi means rice, tim means steam, ayam means chicken and jamur means mushrooms. The rice and the chicken are pre-cook separately and then steamed together in an individual bowl, and then inverted onto a plate for that dome-shape presentation just before serving.
MOM'S VERSION OF NASI TIM AYAM
The rice in nasi tim ayam is usually not all brownish in color like the one I have here. Typically, rice is stir-fried with aromatics like garlic and then seasoned lightly with soy sauce and then chicken broth is poured in and stir-fried until the rice absorbs all the liquid. My mom used the dark brown broth from cooking the chicken and mushroom topping to cook the rice, which explains why the rice has taken a much darker color, but it's delicious! I love it that way.
There are many different versions and really…there's no right or wrong here.
CUT OF CHICKEN TO USE
WHOLE CHICKEN: My mom will use a whole chicken and then debone it herself. She'll use the bone to make broth.
BONELESS SKINLESS DARK MEAT: I use boneless skinless chicken thigh. It's way easier. I don't recommend white meat to make nasi tim ayam, but it's up to you.
GROUND CHICKEN MEAT: You can certainly use ground chicken meat, preferrably with some fat too
TYPE OF MUSHROOMS TO USE FOR NASI TIM AYAM JAMUR
You can use any of the following mushrooms you like.
Dried mushrooms: I use dried shiitake mushrooms
Canned mushrooms: Canned button mushrooms are most commonly used to make nasi tim ayam
Fresh mushrooms: Straw mushrooms, oyster mushrooms, cremini mushrooms, etc
HOW TO MAKE NASI TIM AYAM JAMUR
1. WASH AND SOAK THE RICE
Wash the rice in several changes of water and then soak the rice for 30 minutes or up to 1 hour, no longer than that. Then drain off water


2. MARINATE THE CHICKEN
Cut the chicken into bite-size pieces and then marinate with oyster sauce, soy sauce, dark soy sauce, sugar, ground white pepper, shaoxing wine, sesame oil, and sugar for at least 30 minutes


2. COOK THE CHICKEN
Heat the wok or skillet until really hot. Add in 3 Tbsp of cooking oil. Add, shallots, ginger, and chopped garlic and saute until fragrant


Add in the marinated chicken and shiitake mushrooms and saute until the chicken has turned to opaque in color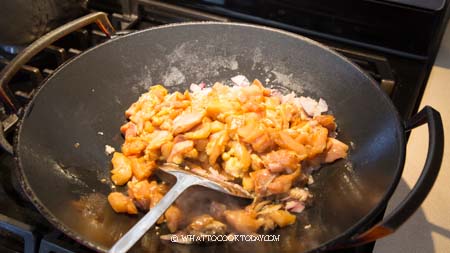 Add liquid from soaking the mushrooms, about 3 cups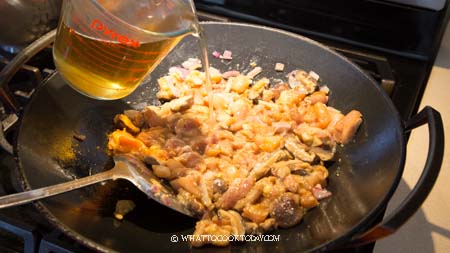 Add hard-boiled eggs


Bring to a boil and lower the heat to simmer, cover the wok/skillet and let it cook for about 20 minutes and turn the eggs off and on so the sauce will brown the egg evenly too. Turn off the heat and let the eggs soaked in the broth so they will be slightly brown in color


Have a taste and add more soy sauce and/or sugar if needed


Save about 3 cups (same cups you use to measure the rice) of the broth so you can use it to cook the rice


3. PRECOOK THE RICE
Heat up cooking oil in a cleaned wok/skillet and put in garlic and stir fry until fragrant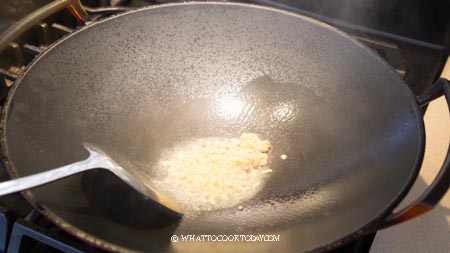 Add the rice and the 3 cups of broth you saved earlier


Stir to mix in and then bring to a boil and lower the heat to gently simmer until all the liquid absorbs by the rice and turn slightly sticky. The rice be will half-cooked at this point. Turn off the heat


4. STEAM THE RICE
Bring water in the steamer to a boil. Prepare about 6 Chinese heat-proof rice bowls. You may need to steam in batches. Place 1/2 hard-boiled egg, with the yolk facing down on the bowl


Spoon about 3-4 Tbsp of the chicken and mushrooms mixture on top of the egg


Then top it up with the half-cooked rice about 3/4 full and spoon about 2 Tbsp of broth over the rice. Repeat this with the rest of the bowl and ingredients


Place in the steamer and steam for 40 minutes or until the rice is cooked through or pressure cook in Instant Pot for 25-30 minutes (depending on the size)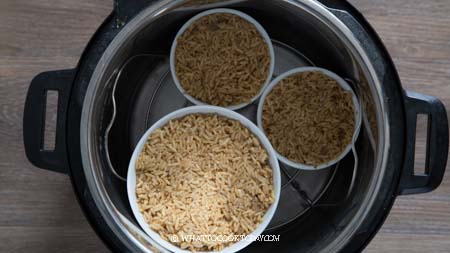 5. WHEN READY TO SERVE
Get a plate and carefully place the plate on top of the bowl and quickly invert it over so the bowl is now sitting on top of the plate. Uncover the bowl and garnish with few sprigs of cilantro and served immediately
DID YOU MAKE THIS NASI TIM AYAM JAMUR RECIPE ?
I love it when you guys snap a photo and tag to show me what you've made 🙂 Simply tag me @WhatToCookToday #WhatToCookToday on Instagram and I'll be sure to stop by and take a peek for real!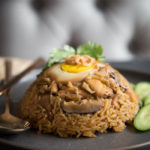 Nasi Tim Ayam Jamur (Indonesian Steamed Rice with Chicken and Mushrooms)
Ingredients
Instructions
THINGS YOU CAN PREPARE THE DAY BEFORE:
Wash the rice:
Wash the rice in several changes of water until water runs clear.
Marinate the chicken:
Cut the chicken into bite-size pieces and marinate with the marinade ingredients for at least 30 minutes or overnight if you have the time
Cooking the chicken:
Heat the wok or skillet until really hot. Add in 3 Tbsp of cooking oil. Add, shallots, ginger, and chopped garlic and saute until fragrant. Add the marinated chicken and shiitake mushrooms and saute until the chicken has turned to opaque in color

Add the boiled eggs and 3 cups of water from soaking the mushrooms. Bring to a boil and lower the heat to simmer, cover the wok/skillet and let it cook for about 20 minutes and turn the eggs off and on so the sauce will brown the egg evenly too. Turn off the heat and let the eggs soaked in the broth so they will be slightly brown in color. Have a taste and add more soy sauce and/or sugar if needed

Save about 3 cups (same cups you use to measure the rice) of the broth so you can use it to cook the rice
Precook the rice:
Heat up cooking oil in a cleaned wok/skillet and put in garlic and stir fry until fragrant. Add the rice and the 3 cups of broth you saved earlier. Stir to mix in and then bring to a boil and lower the heat to gently simmer until all the liquid absorbs by the rice and turn slightly sticky. The rice be will half-cooked at this point. Turn off the heat
ON THE DAY YOU WANT TO SERVE:
Bring the water in the steamer to a boil

Slice the hard-boiled eggs into half and set aside. Prepare about 6 Chinese heat-proof rice bowls. You may need to steam in batches. Place 1/2 hard-boiled egg, with the yolk facing down on the bowl. Spoon about 3-4 Tbsp of the chicken and mushrooms mixture on top of the egg. Then top it up with the half-cooked rice about 3/4 full and spoon 2 Tbsp of broth on top. Repeat this with the rest of the bowl and ingredients

Place in the steamer and steam for 40 minutes or until the rice is cooked through. You can also pressure cook in Instant Pot on high pressure for 25-30 minutes (this depends on the size and also the bowl material you use. Use aluminum or steel for better heat transfer
WHEN READY TO SERVE:
Get a plate and carefully place the plate on top of the bowl and quickly invert it over so the bowl is now sitting on top of the plate. Uncover the bowl and garnish with fried shallots (bawang goreng) and few sprigs of cilantro and served immediately