Shrimp is cooked in aromatic sambal sauce with distinct lemongrass flavor. Stink beans are usually added to this dish but you can definitely make this dish without them.
Shrimp with Lemongrass / sambal udang serai is one of my favorite recipes from mom. I love it so much. I finally found bitter beans/ stink beans/sataw beans. Biological name is Parkia speciosa. It is a plant of the genus Parkia in the family Fabaceae. It bears long, flat edible beans with bright green seeds the size and shape of plump almonds which have a rather peculiar smell, characterized by some as being similar to that added to methane gas. And you might be thinking …hmm….similar to methane gas? and are people suppose to eat these beans? Well, these Petai beans are definitely not for the faint of heart lol! It's either you like them or you don't. I LOVE them. I'm OBSESSED with them.
Nevertheless, if you don't like stink beans, you can still make this delicious sambal udang serai without the beans. You can even adjust the level of spicyness to suit you. I can eat huge portion of rice with just the sambal !!! It's addicting.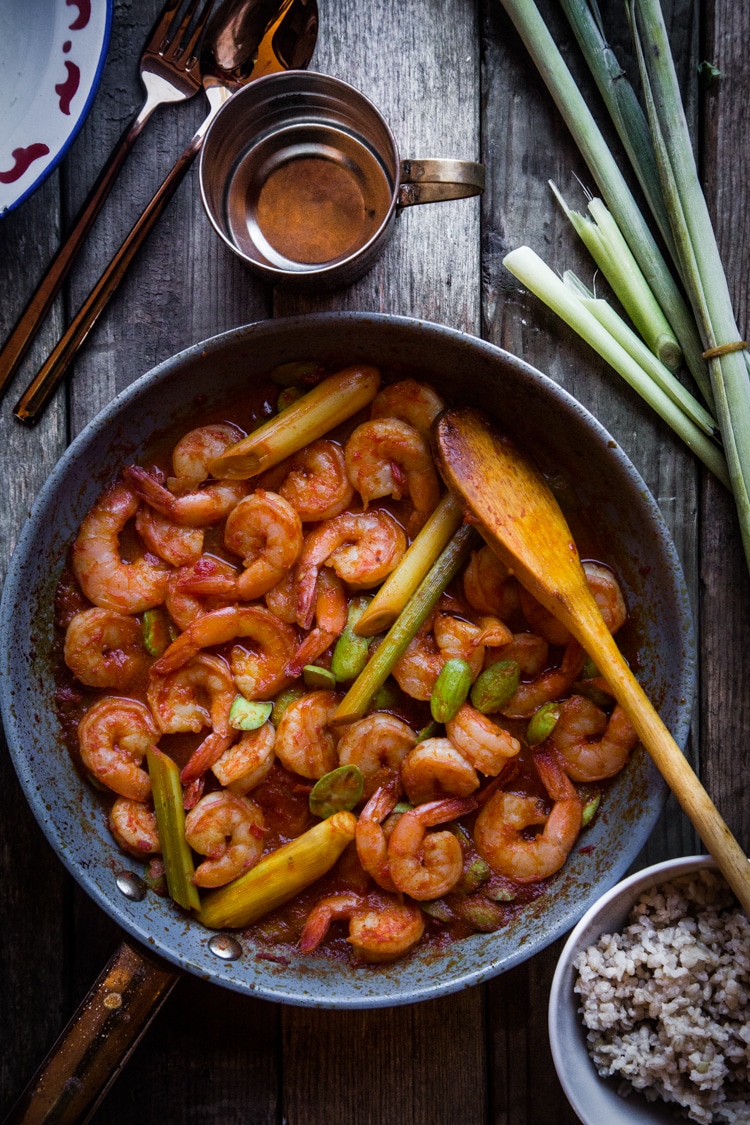 Shrimp with lemongrass (Sambal udang serai)
Ingredients
1

lb

large uncooked shrimp

shelled and deveined

2

stalks

lemon grass

bruised to release flavor and cut into half

10-15

Petai/sataw beans

halved

4

Roma tomatoes

roughly chopped

Salt and sugar to taste

½

cup

boiled water

2

Tbsp

cooking oil
Instructions
Add chili and shallots in a blender and process into a paste. Add a bit of water to help it goes if needed. Skip this step if you use chili paste and just thinly slice the shallots

Preheat skillet/wok with oil. Add in chili and shallots mixture and saute until soft and fragrant. about 2 minutes. Add in lemon grass and tomato. Cook for another minute until it smells really good. Add in the petai (if using) and cook for another 2 minutes or until cooked through. Add in the shrimps and cook until shrimps turn color, about 1 minute

Add in boiled water and lower down the heat and let it simmer for 1-2 minutes

Season with salt and sugar. It should taste slightly sweet, savory, and spicy. Serve immediately