Learn how to easily make this basic dried chili paste that can be used as an ingredient in cooking and a base for many other sambal recipes.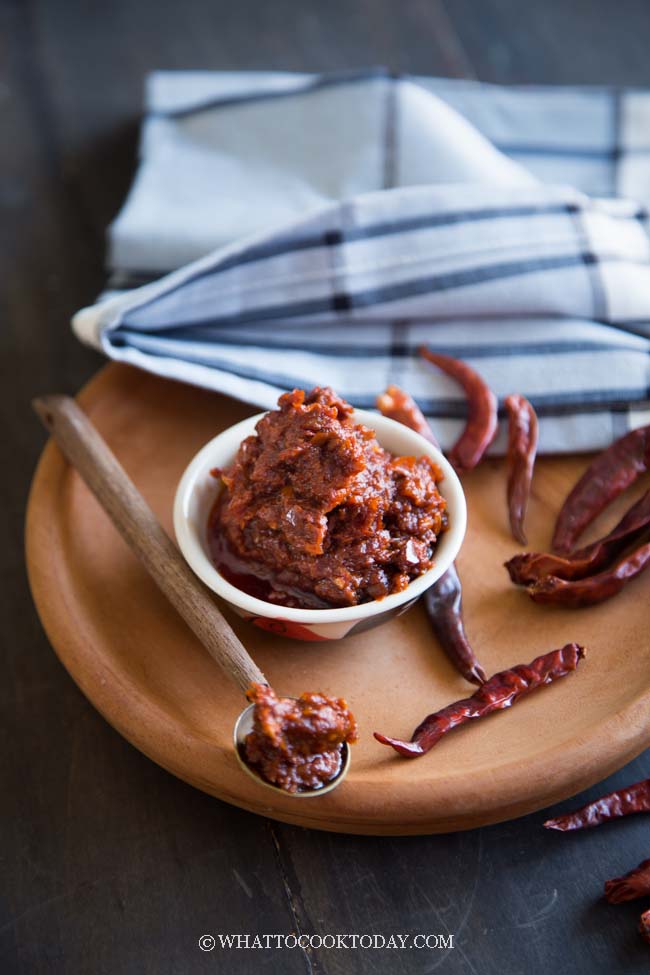 When you cook Southeast Asian recipes, it's almost certain that there will be some sort of chili involved. This dried chili paste is more commonly used in Indonesia, Malaysia, and Singapore. It is the most basic chili paste that you can
use as an ingredient in your cooking and also as a base for other types of sambal. In Malaysia and Singapore, this is called chili boh / cili boh. In Indonesia we just call this as cabe giling.
WHAT TYPE OF RED CHILI TO USE
Fresh red or green chilies are not easy to come by where I live (perhaps because of the weather). So, it's easier for me to use dried chili, which is what this recipe calls for, but feel free to use fresh chilies if you prefer.
DRIED RED CHILIS
Chili boh is usually made with dried red chilis. Dried chili has a bit more intense flavor to it. Here are some suggestions that are suitable for this recipe:
Thai Dried Chili: there are also several different kinds, usually differ by size. The larger or longer the chili, the less heat it is.
Chili De Arbol : this dried chili is smaller in size compared to the rest I mentioned below and the hottest in taste, but not as hot as the Chinese Szechuan dried chili, which is shorter in size (Tien Tsin chili)
Guajillo Chili : this is a large dried chili and dark red in color. It has a medium-hot in taste
Chili Seco Del Norte : made from Anaheim chili and the mildest in terms of taste
Don't use dried chili that has strong smoky flavor such as chipotle. It's not as suitable as a base for Southeast Asian cooking and sambal.
FRESH RED CHILI
Fresno chili : this is a medium-hot chili pepper
Cayenne chili : there are several different kinds of cayenne chili but in general they are pretty hot, hotter than Fresno chili
Bird's eye chili: I won't recommend using this alone for the recipe. It will be too hot. You can mix Fresno with a bit of bird's eye chili if you want
HOW TO MAKE BASIC CHILI BOH OR CABE GILING
The most basic of basic chili boh usually made with only dried chili and oil. They are usually also unseasoned as they are usually used as ingredients in cooking and also as a base to build other sambal. I added shallots and garlic in this basic recipe because the majority of Southeast Asian sambal, especially Indonesian, do require shallots and garlic.
1. REMOVE THE SEEDS FROM DRIED CHILIES
Rinse the chili with some water to get rid of any impurities. Pat dry with a paper towel. Use a scissor to cut the chili in half and some loose seeds will come out. You can also use a pointy knife to scrape the rest out. If you use fresh chili, you can split them open in half lengthwise and scrape the seeds out (or you can leave them in)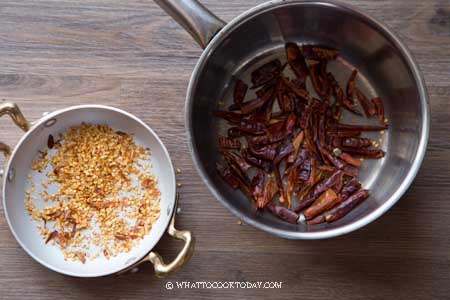 2. BOIL THE CHILI
Skip this step if you use fresh chilies. Place the chili in a pot and pour enough water to cover and boil for about 10 minutes. For larger chili such as chili guajillo, boil for about 20 minutes. Discard water after that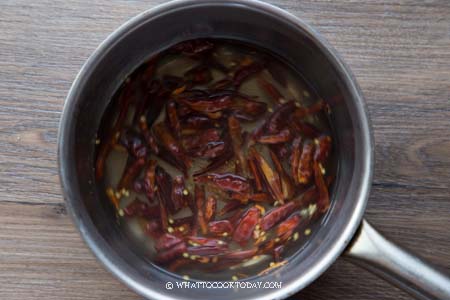 3. BLEND EVERYTHING
Transfer the chili, shallots, and garlic to a blender and process into a fine paste. You can add the cooking oil you are going to use in the blender to help it goes. That way, you don't need to add water


4. STIR FRY THE CHILI PASTE
Transfer to a saucepan or skillet and stir fry over medium heat to cook off any moisture.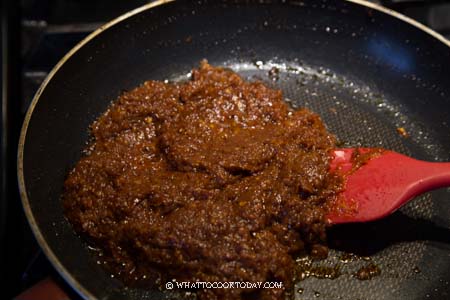 The chili paste will get thicker and you can see some oil separates from it too. The longer you cook, the longer the chili paste will last. I cook it for about 30 minutes over medium-low heat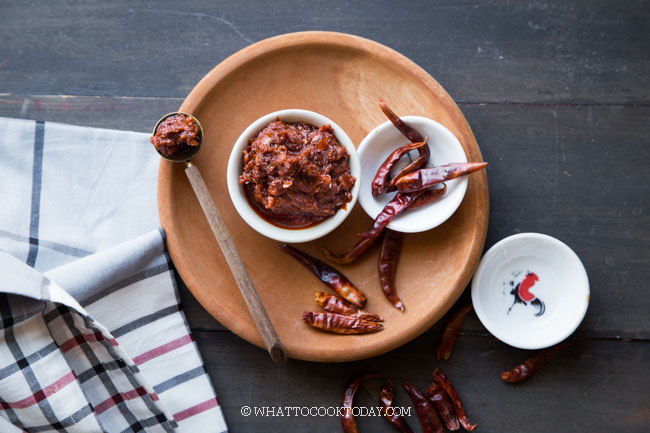 IMPORTANT TIPS
1. Remember to wash your hands after handling all the chili. You don't want to burn your skin or eyes (trust me, it happened to me before! not fun!)
2. For milder taste chili boh, choose longer or larger size chili, they are generally less hot
3. I recommend not to add water when you blend the chili in the blender. Add oil instead. This will prolong the shelf-life of the chili paste
4. The longer you stir fry the chili, the longer it will last as most moisture has been cooked off
HOW TO STORE
REFRIGERATOR
Let the chili paste cools down and then transfer to a glass container. They can be kept in the refrigerator for up to 2 weeks. For longer storage, I recommend freezing them and they can last for up to 3 months
FREEZER
I recommend portioning them into about 1 Tbsp portion and place them on a parchment paper and freeze them for about 1 hour or so. Then transfer to a freezer bag or container.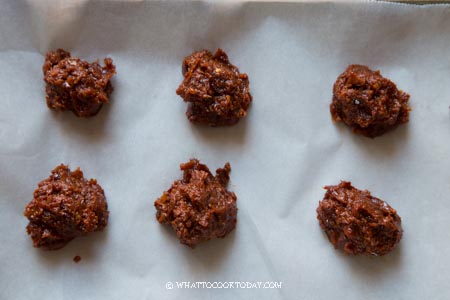 So whenever you need a chili boh, you can just take whatever much you need. You can also portion them by using ice cube trays too.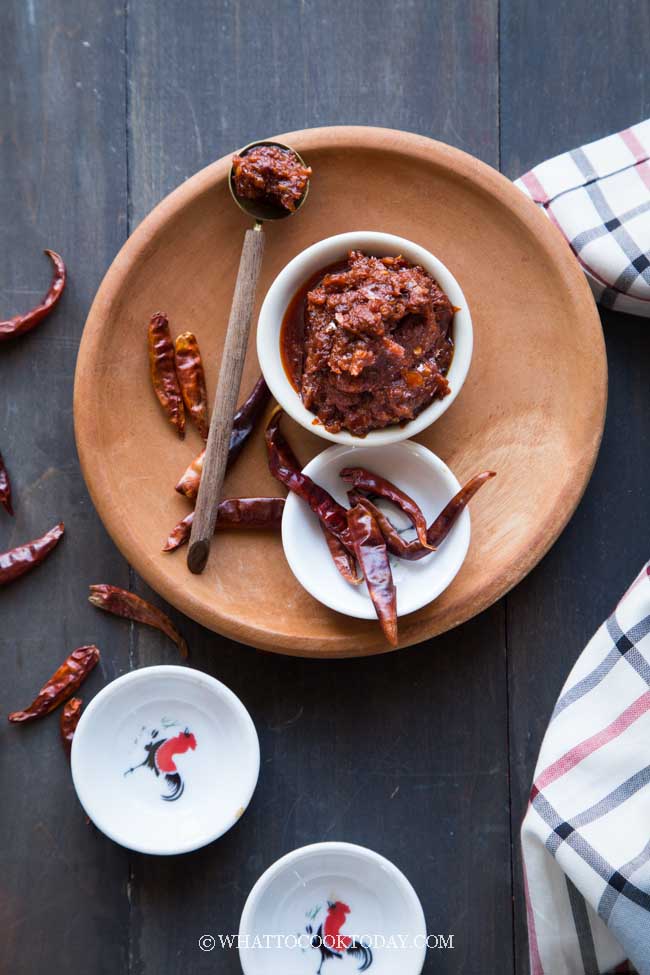 HOW TO USE CHILI BOH
AS AN INGREDIENT IN COOKING
They are perfect to add some heat in dishes like these for example:
Nasi goreng
Penang char kway teow
Mie goreng Jawa
Kari ayam
Ayam suwir pedas Bali
Sambal goreng kentang
Kering kentang
Sambal goreng tempeh
Kering tempeh kacang
Keripik kentang balado
Lalapan ayam bakar
Sambal udang serai
Sambal Telur
AS A BASE TO MAKE DIFFERENT TYPES OF SAMBAL
Sambalado (Sambal Balado)
Sambal andaliman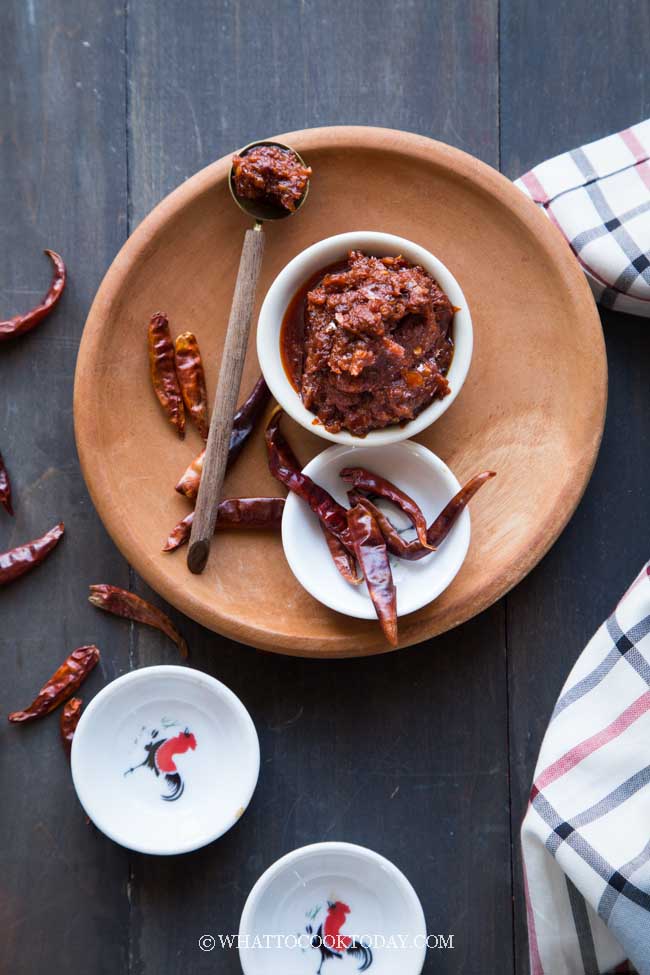 DID YOU MAKE THIS DRIED CHILI PASTE RECIPE?
I love it when you guys snap a photo and tag to show me what you've made 🙂 Simply tag me @WhatToCookToday #WhatToCookToday on Instagram and I'll be sure to stop by and take a peek for real!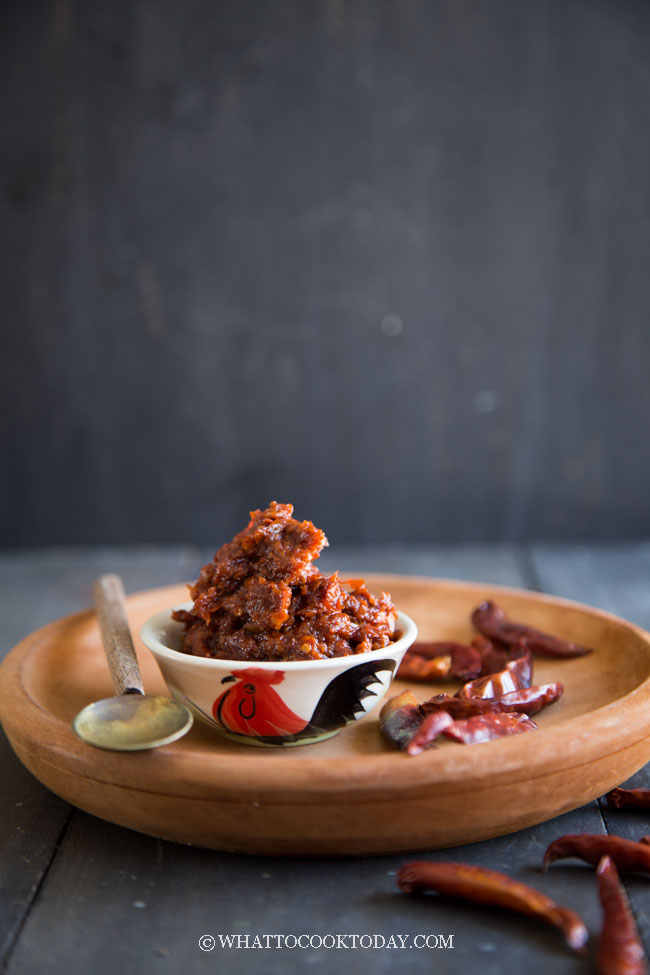 How To Make Basic Dried Chili Paste (Chili Boh / Cabe Giling)
Ingredients
50

gr

dried red chili

50

gr

cooking oil

5

cloves

garlic

5

shallots
Instructions
Deseed the dried chili:
Rinse the chili with some water to get rid of any impurities. Pat dry with a paper towel. Use a scissor to cut the chili in half and some loose seeds will come out. You can also use a pointy knife to scrape the rest out. They don't have to be completely deseeded, it's not a big deal if there are some left. The chili paste will just be a bit spicier

If you use fresh chili, you can split them open in half lengthwise and scrape the seeds out (or you can leave them in)
Boil the chili:
Skip this step if you use fresh chilies. Place the chili in a pot and pour enough water to cover and boil for about 10 minutes. For larger chili such as chili guajillo, boil for about 20 minutes. Discard water after that
Blend everything:
Transfer the chili, shallots, and garlic to a blender and process into a fine paste. Add the cooking oil you are going to use in the blender to help it goes. That way, you don't need to add water. This helps to prolong the shelf-life of the chili paste later
Stir fry the chili mix:
Transfer to a saucepan or skillet and stir fry over medium heat to cook off any moisture. The chili paste will get thicker and you can see some oil separates from it too. The longer you cook, the longer the chili paste will last. I cook it for about 30 minutes over medium-low heat
Storing:
Let the chili paste cools down and then transfer to a glass container. They can be kept in the refrigerator for up to 2 weeks. For longer storage, I recommend freezing them and they can last for up to 3 months
How to freeze chili boh:
I recommend portioning them into about 1 Tbsp portion and place them on a parchment paper and freeze them for about 1 hour or so. Then transfer to a freezer bag or container. So whenever you need a chili boh, you can just take whatever much you need. You can also portion them by using ice cube trays too