Shredded chicken pieces are tossed in aromatic and addicting spicy chili sauce is one of Balinese famous chicken dishes you need to try.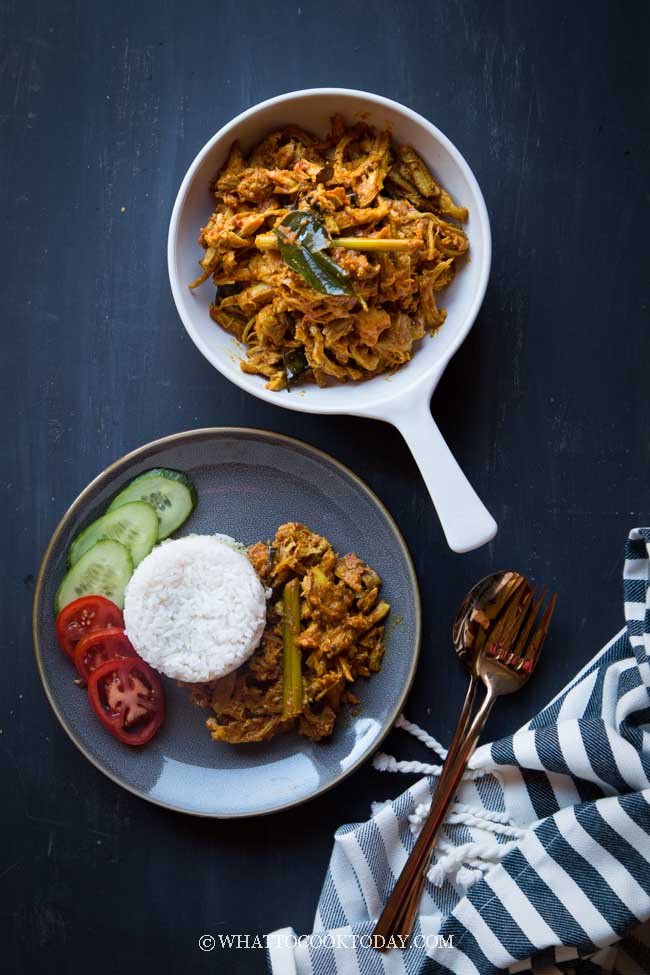 BALINESE SPICY SHREDDED CHICKEN
Talking about a complex flavorful aroma of Indonesian food, you have to put this ayam suwir Bali or also known as ayam sisit bali in one of your to-try foods (besides rendang sapi Padang, which is the national dish of Indonesia). In Indonesian language, ayam means chicken, suwir or sisit means shredded, pedas means spicy. There you have it 😉
Shredded chicken meat is basically tossed in very spicy (or you can tone down the spicyness) sambal sauce that is packed with umami flavor and basically will keep your taste buds busy. It's spicy, it's savory, it's slightly tart, it's slightly sweet, and it's umami!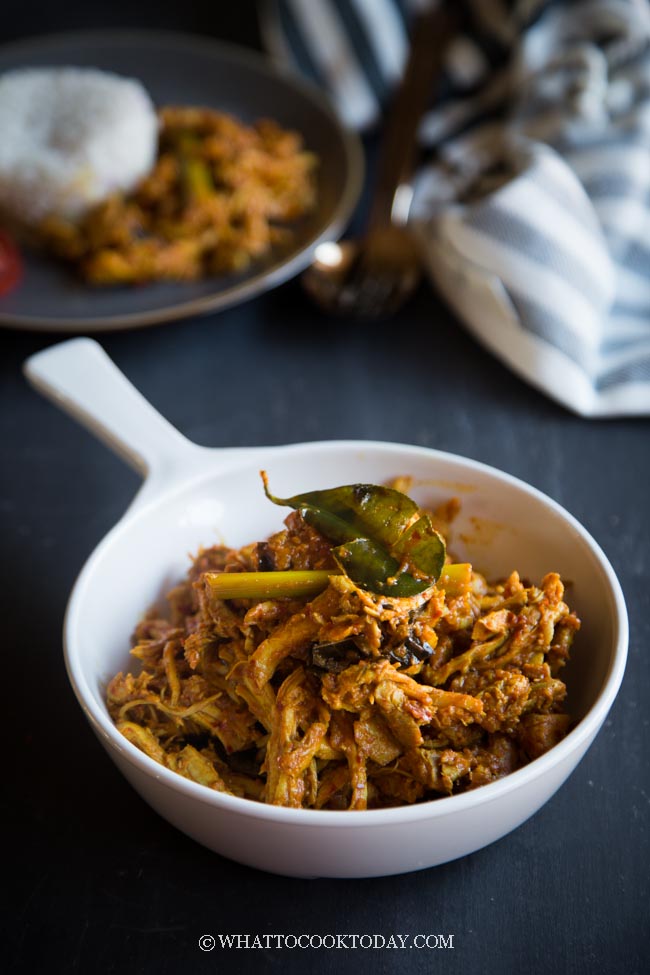 WHY YOU WILL LIKE THIS RECIPE
1. It tastes pretty darn good that's for sure
2. Simplified : You are welcome to use fresh turmeric, galangal, and chili in this recipe. I don't always have those available and sometimes it's hard to find the right chili. I substituted those with turmeric powder, galangal powder, and ready-made sambal oelek. Trust me, it still tastes amazing (and you don't have yellow fingers – from handling turmeric)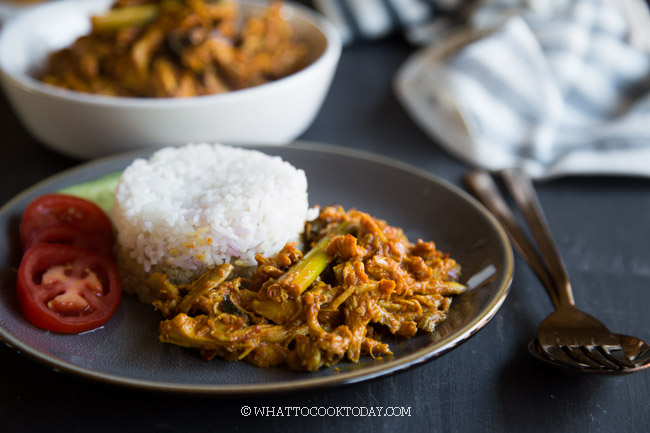 TYPE OF CHICKEN TO USE FOR AYAM SUWIR
1. LEFTOVER CHICKEN MEAT
Chicken breast is usually used, but you can use any cut you prefer. I've made with leftover rotisserie chicken breast I bought from Costco. This recipe is a great way to use up leftover chicken meat.
2. FOR UNCOOKED CHICKEN: As I've mentioned above, you can use white meat like chicken breast or dark meat like the thigh, or the mixture of both. You simply need to boil them and then save the broth and shred the meat.
HOW TO MAKE AYAM SUWIR PEDAS BALI
1. PREPARE THE SPICE PASTE
Place red onion, garlic, and sambal oelek in a food processor and grind into a paste.


2. COOK THE SPICY SAMBAL PASTE
Preheat 1 Tbsp cooking oil in a wok or skillet. Add the spice paste, shrimp paste, turmeric and galangal powder, and herbs. Stir fry until really aromatic, about 5 minutes. Add water and continue to stir fry for another 3 minutes.


Add the coconut cream and stir to mix.


3. ADD SHREDDED CHICKEN
Add the shredded chicken in and cook until the mixture is still moist but no more runny juice. Have a taste and adjust seasonings to your liking. It should be spicy, savory, a hint of tartness and sweetness.

That's all! and ayam suwir pedas Bali is ready to be served!

WHAT TO SERVE WITH AYAM SUWIR PEDAS BALI
– NASI CAMPUR BALI: In Bali, ayam suwir is served with nasi campur (mixed rice). Meaning, white rice served with few other entrees such as fried chicken, hard-boiled eggs or omelet and side dishes like fresh slices of cucumber, tomatoes, Indonesian-style salad, sate lilit Bali, sate ayam kecap, crackers, etc. You don't have to have all of those I mentioned, but usually a combination of those.
– PLAIN RICE WILL DO TOO: I just served mine with white rice and few slices of fresh cucumber and tomatoes and trust me, I need to cook lots of white rice to go with this addicting ayam suwir Bali.
– MAKE A SANDWICH: Why not? use baguette or this homemade bagels
– TACO NIGHT: Yup, perfect to go with some shredded purple cabbage or strips of fresh cucumbers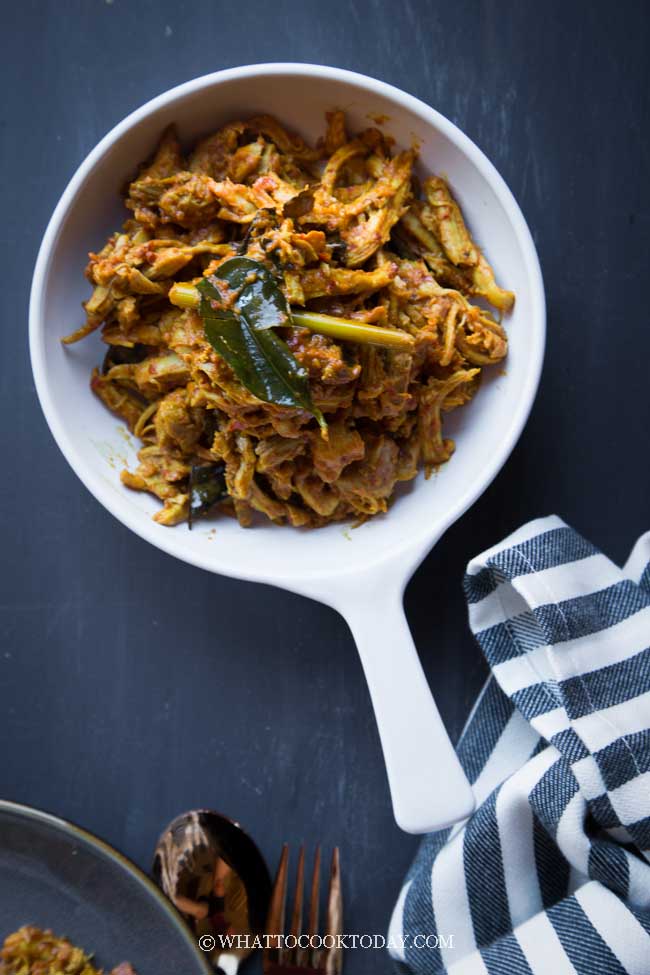 DID YOU MAKE THIS AYAM SUWIR PEDAS BALI RECIPE?
I love it when you guys snap a photo and tag to show me what you've made 🙂 Simply tag me @WhatToCookToday #WhatToCookToday on Instagram and I'll be sure to stop by and take a peek for real!

Ayam Suwir Pedas Bali (Ayam Sisit Bali)
Ingredients
Instructions
If you don't have any leftover cooked chicken meat, simply boil the chicken in water until cooked through. Save the broth for other use and shred the chicken meat
Prepare the spice paste:
Place red onion, garlic, and sambal oelek in a food processor and grind into a paste
Cook the spicy sambal paste:
Preheat 1 Tbsp cooking oil in a wok or skillet. Add the spice paste, turmeric and galangal powder, and herbs. Stir fry until really aromatic, about 5 minutes. Add water and continue to stir fry for another 3 minutes

Add the coconut cream and stir to mix. Add the shredded chicken in and cook until the mixture is still moist but no more runny juice. Have a taste and adjust seasonings to your liking. It should be spicy, savory, a hint of tartness and sweetness