Sate Lilit Bali (Minced Meat Satay)-Ground meat is wrapped around lemongrass skewers, grilled to perfection and served with spicy kecap chili sauce.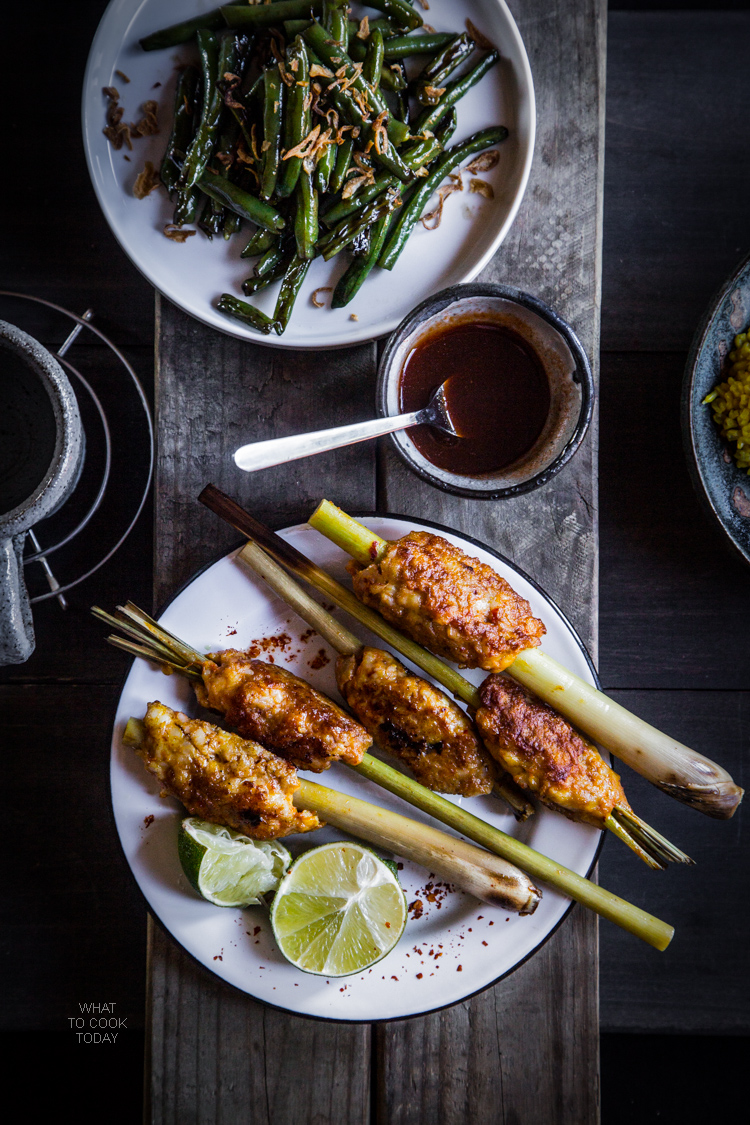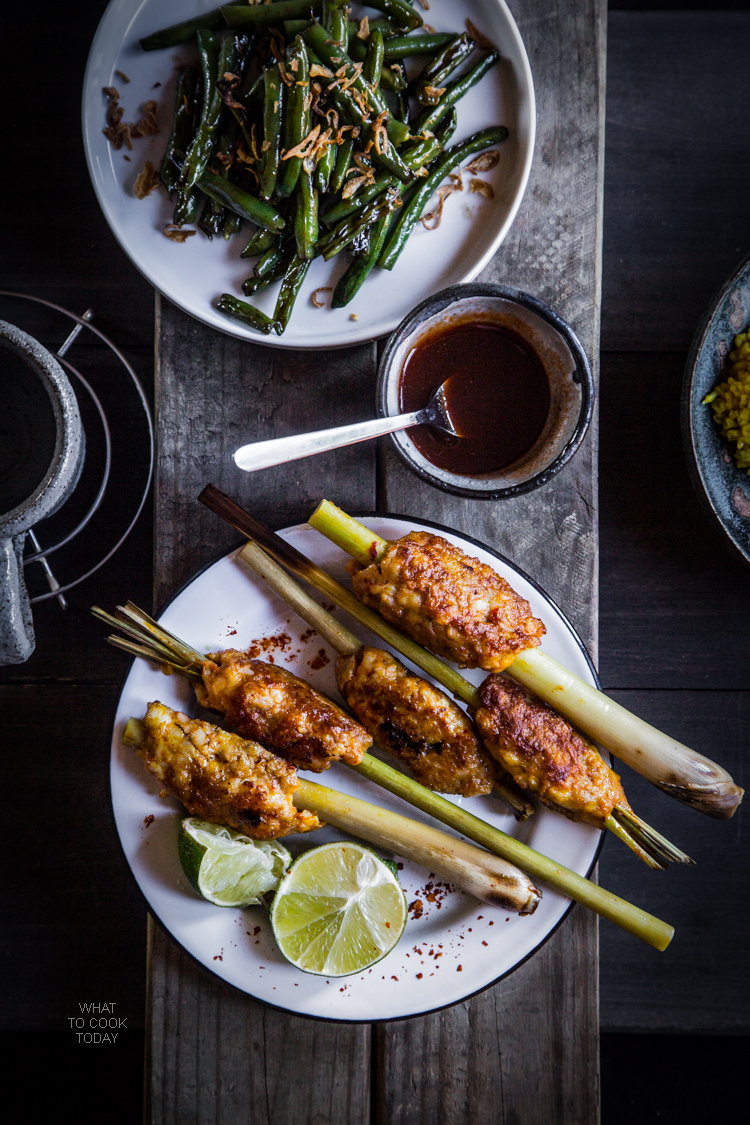 Sate lilit is a popular dish from the Island of Bali. The word "lilit" roughly means "wrap around". The meat is usually wrapped around the skewers. Traditionally, lemongrass stalks are used as skewers instead of bamboo skewers. I really think using lemongrass stalk as skewers makes sate lilit taste even better 🙂 I love the aromatic lemongrass and when you grill it, it imparts that great aroma to the meat. Love it! The choice of meat is also really flexible. People use minced chicken, fish, pork, beef, duck, etc to make sate lilit.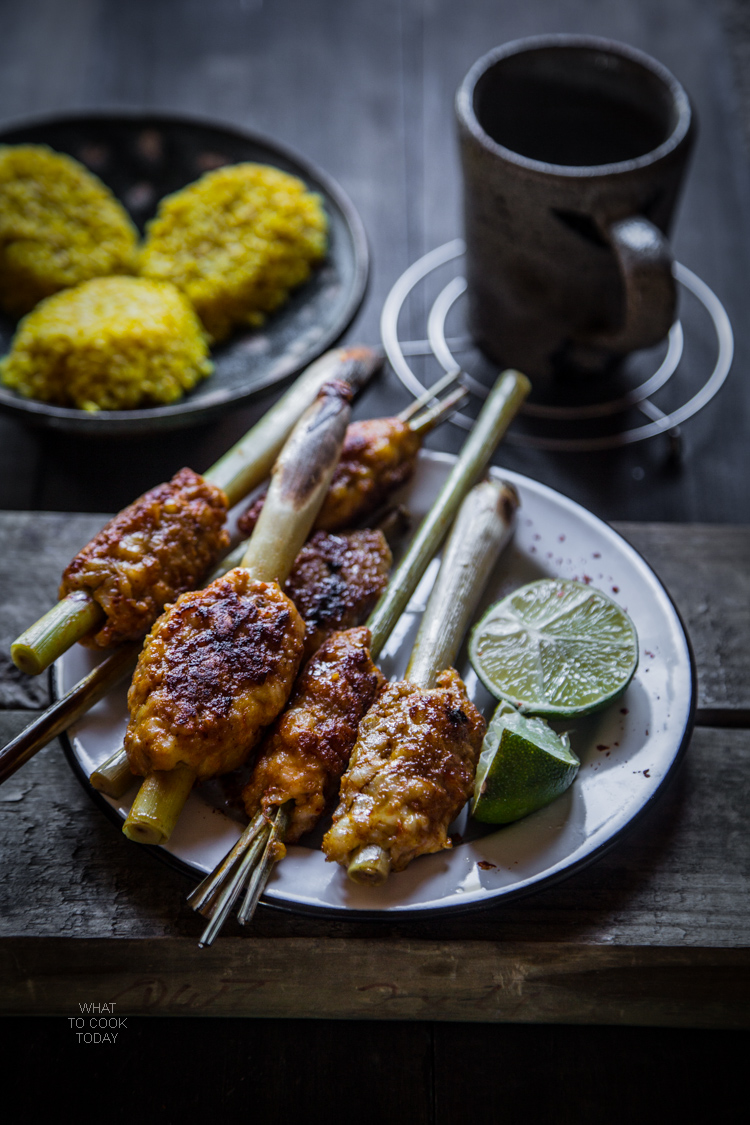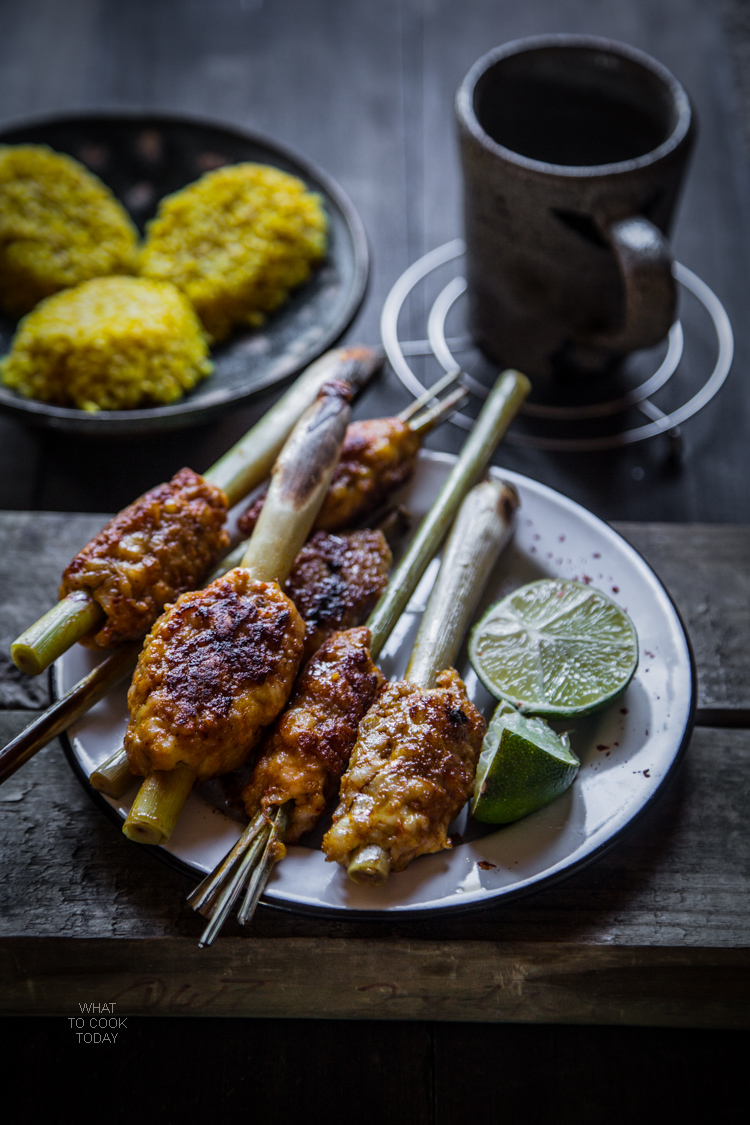 If you look at the list of the ground spices ingredients, chances are you probably not going to give this sate lilit a try. Indonesian cooking does use lots of fresh spices and yes, some of the spices can be difficult to find, for example kencur/Kaempferia galanga. Not every Asian store will carry this spices. It is not very commonly used in other Southeast Asian countries too besides Indonesia. It can be substituted with half galangal (which can be easily found in Asian store) and half ginger. It's not perfect, but it's the closest you can get. The main bulk of the work is probably finding spices. Once you have everything, the food processor will do the work for you 🙂 Give these a try and you might find yourself enjoying them 😉 We did ! My daughter loved them !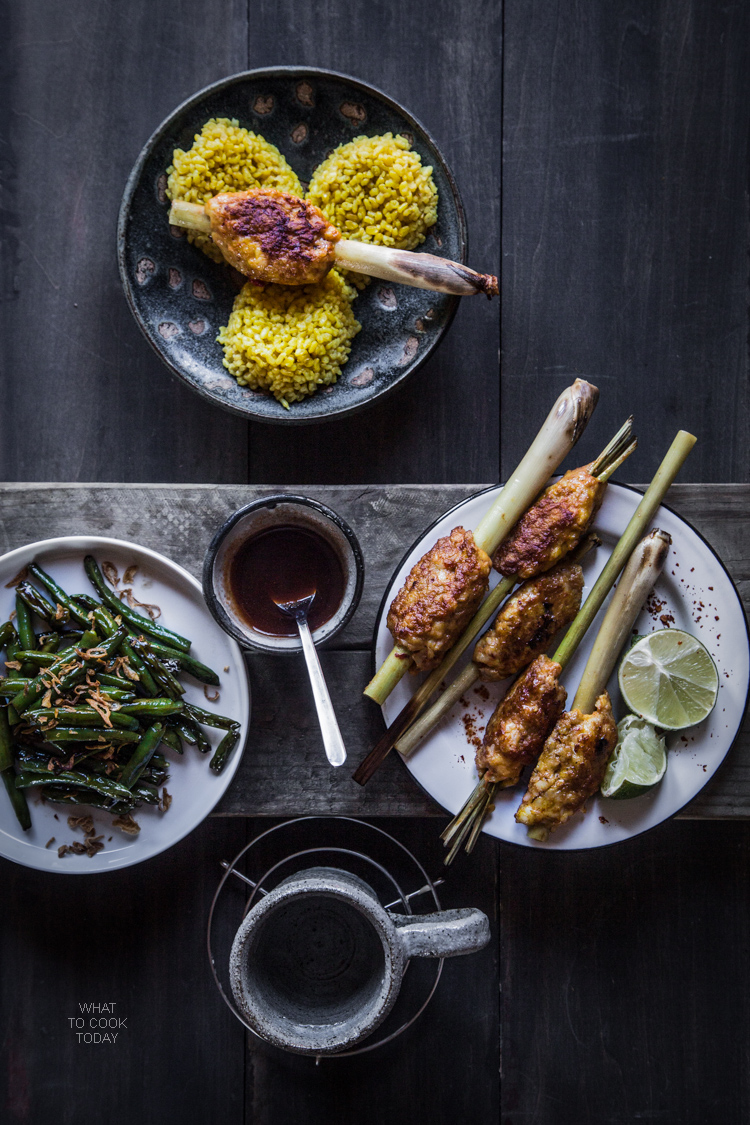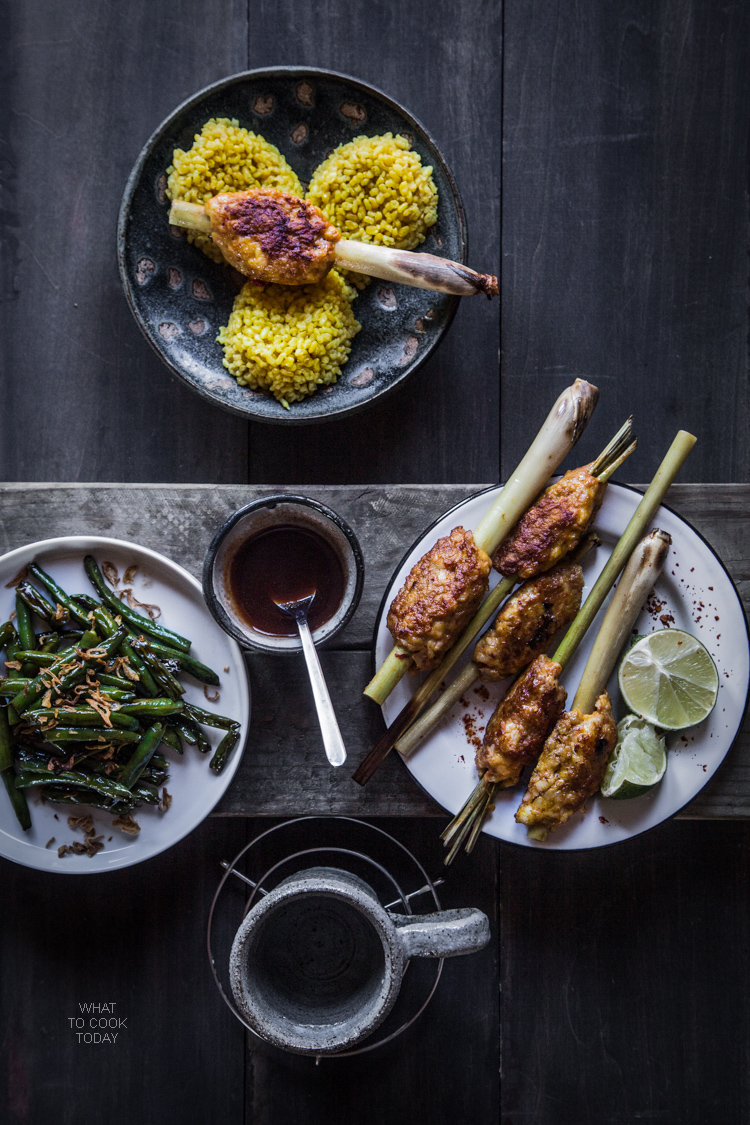 Sate Lilit Bali (Minced Meat Satay)
Ingredients
1 ½

lbs

minced duck or chicken meat

2

cups

grated unsweetened coconut

2

oz

gula jawa / Indonesian palm sugar

(finely chopped)

1

tsp

salt

3

Tbsp

cooking oil

(and extra for brushing)

About 10 stalks of lemongrass or 20 bamboo skewers
Ground spices:
5

shallots

(peeled)

7

cloves

garlic

(peeled)

1-

inch

galangal

(peeled) or use 2 teaspoons galangal powder

1-

inch

kencur/Kaempferia galanga

(peeled) or substitute with 1/2 galangal and 1/2 ginger if you must or use 1/2 tsp kencur powder

2-

inch

turmeric

(peeled) or use 1 teaspoon turmeric powder

2

tsp

coriander seeds

5

candlenuts/kemiri

sub with macadamia nuts or omit if you must

1

tsp

shrimp paste/ belacan

4

kaffir lime leaves

Cut off the tough vein in the middle

½

lemongrass stalk

cut into 1-inch piece

2 cloves

5

Thai red chilis

remove stems (optional)

⅛

tsp

grated nutmeg
Sauce:
4-5

red chili

(seeded and finely chopped)

¼

cup

kecap manis / Indonesian sweet soy sauce

¼

cup

fried shallot crisps/ bawang goreng
Instructions
Things to prepare before:
Mix all ingredients for the chili sauce. Cover and keep in the refrigerator if making ahead

If you use bamboo skewers, soak the bamboo skewers in water for at least 1 hour. If you use lemongrass as skewers, cut the stalks into half and get rid of extra layers if necessary
Prepare the meat:
Place all the ground spices ingredients in a food processor and process into a paste. Add a bit of water to help it going

Preheat 3 Tbsp of oil in a wok or skillet. Add in the ground spices and saute until fragrant, about 5 minutes. Remove from the wok or skillet and let it cool down completely

In a large mixing bowl, mix the meat with the spice paste above, coconut, palm sugar, and salt. They should come together nicely without falling apart

With clean hands, scoop up about 2-3 Tbsp of the meat mixture and mold it onto the bamboo or lemongrass skewers. Repeat until you are done with the meat and skewers
To cook on a grill:
Preheat the grill. Brush the sate with a bit of oil and grill the sate until cooked and golden brown all over, about 2-3 minutes or longer on each side. You can also use a grill pan for this purpose. Serve with the sauce
To bake in the oven:
Preheat oven to 375 F. Line the baking sheet with aluminum foil. Place the sate on the baking sheet and brush with a bit of oil and bake about 8-10 minutes on one side and then flip over and brush with a bit oil and bake for another 5-8 minutes or until cooked through. Serve with the sauce