Spicy and saucy stir-fried noodles with seafood spiked with chili sauce and umami-boosting shrimp paste is a favorite by many Indonesians.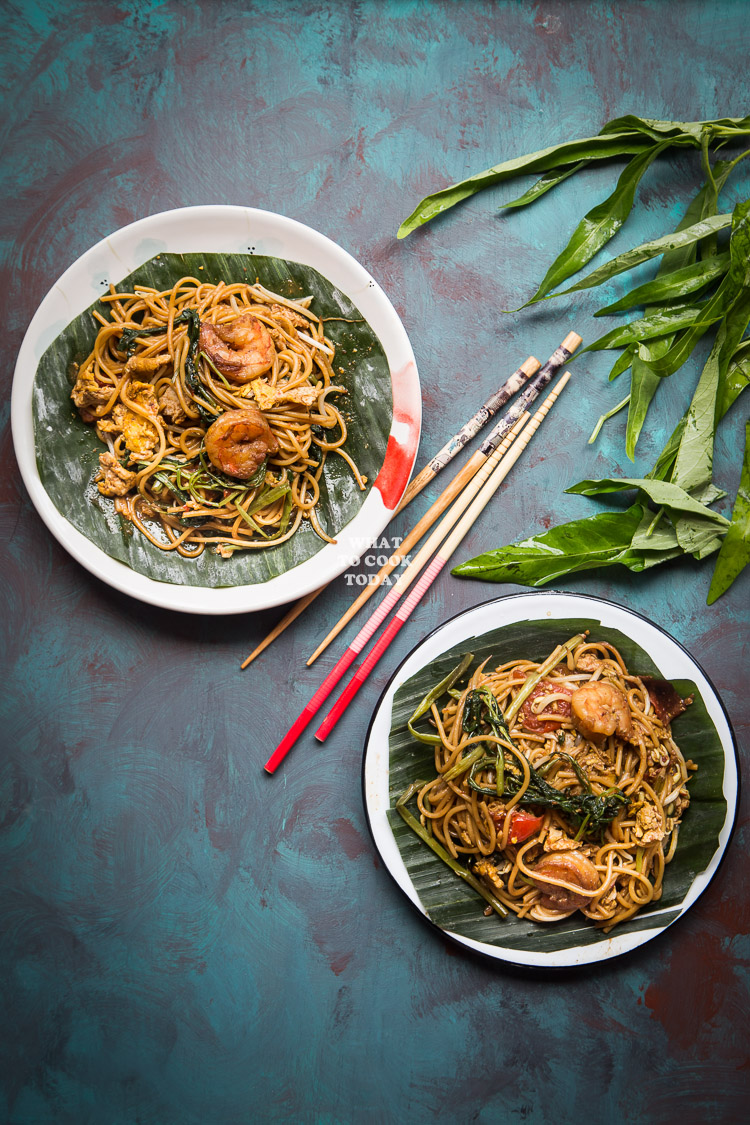 Mie kangkung belacan is one of the very popular street food almost every Medanese love. I grew up in a town calls Medan, and so I call the people Medanese 🙂 It is basically a stir fry noodles with red chili, shrimp paste (belacan), water spinach (kangkung) and some seafood. The dish is spicy (but won't burn or numb your tongue), and it has this wonderful flavor from shrimp paste, umami would be the elegant way to describe it, it's saucy (but not soupy) and oh gosh…just give it a try will you?
The lady who originally started her business selling Mie Kangkung Belacan at our little home town, probably the pioneer of it, has tremendous success and this business is now inherited to her son and as far as I know, he is doing VERY WELL!! Not sure which generation is selling now 🙂 I get this recipe from my great mama and it did fix my feeling of being homesick !!
Though in my home town where I grew up, I remembered seeing people feeding the stalks of kangkung to fishes. Anyway, this is just a short video of how I made this Mie Kangkung Belacan. I only used shrimp in the video, but you can follow the recipe and add other seafood like sliced fish balls/fish cakes, livers, etc, or just stick with shrimp if you prefer 😉
Mom is the best. I hope my own kids will find comfort in some of the food I've cooked for them the way I am now when I cook some of my mom's recipes 🙂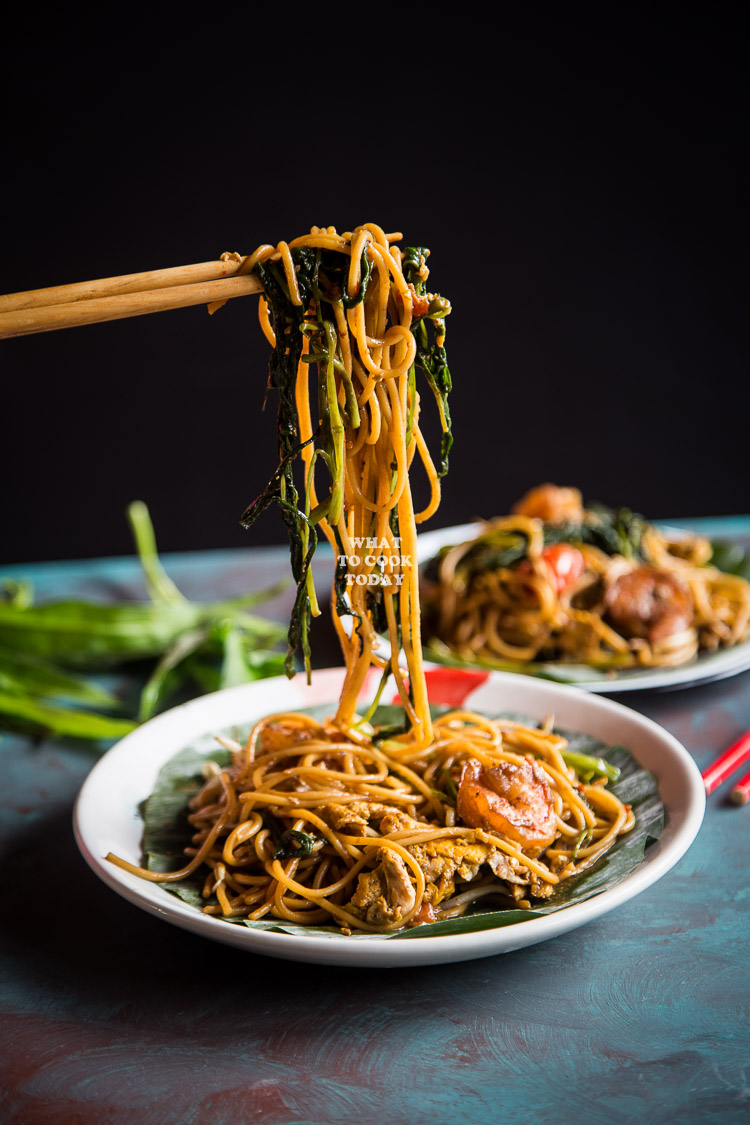 Mie Kangkung Belacan Medan (Spicy stir-fried noodles with shrimp paste and water spinach)
2
generous servings
For baking/ kueh making: I highly encourage to weigh ingredients with a digital kitchen scale instead of using measuring cups as they are not very accurate especially when it comes to recipe that requires precision.
GRAMS TO CUPS CONVERSION (UNSIFTED)
INGREDIENTS
3/4

lb

Chinese egg noodles or you can use spaghetti noodles

-

for 2 very generous servings

2

cup

of loosely packed beansprouts

-

optional

1/2

lb

handful of water spinach leaves / or you can use regular baby spinach or spinach leaves

6

jumbo shrimps

-

deveined and shelled

6

thin slices of pig liver

-

optional, but I love it

4

fish balls

-

sliced

2

Roma tomatoes

-

quartered

1

Tbsp

+ 1 tsp of belacan/ shrimp paste

4

cloves

of garlics

-

finely minced

2

duck eggs or chicken eggs

3

Tbsp

of red chili paste - more if you want it spicier

-

use about 10-15 already soaked dried red chilis and few spoons of water and ground it up in food processor or you can always use readily bought red chili paste like sambal oelek for example

4

Tbsp

of sweet soy sauce/ kecap manis

4

Tbsp

Soy sauce

2

Tbsp

of cooking oil
INSTRUCTIONS
Preheat the wok and add in oil. Saute garlic until fragrant, about 15 seconds. Add in prawns, fish ball and pig livers. Saute until half-cooked, then push to the side of the wok and crack in two eggs. Break the yolk a bit and leave them. Let the egg settle for a bit (for about 20-30 seconds) and then mix everything up in the wok

Add red chili, belacan and stir fry until the belacan is really fragrant, about 3 minutes or so

Add about 1/2 cup of water and tomatoes, let it simmer for about 1 minute

Add in water spinach, noodles, shrimp, liver if using, fish balls, sweet soy sauce and soy sauce. Mix well. Cover the wok with lid and let it simmer for 2 minutes. The noodles has a bit of gravy on it (as shown in picture). Have a taste and add more soy sauce if needed. It should taste salty with little hint of sweetness from the sweet soy sauce. Then add in the beansprouts (if using) and stir a little bit and turn off the heat. I like the beansprouts to be still crunchy

Ready to serve and clean the wok before cooking the next portion (if you are doubling this recipe)
Notes
This dish tastes better when you prepare it one portion (maximum two portions) at a time and not cooking it in big batch