Rice Cooker Nasi Tumpeng Mini (Indonesian Rice Cones) – Learn how to make nasi tumpeng mini made with aromatic turmeric rice. Can be cooked in rice cooker, stove, and instant pot
It's been 7 1/2 years ago since the last time I ate nasi tumpeng and that was on our wedding day in Indonesia. My mom's good friend prepared a jumbo version of nasi tumpeng (enough to feed a large crowd) with elaborate entrees and side dishes surrounding the rice cone. I believe I still have the photo somewhere. Not in this computer, but somewhere. It was sooo delicious and pretty!
WHAT IS NASI TUMPENG?
Nasi tumpeng is a traditional Indonesian rice dish usually seen at festive occasions like wedding, birthday party or any important celebrations. My mini nasi tumpeng is a much more humble version. The nice thing about nasi tumpeng is you can include as many entrees and side dishes as you like or just a few if you prefer. I have air-fried chicken wings, hard-boiled eggs, gado gado, sambal ikan teri (without the sambal so my kids can eat)
WHY YOU WILL LIKE THIS RICE COOKER NASI TUMPENG MINI
1. Recipe can be made with a rice cooker, regular pot, or Instant pot
2. You pretty much just throw everything inside the pot, stir, and cook
3. They are very flavorful and pretty much goes with any entrees and side dishes
4. You have your dose of turmeric in there (without much effort). Eating turmeric on its own is not my favorite, but I like it in cooking
HOW NASI TUMPENG IS MADE
Nasi tumpeng is pretty much nasi kuning shaped into cones.
The rice is cooked with aromatic herbs, spice, water, and coconut milk all in one-pot. It's truly very easy. The rice is then packed into a cone shaped mould. I used banana leaves shaped into a cone, or you can use aluminum foil to do that.
YOU CAN SHAPE NASI TUMPENG ANYWAY YOU WANT ACTUALLY!
Traditionally nasi tumpeng is a cone shape, but in this modern day, I have seen square/box or round shaped that are stacked up like castles. Some people use a bundt pan to create beautiful shapes. You decide!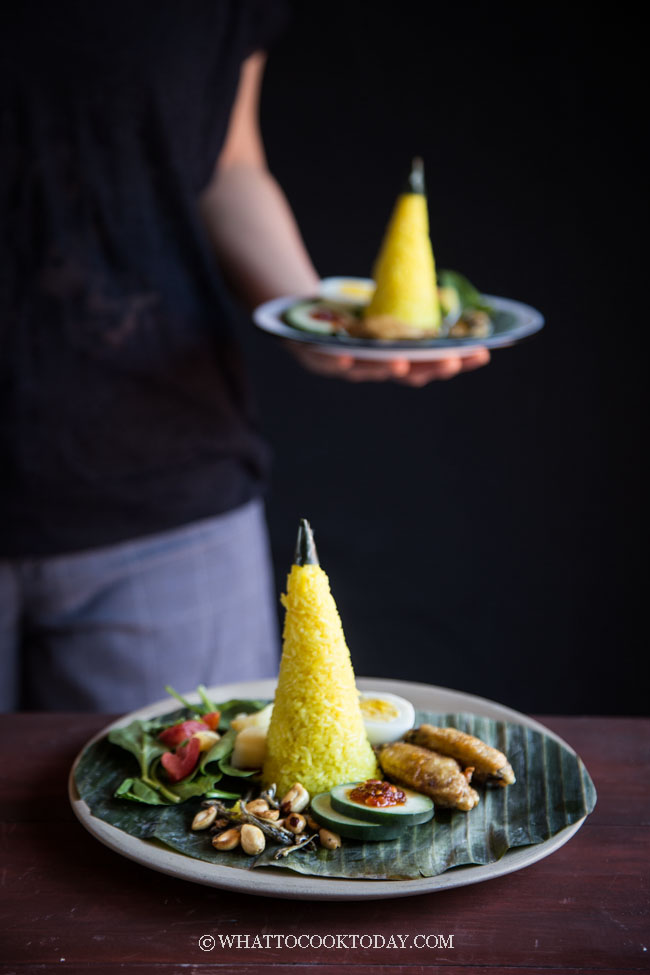 WHAT YOU CAN SERVE WITH NASI TUMPENG
Beef rendang
Ayam Goreng Kremes (Twice-cooked chicken with spice crunch)
Tahu bacem
Sambal udang serai (Shrimp with Lemongrass)
Sambal goreng kentang (Potato sambal)
Perkedel Kentang (Potato Fritters)
Perkedel jagung (Corn Fritters)
Tempeh Fritters
Sate Ayam
Ayam Tangkap
The list can go on really. You can totally make it into meatless or even vegan if you prefer.
This blog post contains affiliate links. I earn a small commission when you made purchase at no extra cost to you. Learn more.
*Recipe is written for 6-quart Instant Pot. Cooking time should remain the same for 8-quart size but will take longer to pressurize. For mini duo (3-quart), I recommend to half the recipe and use the same amount of time to cook*
Rice Cooker Nasi Tumpeng Mini (Indonesian Rice Cones)
Ingredients
Shape the rice into cone with one of these:
Banana leaves

Wipe clean with damp cloth

aluminum foil
Instructions
Wash the rice in several changes of water until it runs clear. Drain with sieve to make sure all water is drained off
Cooking in rice cooker:
Place the rice, coconut milk, water, spices, herbs, and seasonings in the inner pot of rice cooker. Stir to mix everything and cook on white rice setting. Wait 10 minutes before fluffing the rice
Cooking in instant pot:
Place the rice, coconut milk, water, spices, herbs, and seasonings in the inner pot or instant pot. Stir to mix everything. Close the lid. Set the steam release valve to seal. Press on "rice" setting. When it's done cooking, wait 10 minutes before release pressure completely. Keep it warm using the "warm" setting
Cooking on stove-top:
Pour the coconut milk and salt into the pot. Bring to a boil and then stir in the rice. Return to a boil and then lower the heat to a gentle simmer. Cover and cook for 5 minutes and then give it a stir and cover it back and let it cook for another 5 minutes. Turn off the heat and DO NOT open the lid yet. Wait 10 minutes.

After 10 minutes, uncover the lid and fluff the rice. Keep it warm using the "warm" setting
Making cones with banana leaves or aluminum foil:
Nothing new here other than you will be using banana leaves or several layers of aluminum foil to make a cone shape. Cut the banana leaves or foils into about 10-inch square and then shape it into a cone and secure with a tape or toothpick.

Cut another piece of 3-inch square and roll into a mini cone for topping on top of the rice cone. Secure with a tape
Assembling:
Stuff the warm rice into the cone while they are still warm. Pack it down as much as you can so they are tight. Carefully place it on a platter and then gently release the banana leaf cone.  Place the mini cone on top of the cone. Arrange all the entrees and side dishes around the rice