Learn to make this popular Javanese sambal goreng kentang that is perfect to go with rice or lontong.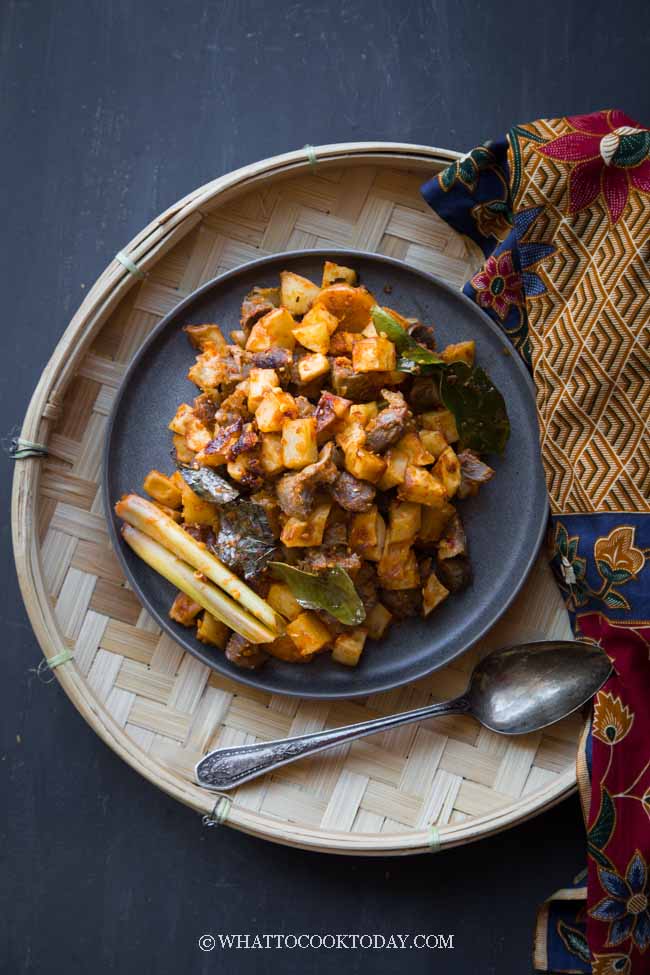 POPULAR JAVANESE DISH
One of my most favorite Indonesian dishes that my mom used to make so often when I was a kid was this sambal goreng kentang. It is one of the popular Javanese dishes that often served with opor ayam, sayur lodeh, rice or lontong/ketupat to make lontong cap go meh. But of course, you can always serve it with just plain rice too.
VARIATIONS
YOU CAN ADD LIVERS OR GIZZARDS
I know the topic of chicken livers and gizzards are not the hottest one to talk about out there, especially in North America. I suggest using either liver or gizzards. Gizzards take longer to cook and I use a pressure cooker to cook them. You can simply boil liver and they don't take that long to cook.
ADD STINK BEANS/SATOR BEANS (PETAI)
Stink beans are also other not-so-popular ingredients 🙂 Stink beans are really stinky ha.ha…! it may stink your breath for a day or two. And now you are wondering what in the world is this dish I'm talking about here using innards and something stinky! Absurd enough to say, this is my comfort food. I love it so much. This is truly a local dish that is not very well known to many foreigners.
HOW TO MAKE SAMBAL GORENG KENTANG
1. COOK THE GIZZARDS OR LIVER (OPTIONAL)
Boil the liver until they are cooked through, about 10-15 minutes. If using gizzards, you need to boil longer about 30-45 minutes for it to get tender
2. COOK THE POTATOES
You can deep fry the potatoes until crispy or bake them in the oven. I used air fryer to fry them at 375 F until they are crispy
3. STIR FRY AROMATICS AND HERBS
In a large skillet, preheat 2 Tbsp of cooking oil. Add in the chili paste you grind earlier and saute for about 3 minutes.


Add the herbs and saute for another 3 minutes.


4. ADD COOKED POTATOES AND LIVER/GIZZARDS (if using)


Add seasonings and stir to mix everything. If you want to add coconut cream, this is where you add. Stir to mix and cook until it is slightly thickened. Have a taste and adjust seasonings to suit your taste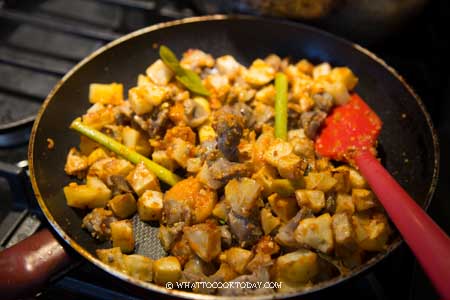 Remove from the heat and ready to be served

Sambal goreng kentang is truly one of my most favorites. It's savory, slightly sweet, and it's spicy! so addicting and it's hard not to eat too much rice when this is presented in front of me.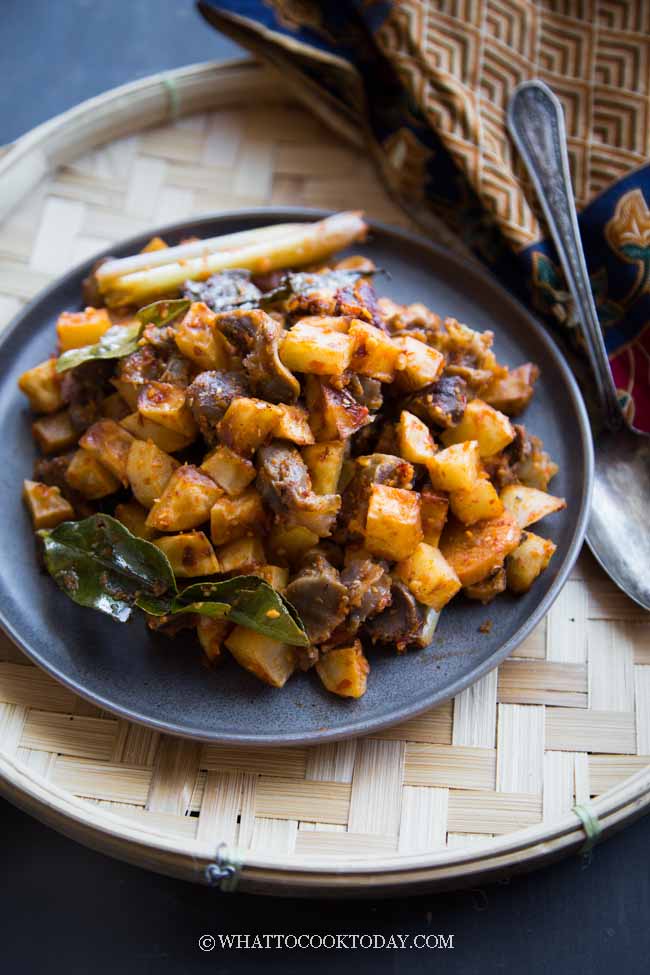 DID YOU MAKE THIS SAMBAL GORENG KENTANG RECIPE?
I love it when you guys snap a photo and tag to show me what you've made 🙂 Simply tag me @WhatToCookToday #WhatToCookToday on Instagram and I'll be sure to stop by and take a peek for real!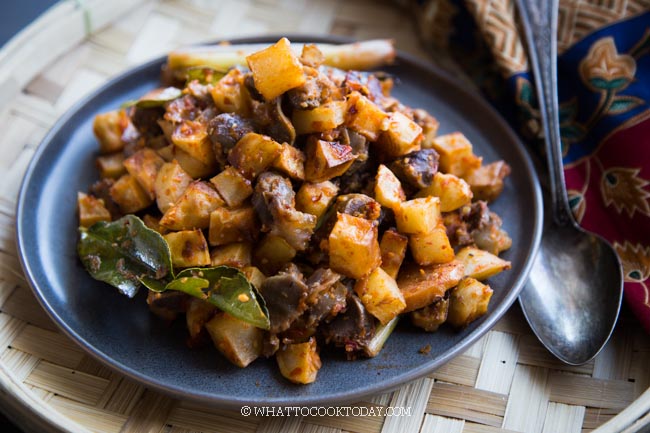 Sambal Goreng Kentang (Indonesian Potato sambal)
Ingredients
Instructions
Place all the ingredients to grind in a food processor and process into a paste
Prepare the liver (if using):
Bring a large pot of water to a boil. Add livers and cook until they are cooked through, about 10-15 minutes. Remove from the pot and briefly rinse to get rid of the scums
Prepare the gizzards (if using):
Gizzards take longer to cook. If you boil, you may need about 30-45 minutes for them to be tender. I cook it with Instant Pot pressure cooker. I add the gizzards in the inner pot and add 1 cup of water. Secure the lid and turn the pressure release vale to "sealing". Press "pressure cooker" and make sure it's on high pressure and set timer to 25 minutes and allow natural release. Cut the cooked gizzards into bite-size pieces
Cook the potatoes (frying, baking, or with air-fryer):
If you choose to deep-fry the potato, heat up enough oil to do so and fry the potatoes until they are crispy. Dish out and set aside on a paper towel to absorb extra fat. If you choose to bake, preheat your oven to 375 F. Line a baking sheet with aluminum foil and grease with some oil. Lay the potatoes in a single layer and drizzle with some oil and bake for about 25-30 minute or longer (shake the baking sheet in between baking) until the potatoes are cooked through and crispy. Set aside

I used an air-fryer to cook the potatoes. I drizzle a bit of oil on the potatoes and then air-fry them at 375 for 10-12 minutes or until they are golden brown and crispy
Put things together:
In a large skillet, preheat 2 Tbsp of cooking oil. Add in the chili paste you grind earlier and saute for about 3 minutes. Add the herbs and saute for another 3 minutes. Add the cooked potatoes and livers and/or gizzard pieces and seasonings.

Stir to make sure the sambal is coating everything. If you want to add coconut cream, add it here and let it cook until it's thickened. Don't over stir or you will break the livers (if using) too much. Have a taste and adjust by adding more sugar and/or salt if needed. It should taste just savory, slightly sweet, and spicy