Lontong or ketupat (rice cakes) are served with Javanese entrees and side dishes to make a lontong cap go meh. A popular Peranakan food eaten by the Indonesian Chinese community as part of the Chinese New Year cap go meh celebration.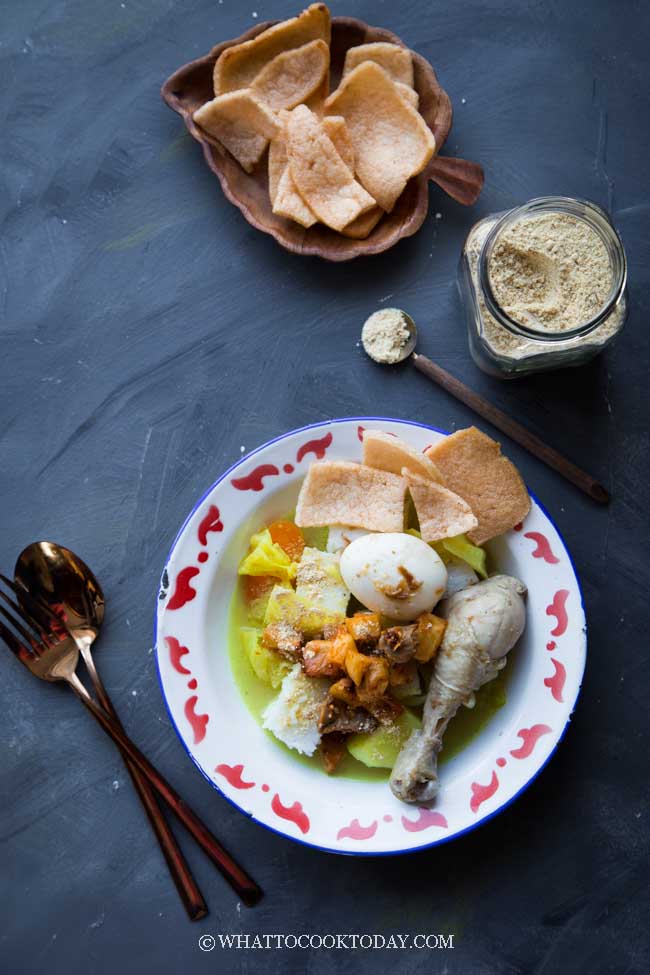 DAY 15 CHINESE NEW YEAR
LANTERN FESTIVAL
The Chinese celebrate the new year for 15 days (well 16 days if you count the new year's eve). The 15th day is called "cap goh" in Hokkien language. On this last day, the celebration usually involves a lantern festival. Kids and adults will light up lanterns. Back in the old days, the lanterns are lighted up and then flew off (flying lanterns). But of course, this is not a common practice in this modern day, not at my hometown at least. I remember we just lighted up lanterns and walked around the neighborhood showing off our cool lanterns 🙂
EATING YUAN XIAO / TANG YUANG (RICE BALLS)
Day 15 is also celebrated by eating rice balls (yuan xiao) or also known as tang yuan to bring more prosperity and good luck
STORY BEHIND THE LONTONG CAP GO MEH TRADITION
The early male Chinese immigrants who landed and settled down at the Javanese cities such as Surabaya, Semarang, Pekalongan (just to mention a few) started this lontong cap go meh tradition. They married the local Javanese women and that's where the Peranakan (fusion between the Chinese and the local Javanese) food such as lontong cap go meh, starting to emerge as well. This is a very brief version of the story anyway 🙂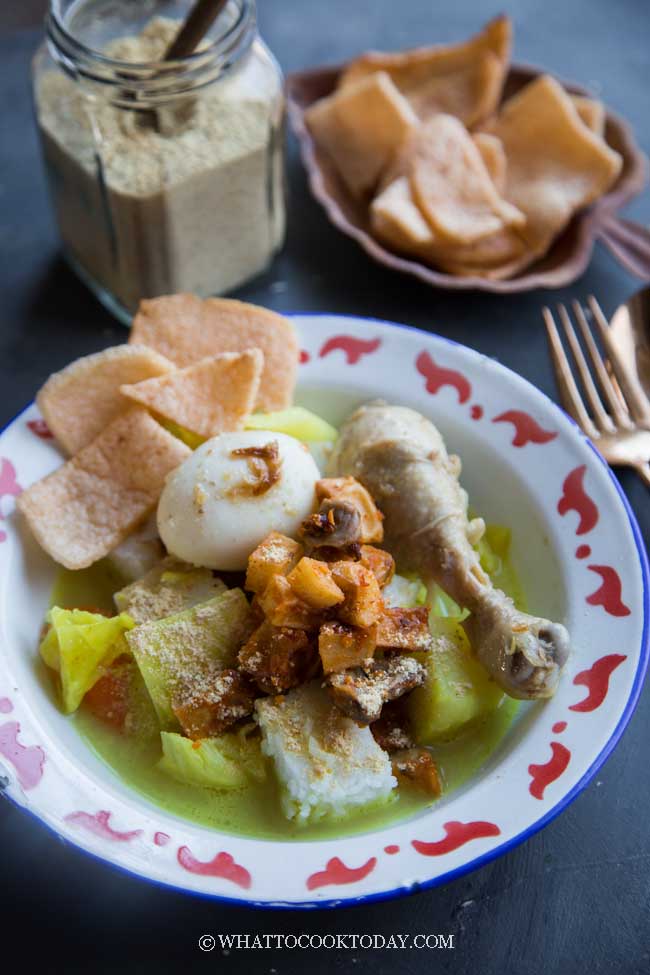 AUSPICIOUS LONTONG CAP GO MEH
Food often has auspicious meaning in the Chinese culture. The Javanese food cooked by the immigrants' wives played a big role in lontong cap go meh. These are the usual dishes included in lontong cap go meh:
LONTONG: the traditional Chinese yuan xiao or tang yuan that was consumed during cap go meh is replaced with Indonesian lontong. The long shape of lontong (before being cut) represents longevity
TELUR PINDANG: The round eggs represents good fortune
SAYUR LODEH AND OPOR AYAM: The rich and yellowish color of the broth represents wealth, gold, and fortune
DISHES YOU CAN PREPARE TO MAKE LONTONG CAP GO MEH
You don't have to make all of these dishes, but IMHO, you gotta have at least sayur lodeh, opor ayam, and sambal goreng kentang to make a tasty lontong cap go meh.
You gotta try out this easy rice cooker lontong/ketupat. You will never make lontong the old way again with hours and hours of boiling
This humble vegetables dish cooked in coconut milk and aromatics is a must to have to accompany lontong cap go meh or lontong sayur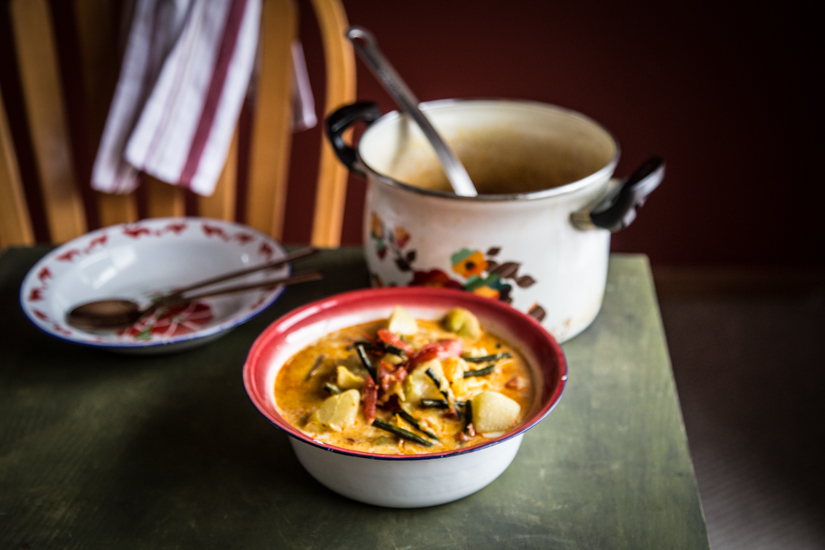 Opor ayam is a classic Javanese chicken dish and it's well-loved by the Javanese people (I love it too and I'm not Javanese)

Cubes of fried potatoes are cooked in aromatics and spicy chili sauce. This is a favorite dish by almost all Indonesians I must say. Most of the time innards like beef liver is added. I used chicken gizzards or chicken livers sometimes. In this recipe I used chicken gizzards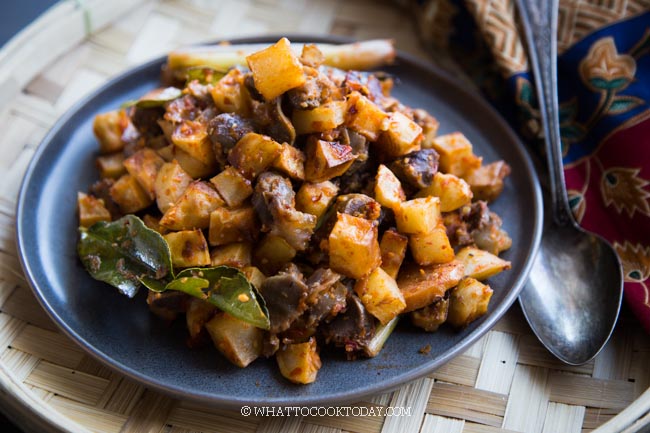 Eggs are braised in spices and seasonings. I didn't make this because I already included hard-boiled eggs in my opor ayam
This incredibly easy to make bubuk kedelai is a must to have for lontong cap go meh and many other Javanese dishes. We love this a lot too!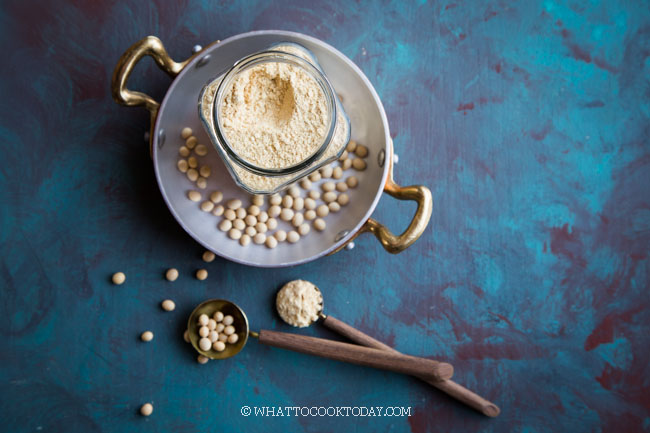 It doesn't have to be acar timun. You can use any acar like carrots, shallots, etc. I happened to have the recipe for this acar timun. I didn't include this in lontong cap go meh for this post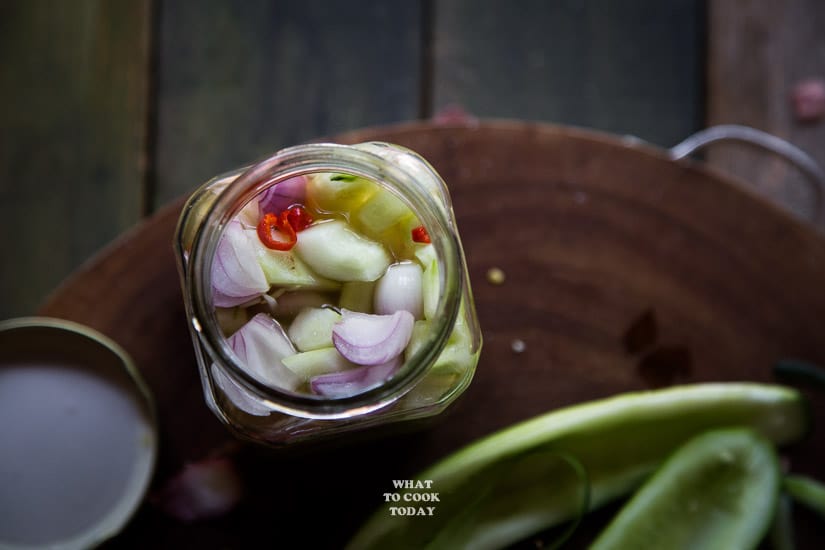 KERUPUK (CRACKERS)
You can use prawn crackers (kerupuk udang), emping crackers, or tapioca crackers
It may seem like a lot of things to prepare, but if you plan ahead, this is very doable. I do not recommend making everything on the same day. You will hate me and yourself 🙂 Trust me, I've done that before and I turned into a monster that day LOL!

My kids love lontong cap go meh. If you plan to serve this for the kids, you always have the option of not making the dishes not spicy. My kids can tolerate spicy food now 😉

Our family loves lontong cap go meh and lontong sayur Medan and they absolutely don't mind this tradition at all.
DID YOU MAKE THIS LONTONG CAP GOH MEH RECIPE?
I love it when you guys snap a photo and tag to show me what you've made 🙂 Simply tag me @WhatToCookToday #WhatToCookToday on Instagram and I'll be sure to stop by and take a peek for real!

How To Make The Best Lontong Cap Go Meh for Chinese New Year
Ingredients
Accompaniments:
Kerupuk

store-bought is acceptable
Instructions
Dishes you can prepare the day before:
I recommend making the lontong the day before because it needs to be cooled down before you can cut them

I also recommend making opor ayam the day before as the flavor is even better the next day
Side dishes you can prepare several days before:
Prepare the acar timun several days before (no more than one week before though). The bubuk koyah kedelai can be prepare several days or weeks before too as they can be kept up to 3 months in the fridge
On the day you plan to serve lontong cap go meh:
You just need to make sambal goreng kentang and sayur lodeh on the day you plan to serve this. It makes things more manageable and less hectic for you
How to serve lontong cap go meh:
Cut the rice cakes into squares and the size you prefer. Put about 4-5 rice cakes (depending on the size you cut) on a platter. Ladle the sayur lodeh with some veggies over. Add one piece of chicken, one or half of hard-boiled egg and spoon some of the broth over too. Top with some sambal goreng kentang. A spoonful of acar. Place few crackers on the side. Sprinkle on the bubuk koyah kedelai and bawang goreng on top.

You can serve additional acar, bubuk koyah kedelai, and prawn crackers on the side for your guests to add more if they want to
You will also like this Lontong Sayur Medan too.

Don't forget to check out nasi sayur too. It's another one of our favorites!