Learn how to render lard using pork fat and get the crispy fried lard (bak eu phok) at the same time. The lard can be used in cooking or baking and the fried lard is great as a topping for many dishes.
I saw packs and packs of pork fat sold at our local grocery stores and I couldn't help but getting several packs of them. As a kid, I remember mom used to make ba eu phok / bak yu phok using pork fat. This is different from the crispy cracklings on the pork skin that you get from roasting pork belly, siu yuk. Bak eu phok is the actual fat itself that has fat rendered out and turns into crispy fat (lardons).
SOURCES OF PORK FAT AND WHICH ONE TO USE
SOFT FAT / LEAF LARD: This fat is usually found surrounding the kidney and the loin. It doesn't have a strong pork aroma. It also gives really white lard that is perfect in making those flaky pie crust and baked goods
HARD FAT / PORK FATBACK: As I mentioned before, this comes from the back of the pig.
PORK BELLY: In Chinese, we like to call this three-layer meat. The top part is the skin and in between layers of the meat, you will see the white part.
I recommend using pork belly fat or pork fatback to get crispy fried lard. Leaf lard usually yield the highest quality of lard but the fried lardons are not as crispy compared to the ones from pork belly fat and pork fatback.
WHERE TO GET PORK FAT
Trimmings: When my mom trim off fat from pork belly, she likes to save enough of these trimmings to make lard and bak eu phok.
From the store: I got the fat from the store in the frozen section. The packaging did not mention which part of the fat it is, but I suspect it is most likely pork fatback and a mixture of other low/medium quality fat.
WET RENDERING VS DRY RENDERING
This recipe uses a method called wet rendering to get the pork lard and fried lard. I used to do dry rendering until my mom told me that it's better to do the wet rendering.
What's the difference you may ask?
Wet rendering involves adding water and the fat is boiled until the water dries up and then the fat slowly rendered out. Dry rendering is simply done by adding the fat cubes on a dry pan and let the fat slowly rendered out, like you would when you fry slices of bacon.
I prefer wet rendering now and here are the reasons why:
WET RENDERING: Higher smoke point, neutral flavor, more golden brown color, airier
DRY RENDERING: Lower smoke point, more smoky flavor, darker color, denser
HOW TO RENDER FAT AND GET FRIED LARD AT THE SAME TIME
1. CUT THE FAT
Cut the pork fat into small cubes. Try your best to cut into similar size as much as possible so they will cook at approximately the same time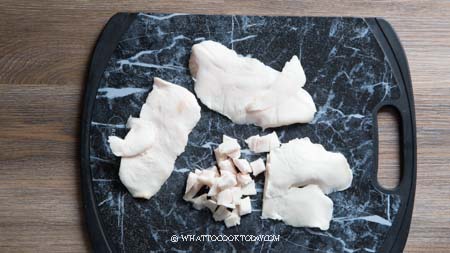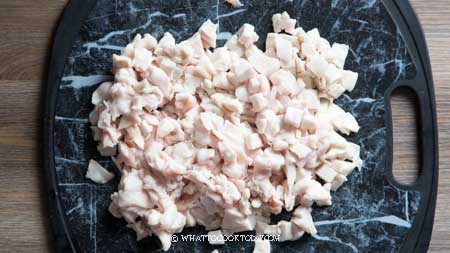 2. RENDER THE FAT
Place the pork fat cubes in a large pan or wok without any oil. Spread them out and pour water


The water should be just enough to cover the fat. Don't pour too much


Bring the water to a boil and then maintain the heat on low to let it just gently simmer. Do not rush to boil it. We want it to slowly render on low heat


The water will continue to evaporate and it eventually dries up
3. FAT CUBES TURN INTO FRIED LARD
You will start to see the lard started to render out slowly. Maintain heat at low. Don't be tempted to crank up the heat

You will notice more and more lard is coming out and the fat will continue to turn golden brown and get crispy and pretty much "frying" in its own lard

The whole process may take somewhere around 1-1 1/2 hours to let it slowly render and to get the fried lard (bak eu phok)


Once the bak eu phok is crispy, remove from the lard into an absorbent paper towel


4. FILTER THE LARD
Filter the lard into a clean glass jar and let it cool down before covering the lid


It will turn white once it has cooled down completely or when you refrigerate it
TIPS YOU NEED TO KNOW
1. If you trim the fat from pork belly or other parts of the meat, make sure you get as little of the meat part as possible if you want to get good crispy bak eu phok
2. Maintain heat at low as this will ensure you get lard that is nice and white and the bak eu phok won't get too dark or worse, burnt
3. Make sure the bak eu phok as cooled down completely before you store in an air-tight container or they will turn soggy. If properly stored, they can last for about a week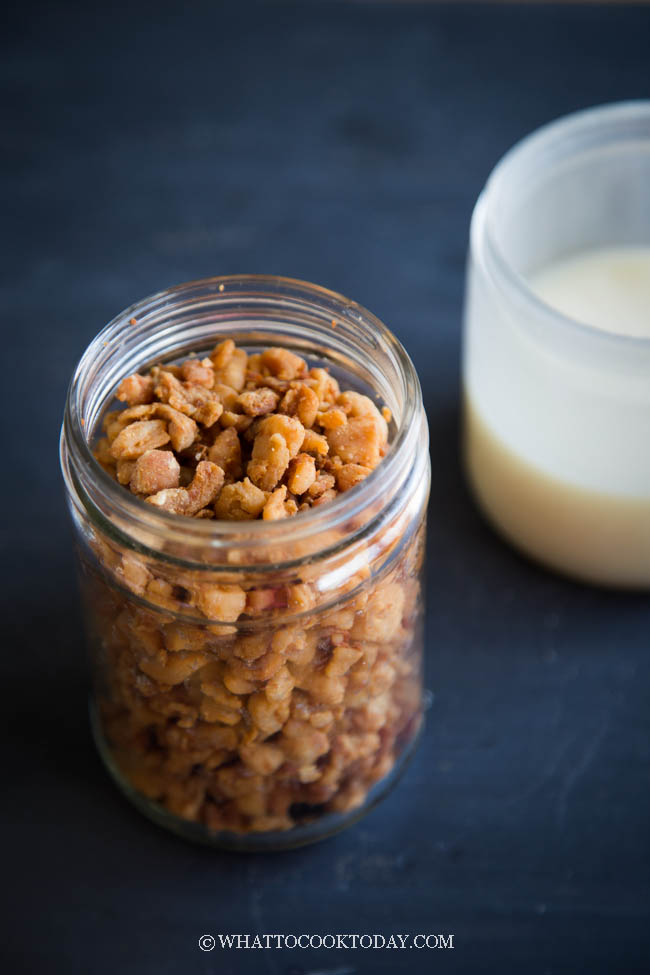 HOW TO RESCUE SOGGY BAK EU PHOK
USING AIR-FRYER: Simply crisp them in the air fryer at 350 F for 3-5 minutes or until they are crispy again
USING OVEN: Spread them out on a baking sheet lined with aluminum foil and then bake in the preheated oven at 350 F for 5-8 minutes or until they are crispy again
USE BAK EU PHOK AS TOPPINGS
We like to use bak eu phok as toppings for char kwe tiau, Singapore Fried Hokkien Mie, KL Fried Black Hokkien Mie, Medan Hokkien Noodle, Bakmi Khek. My kids like to munch on them like they are potato chips LOL! (I can't blame them!)

DID YOU MAKE THIS PORK LARD AND CRISPY FRIED LARD RECIPE?
I love it when you guys snap a photo and tag to show me what you've made 🙂 Simply tag me @WhatToCookToday #WhatToCookToday on Instagram and I'll be sure to stop by and take a peek for real!

How To Render Lard and Get Crispy Fried Lard (Using Pork Fat)
Ingredients
500

gr

pork belly fat or pork fatback

about 1 1/2 lbs

Water
Instructions
Cut the pork fat into similar size cubes:
Cut the pork fat into small cubes. Try your best to cut into similar size as much as possible so they will cook at approximately the same time
Render the fat:
Place the pork fat cubes in a large pan or wok without any oil. Spread them out and pour water, just enough to cover the fat. Bring the water to a boil and then maintain the heat on low to let it just gently simmer. Do not rush to boil it. We want it to slowly render on low heat
Fat cubes turn into crispy fried lard:
The water will continue to evaporate and it eventually dries up and when the water dries up is when you will start to see the lard started to render out slowly. Maintain heat at low

You will notice more and more lard is coming out and the fat will continue to turn golden brown and get crispy and pretty much "frying" in its own lard

The whole process may take somewhere around 1-1 1/2 hours to let it slowly render and to get the fried lard (bak eu phok). Once the bak eu phok is crispy, remove from the lard into an absorbent paper towel
Filter the lard:
Filter the lard into a clean glass jar and let it cool down before covering the lid. It will turn white once it's cool down completely or when you refrigerate it
Storing:
Keep the bak eu phok in an air-tight jar and they can be kept at room temperature for up to a week or longer in some cases. You can store the lard in the refrigerator and it will last for a really long time, for about 1 year in the fridge. If you see anything black growing on the solidified fat, that's mold and you shouldn't be using it and that's also a sign that the lard was not properly rendered