Hakka Pulled Pork Noodles with Cracklings (Bakmi Khek Medan) is one of those non mainstream dishes that barely anyone knows outside of Indonesia, but it is seriously DELICIOUS. Chewy noodles are tossed in flavorful pork fat served with pulled pork and crispy cracklings are sure to get you hooked.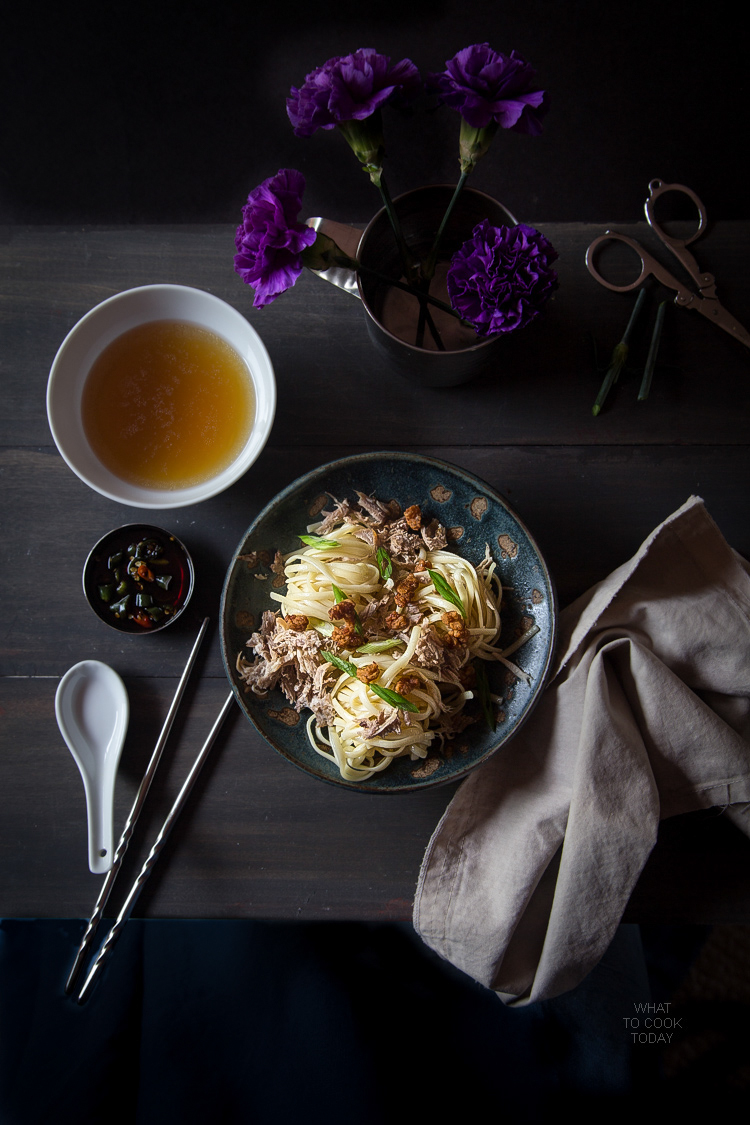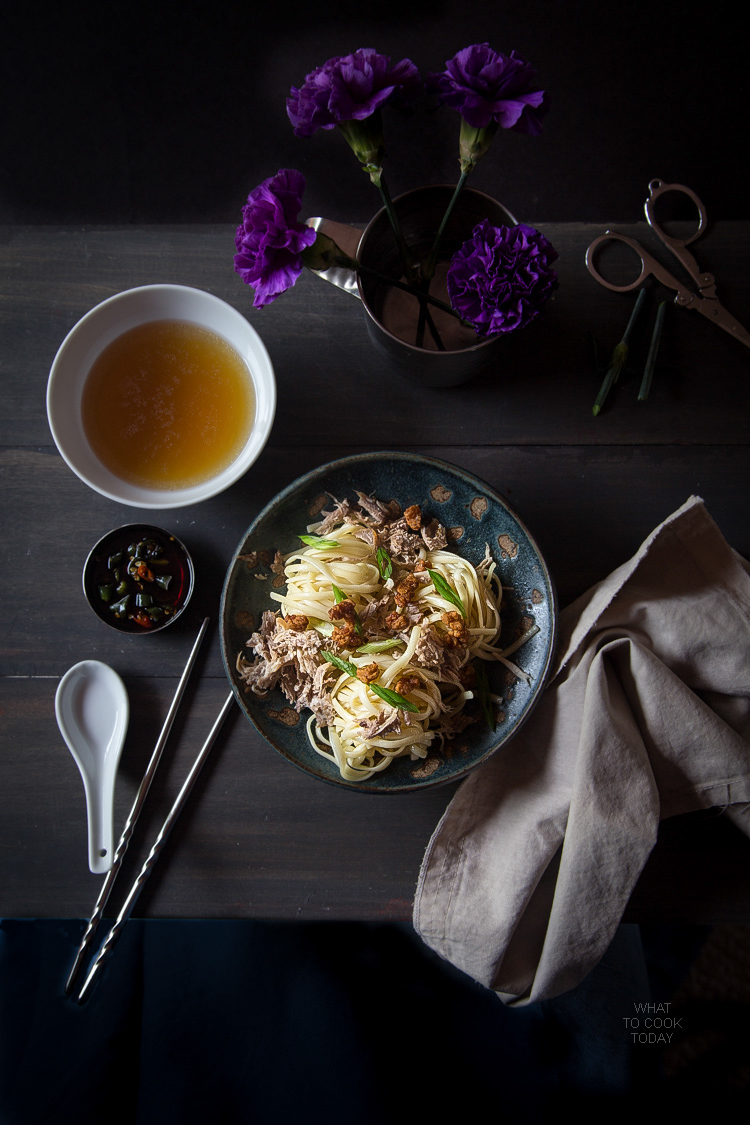 Bakmi Khek or loosely translated as Hakka Pork noodles is one of my top-on-the-list foods to eat whenever I go back to my hometown in Medan, Indonesia. Hakka is a group of Chinese community who speaks one of the many dialects existed in China and worldwide. My father in law is a Hakka and speaks the dialect fluently. My husband still understands the dialect but probably doesn't speak Hakka language as fluently as he used to.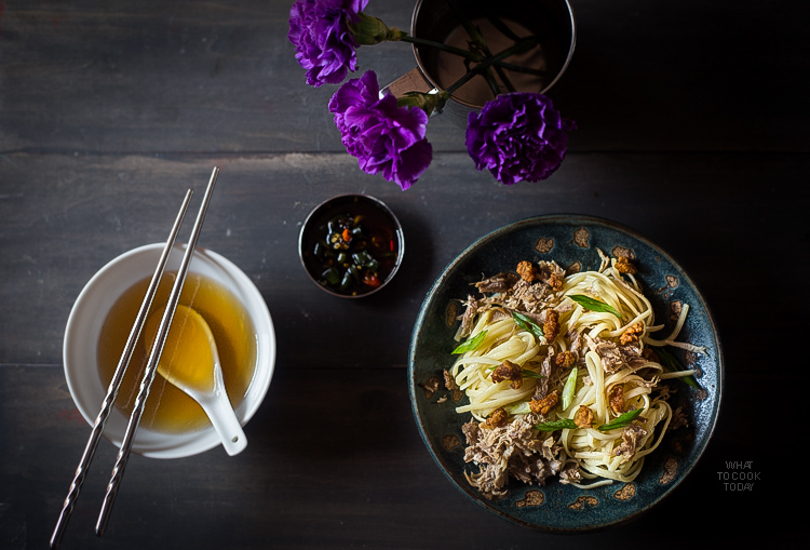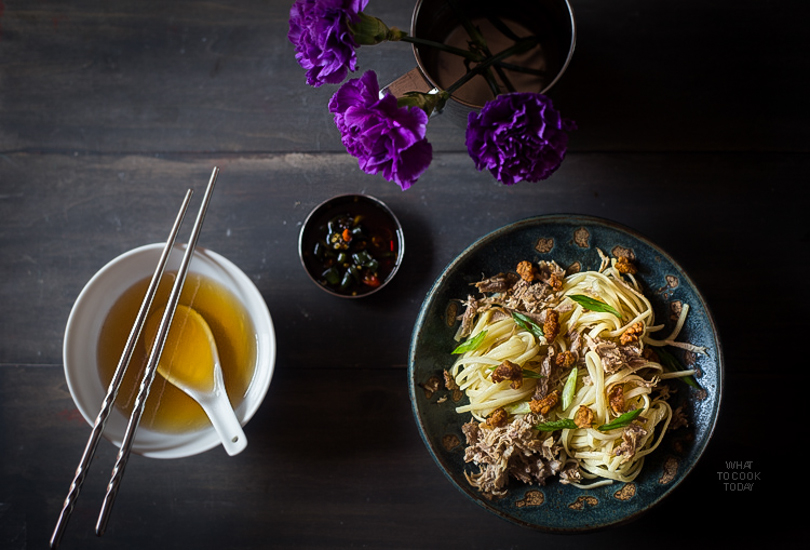 This simple yet very tasty noodles will knock your socks off! I'm not even kidding! It is a noodle dish consist of noodle serves with pulled pork, lots of pork lard (this is what makes it unbelievably tasty), and crispy cracklings made of the pork skin. The noodles used are usually chewy in texture and some can be curly or we call it mie keriting (curly noodles). This hakka style pork noodles are very simple in appearance but crazy good in taste. Healthy ? NO ! Not something you want to have everyday, but I sure can allow this in my diet once a month maybe (or once every two weeks?) 😉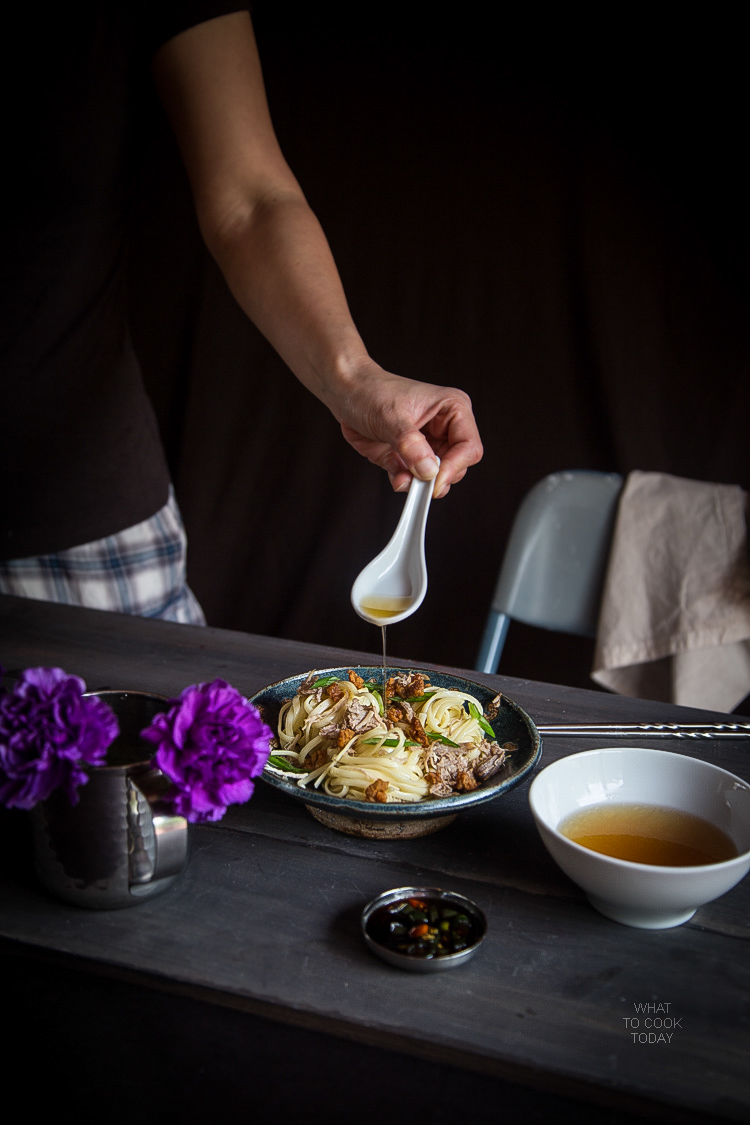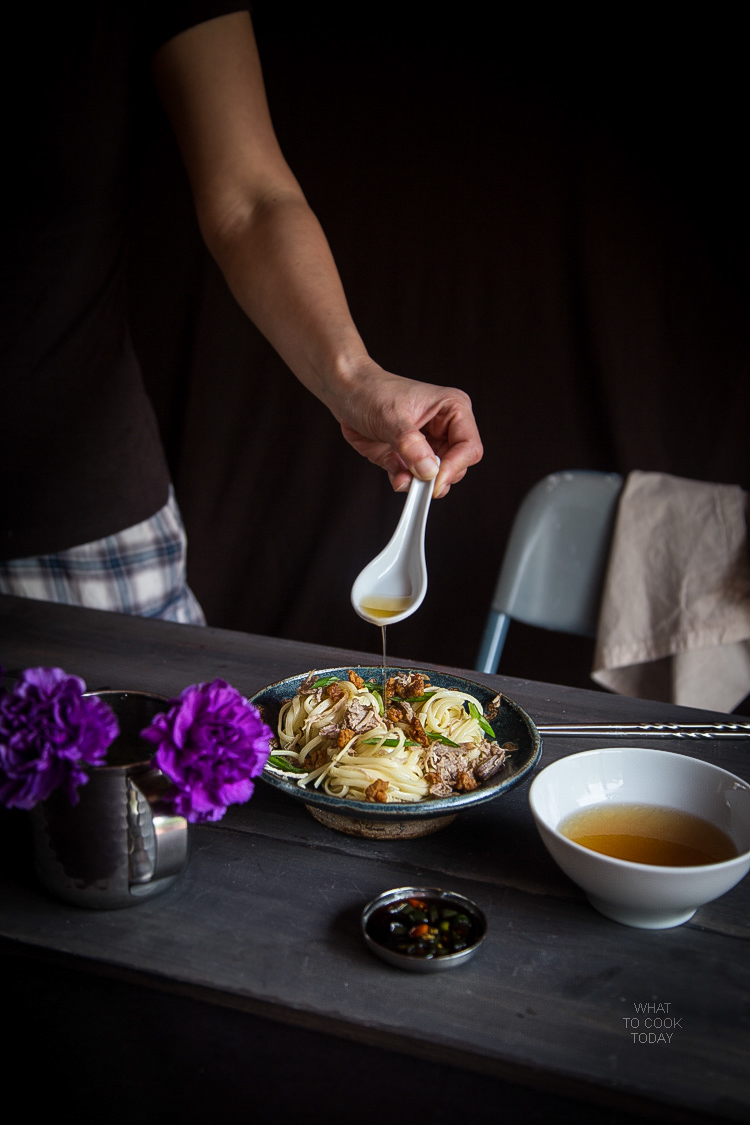 I missed this so extremely much, so I attempted to make one of my own today for lunch and I can't say it is as good as the one they are selling in Medan, but, hey…I'm thousands of miles away and I'm delighted to say that it is delicious enough!!!!!
Hakka Pulled Pork Noodles with Cracklings (Bakmi Khek Medan)
Ingredients
1

lb

fresh egg noodles

or any chewy noodles you like such as ramen noodles

2

lbs

pork shoulder/butt

1

lbs

pork fat

2

stalks

green onion

finely chopped

Generous amount of pork lard

Fried shallot crisp

bawang goreng
Seasonings to marinate pork (adjust to your preference):
Instructions
HOW TO MAKE PORK CRACKLINGS:
Cut the pork fat into small cubes. Place them in a pan and cook them on low-medium heat. The fat will slowly render out from the skin. It may takes some times, just watch out on the heat not to burn them. They will crisp up as the fat renders out. Remove them from the fat and save them for later use. If you make this the day before, you can preheat them in oven at 350 F for 15 minutes and they will be crispy again
COOKING THE PORK:
Place the pork with the seasoning in a sealed plastic bag and marinade for at least 30 minutes

Prepare a pot with a lid and place the pork inside the pot, pour in water, about 1-inch high. Cook on low to medium until the pork is fully cooked and tender, about 45 minutes to 1 hour. Remove the pork from the cooking liquid and when cool enough to handle, shred the meat. Save the cooking liquid (strain if necessary). This is a great tasting liquid

Cook the noodles in a boiling water. Discard the water and briefly rinse with cold running water

Prepare an individual serving bowl and spoon about 1 Tbsp of pork lard, 2-3 Tbsp of the cooking liquid, portion out the noodle and mix them well, to make sure noodles are well-coated with the above. Top with shredded pork, crispy pork cubes, chopped green onion, and fried shallots
Notes
It's hard to find good quality fresh egg noodles without preservatives and additives. I've made this using high quality spaghetti noodles and Korean wheat noodles (as shown in the photos) and they are still delicious