Noodles are tossed in pork lard and served with fish balls, shrimp, other toppings, and crispy pork cracklings that will leave you literally begging for more!
A little bit about Hokkien if you are interested to know (if not, feel free to scroll down to the recipe 🙂 ). It is originated in the Southern regions of Fujian province, an important center for trade and migration, and has since been spread beyond China, being one of the most common Chinese languages overseas. Hokkian is one of the many Chinese dialects spoken throughout Asia. My dad's family is Hokkian and my mom is Teo Chew. In the little town I grew up in, Medan, the majority of people speak Hokkian language, including me and the rest of the family!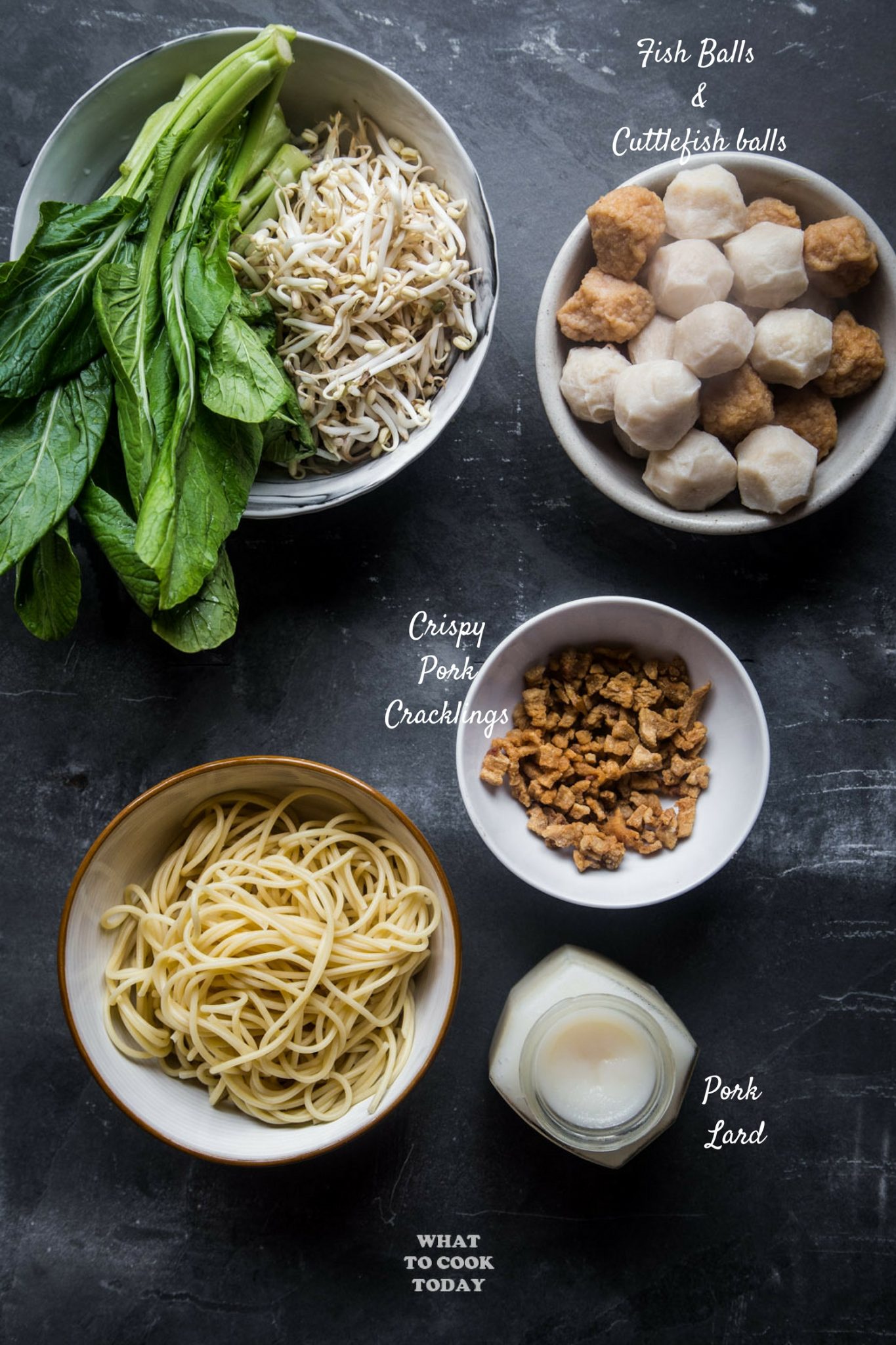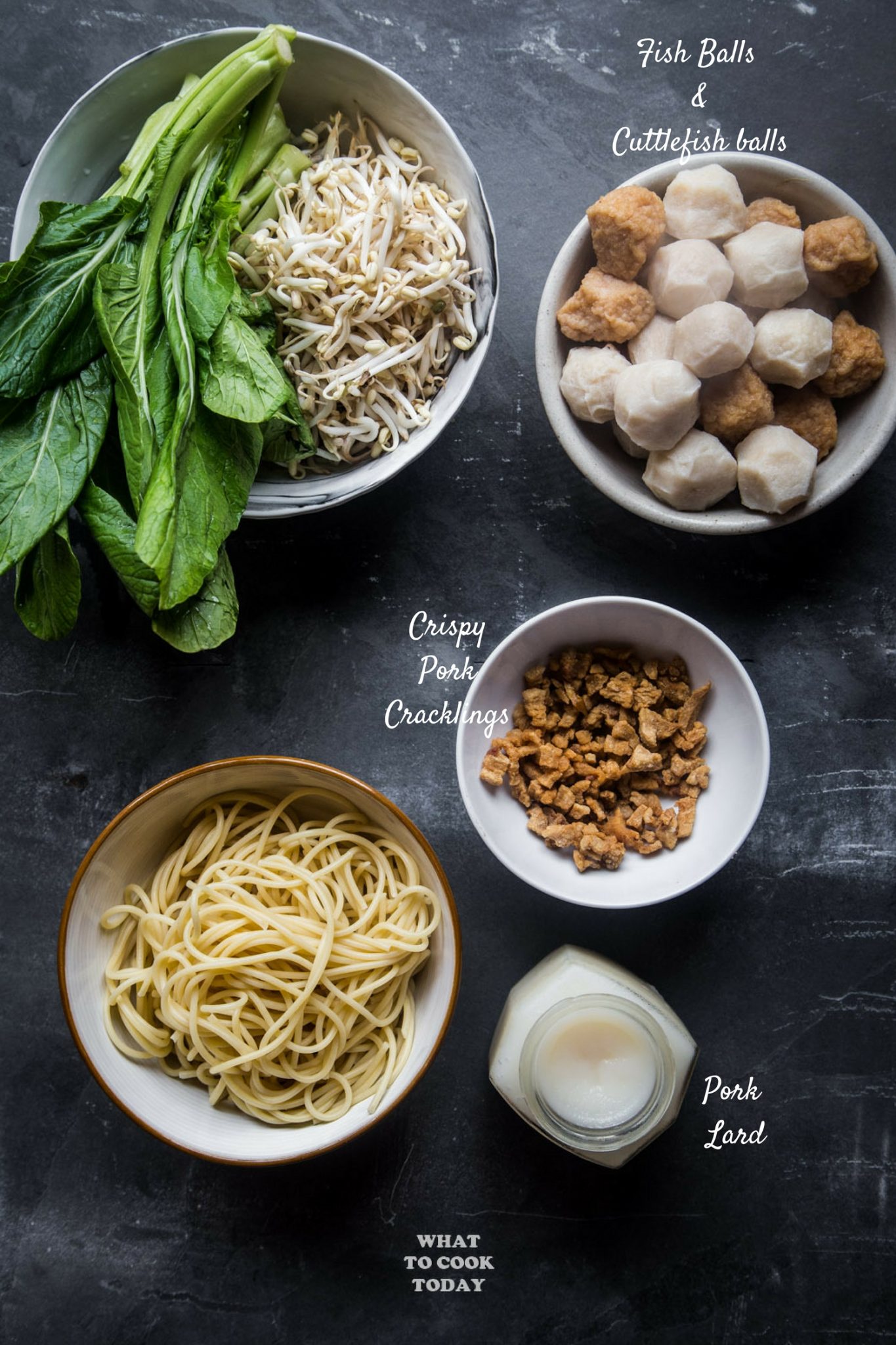 Hokkian noodle also has a variety of different style. Some are being stir-fried, some are served in soup. Hokkian noodle are usually thick round yellow egg noodle. I particularly like Hokkian noodle Medan style. Medan Hokkian noodle there is usually served with soup at the side and the "special" part about this noodle, at least to me is where they used pork lard to toss the noodle in along with other seasonings and the crispy pork cracklings that are scattered on top of the noodle. To me, without these, it's not Hokkian noodle Medan style.
I got a whole pack of pork fat from non-Asian grocery store (yes, I know. I'm surprised myself that they have this). Came home and just cut them into little cubes and put on a large pan and let the fat slowly renders out and you end up with crispy cracklings like this!
The combination of flavorful pork lard, crispy pork cubes and everything else in that bowl is unbelievably good! Medan Hokkian noodle is definitely one of the foods I MUST have when I visit Medan period!
Note to self though, I need to get two packs of pork fat next time because my two kids were fighting over this! I'm not joking!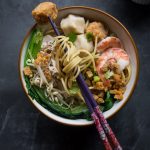 Mie Hokkian Medan / Hokkian Noodle
Ingredients
1

lb

of Hokkian noodles

You can use spaghetti noodles too

½

lb

of beansprouts

6-7 stalks of yu choy or bok choy

8

pieces

of large shrimps

heads and tails off

12

fish balls

12

cuttlefish balls

2

bone-in chicken thighs

8

cups

of chicken broth

Salt and white pepper powder to taste
For serving:
Pork lard from making the crispy pork cubes
For crispy pork cracklings:
2

lbs

of pork fat

cut into small cubes
Garnishes:
Fried crispy shallots

2

stalks green onions (finely chopped)

Small bunch of fresh cilantro leaves
Instructions
Preparing the crispy pork cracklings:
Cut the pork fat into 1/2-inch cubes. If you can't find just pork fat, you can use the fat layer of pork belly and save the meat for other use

Preheat a large non-stick skillet. Place the pork fat on the skillet without any oil and set the heat on medium and let the fat slowly rendered and turn crispy, this may take about 30 minutes to 40 minutes

Separate the crispy pork cracklings from the oil. The oil (or we call it lard) is used to flavor the noodle. The pork cracklings will crisp up further when they cool down
Preparing the rest:
Bring a large pot of water to a boil. Blanch the veggies in a boiling water and then refresh in cold water. Do the same for the bean sprouts. Blanch the shrimp, fish ball, liver briefly in a boiling water until they are cooked through and set aside

Place the chicken thighs in a steamer and steam for about 30 minutes or until cooked through. Save the steaming juice (this is really sweet!Love it!) When cool enough to handle, pick the meat and discard the bones. Place the chicken broth in a medium saucepan along with the steaming juice from the chicken. Taste it and season with salt to your taste.

Cook the noodles according to directions and set aside
Serving:
Portion the noodle out into an individual serving bowl. Portion about 1 tablespoon of pork lard and about 1 Tbsp of fish sauce, 1 tsp of dark soy sauce into an individual serving bowl. Add in the noodles and give it a toss

Portion the shrimps, fish balls, prawn balls, shredded chicken meat, bean sprouts, and yu choy on top of noodle

Garnish with crispy pork cracklings, fried shallots, and chopped green onions. Serve the noodle with the soup in a little bowl on the side. Ready to be served
Notes
You can also use Chinese BBQ pork (Char siu) slices instead of chicken or both and substitute fish balls and cuttlefish balls with other balls like shrimp/prawn balls or pretty much whatever you desire. Some people add friend wontons as one of the toppings too.
You might also like: Fried Hokkian Noodles and Braised Hokkian Noodles