Sweet semolina cake of India origin with a Burmese twist with rich creamy coconut milk will satisfy that sweet tooth without overdoing it!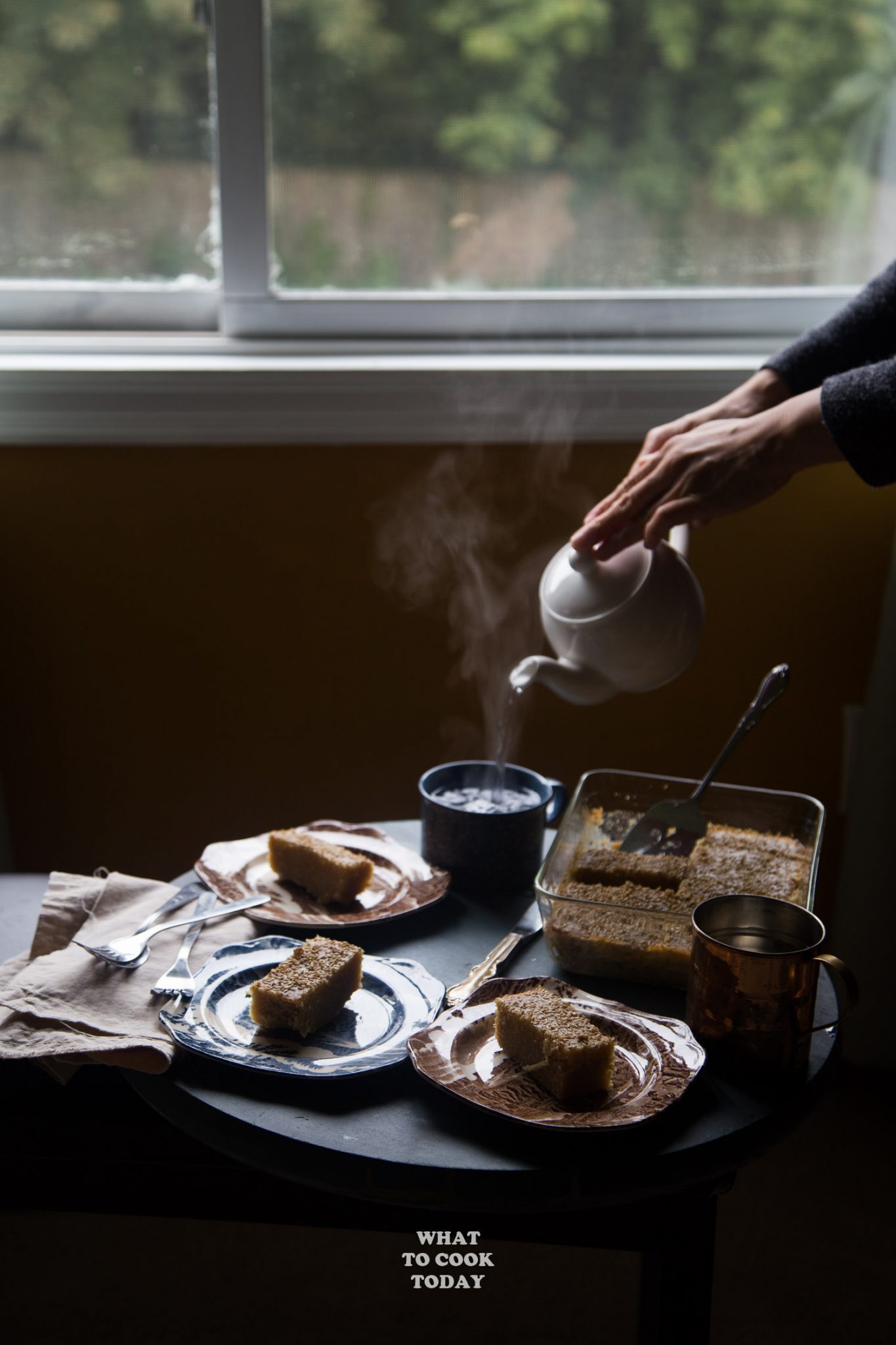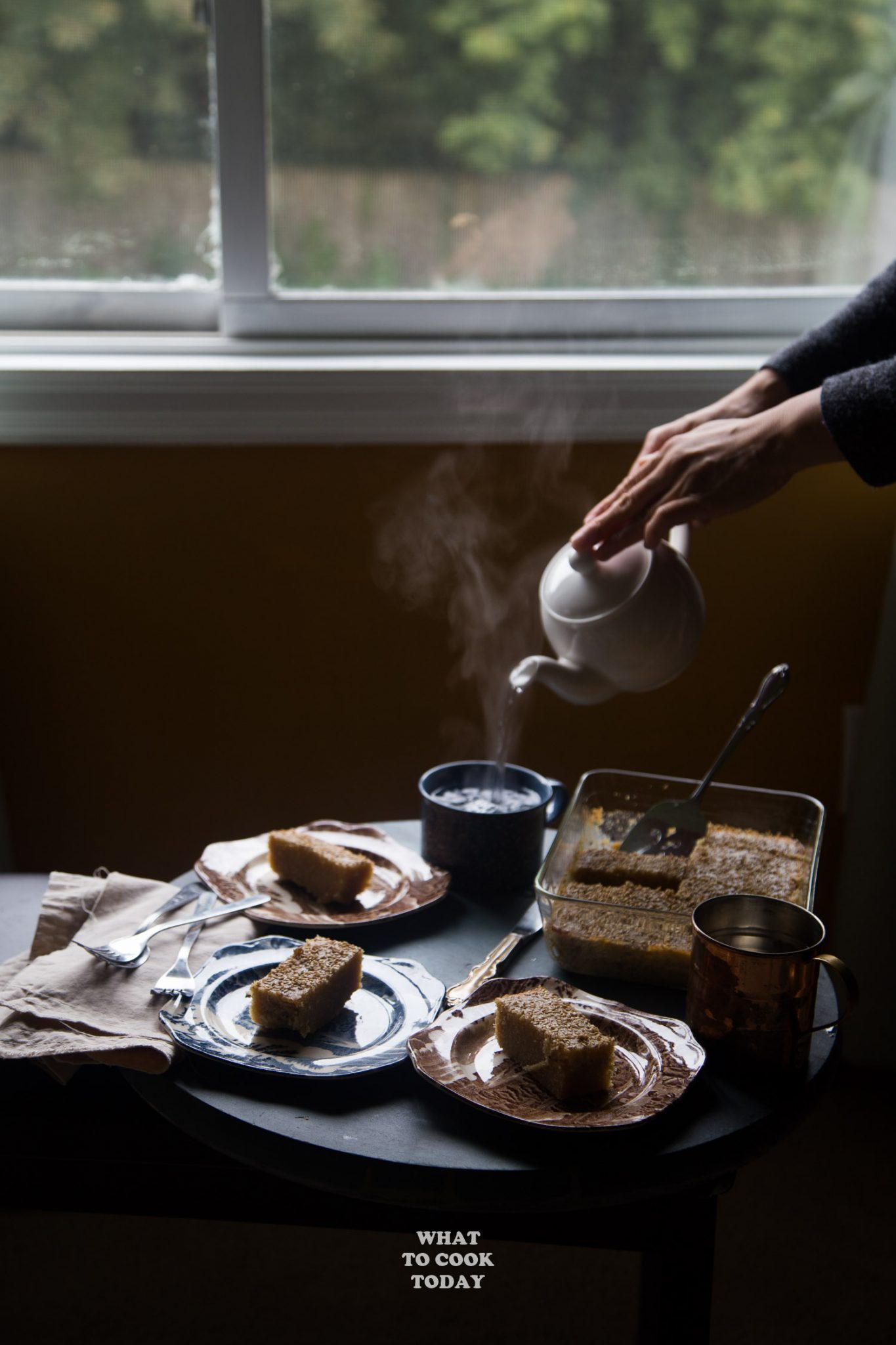 The sweater season is upon us now! It's my favorite. Not sure if it's the sweater or it's the colorful leaves or both. My kids were kinda sad that summer was bye bye, but we just painted pumpkins last week and I guess that kinda made up for it! They seem to have forgotten about summer and can't wait for Halloween. Me, of course probably like the majority of the grown-ups out there, is freaking out with the fact 2018 is just a few months away!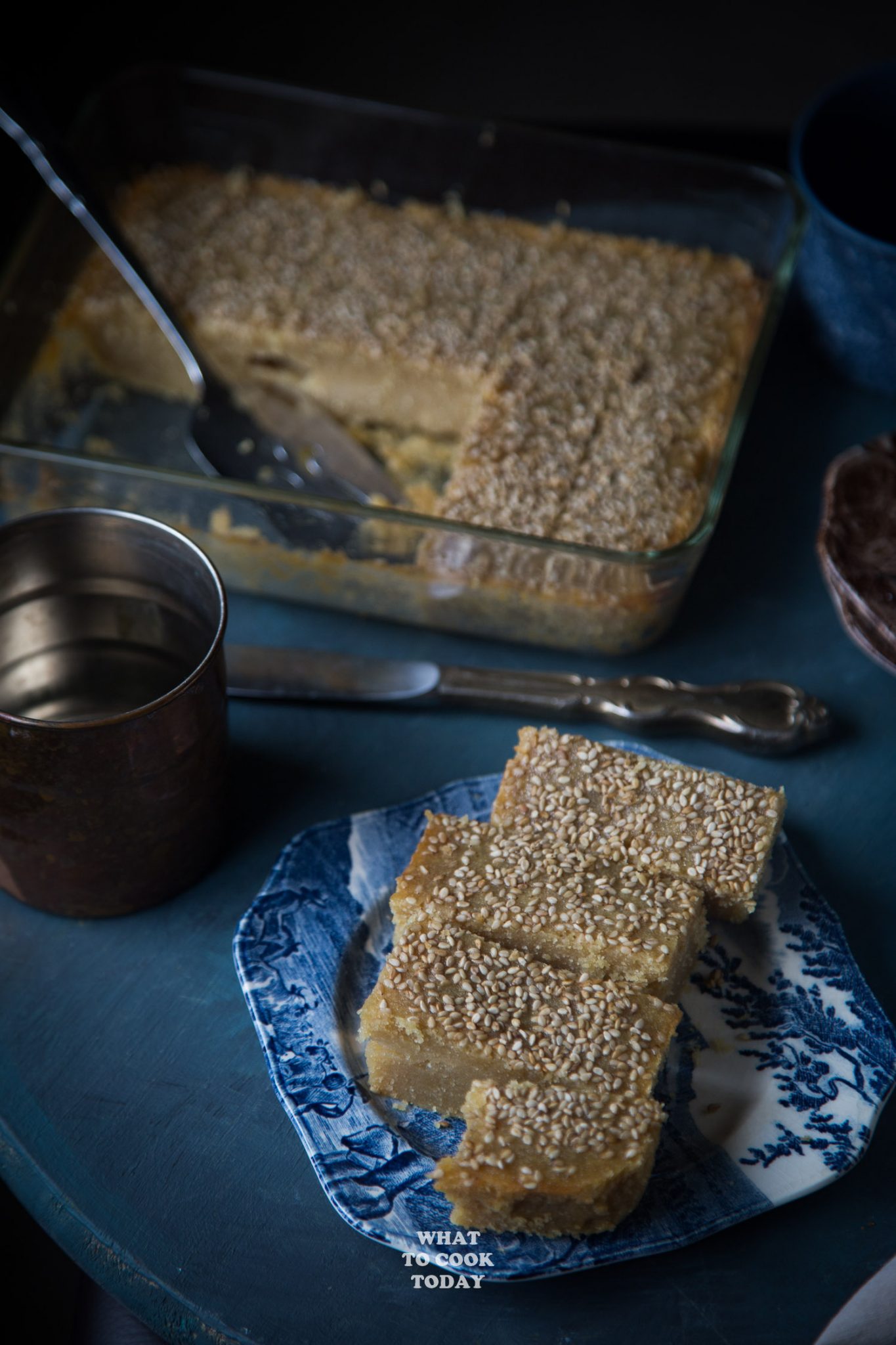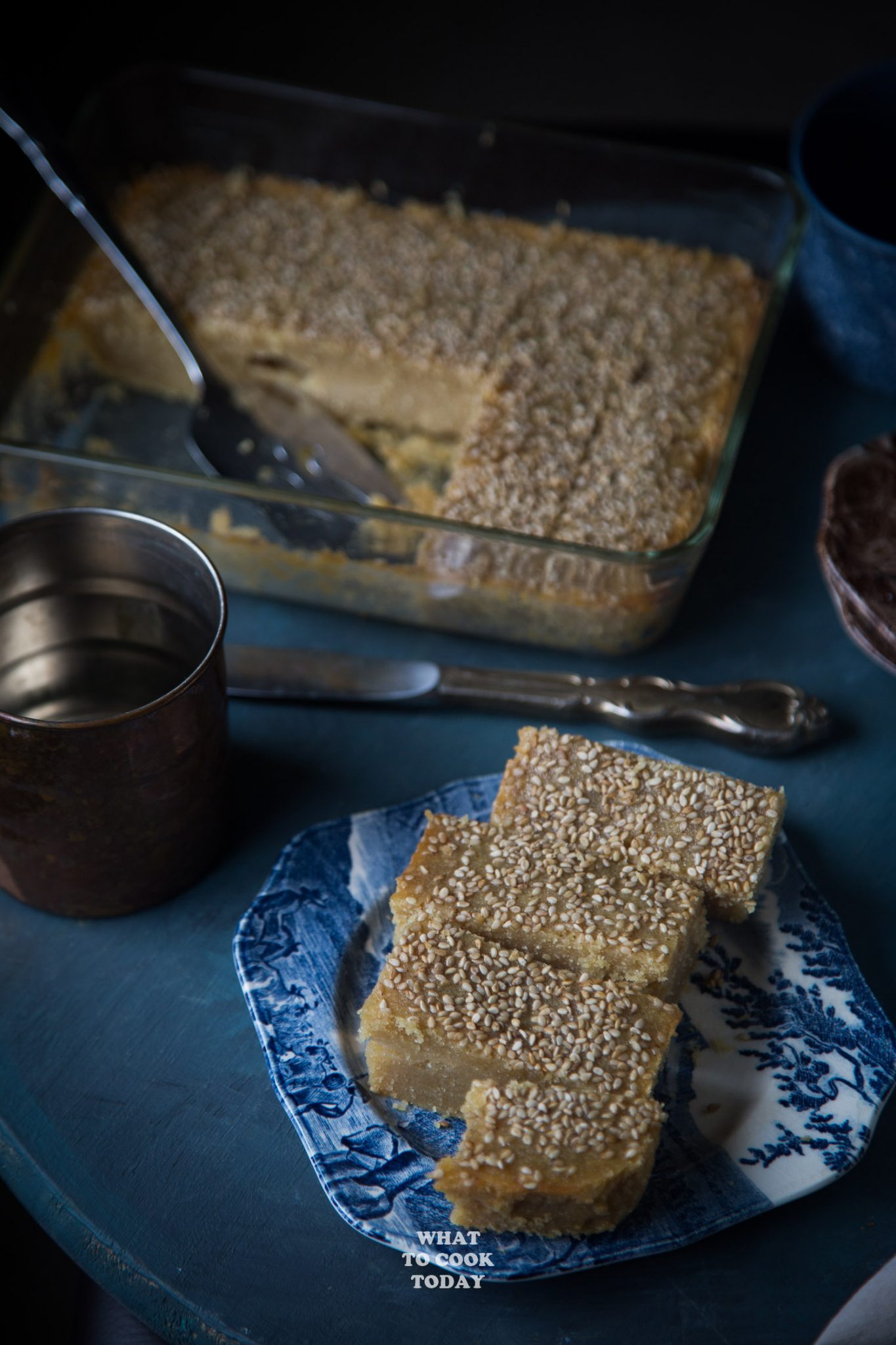 Now that we don't spend that much time outside the house, the oven is turned on more often. For baking! I've been wanting to make this Burmese semolina cake (Shwe Gyi Sanwin Makin) for few months now. But blame it on summer (and the broken A/C for 3 weeks). All in all, I baked it! Burmese semolina cake is delicious and easy to make. I may be biased because I grew up with lots of things coconut in cooking and dessert. I love the addition of coconut milk in the cake. It gives great aroma and adds that richness! Traditionally, this cake is topped with white poppy seeds, but I didn't have any and I just used white sesame seeds. I hope my Burmese peeps won't bite my head off for that 😉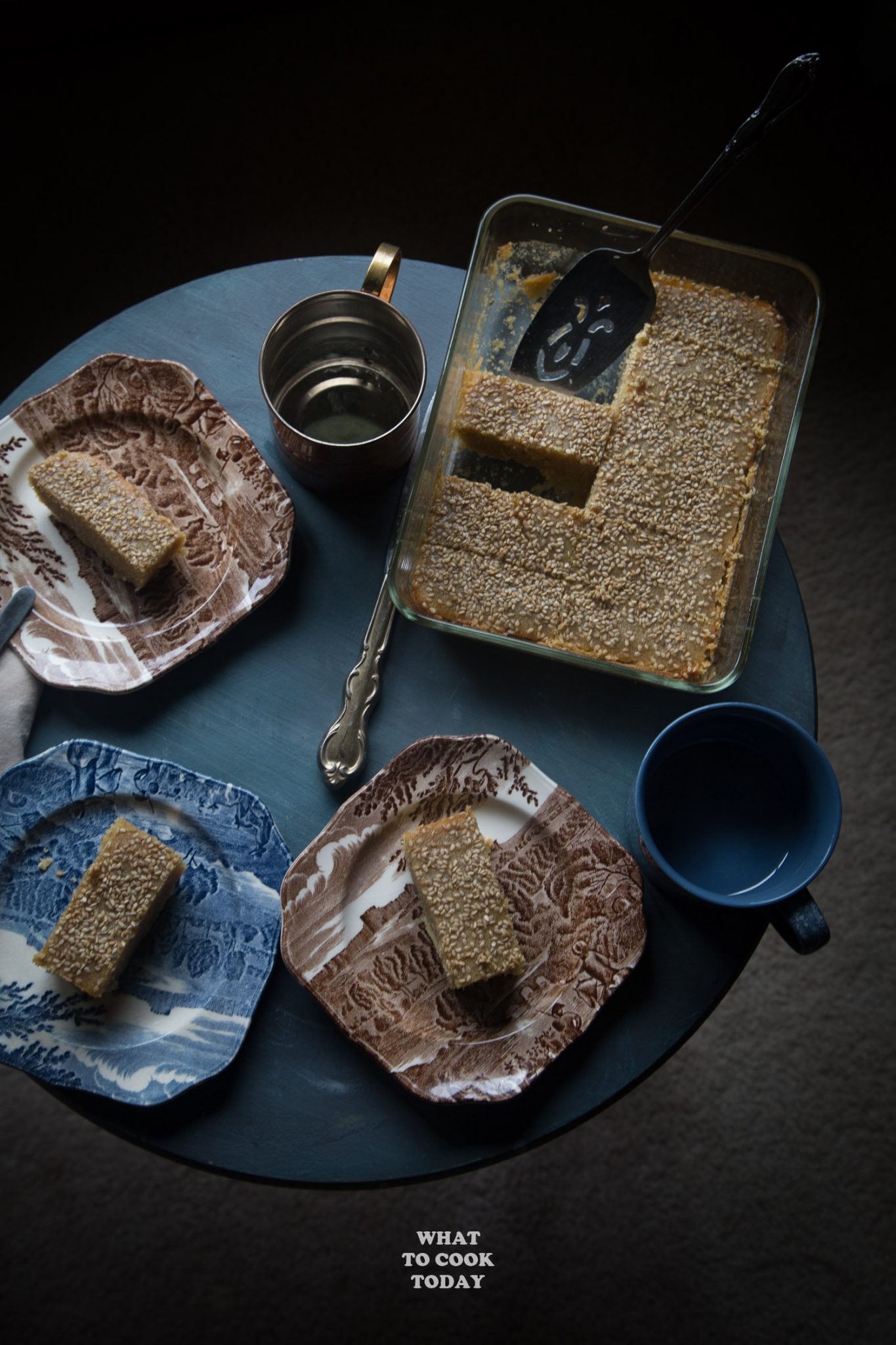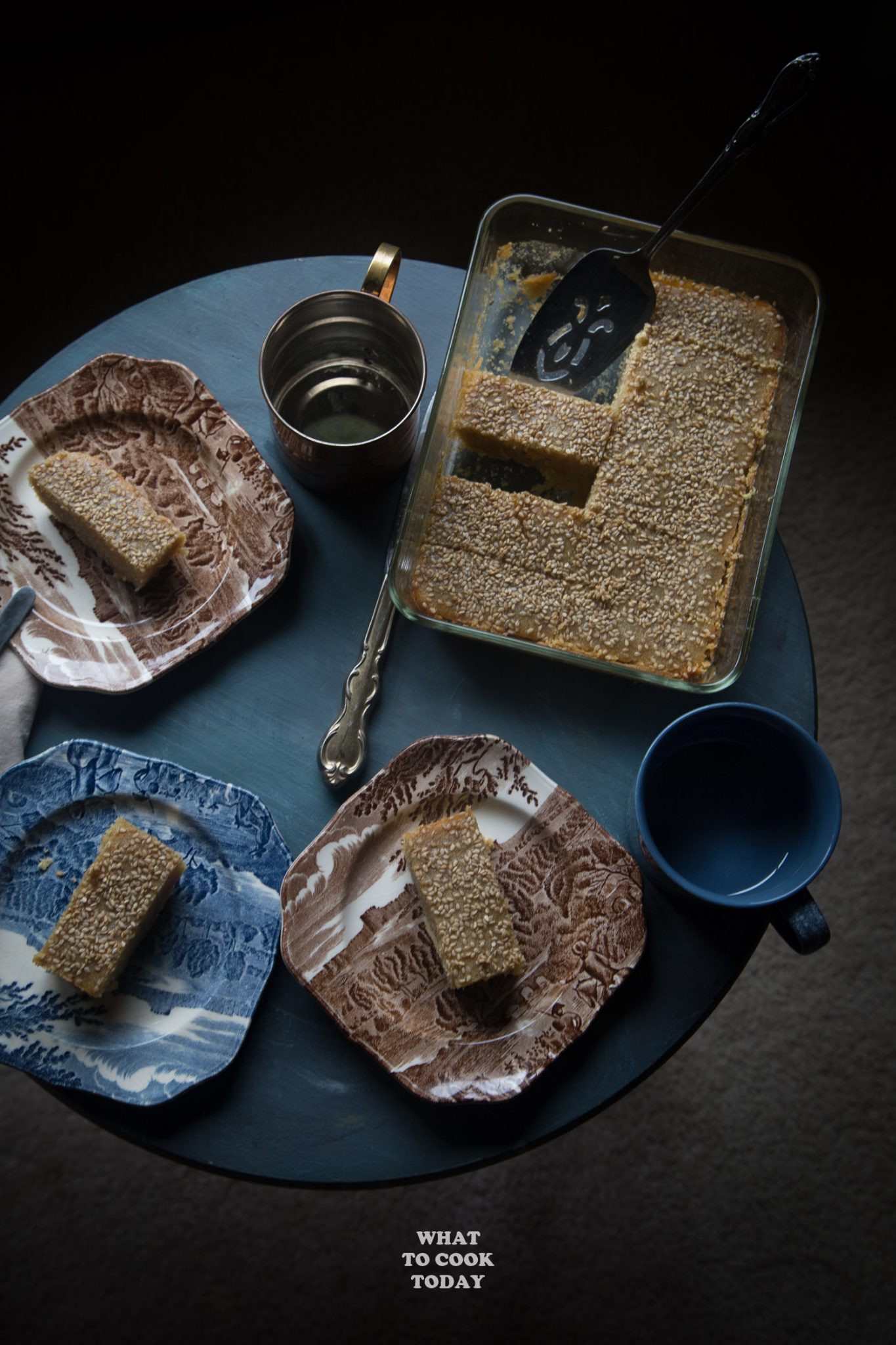 I love Burmese food because they are simple and packed with robust flavor!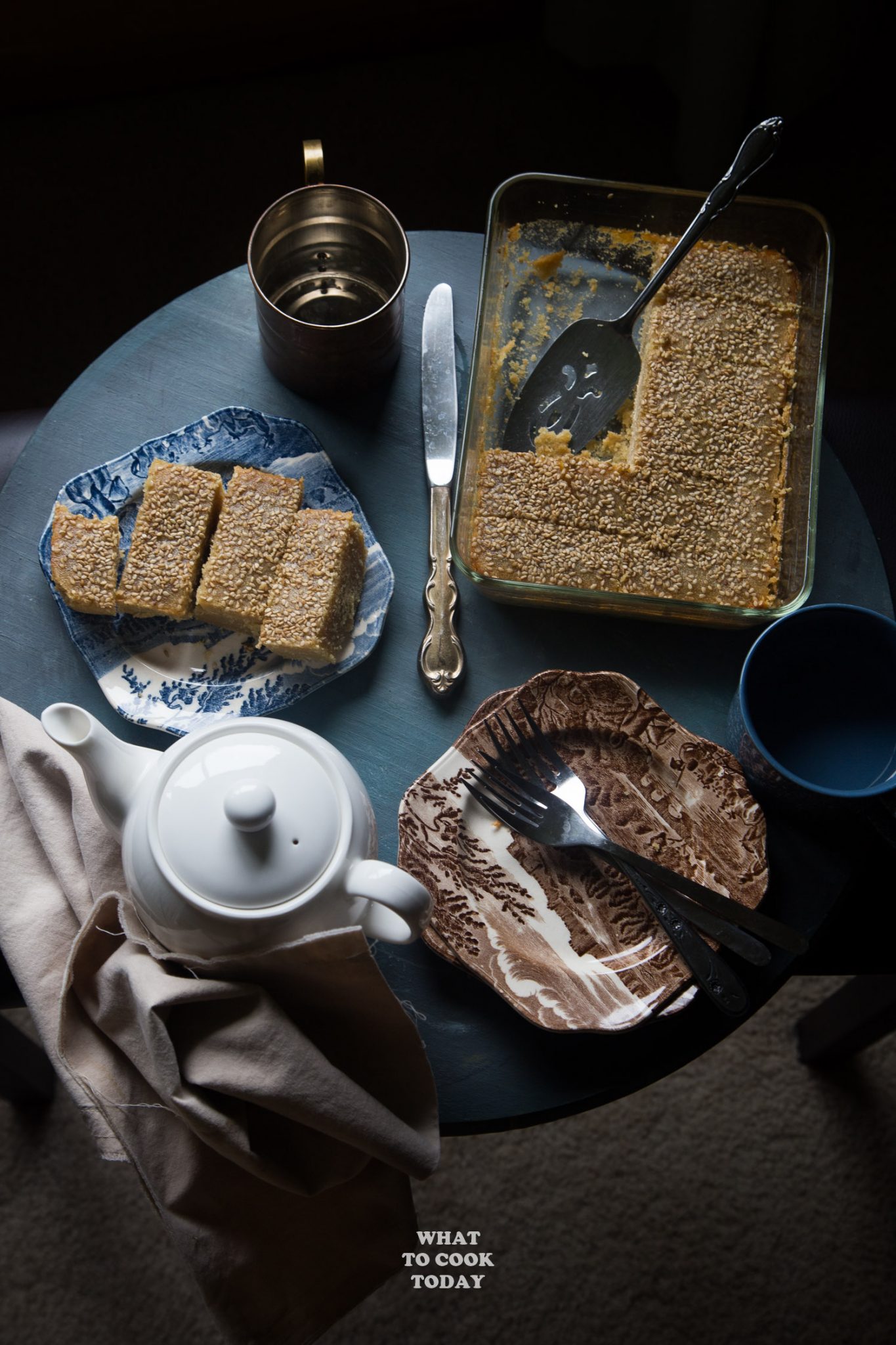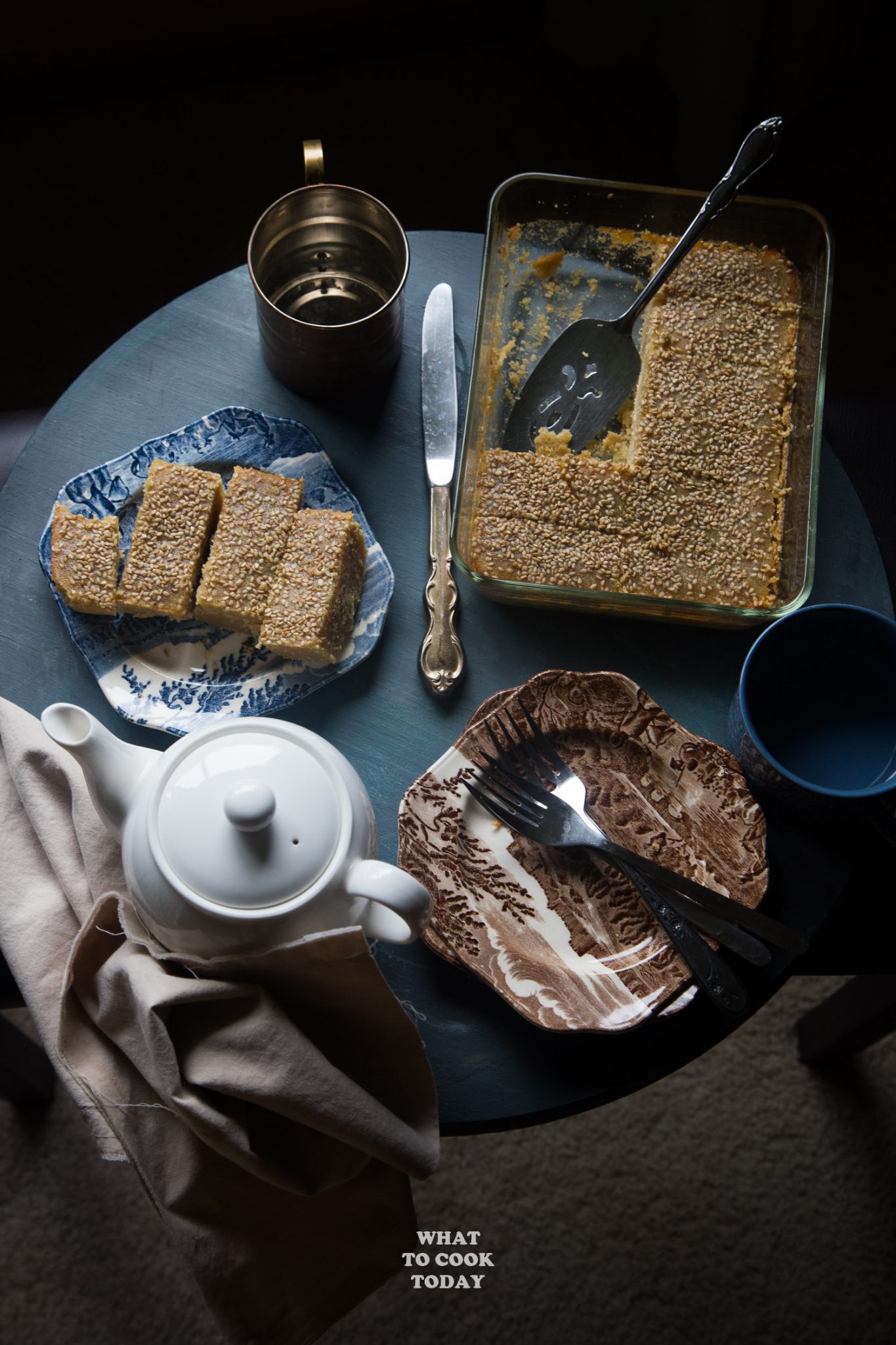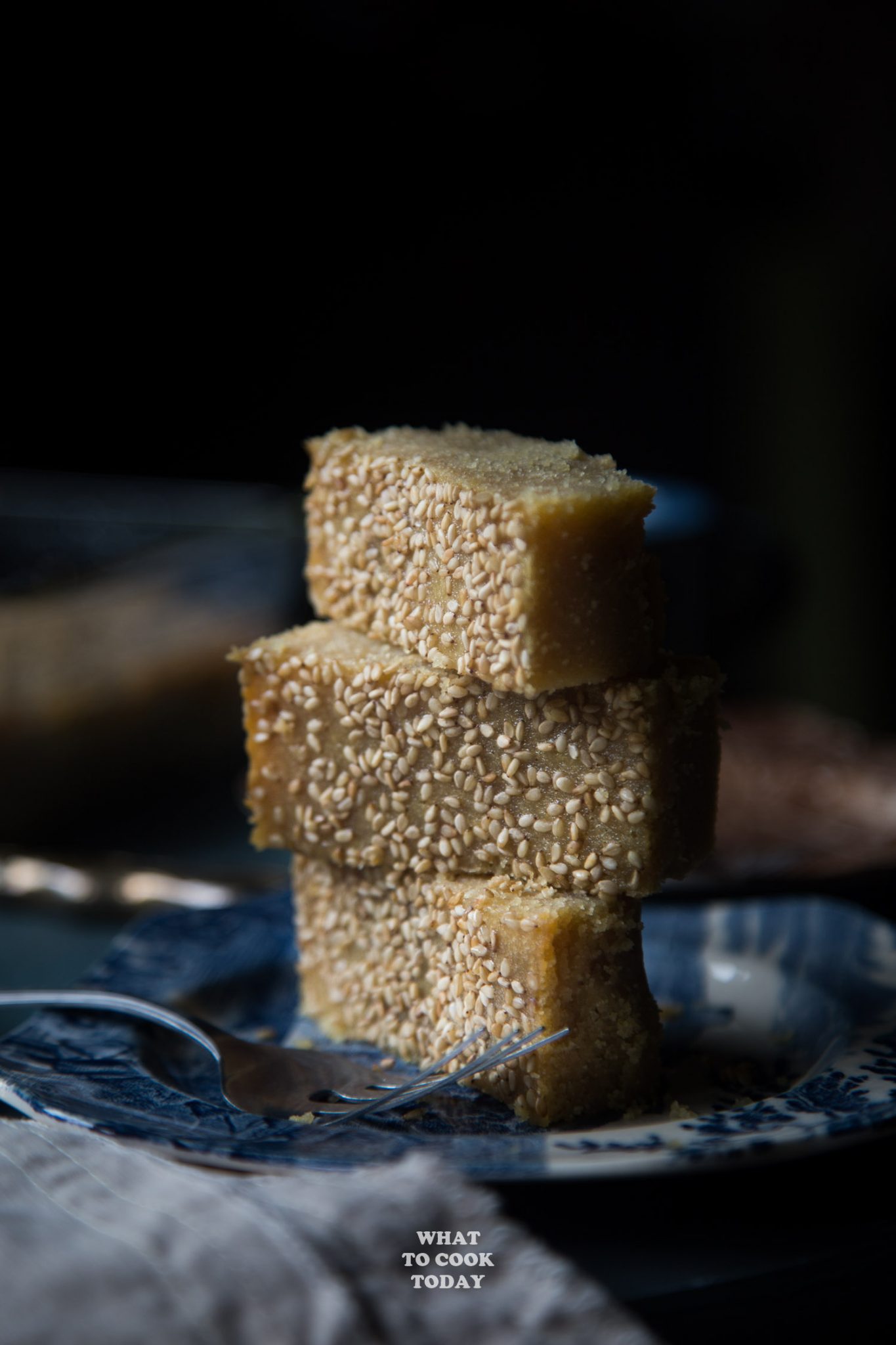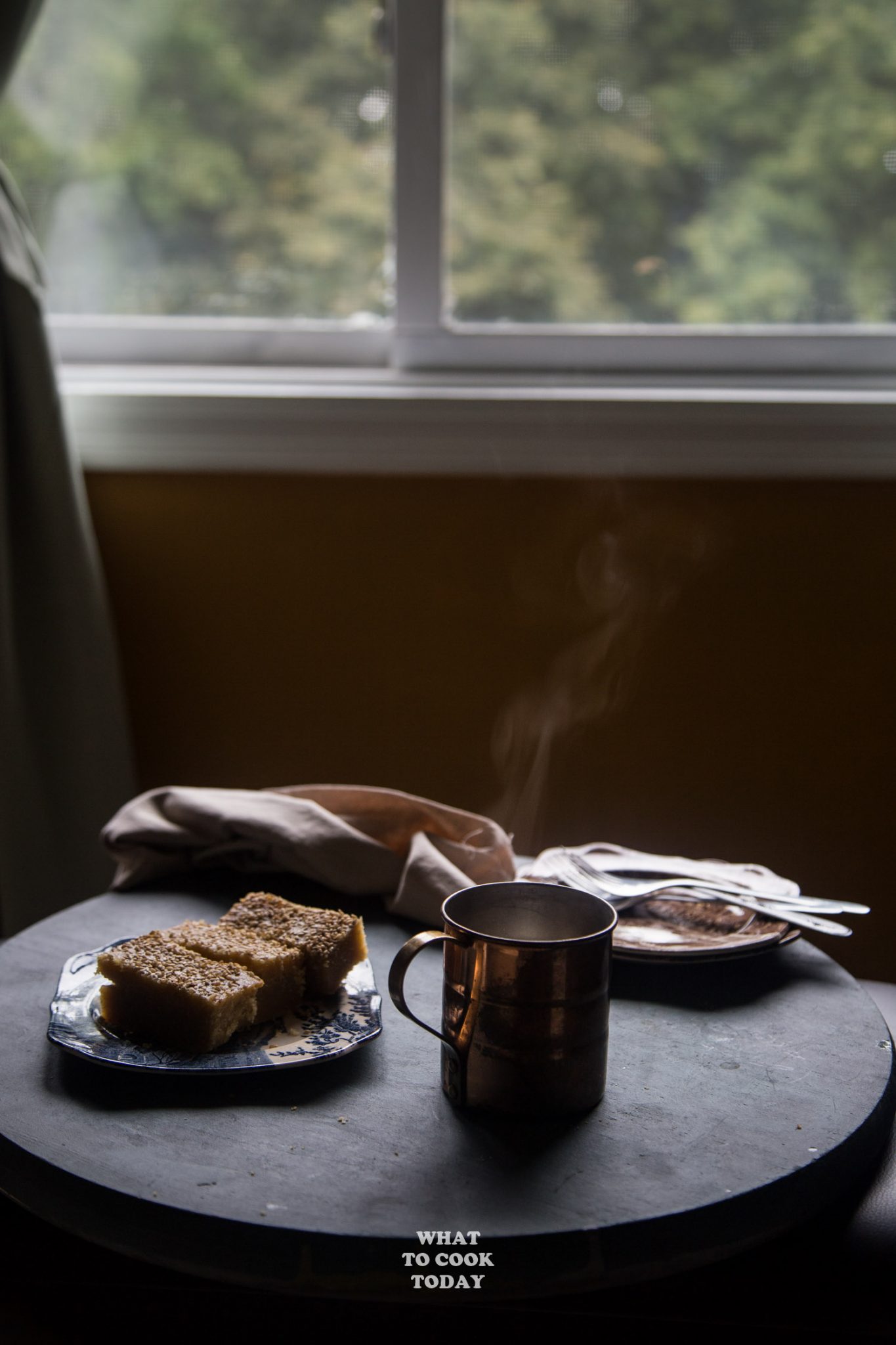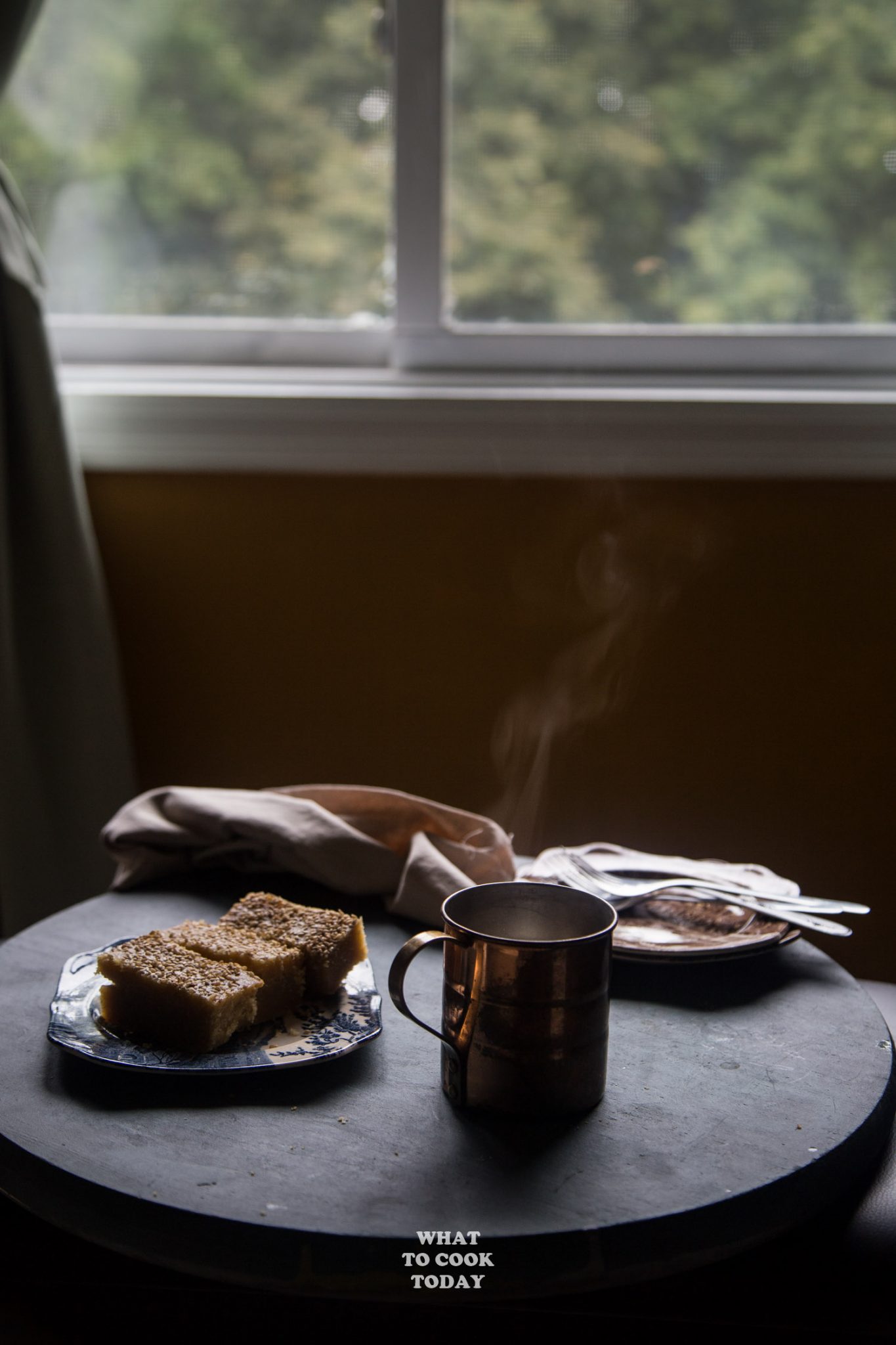 *This post contains affiliate links. You don't pay extra as a consumer if you choose to click on the link and purchase from there. What To Cook Today just receives a small commission from this. That's all. It helps to pay for some of the cost to have this blog up and running. Thank you so much for your support !
Recipe is adapted from The Burmese Kitchen
Burmese Semolina Cake (Shwe Gyi Sanwin Makin)
Ingredients
2

cups

semolina flour

(cream of wheat/soojee)

2

cups

sugar

¼

tsp

salt

2 ½

cups

canned or fresh coconut cream

2

large eggs

beaten

3

cups

water

½

cup

cooking oil

or you can use butter or ghee

2

Tbsp

white poppy seeds

I used white sesame seeds
Instructions
Oil a rectangular heat-proof dish, about 9 x 13 inch size. Place the semolina flour in a large non-stick pan and toast it for about 2-3 minutes. It will turn slightly brown

Add sugar, coconut cream, salt, eggs, water, and cooking oil to the pan. Mix until they are combined well with the semolina flour. Cover and let stand for 30 minutes. Preheat oven to 350 F

Turn on the heat on the stove and cook the semolina mixture over moderate heat until it started to boil and then lower the heat and continue to stir and cook for about 20 minutes. The dough-like mixture will come away from the pan. Spoon this mixture into the rectangular dish you prepare earlier. Gently pack it down with a rubber spatula. Use a rubber spatula to smooth the surface. Sprinkle the seeds all over the surface

Bake in the preheated oven for 30-40 minutes (depending on your oven). If the top is not golden brown, turn off the oven and turn on the broiler in the oven on low and let the cake brown a little bit. Keep a very close watch as they might get burned if you walk away. Remove from the oven and let it cool down before cutting. Serve at room temperature as snacks or dessert


You might also like: Asian Baking and Non-Bake Dessert