Singapore stir-fried carrot cake is a savory dish made of steamed radish/turnip cake cut into cubes and stir-fried with eggs and seasonings

Living in Singapore for a short while sure taught me how to eat "well" (*wink*). The choices of food and the availability of food are simply one of the things I like about Singapore. From fancy restaurants all the way to hawker/street foods, from East to the West, you name it, they have it. Of course, I'm always drawn to hawker/street foods anywhere I go. They said Singapore is a shopping haven. Well, I won't deny that part, I think it's also a food haven.
Stir-fried carrot cake is one of my very favorite dishes I had in Singapore. I remember almost every weekend morning as I walked to the wet market (almost like the farmer's market here in the U.S.), I always made sure I made a stop at the hawker center to have the stir-fried carrot cake. Now, as I mentioned before in my previous post for Kue lobak / Chai tow kway that carrot cake is not actually the orange carrots that you imagine. It actually refers to the white daikon/radish. I have no clue why it's called carrot cake though. Anyone ?
There are two versions of carrot cakes available, the white carrot cakes and dark carrot cakes. Well, the color difference is merely from the dark soy sauce that is being used in dark carrot cakes. I think they are both equally good. Some people prefer the dark ones over the white ones. This recipe is for white carrot cake (though I add a little bit of dark soy sauce too).
You can easily make this stir-fried carrot cake if you live in Singapore or Malaysia because the ready-made carrot cake can be bought from grocery stores. I had to make my own steamed carrot cake and believe me, it's really not that hard. I know I said this a lot, but it really wasn't that hard. It just takes some time to steam, that's all! The homemade version is so much better too because I love the distinct flavor of daikon in the cake 😉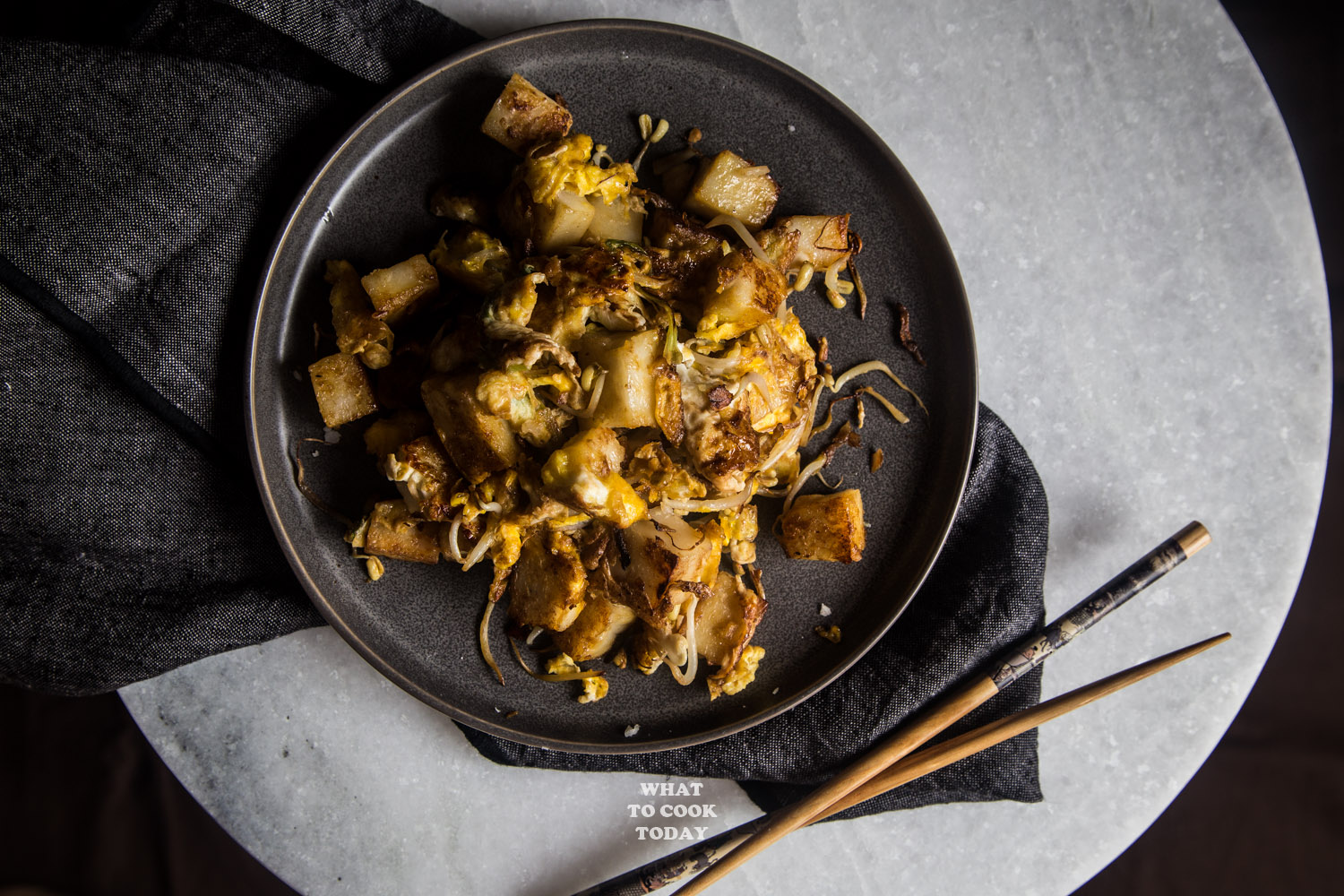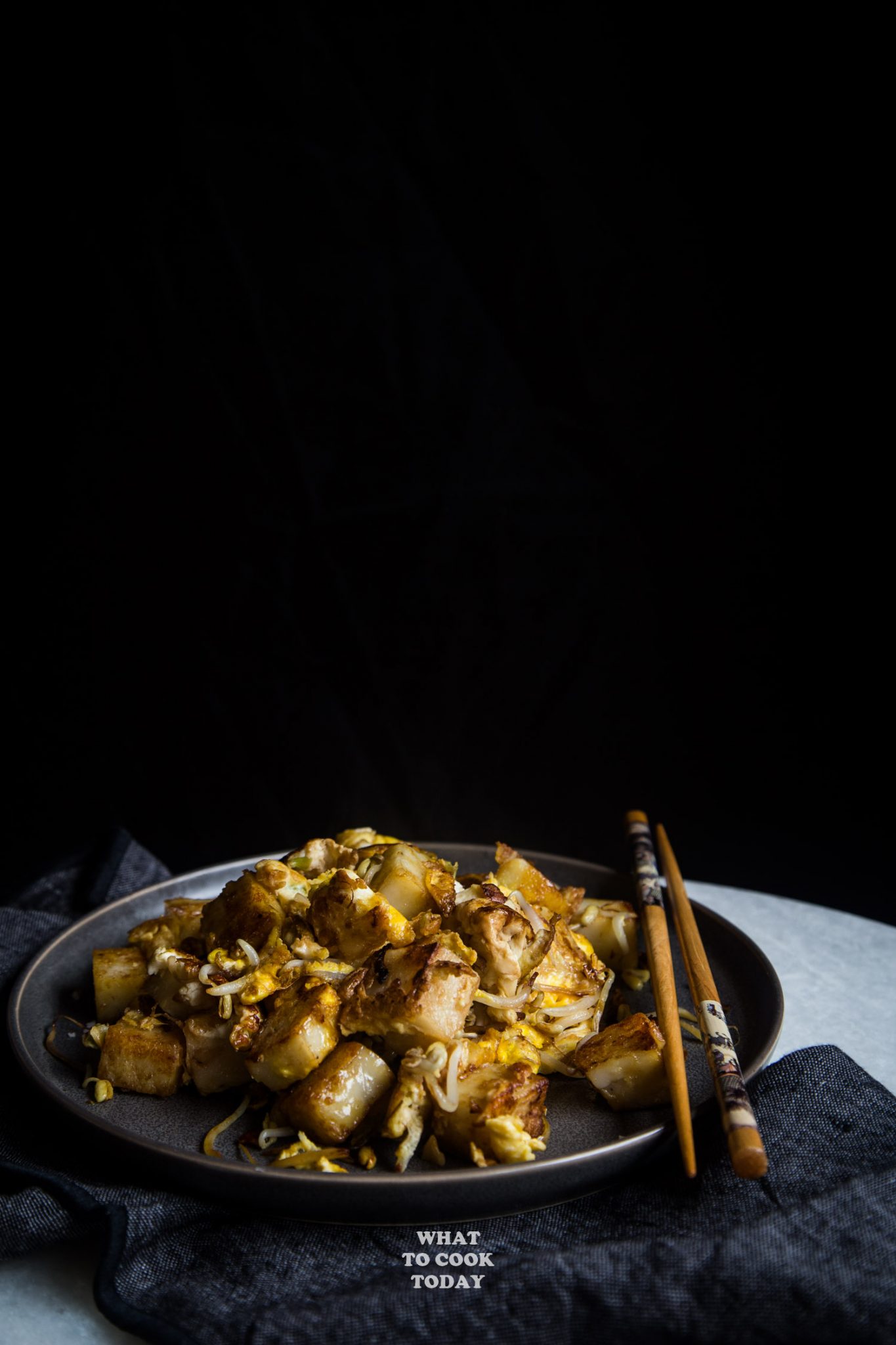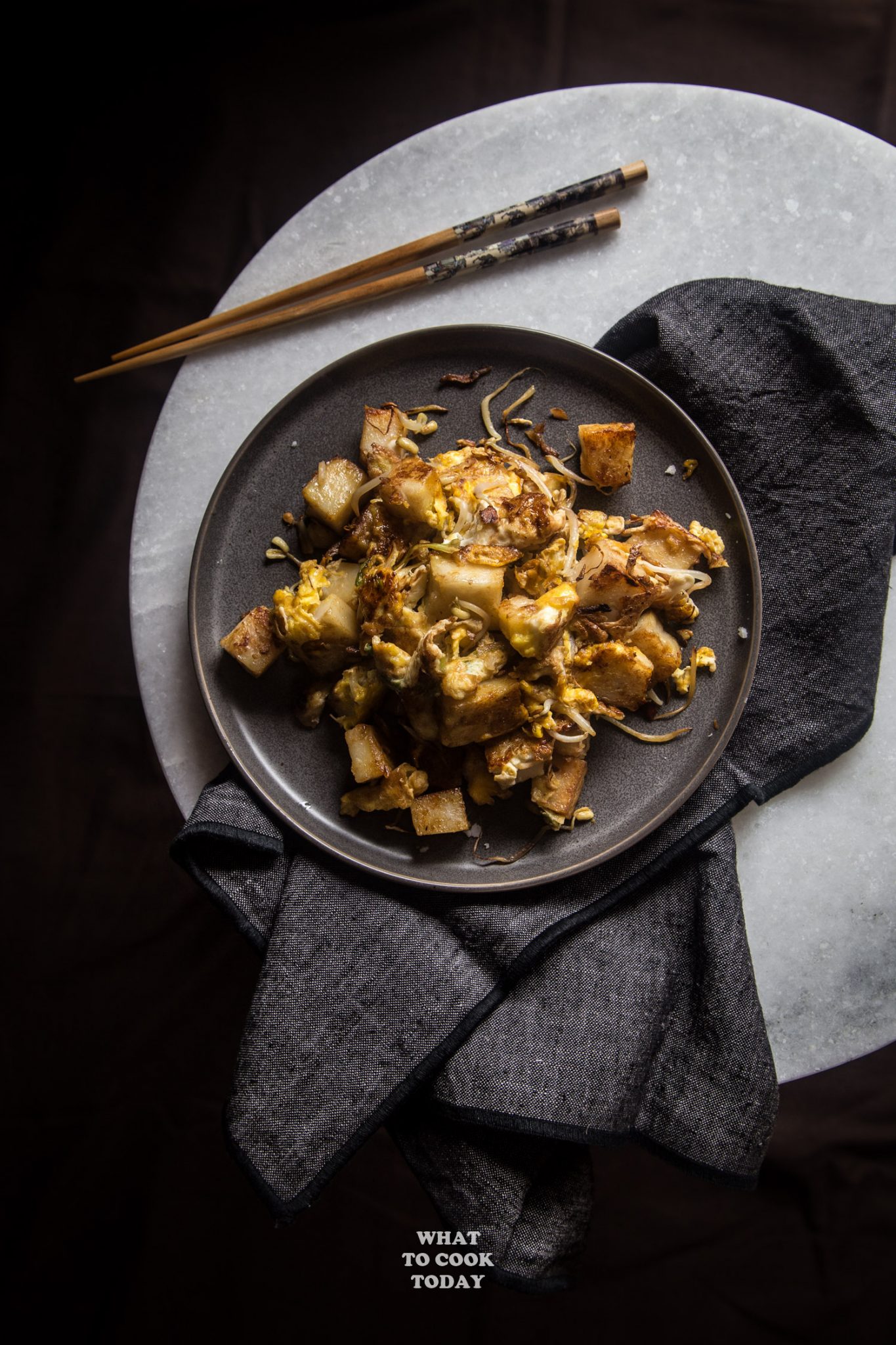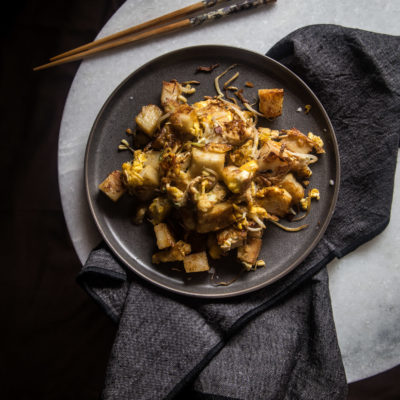 Stir-fried carrot cake / Lobak goreng telur / Chai tow kway
Singapore stir-fried carrot cake is a savory dish made of steamed radish/turnip cake cut into cubes and stir-fried with eggs and seasonings
PIN RECIPE
PRINT RECIPE
Instructions
Mix the seasoning ingredients and set aside. Cut the carrot cake into about 1-inch cubes. Preheat a large wok/skillet on high heat. Add the cooking oil in. Add the garlic and chai poh and stir-fry briefly for about 10 seconds. Add in the carrot cake pieces and let it brown a little bit 

Pour the beaten eggs over the carrot cakes and leave it for a while. Do not stir for about 3 minutes. When you see the eggs start to solidify, you can stir it up a little bit, be careful not to stir too vigorously or you will break up the carrot cake too much. Add bean sprouts and seasonings and continue to stir everything to mix. The sprouts should soften a bit but I prefer that it still have a bit of crunch

Turn off the heat. Garnish with chopped green onion. Dish the stir-fried carrot cake up into serving platters and serve immediately
Notes
Recipe for homemade radish cake can be found here


You might like this homemade Kue lobak / Chai tow kwe too