Dried goji berries are steeped in hot water to release mild fragrant aroma and enjoyed as nourishing beverage
Goji berry or known as wolfberry is an important ingredient in my mom's pantry and so is mine (and I believe many other Asians). My mom uses goji berry for tea, soup, stir-fry veggies, or just munch them like raisins. This berry is originated from China and usually comes in dried form.
Many Chinese swear by this berry for many of its health benefits. Just to mention a few: to maintain youth, improve quality of sleep, to maintain the balance or restore of chi in our body, etc. Berries are known to be packed with nutrients and antioxidant but If you ask me, I won't say it's an elixir, because it's not. It's still good for you but there's not one food that you can just eat on its own to draw benefits.
I've always liked goji berry since I was a little kid (thanks to my mom's cooking) and so needless to say, I really enjoy this goji berry tea (no tea leaves involved). It's very fragrant and mild in flavor. Fiorina said "smell really good mommy". And it is.  Making the tea is a no brainer too. So easy !! You just need a hot water..and the goji berry of course 🙂 Some like to add other ingredients like ginseng and red dates. In Traditional Chinese Medicine (TCM), ginseng and red dates are considered "heaty" and so they are not suitable for everyday consumption. With an exception if a woman has just given birth. Otherwise, just a plain goji berry tea alone is great for everyday consumption. They are neither "heaty" nor "cool" for the body. We drink goji berry tea everyday. Thanks to my mom for the goji berries and sister-in-law for tea pot and double wall glass 🙂 You don't need a teapot to make this tea though. It does make it easier to pour hot boiling water for photography purpose.
I love this double wall glass!! (not sponsored)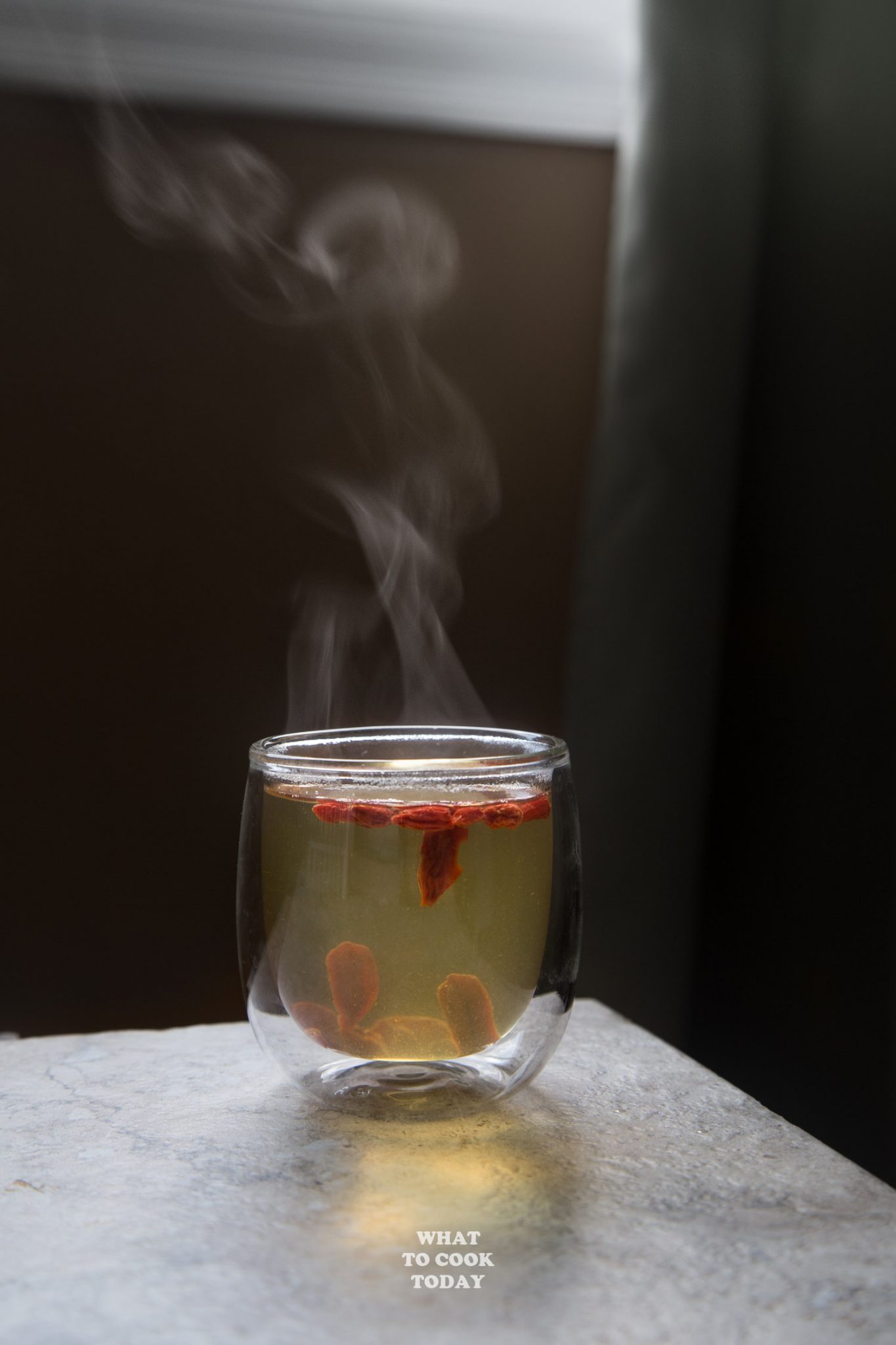 GOJI BERRY TEA (3 cups)
Print
Ingredients
1/4

cup

of good quality dried goji berry

3

cups

of hot water
Instructions
Good quality goji berry is easy to spot. It's large and has bright orange red color. Wash the goji berries in cold water a few times. Drain off water. Place them in a heat-proof container (with lid) and pour in 3 cups of hot water. Cover with the lid and let them steep for 1 hour. Uncover and ready to enjoy. I like to eat the hydrated berries too 🙂
*This post contains affiliate links. You don't pay extra as a consumer if you choose to click on the link and purchase from there. What To Cook Today just receives a small commission from this. That's all. It helps to pay for some of the cost to have this blog up and running. Thank you so much for your support !