Water spinach is blanched and then topped with spicy sambal packed with umami flavor and aromatic herbs.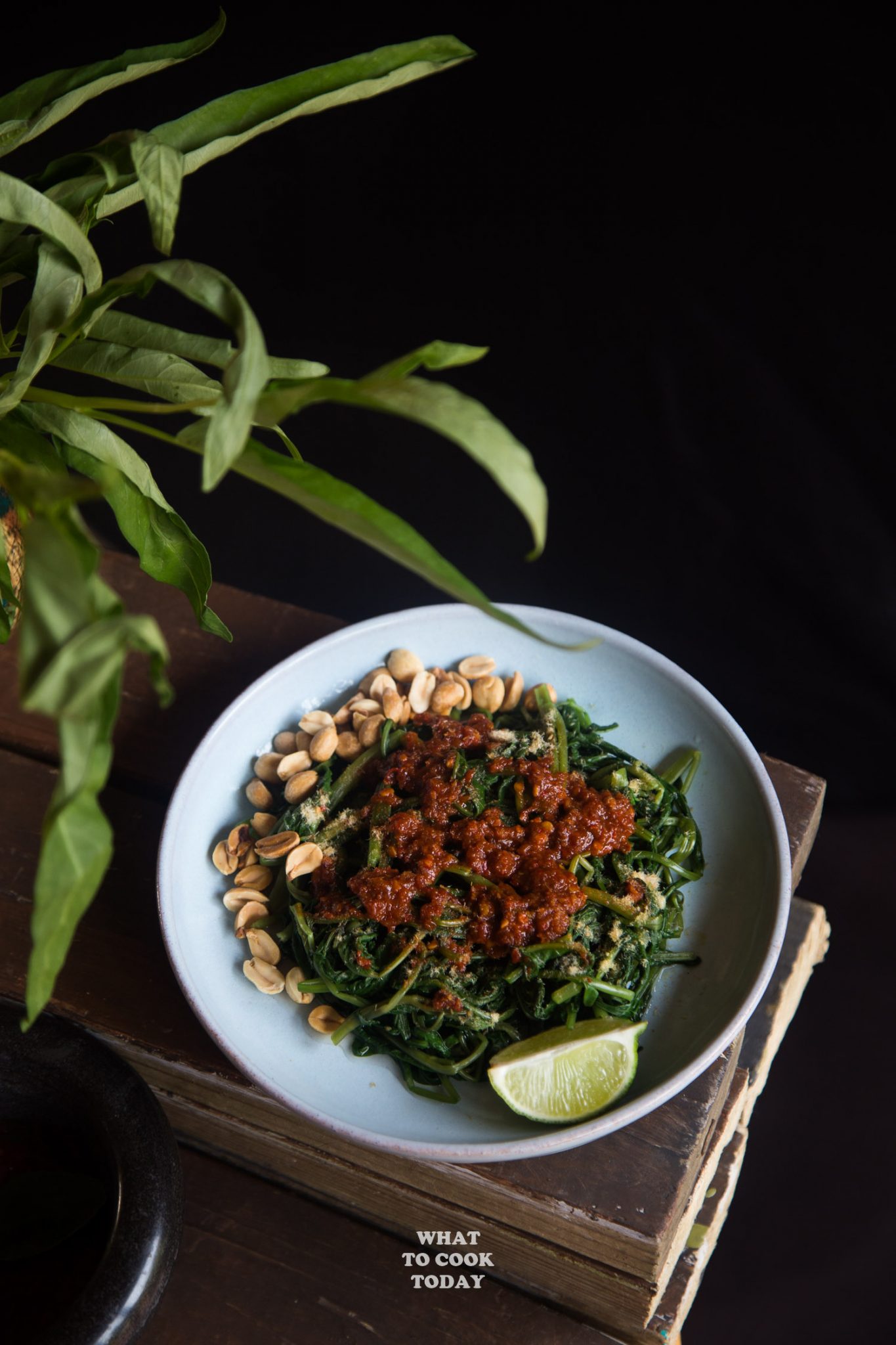 Lombok is one of the beautiful islands of Indonesia in case you have never heard of it. I know many people heard of Bali, but many have no clue about all the other islands in Indonesia unfortunately. I've heard about the beauty of Lombok, but I've never been there myself. The culinary of Indonesia is also very diverse from island to island. I grew up in Medan, which is located in the island of North Sumatra and pretty familiar with the culinary culture there. I can't say I'm familiar with all the culinary traditions across Indonesia but I'm still learning as much as I can. Water spinach or morning glory is known as kangkung in Indonesian language. It is not so commonly found in local grocery stores here in the U.S., but you will definitely find it at Asian grocery store. If you must substitute, use other leafy vegetables like regular spinach.
This spicy water spinach salad or what they call plecing kangkung in Lombok is loaded with flavor. The water spinach is blanched and then dress with the spicy sambal that is packed with umami and aromatic herbs and coconut flavor. I love the spiciness and sourness. It is one terrific combination!
Lombok plecing kangkung (Water spinach with sambal)
Ingredients
1

lb

kangkung (water spinach/morning glory)

(cleaned and discard any tough stems)

Roasted peanuts

optional
Sambal:
1

large tomato

6

red chilis (Fresno/Cayenne)

2

bird's eye chili

½

tsp

shrimp paste / belacan

½

tsp

salt

1

tsp

lime juice
Coconut mixture:
1

cup

grated unsweetened coconut

(steamed)

1

cloves

garlic

(grated)

1

kaffir lime leaf

(remove the tough stems and cut into thin strips)

1

tsp

of gula jawa/ Indonesian palm sugar

(you can substitute with brown sugar)

1

Tbsp

cooking oil
Instructions
Bring a large pot of water to a boil. Add the kangkung and let it boil until it's soft but not mushy. Drain off water and refresh the veggie with fresh cold water so that it preserved its fresh green color. Wring out excess water. Steam the grated coconut for 10 minutes

In a mixing bowl, mix the grated coconut, garlic, kaffir lime leaf, and gula Jawa in a food processor and process into a paste

Place the tomato over a grill or broiler and blacken it until it has nice char on the skin. Place the charred tomato in a bowl and cover with plastic wrap for about 5 minutes or so. You should be able to easily peel off the skin. Place the tomato, chili, shrimp paste, salt, water, and lime juice in a food processor and process until it's smooth

In a small saucepan, preheat 1 Tbsp of oil, add the chili paste mixture and the coconut mixture. Saute until the sambal is somewhat thickened and no longer watery. Have a taste and season with salt as needed

When ready to serve, scoop the sambal over the kangkung and toss to make sure the sauce coat the kangkung. Don't do this ahead of time, only dress the salad when ready to serve. Serve with some roasted peanuts if using
The kangkung didn't look all that "perked up". It's my fault! I've kept it out for too long because of the photo shoot! eek!!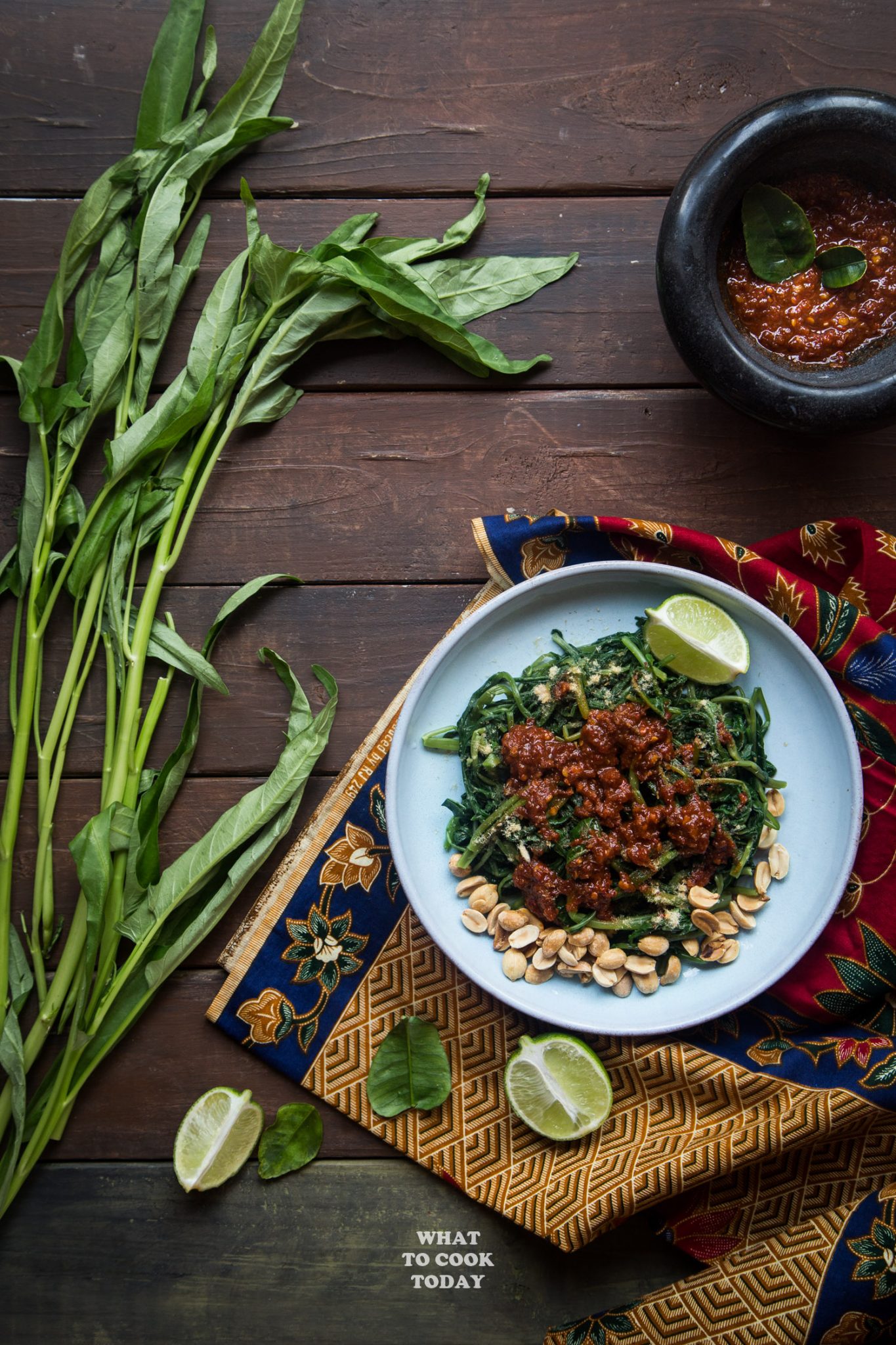 You might also like other side dishes recipes I have on this blog