Cold ramen noodles and sea urchin broth are served separately. Ramen is then dipped in sea urchin broth and served with uni sashimi.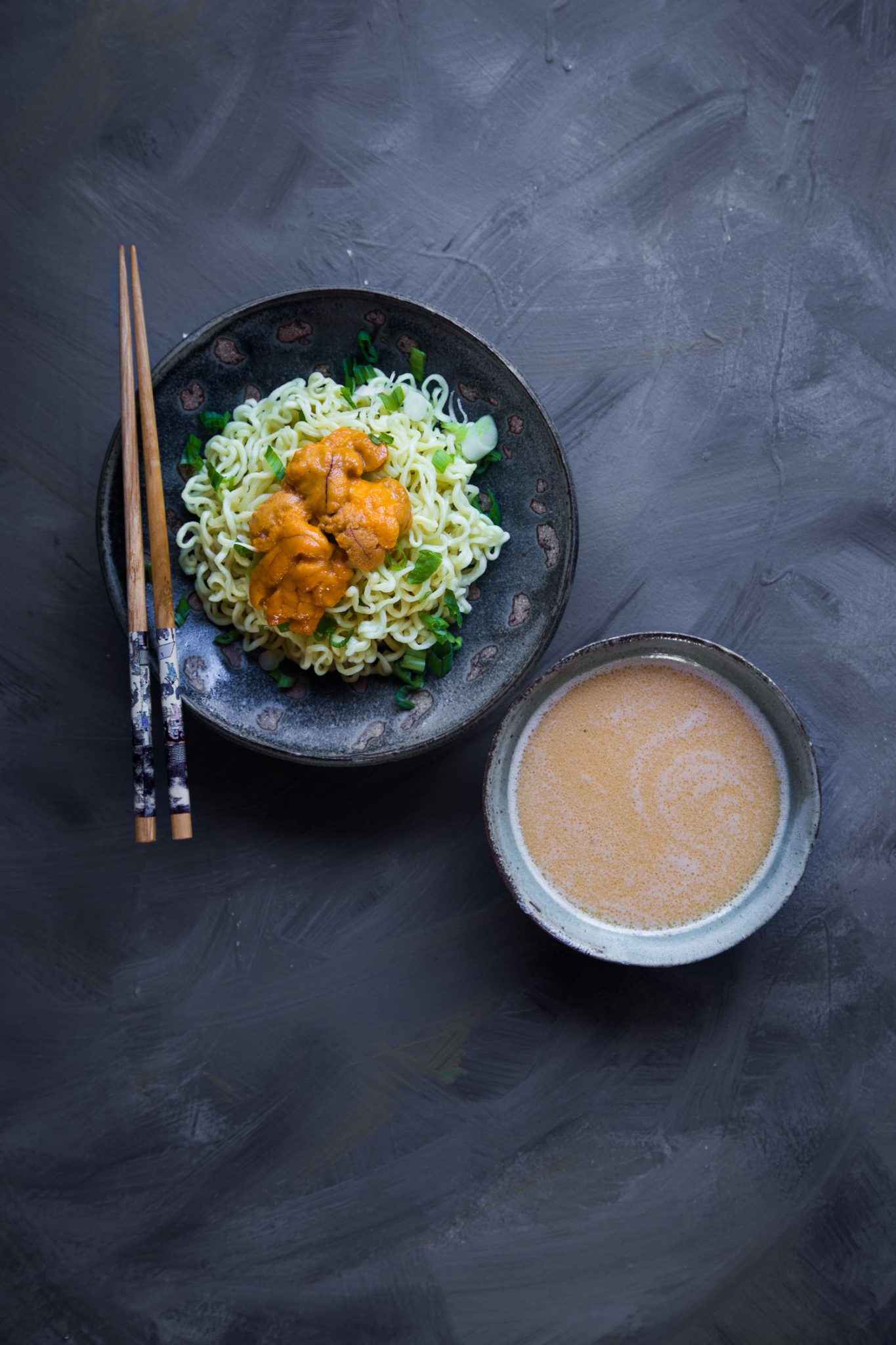 If you are still reading this there are 2 possibilities I think. One, you,too, like sea urchin (uni) like I do. Two, you are curious how disgusting this thing can get 🙂 (No offense taken!). Eating sea urchin is not for everybody. There's no middle ground here. It's either you like it or you just think it's disgusting!
I tried uni for the first time a few months ago and there's no turning back for me since then. I even dreamed about it! Strange! I LOVE it! I like the creamy melt-in-the-mouth texture, almost the taste of the ocean, and that natural sweetness that it gives! It's hard for me to put it into words, but uni is definitely something that I really enjoy the way it is! raw!
Sea Urchin Tsukemen (Dipping Noodle)
Ingredients
2-3 packets of instant ramen noodles

4

oz

fresh sea urchin roe

for serving

1

stalk

green onion

thinly sliced
Sea urchin broth:
1

tbsp

butter

1

lb

mixture of shrimp heads and shells

1

tsp

sugar

4

cups

water

2

oz

fresh sea urchin roe

mashed with a fork

salt to taste
Instructions
Preparing the broth:
Melt butter in a medium saucepan. Add the shrimp heads and shells and saute until they turn orange. Sprinkle in sugar and cook for another minute. Pour in water and bring to a boil and then lower the heat to gently simmer for the next 30 minutes. Strain the stock and discard the solids. Put the stock back in the saucepan and bring to a gentle simmer. Add in mashed sea urchin roe. Use an immersion blender to make the broth smooth if you have one. If you don't have one, you can always blend it in the blender. Have a taste and season with salt to your taste. The broth should have that familiar taste of sea urchin, savory, umami, and slightly sweet
Assembling:
While the broth is cooking, cook the instant noodle according to the instruction on the package. Do not overcook the noodle. Rinse with cold water. Portion out noodles into serving bowls. Top with few slices of the remaining sea urchin on top of the noodle, sprinkle with green onion slices

Ladle the sea urchin broth in another bowl and serve immediately with the noodles. Use a chopstick to pick up some ramen into the sea urchin broth bowl and dip the noodle several times and then slurp it in. That's how you eat it 😉
Enjoying the tsukumen