In this post I talked about what Chinese confinement diet and its practice are and why most Asian women practice this after birth for at least 30 days.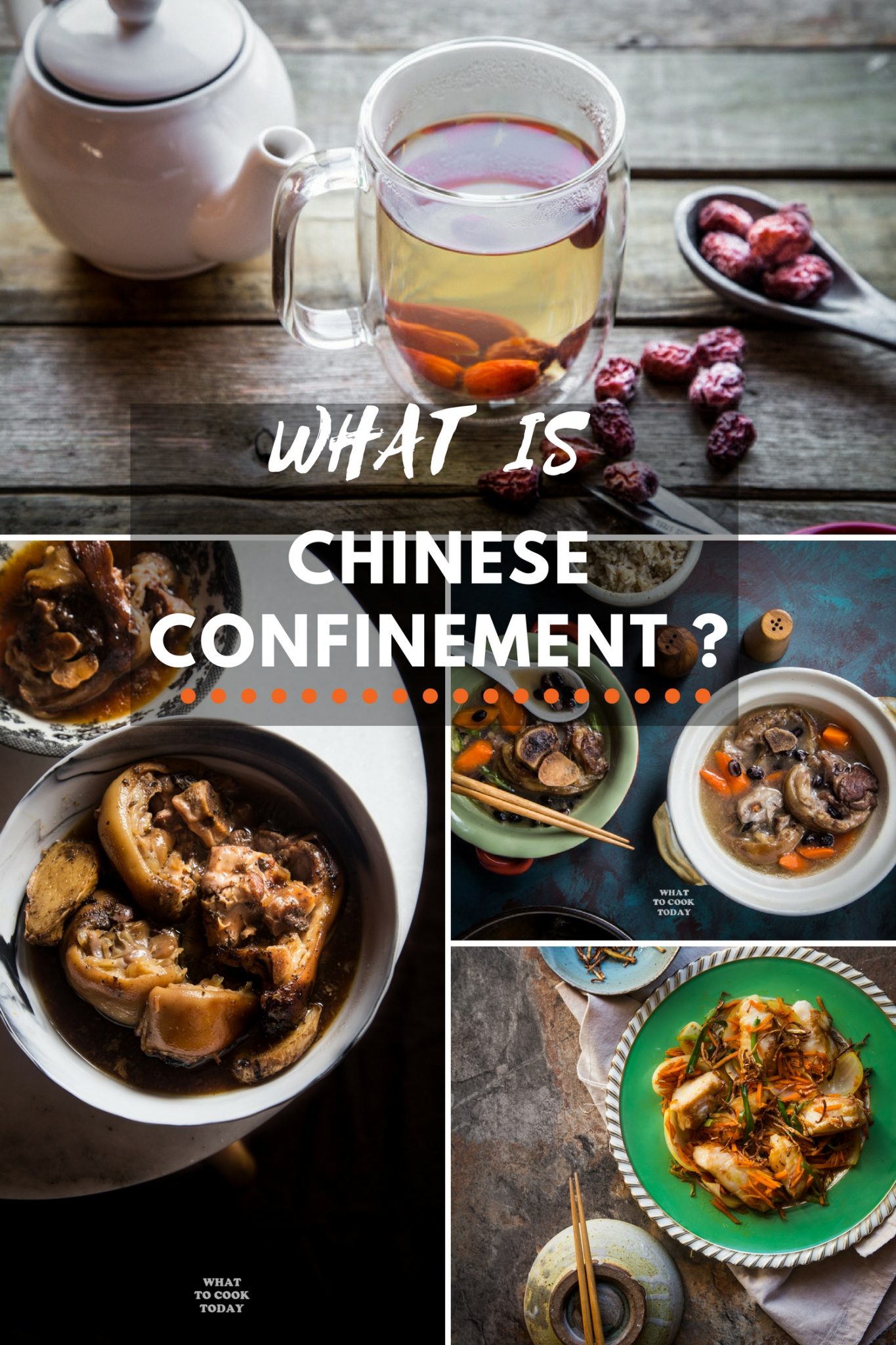 It is a dejavu to be talking about "confinement" again. 35 months ago I had my confinement for the first time after giving birth to our daughter. If you ask me what is confinement ? I will tell you "Lots of ginger, sesame oil, Chinese herbs, Chinese wine" 🙂 and also involves not much shower to sum it all up.
Getting pregnant is one of the most important moments for a woman in her life. From pregnancy to labor, a woman needs good nutrition to nurture the fetus. After giving birth, the Chinese believes that there are lots of physical changes in a woman body. A woman will lose lots of her strength and wear down her physical function after giving birth and there is a need to recuperate. Confinement has what become a tradition that has been deeply ingrained in Chinese society. The confinement period usually starts after the mother gives birth and in this modern world, discharged from the hospital. The new mothers observe various routines fairly diverse from regular day-to-day living for a period ranging from few weeks to baby's first-month celebration. The mother is usually not allowed to go outside (hence the term "confinement") for 30 days. Other routines primarily include following a special confinement food menu tailored to help accelerate the mother's recovery from her "weakened" body post childbirth. This special diet is made up of confinement foods targeted towards specific functions like dispelling "wind" from the body, quelling heatiness, boosting blood circulation, revitalizing strength etc.
The mainstay of confinement food comprises common ingredients found in any regular Chinese diet: ginger (tons of it as a matter of fact), eggs, sesame oil, black vinegar, Chinese rice wine, pepper, black chicken (is is literally black in color and only available frozen in asian grocery store here in the U.S.), free-range or organic chicken, fishes, and pork.
Other ingredients of confinement food include fairly general herbal provisions like Chinese Wolfberry/ Goji Berry (Gou Qi), Angelica Sinensis (Dong Quay), red dates, black dates, dried longans, and whole bunch of other Chinese traditional herbs.
Apart from harnessing healing benefits from food, numerous practices are abided to as reinforcements and preventive measures against the possible onset of ailments commonly associated with post delivery aftermaths eg. postnatal hair loss, back aches, rheumatism, premature aging etc.
In essence, the list of practices are meant to shield the body from excessive exposure to elements like "wind" and damp air, both of which are believed to be main culprits responsible for causing bodily aches and pains, migraines as well as rheumatism.
A basic list of practices during confinement period include:
1. Not to shower or wash your hair. This is used to be the way it was during my mom generation. No shower for one full month! okay…I know you are making faces. Fortunately, nowadays, we can shower with warm water along with spices like Lemongrass, ginger and Betel Leaves (Daun sirih) during this period. So, I can shower (not washing your hair though) maybe twice a month? I know you are still making faces (So, it's a good thing that I'm confined for one month in the house right ?)
2. Absolutely no fans blowing (though I was told A/C is ok) in the house. I guess with Fall and Winter, I do not have that problem
3. Sleep with thick long socks for 30 days to keep your feet warmed
4. Not to consume too much "cooling" foods such as water spinach, cucumber, eggplants, Chinese pears and Barley
5. Not to lift heavy objects or overexert the body excessively
6. Do not engage in strenuous/ high impact exercises especially if you have to go through C-section. I went through C-section for both of my kids and it's important to take care of the wound site
I'm fortunate enough that my mom can be here to help out during this confinement period. I know many Asian friends of mine specifically hire a "confinement lady" to help with cooking and taking care of their babies during this one month.
I know you probably won't jump up and down over this confinement diet either, but I thought it would be interesting to share this experience with some of you who probably have no clue that most Asian people (I can't say all) go through this confinement period. Wish me Luck again !! I'll be back in full force. This time with a 3-year old and one newborn.
Here are Confinement Recipes I managed to capture from two round of confinement food my mom prepared when I had both of my kids 🙂 It's not that many but I plan to update and add more when I have a chance.