Everything you need to know about Chinese confinement or known as zuo yue zi, confinement food/meal and its practice. Myths and facts about Chinese confinement and confinement meal ideas.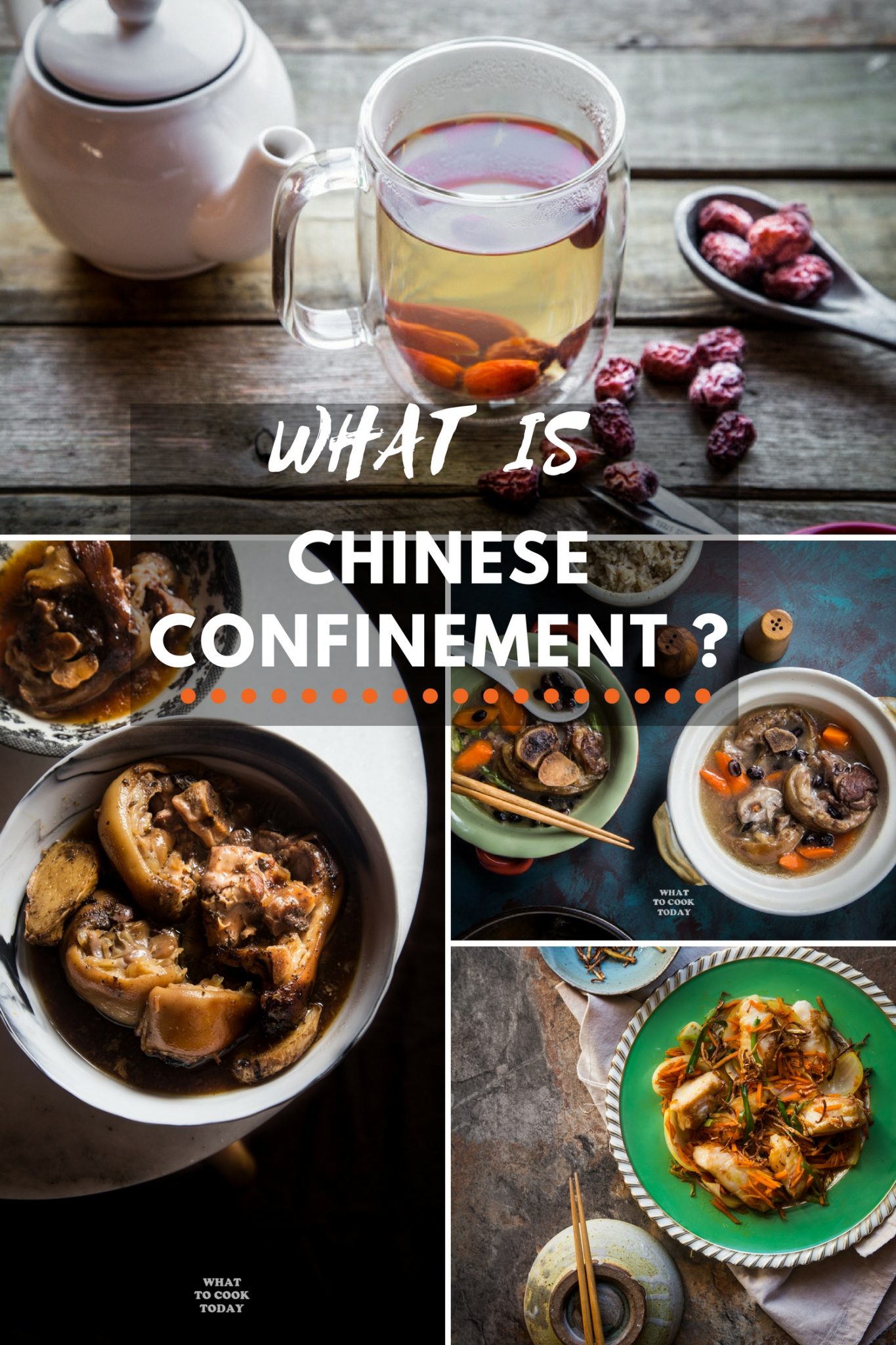 Getting pregnant is one of the most important moments for a woman in her life. From pregnancy to labor, a woman needs good nutrition to nurture the fetus. After giving birth, the Chinese believe that there are lots of physical changes in a woman's body. A woman will lose lots of her strength and wear down her physical function after giving birth and there is a need to recuperate. Confinement has become a tradition that has been deeply ingrained in Chinese society. The new mothers observe various routines fairly diverse from regular day-to-day living for a period ranging from few weeks to baby's first-month celebration. The mother is usually not allowed to go outside (hence the term "confinement") for 30 days.
I'm fortunate enough that my mom can be here to help out during this confinement period. I know many Asian friends of mine specifically hire a "confinement lady" to help with cooking and taking care of their babies during this one month.
FREQUENTLY ASKED QUESTIONS ABOUT CONFINEMENT
WHAT IS CHINESE CONFINEMENT?
The term 坐月子 (zuo yue zi) or literally translated to "Sitting The Moon" means to allow postpartum mom to do nothing but to "sit" (rest) recover for one month after delivery. This practice has been around for thousands of years and it is still being practiced by most Chinese. It is called "Zuo Yue Zi", literally translated as "sit for one month". The post-partum mom will stay at home for at least 30 days or longer to rest and recover from major trauma to her body. Many believe that this is one of the most important periods when the mother must let her body recover in a proper way and nourished with confinement meals or she will have many ailments or weaker body.
WHAT IS THE PURPOSE OF CHINESE CONFINEMENT?
1. To allow postpartum mom to fully rest and bond with the baby
2. As the reproductive organs are undergoing some changes after giving birth, confinement allows recovery
3. The confinement food menu also tailored to help accelerate the mother's recovery from her "weakened" body. This special diet is made up of confinement foods targeted towards specific functions like dispelling "wind" from the body, quelling heatiness, boosting blood circulation, increase mom's milk supply, revitalizing strength, etc.
4. To prevent postnatal hair loss, backaches, rheumatism, premature again, and other ailments associated with post-delivery.
HOW LONG IS CONFINEMENT PERIOD?
Confinement period usually is done for 30 days but my mom said it's not unusual to go as long as 40 days.
HOW TO DO CONFINEMENT?
The postpartum mom usually does not do the cooking during the confinement period. In my case, I was lucky enough to have my mom was as my "confinement lady" when I had my two kids. Many women have either their mom or mom-in-law to help them out during the confinement period. It's not uncommon as well to hire a "confinement lady". The confinement lady will cook, take care of the baby, take care of the mom, and help you transition into motherhood with your baby (isn't it awesome?). If you leave abroad (outside of Asia), it is almost impossible to hire a confinement lady I would say. Many of my readers who leave abroad have to do their own confinement with some help from their husbands.
WHAT IS CONFINEMENT FOOD / MEALS?
Confinement food is the food that is prepared during this confinement period. Confinement food is special and tailored to nourish the body, help the mom to recover/heal and to boost milk supply for the baby.

Here are what to focus on for confinement meals:
1. High protein and low fat food
Protein helps to promote wound healing and rebuilding inside our body. Low fat food is to prevent indigestion.
2. Small frequent meals
I remember eating 6-7 small meals throughout the day (I still am). 3 main meals and soups and teas in between meals. It helped to sustain me throughout the day and to prevent indigestion.
3. Adequate calories
There are lots of resting during confinement period. Even though the postpartum mom doesn't move around much, but adequate calories is still necessary to help with recovery, energy needed to care for a newborn, and breastfeeding. Adequate calories doesn't mean you want to load up on "empty calories" (food that doesn't serve much nutrition other than racking up your calorie quota). Tea such as red dates tea,
dang shen tea
,
goji berry tea
, and Chinese herbal soup are often used to add adequate calories.
4. Food rich in iron
Blood was lost during delivery/C-section and therefore it is important to eat food rich in iron such as: animal offals, pork, chicken, fish, dark green vegetables.
5. Adequate hydration
It is a myth to say that a postpartum mom should not be drinking water during confinement. It is important to keep yourself hydrated with water, milk, Chinese herbal tea, Chinese herbal soup. Avoid and coffee and tea.
6. Include dietary fiber
It is not uncommon to become constipated during confinement because of less activity and also a myth that no vegetables should be eaten during confinement. Read more on the detail below.
CAN I TAKE A SHOWER DURING CONFINEMENT?
Yes. Postpartum mom was not allowed to take a shower back in the old days. No shower for one full month! okay…I know you are making faces. Fortunately, nowadays, we can shower with warm water . My mom added spices like lemongrass and ginger during this period. It is good to maintain personal hygiene during this time to avoid wound infection in C-section case.
CAN I DRINK TEA OR COFFEE DURING CONFINEMENT?
No. Caffeine can still end up in your breastmilk. I would definitely steer clear from caffeine when you are still breastfeeding. You can, however, drink these: Easy Nourishing Red Dates Tea, Rice and Ginger Tea (Bee Teh), Dang Shen Tea (with Black Dates, Ginger, Longan, Goji Berry).
IS IT SAFE TO CONSUME FOOD WITH ALCOHOL DURING CONFINEMENT?
Yes it is safe. Confinement food usually has ginger and rice wine in it. The alcohol is usually cooked off and so you still have the flavor of the wine and its benefits, but no alcohol. If you went through C-section, start on using alcohol in cooking on 3rd week of confinement, at least that's what my mom did to allow wound healing.
CAN I EAT VEGETABLES DURING CONFINEMENT?
Yes, some vegetables. Vegetables are considered "cold" in Traditional Chinese Medicine (TCM). However, those are just overgeneralization. There are still some vegetables you can eat during confinement. Veggies such as kale, Chinese kale, spinach, lotus root, green beans, broccoli, cauliflower, onions, pumpkin, mushrooms, seaweed, carrots, asparagus are considered "warmer". They are usually also prepared with more "heaty" ingredients such as ginger, sesame oil, and wine. If you do not include some fiber in your diet during confinement, you will be terribly constipated.
CAN I EAT FRUIT DURING CONFINEMENT?
Yes, some fruits. You can consume "heaty" food like longan, red dates, black dates, Medjool dates, apples, papaya, grapes, kiwi, peach, strawberry, blackberries, cherry, peach, guava, mangoes. Remember that everything in moderation.
IF YOU FEEL BLOATED DURING CONFINEMENT
I did have this problem the first week after my C-section and so I tried to avoid food that is prone to cause flatulence: cabbage, broccoli, cauliflower, onion, peppers, dairy milk, and beans.
CONFINEMENT DIET FOR NATURAL BIRTH VS CESAREAN SECTION
I went through C-section with both of my kiddos (unfortunately!). Longer healing time and hospital stay for C-section mom, larger wounds. From a confinement diet point of view, the diet doesn't differ much according to my mom and other TCM experts my mom had spoken too at the medical halls. They did do recommend to refrain from using alcohol and sesame oil in cooking for the first 2 weeks of confinement to allow for wound healing. They also recommend having this snakehead fish soup during confinement to help with wound healing for the C-section site.
CAN I HAVE POSTPARTUM MASSAGE DURING CONFINEMENT PERIOD?
Yes. Many women who have natural birth will start having a massage after one week of confinement period. If you have C-section, it is best to wait a little longer and to start after about 2 weeks as tolerated. This practice may not be common with the Chinese during the confinement period back in the old days, but in Indonesia, many native Indonesians will have a massage after having a baby. Massage helps mom to relax, promote blood circulation, prevent the uterus from sagging, get rid of "wind" from the body.
CONFINEMENT MYTHS
To sum it all up, here are the most common myths about Chinese confinement I've heard:
1. I must eat lots of Chinese herbs, rice wine, ginger, and sesame oil
Like I've mentioned above, this is not always true. In general, yes, most confinement cooking does use these but we also need to evaluate case by case. If you have C-section, you need to allow the wound to heal and usually, alcohol and sesame oil are avoided for the first 2 weeks. This is just one of the examples.
2. I cannot drink water at all
This is so not true. In fact, if you don't have adequate hydration, it will affect your milk supply and you will be badly constipated.
3. I cannot eat vegetables and fruits at all
Again, this belief was back in the older days where vegetables and fruits are considered "cooling" and in TCM, too much of "cooling" food is not good for the body. The latter is true, but there are vegetables and fruits that are more neutral and at a "heaty" side that you can consume to make sure you get enough vitamins and also dietary fiber.
4. I cannot shower or wash my hair for the whole month
This was also an old belief/practice that was suitable for the conditions back then (lack of bathrooms inside the house, poor insulation in the house, etc).  In this modern day, you can shower or wash your hair, but do not use cold water. I used warm water and my mom added some herbs like lemongrass and ginger.
5. Don't use your eyes too much
Giving birth is real labor and lots of stress to the body and it weakens our organ, liver, which affects our eye sight. While there's some sort of truth to that, however, you can still read books, etc.
6. No air conditioning or fans
In the TCM world, exposing ourselves to air conditioning or fans meaning there will be "wind" entering the body, which is not good. There's some truth to that, but that doesn't mean you cannot have an A/C or fans turned on especially when the weather is crazy hot and humid. Just make sure you don't have it blown directly at you.
So now, the big question is this:
WHAT TO EAT DURING CONFINEMENT?
Many women think that when it comes to confinement means that they need to eat lots of tonic herbs. While the Chinese herbs are meant to nourish the body during the confinement period, it's not true that you have to load up on Chinese herbs.
My mom actually planned my confinement menu based on weekly needs. Here are the rough breakdowns:
WEEK 1 FOCUSES ON WOUND RECOVERY AND IMPROVE APPETITE
She focuses on lots of chicken (use pork for C-section) and fish soup, pig's liver, kidney, multi-grain porridge with some Chinese herbs, red dates tea, dang shen tea, steamed eggs (avoid for C-section), ginger, and overall a lighter not so greasy food.
WEEK 2 FOCUSES ON MILK SUPPLY
I breastfed both my kids exclusively for 14 months for my firstborn and 25 months for my second child (I knew better this time!). The baby also starts to take in more milk during the second week of his/her life.
Great food to eat during this time: pork loin, pig's feet, pork hocks, green papaya, sesame oil, fried eggs, barley, other whole grain products, ginger, ginseng.
WEEK 3 and 4 FOCUS ON INCREASE PHYSICAL STRENGTH AND ANTI-AGING
She added vegetables, kelp, animal offals, fruits, seafood and shellfish such as shrimp, scallops, lotus seeds, dried longan, red dates, black dates, and other Chinese herbs.
CONFINEMENT RECIPES YOU'LL FIND AT WHAT TO COOK TODAY BLOG
I included both traditional confinement recipes and some that are more "modern", meaning they are not limited to only sesame oil, ginger, and, cooking wine. It's a bit unorthodox, but I think it's a myth that moms who are doing confinement can only eat Chinese herbs, sesame oil, lots of ginger, and cooking wine. So, don't be surprised to see Mai Pian Ji (Cereal Butter Chicken), or Tahu Tempe Bacem as part of the confinement diet.
CONFINEMENT MEALS IDEAS
If you have DIY confinement, here are some ideas of what you can include in your meal planning:
BREAKFAST
You can eat common breakfast food during confinement too: toast, hard/soft boiled eggs, oatmeal, warm milk as tolerated. Include one Confinement tea. Other food that my mom fixed me for breakfast:
Mom's Blood Cake and Kidney Mee Sua
Miso Ginger Salmon Fried Rice
LUNCH AND DINNER
Try to include 1 soup, 1 entree (chicken/pork/fish/egg/offals/rice), 1 veggie, and confinement tea with each meal
Here are some ideas:
Confinement soup recipes
Confinement chicken recipes
Confinement pork recipes
Confinement fish recipes
Confinement egg recipes
Confinement rice recipes
Confinement offal recipes
Confinement veggie recipes
Confinement tea recipes
SNACKS IN BETWEEN MEALS
You can have confinement tea, crackers, bread, heaty fruits, or other healthy snacks if you are hungry in between meals and to make sure to keep the hydration going.
Disclaimer: The information above is written as part of my own experience and consulting my moms and is not meant to replace professional advice by your healthcare provider. Please consult your healthcare provider or TCM provider if ever in doubt