Mom's Blood Cake and Kidney Mee Sua – Thin wheat noodles, mee sua, are served with pig's kidney and blood cake in ginger savory broth and crispy garlic. It's not for the faint of heart, but those who enjoy offal will love this.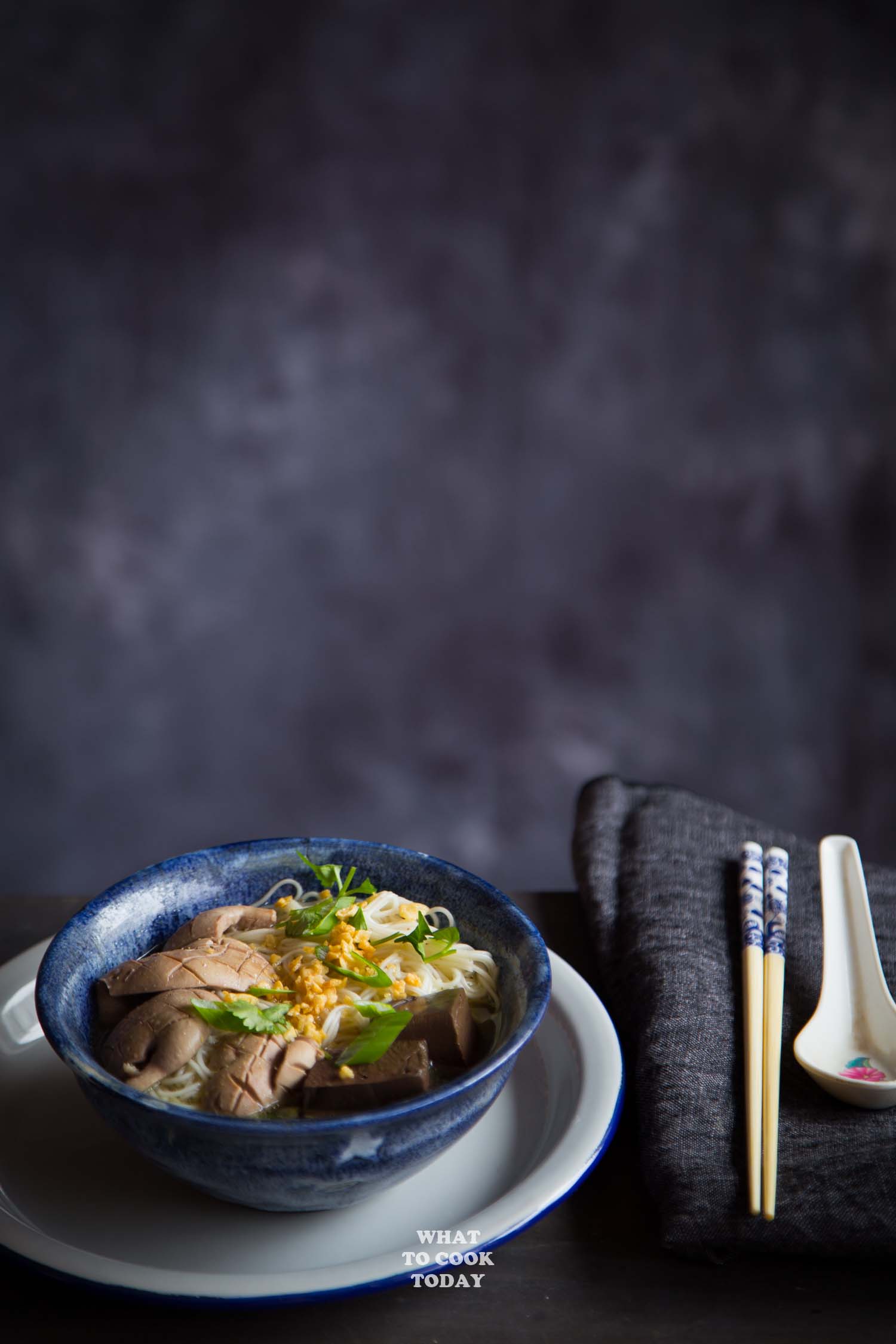 I almost put the title as "Mom's Kidney and Blood Cake Mee Sua". Then I realized it almost sounded like I ate my mom's kidneys LOL! (funny and not!). So, I decided to put the blood cake first before the kidney. This mom's blood cake and kidney mee sua is one of my favorites of mom's cooking! The last time I had these was 4 years ago when I just had our second baby and going through confinement.

This blog post contains affiliate links. I earn a small commission when you made purchase at no extra cost to you. Learn more.
SPECIAL INGREDIENTS IN MOM'S BLOOD CAKE AND KIDNEY MEE SUA
1. Mee Sua / Mi Sua noodles
Mee sua is thin long noodles that are often referred to as longevity noodles as well. They are indeed long. Mee sua is made of wheat and usually salted. My mom usually prepares mee sua for birthdays as it represents longevity.
They are usually sold dried in bundles and available in Asian grocery store.
Closest substitution:
Japanese somen noodles
(I actually prefer this over mee sua noodles)
2. Pig's kidney
Pig's kidney is one of the offal/innard parts that are consumed in majority of Asian cooking. It doesn't mean all Asians eat offal/innards. My brother doesn't, because he thinks it's gross. The rest of the family does. I LOVE kidney!
They are usually only available fresh in Asian grocery store or some stores that carry ethnic food. You can read more about it here.


3. Blood cake
Blood cake is made of well, blood. Blood of animals to be exact. Typically from pig's, chicken's, and duck's. My grandma used to slaughter her own chicken and then collected the blood to make blood cakes later. Pig's blood cake is usually only available at Asian grocery store here in the U.S. It isn't always available either. Usually, it comes in a container and soaked in fresh water to prolong shelf life. I usually cook it immediately on the same day after I get them. You can skip them if you can't find any blood cake.
4. Fish sauce
You may not be new to fish sauce, but for those of you who are new, they are basically a quintessential Southeast Asian condiment made of fish that is salted and then fermented to yield a highly intense and concentrated sauce. Usually used as a dressing, marinade, stir-fry, soup, pretty much anything! You can also learn how to make Vegan Fish Sauce.
5. Oyster sauce
Oyster sauce is one of the sauces used very often in Asian cooking. Traditionally, oyster sauce is made by simmering oysters until it caramelized to give you that dark brown sauce with that strong aroma of oyster. Nowadays, oyster sauce is made by using oyster extracts, sugar, salt and thickened with cornstarch It is very commonly used in stir-fry and soup to add that depth of flavor, umami.

WHY DO YOU PUT THIS UNDER CONFINEMENT RECIPES CATEGORY TOO?
It is not only suitable for women who is doing confinement. Everyone can eat this blood cake and kidney mee sua. My mom made it confinement-friendly by adding more ginger and sesame oil. This was one of the confinement dishes that I looked forward to the most.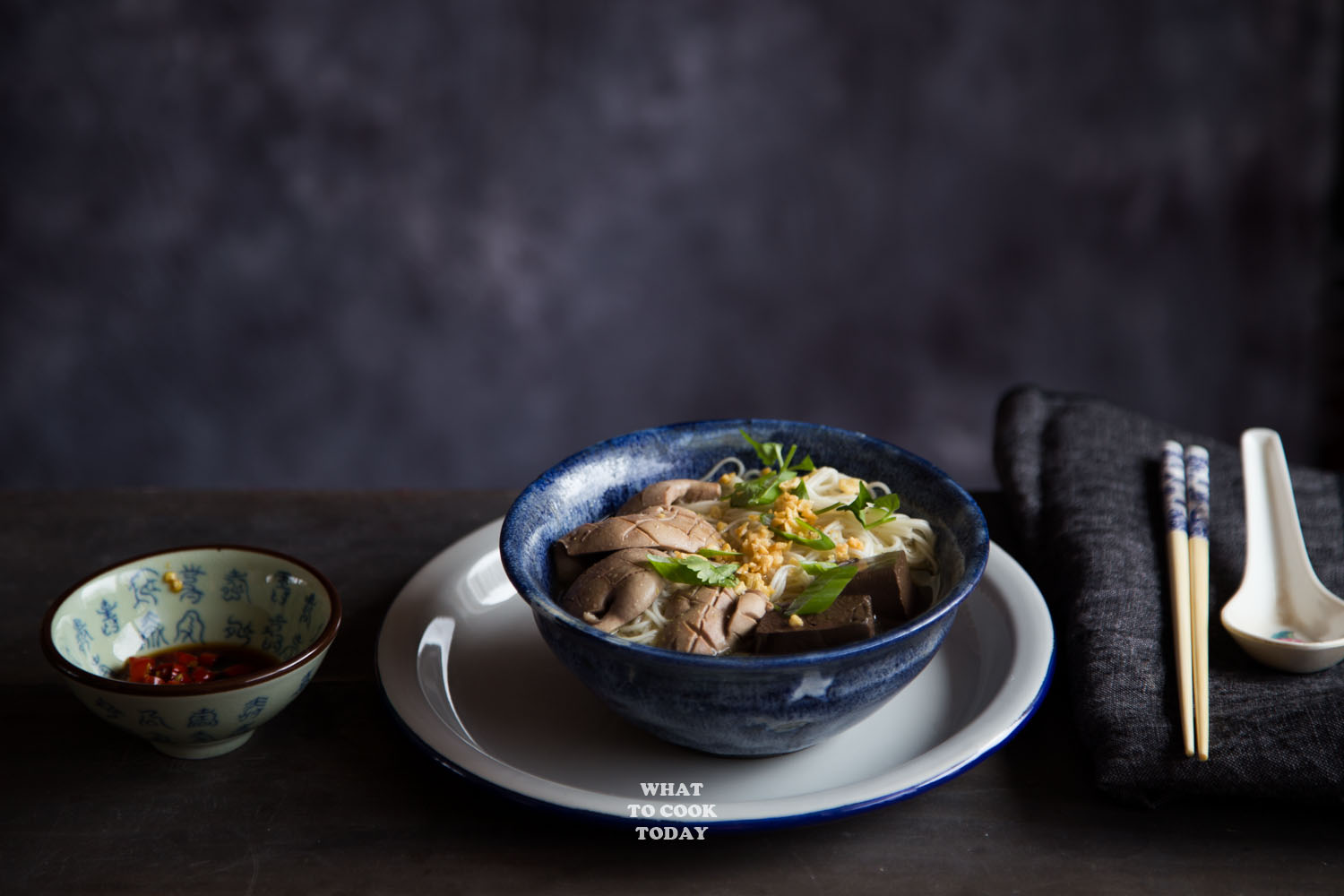 My mom said that buying pig's kidneys here were far more cheaper than back at home. I told her probably because they were not high-demand food item here 🙂 whereas in Southeast Asia, many people enjoy eating innards like kidney. Well, my brother will disagree with me, but he's the minority 🙂
My husband couldn't get enough of this Mom's blood cake and kidney mee sua. If you enjoy eating offal /innards, you should definitely add this to your recipe list 😉

Mom's Blood Cake and Kidney Mee Sua
Ingredients
4

bundles

mee sua noodles

substitute with somen noodles

1

Tbsp

sesame oil

see notes

6

cloves

garlic

peeled and finely minced

6

cups

homemade bone broth

or use store-bought chicken broth

1

inch

fresh ginger

peeled and thinly sliced, see notes
Offals:
Cleaned pig's kidney

from 2 fresh kidneys

About 4 x 6 inch block of pig's / chicken's blood cakes

cut into large cubes
Garnishes:
2

stalks

green onion

thinly sliced

Few sprigs of fresh cilantro leaves
Serve with:
Crispy garlic

3

-4 Thai red chili

sliced and doused in soy sauce
Instructions
Cook mee sua or somen noodles according to direction. Rinse with cold water and set aside
Preparing kidneys and blood cakes:
Bring small pot of water to a rolling boil. Add kidney slices and boil for about 45 seconds. The color will turn gray. It should be no longer red inside. Avoid overcooking or kidneys will turn tough. Remove with slotted spoon and refresh in cold water to stop cooking. In the same pot, add blood cakes and boil for about 2 minutes. The color will turn dark grayish brown. The inside should be no longer red and cooked through. Remove with slotted spoon and set aside
Preparing broth:
Preheat sesame oil over medium heat. Add garlic and fry until light golden and crispy. Take care not to burn them. Lower the heat if necessary. Remove with slotted spoon onto an absorbent paper towel. They will crisp up further when they cool down

In the same oil, add ginger and stir fry for 3 minutes until fragrant. Add in broth and bring to a boil. Add in seasonings. Have a taste. It should be savory with just a hint of sweetness. Add more seasonings to your taste
Serving:
Portion noodles out into an individual serving bowl. Portion out kidney slices and blood cakes. Garnish with green onions and cilantro leaves. Generously ladle the hot broth over. Sprinkle with the crispy garlic you made earlier. Serve with red chili doused in soy sauce immediately
Notes
If you are preparing this as part of confinement diet, double or triple the amount of ginger and drizzle the finished dish with more sesame oil just before serving


You might also like these offal recipes:
SWEET AND SOUR CHICKEN LIVERS
LIVER RAGOUT WITH MUSHROOMS AND ONIONS/LEBERRAGOUT MIT CHAMPIGNONGS UND ZWIEBELN
PIG'S STOMACH STIR-FRY