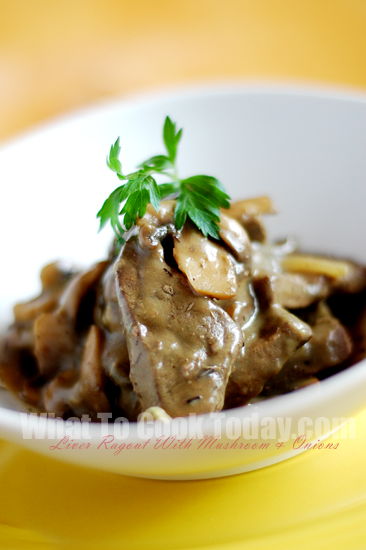 You know…I'm learning a little German language at the same time I'm cooking German dishes this week lol! Perhaps it won't be enough to communicate, but enough to order food in Germany ha!
So, we have what ? duck, pork chop, veal, pigs' knuckles, chicken. What's missing ? the liver of course. How can you cook German dishes and don't do a liver 😉 Actually liver is not too big of a deal. The most extreme I've done so far is eating brain (I know what you are thinking! don't! I'm not Hannibal, or maybe I am?) I plan to do calves' brain or sweetbreads, but I can't find any. My first exposure to sweetbreads was when I was probably in elementary school. My mom gently fried it with eggs. Delicious. (you are welcome to disagree. It's okay!)
I know here in the U.S., internal parts are relatively cheap because they are not "hot" items. Agree ? lol! Hot to me but not to the rest of 95.9% of population (my own statistics. Don't ask!). But I think beef liver is a little more accepted though, compare to chicken or pork. Liver is one of my very favorites. The tenderness and somehow that texture, I don't know..I just like it. Not enough to convince non-liver eaters, but I just love it, sorry, not just like it, LOVE IT!
and oh…another thing I learned about Germany.. You don't cook without butter, just like the French! 🙂
LIVER RAGOUT WITH MUSHROOMS AND ONIONS/LEBERRAGOUT MIT CHAMPIGNONGS UND ZWIEBELN (4 – 6 servings)
1 1/2 pounds chicken, beef or calves' liver, cut in 4 slices – I'm using beef's liver
2 large onions
1/2 pound mushrooms
3 Tbsp butter
2 Tbsp flour
1 cup water or meat stock
Thyme (optional)
2 or 3 Tbsp sour cream
COOKING METHOD:
1. Chicken livers should be cut in half with all connective tissue removed. Beef liver should soak in milk 1 hour and then be well dried before proceeding. Both beef and calves' liver should be cut into finger strips or squares
2. Sprinkle liver with salt and pepper. Slice onions thin and separate into rings. Wash mushrooms quickly under running water, dry at once in a towel and slice lengthwise, cutting right through stem
3. Heat butter in a heavy skillet with a lid. When hot and bubbling, add onions and saute slowly, stirring frequently until they soften and take on a bright yellow color. Remove and reserve. Add mushrooms to hot fat; saute and stir over moderate heat until they begin to take on color, about 3-5 minutes. Remove and reserve with onions. Add liver to hot fat and brown on all sides over moderate heat. When liver is thoroughly seared (about 4-5 minutes) return mushrooms and onions to pan
4. Sprinkle with flour and stir gently until flour is absorbed. Continue sauteing for 3-4 minutes. Pour in water or stock and a pinch of thyme if you are using. Cover and simmer gently but steadily over low heat for 10 minutes or until blood no longer oozes from liver and sauce is smooth and thick. Stir from time to time so that the sauce doesn't scorch. Season with salt and pepper. Stir in sour cream and turn off the heat and mix well