Noodles are smothered in meat sauce made of ground/minced meat with Chinese black bean sauce and topped with refreshing shreds of cucumber. Zha jiang mian is our household favorite noodle.
BEIJING ZHA JIANG MIAN
Talking about zha jiang mian, I'm taken back to my almost-once-a-week-date with my sister at the Crystal Jade Restaurant in Singapore. Zha jiang mian was always what we ordered. I really like the zha jiang mian noodle there. Zha jiang mian is originated from northern China. Zha jiang means bean sauce and mian means noodles in Chinese language. The noodles are served with a meat sauce poured on top of it. The meat sauce is made with ground meat, usually pork is used and simmered in sweet bean sauce (tian mian jiang).

SUBSTITUTE FOR TIAN MIAN JIANG (SWEET BEAN PASTE)
Tian mian jiang literally means sweet noodle sauce. This is also the same sauce used to make Peking duck. It can be easily found in Asian store, but if you can't find any, you can substitute with hoisin sauce. It's pretty similar, though hoisin sauce is a bit sweeter while tian mian jiang still has that savory side of it.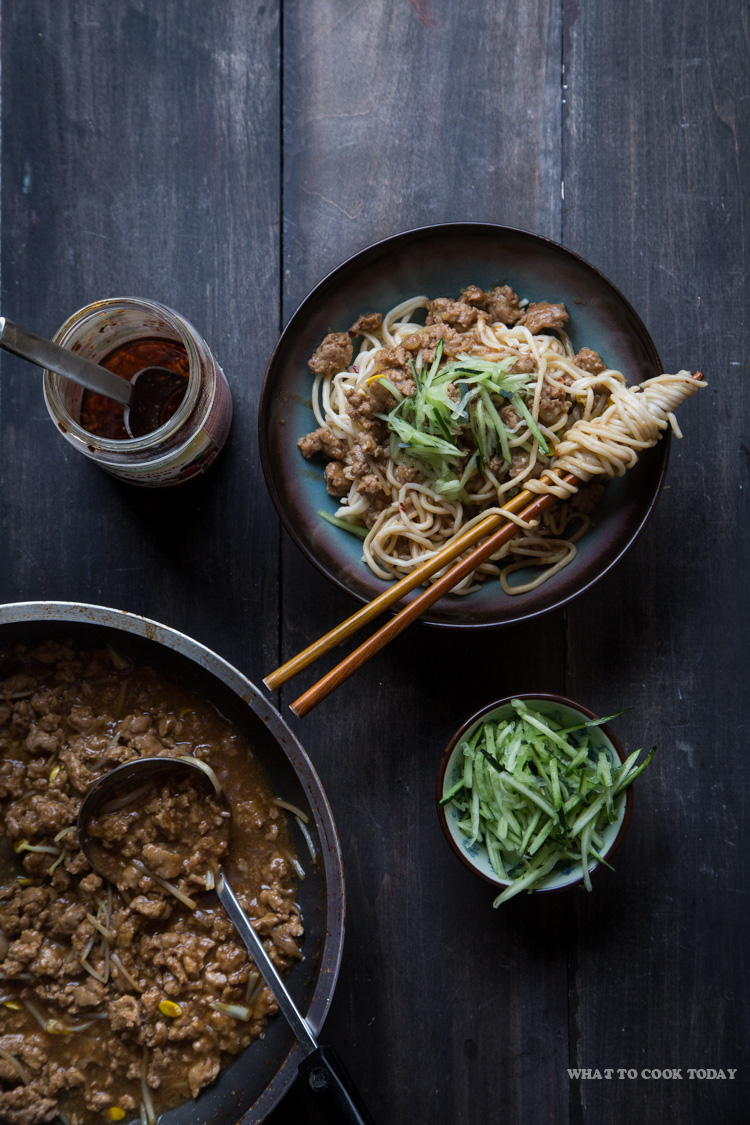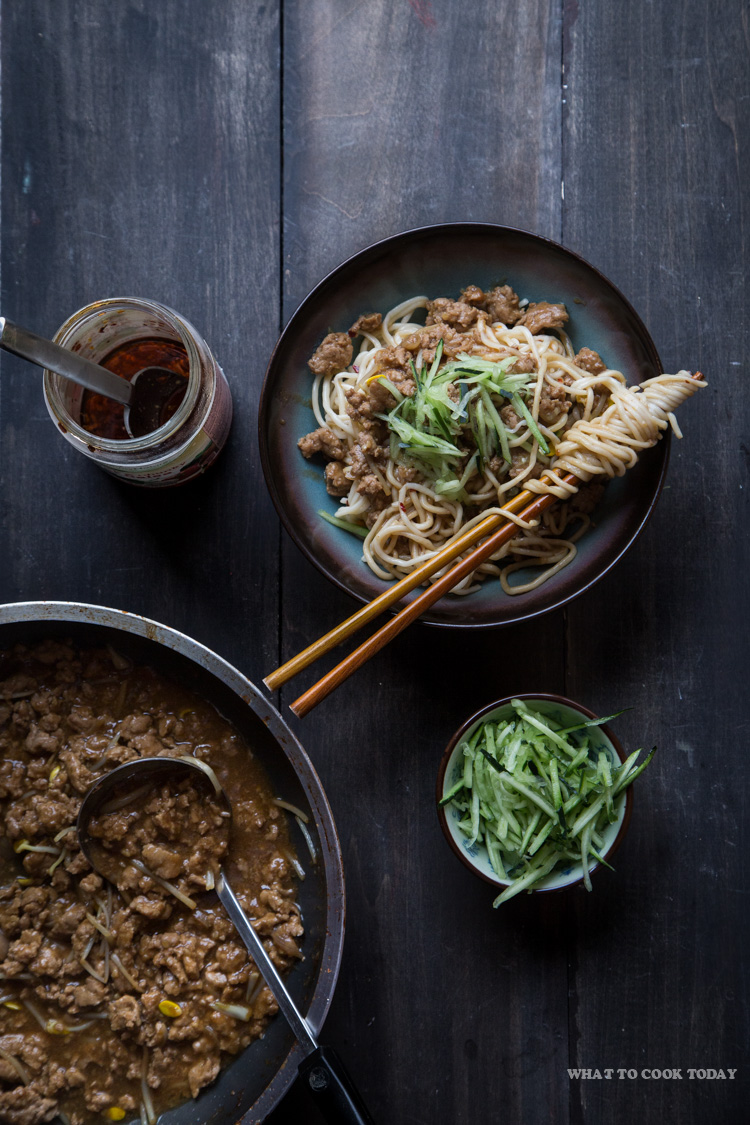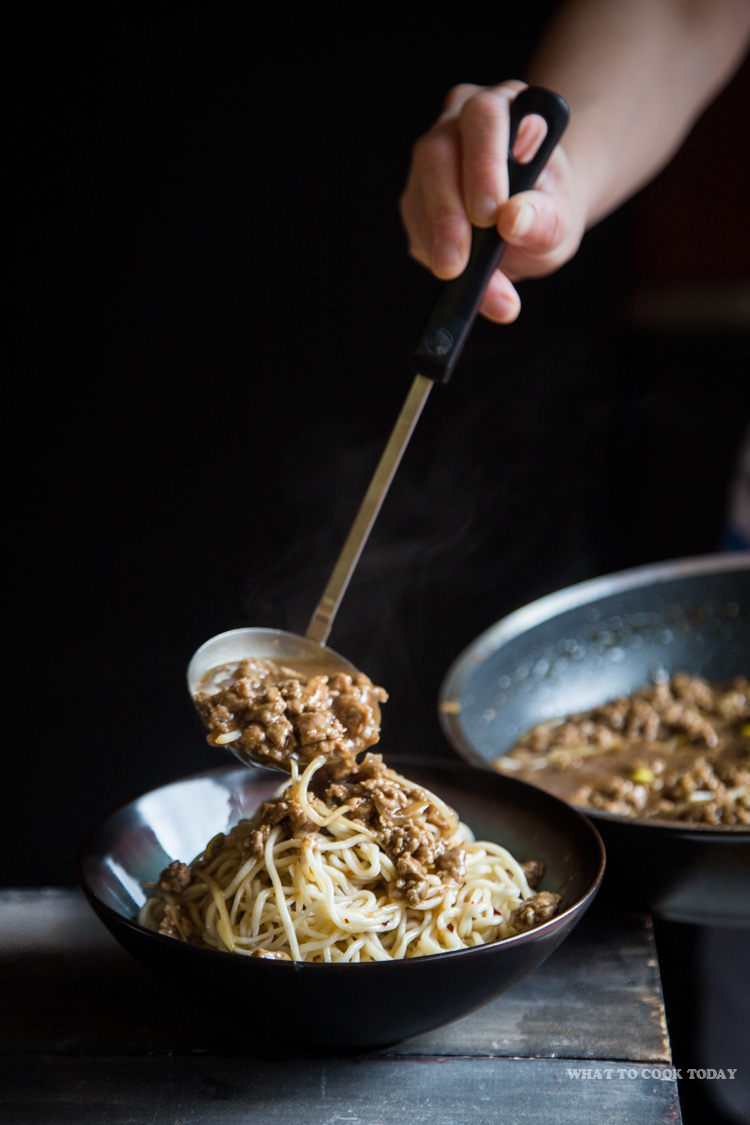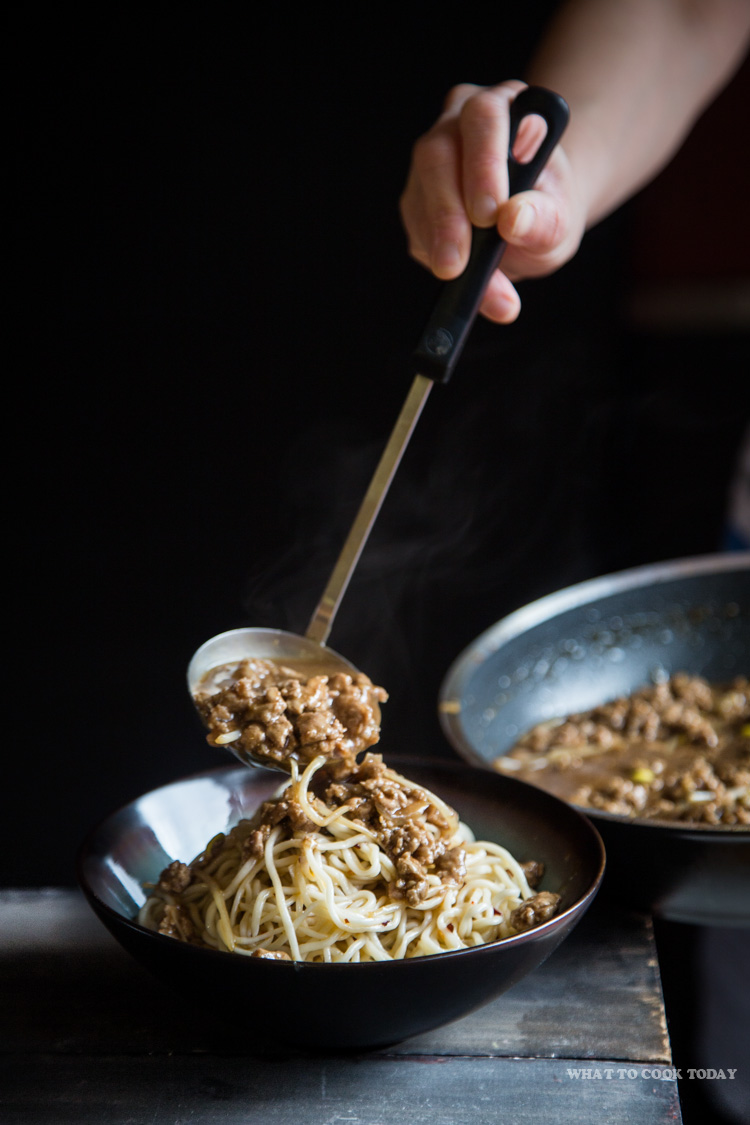 I can't say this is exactly like the one we had at the restaurant, but it's very delicious too. My two kids love the meat sauce and when they love it, it's a winner (period).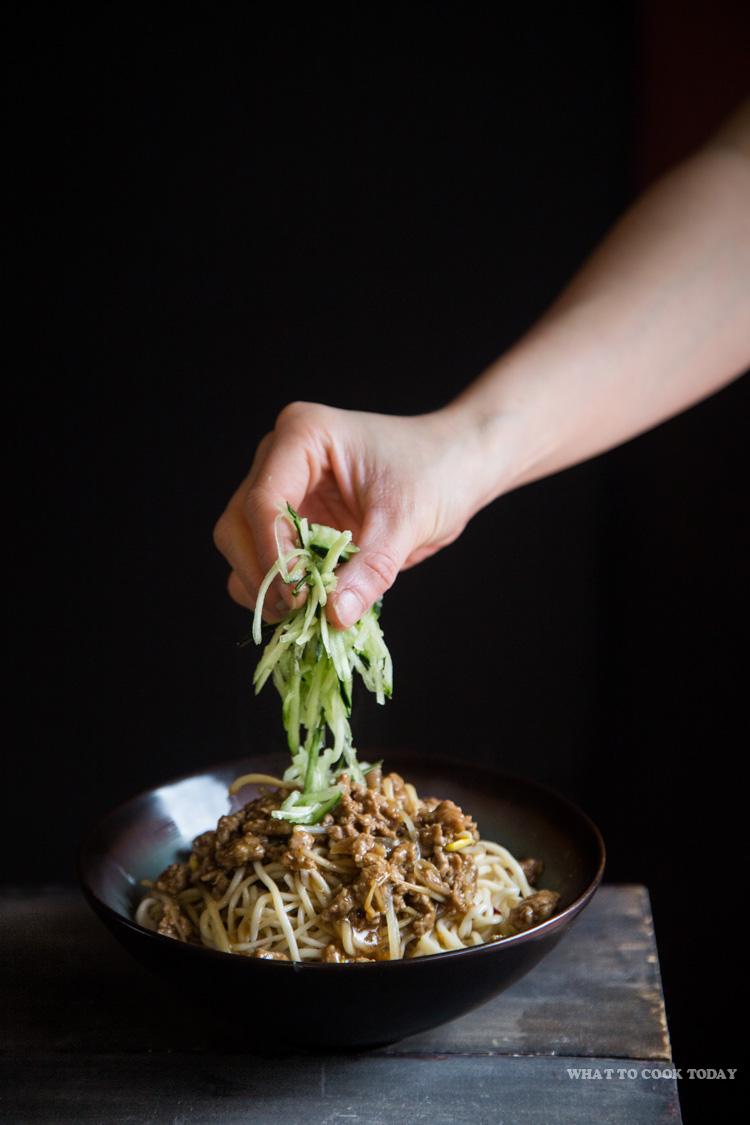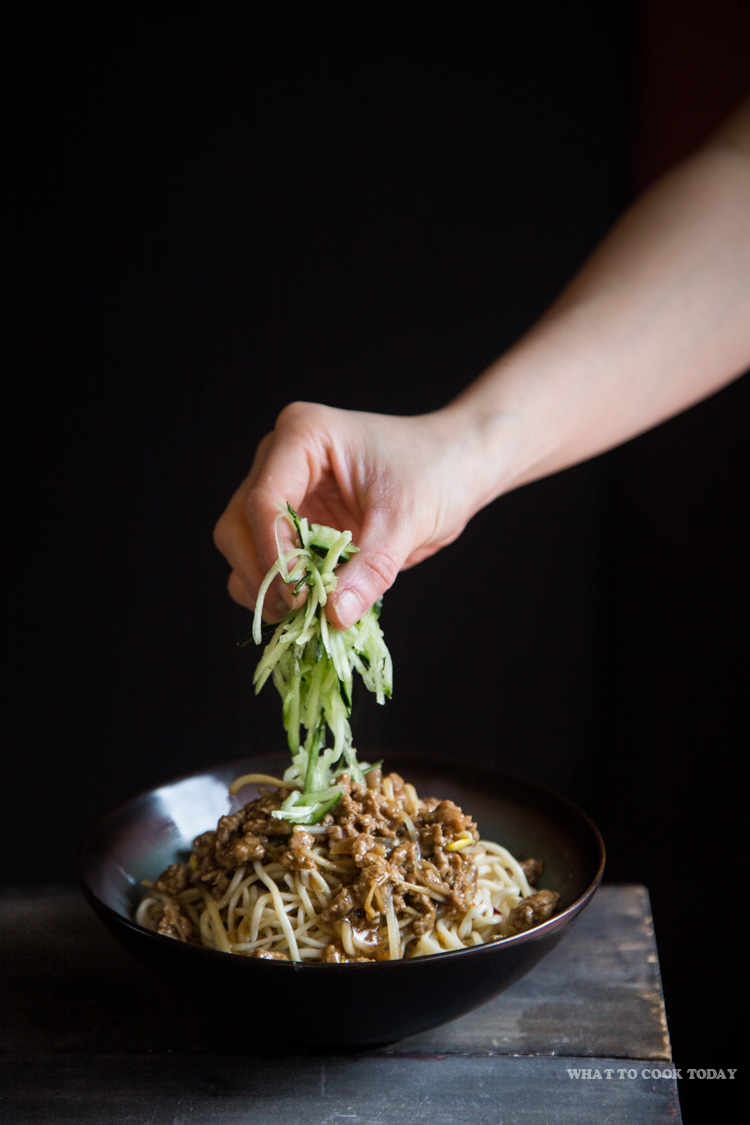 I couldn't have enough of zha jiang mian when my sister first introduced it to me (thank you sis!) when I was in Singapore. It was our "weekly" thing to eat in Singapore. Now, I can make my own when that craving hits!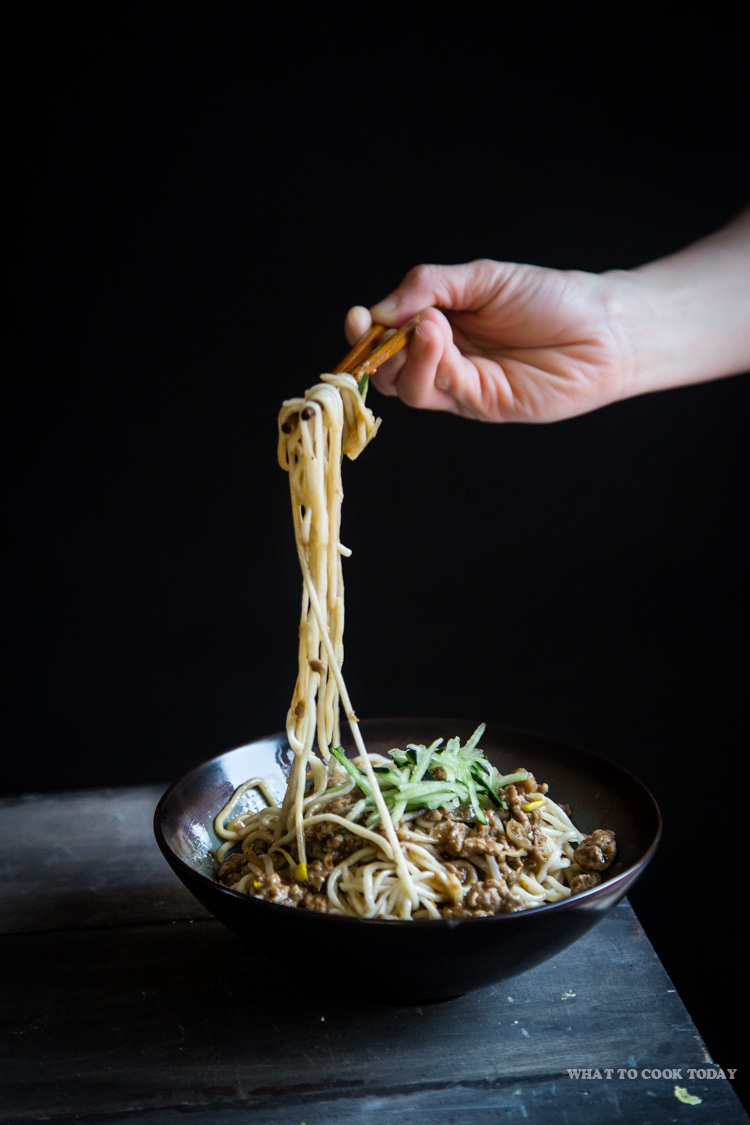 How To Make Zha Jiang Mian (Noodles in Meat Sauce)
Ingredients
1

lb

dried/fresh Asian wheat noodles or fresh udon noodles

3

Tbsp

cooking oil
Aromatics:
¼

cup

finely chopped garlic

1

small onion

finely chopped

1

Tbsp

finely chopped fresh ginger
Minced pork and sauce:
4

Tbsp

Sweet bean sauce

(tian mian jiang) or use hoisin sauce if you can't find any

1

lb

ground pork/beef/chicken

2

Tbsp

shaoxing rice wine/ dry sherry

1

cup

chicken stock

Salt and freshly ground pepper to taste

1

Tbsp

corn starch mix with 2 Tbsp of water
Serve with:
1

cucumber

peeled, seeded and julienned

2

stalks green onion

finely chopped

chili oil

optional
Instructions
Cook the noodles according to the instruction on the package and rinse with cold water and set aside.

Preheat a wok or skillet. Add in oil and aromatics. Saute for 3 minutes. Add the black bean sauce and stir fry for another minute

Add the ground meat and cook for 6 minutes and then add in the wine and stock. Bring it back to a boil and then lower the heat to let it simmer for about 10 minutes. Have a taste. Add more salt and pepper to your taste. Give the corn starch solution a stir and pour it in and the sauce will thicken slightly.

Ladle the sauce over noodles, top with cucumber and chopped green onion. I drizzle some chili oil for a bit of heat. Serve immediately
This blog post contains affiliate links. I earn a small commission when you made purchase at no extra cost to you. Learn more.