I've made banh mi from scratch before and it wasn't terribly hard or complicated. But if I can make a "cheat" version… (With two young kids around and lots of other things to be done), well, why not ? I was inspired to make a cheat version when I saw these beautiful demi baguettes at costco. I have serious weakness for bread too people!!! The smell of baking bread is enough to lure me into doing something I don't want to do (I never told my husband this, but if he reads this, well, no more secret!). The funny thing is, I used to hate baguettes !! Who ate something so hard it could break some teeth seriously !!! But I was turned around after I was introduced to banh mi sandwich more than one decade ago. Ever since then, I seem to have a thing for crusty and rustic looking bread with soft and chewy inside (who doesn't ? ) Look at these devils !!! All crusty and chewy on the inside !!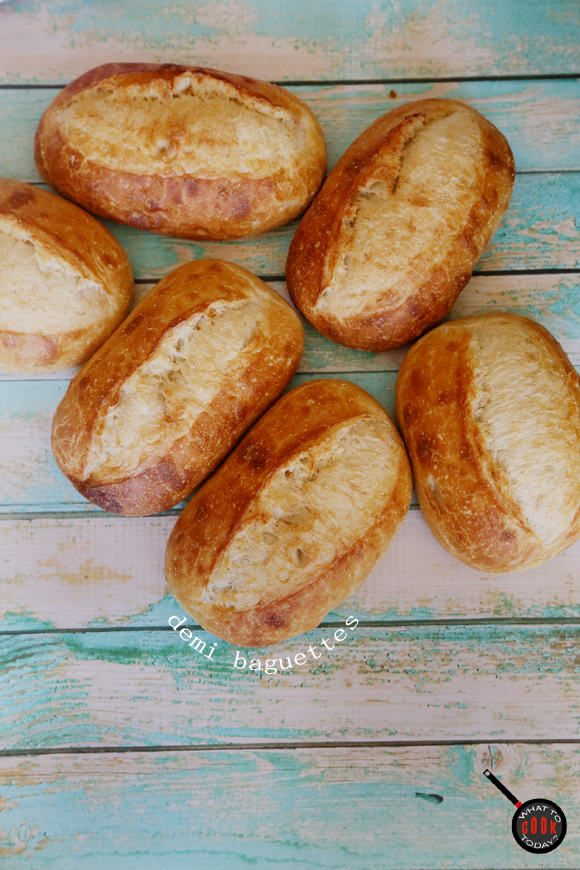 I'm a terrible baker (no secret on that one), but I love bakeries and patisseries (period). So, anyway, back to the demi baguettes. Those things just stared right at me, asking me to pick them up and so I did. Not sure what to do with them at that time. Then walking down a bit further, I saw the delicious all-natural roast beef. The next thing I know, it's in our shopping cart. I got home and decided all these stuff were just so perfect for a cheat version of banh mi !!
For baking/ kueh making: I highly encourage to weigh ingredients with a digital kitchen scale instead of using measuring cups as they are not very accurate especially when it comes to recipe that requires precision.
GRAMS TO CUPS CONVERSION (UNSIFTED)
INGREDIENTS
6

" baguette

1

Tbsp

of coconut oil

-

or use butter if you prefer

1

Tbsp

of olive-oil based mayonnaise

1

slice

of provolone or swiss cheese

2

slices

of fresh tomatoes

1

jalapeno -optional

-

thinly sliced at angle

2-3

oz

of ready-to-use roast beef

Few sprigs of fresh cilantro leaves
INSTRUCTIONS
Preheat oven to 350 F. Split the baguette in the middle but be careful not to cut all the way through. Open up the baguette. Place the baguette on a baking sheet. Spread with 1 Tbsp of coconut oil on one side and mayonnaise on the other side. Place one slice of provolone cheese in the middle of the baguette, then top with 2 slices of tomatoes. Pop into the oven and let it bake until the cheese is nicely melted, about 10 minutes. Pull it out and top with the roast beef and pop it back in for about 3-5 minutes (just to warm it up a little) and then pull it out and top with some slices of jalapeno if using and then cilantro leaves. Serve immediately
Notes
Another great substitute for the roast beef is rotisserie chicken. That will make one heck of a banh mi too !
The version I made for my kids are to split the baguette horizontally like a regular sandwich and omit the chili. Once the sandwich is assemble, I cut it into 3 equal portion. It's easier for them to manage