How to Clean and Prepare Pig's Kidney for Cooking – This tutorial will show you step-by-step of how to clean, prepare, store, and cook pig's kidney.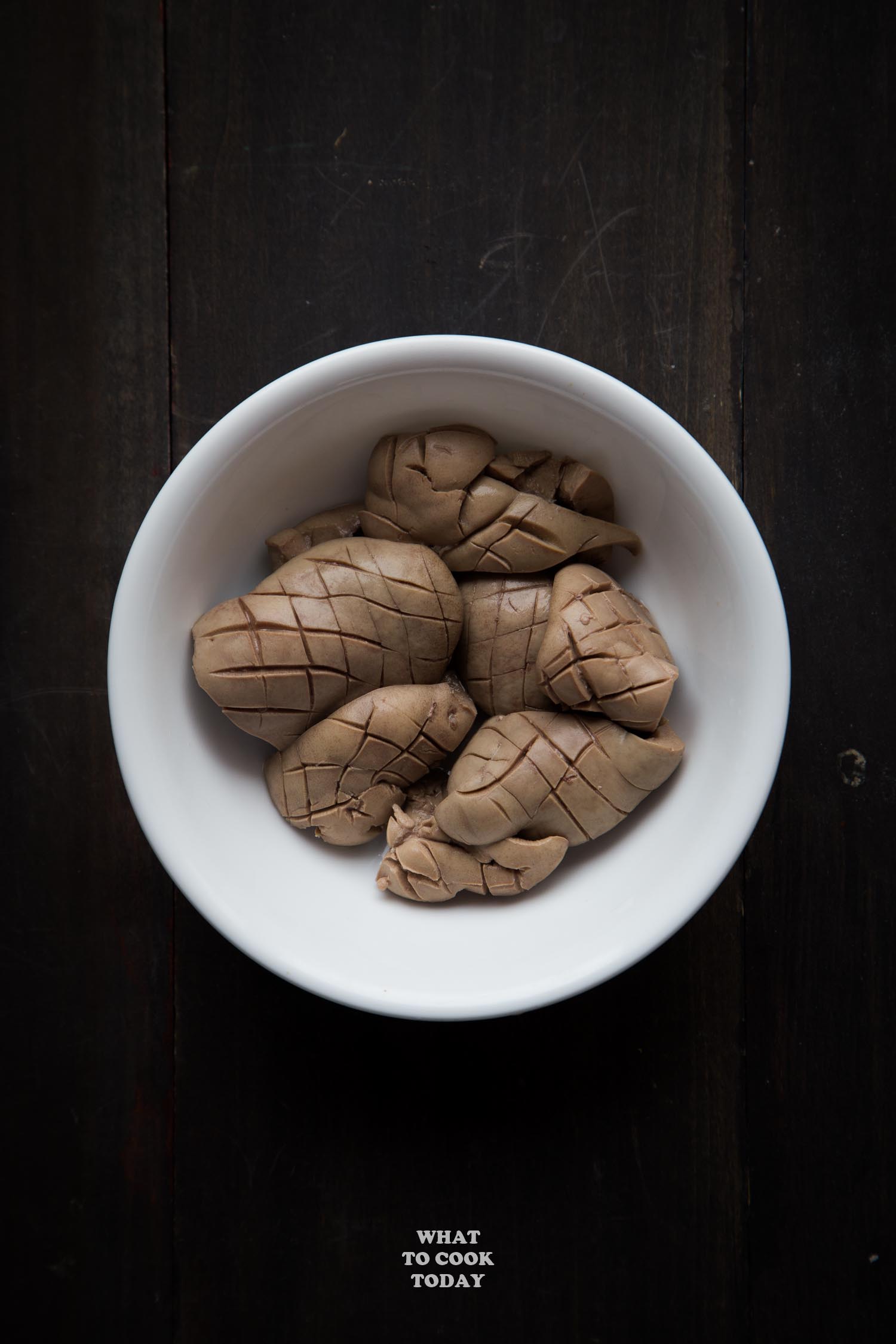 I know no matter how I put it, pig's kidney is just pure gross for probably 99.9% of the earth population. I happen to fall outside that 99.9% of the population. I LOVE to eat kidney (of any kind!). Mom used to cook kidneys quite often when I was a kid. Probably that's why I like it.
NO, it doesn't taste like chicken! Not everything tastes like chicken. When it is cooked properly (not overcooked), the kidney is tender and the texture is nice. It's not like liver, which I like too, that can taste a bit sandy (I still like it!). Kidney is nice! seriously! But, you need to know how to clean and prepare it properly or you will not be happy with the result (the smell of urine? ring any bell?)
IS KIDNEY ACTUALLY GOOD FOR YOU TO EAT?
Some of the Chinese (my mom included) believe that eating kidneys is good for YOUR kidneys. Kidneys in general are high in some of the Bs vitamins and iron. There's no harm in eating it, unless you have a specific health condition. I think it's the mental part that stops people from eating innards like a kidney (It's GROSS!). I don't find it gross, so, it's really subjective!
In this post, I'm sharing how to clean, prepare, store, and cook pig's kidney.
HOW TO PICK FRESH KIDNEY?
Pig's kidneys are usually sold in whole fresh in Asian grocery store. Their shelf-life is not long in fresh form as you can imagine. Pick the freshest one you can. There's usually someone at the store I go to that will weigh the kidneys and pack them up for me. So I ask him if they are fresh. You can look at the color too. It is usually brownish gray in color, but if you see that it's dark or turning black or the whole appearance is just dull, skip it!
IS IT DIFFICULT TO CLEAN AND PREPARE KIDNEY?
It's not difficult. In fact, it's pretty straightforward. BUT, it's time-consuming, to be honest with you.
WHY IS IT TIME CONSUMING?
Once you cut off the parts that need to be removed from the kidneys, you need to soak them in salted water several times to ensure that the kidneys will not smell "funky" (urine smell) when you cook them.
CAN I USE THE SAME METHOD TO CLEAN OTHER ANIMALS' KIDNEYS?
I'm not a nephrologist, but, Yes, kidney pretty much has the same function to most living organisms, to filter waste and blood and so the anatomy shouldn't differ much.

This blog post contains affiliate links. I earn a small commission when you made purchase at no extra cost to you. Learn more.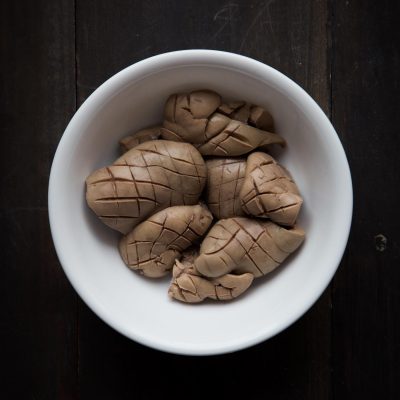 How to Clean and Prepare Pig's Kidney for Cooking - This tutorial will show you how to clean, prepare, store, and cook pig's kidney.
For baking/ kueh making: I highly encourage to weigh ingredients with a digital kitchen scale instead of using measuring cups as they are not very accurate especially when it comes to recipe that requires precision.
GRAMS TO CUPS CONVERSION (UNSIFTED)
INGREDIENTS
Equipments to do the job:
Gloves

-

if you want to

Sharp long knife

Sharp small knife
INSTRUCTIONS
Cleaning the kidney:
Rinse the kidney with water. Put on gloves if you choose to

Cut off any parts that connected to the kidney

You might still see some of the membranes covering the kidney, gently pull on that and remove it

Use a sharp long knife to cut the kidney into half lengthwise

You will see all the whitish veins and fat. All those need to be removed. You can first use kitchen shears to cut off the vein or you can skip this part and just use a small sharp knife to cut off the vein and remove the fat. It's important to remove all the white part to prevent odor when you cook the kidney
Preparing the kidney:
Once it's cleaned, cut the kidney into 3-4 inch slices

Use a small knife to score the surface of the kidney with criss-cross patterns, taking care not to cut through it

Place these in a bowl of cold water with 1/2 tsp of salt, enough to cover the kidney and let it sit in the fridge for 30 minutes. Change the water and keep doing so until the water is no longer reddish from the blood. This will get rid of any odor from the kidney when you cook it

The kidney is pretty much ready to be cooked at this point
If you choose to store them:
If you choose to store them, I highly suggest that you store them after you boil them in water. They store better than if you store it raw. They deteriorate pretty fast and smell funky if you don't use them right away
Cooking kidney:
They can be used in soup, fried and stir-fry in most Asian cuisine. Do not overcook them or they will turn tough. Bring water to a rolling boil and then cook them for about 45 seconds (depending on how big of a slice), they should be gray in color after cooked (inside and out)

If you choose to fry or stir-fry, there's no need to parboil the kidney first, you can use it right away
Notes
When using kidneys in soup, it is better to cook the kidneys separately or they will make the soup "cloudy"