Thick round egg noodles are cooked in a flavorful dark sauce along with seafood and pork slices. KL black Hokkien mee is a favorite by many in Malaysia and Southeast Asia.

BLACK HOKKIEN MEE 福建面
There are many different versions of Hokkien mee out there. For this blog so far, I've made Singapore Fried Hokkien Mee and Medan Hokkien Mee, from the hometown I grew up. And now this is the Malaysian version of Hokkien Mee, KL (Kuala Lumpur) version to be exact. There is also another different version of Hokkien Mee from Penang, which is a soup version, that is very similar to Singapore Prawn and Pork Ribs Noodle Soup. Which one do I like best? I like all of them! duh!
SPECIAL INGREDIENTS
DARK SOY SAUCE
KL style Hokkien mee is characterized by its super dark color sauce contributed by the dark soy sauce. Dark soy sauce is being employed a lot in Asian cooking and you can easily find them in the Asian grocery store. You don't have to worry about the amount being used in this recipe and whether your noodle will turn super salty. The dark soy sauce is basically only there for color. It's not salty compared to regular light soy sauce.
WHAT TO SUBSTITUTE FOR DARK SOY SAUCE?
I've made this dish with Indonesian kecap manis too. When I do that, I just omit the sugar in the recipe.
HOKKIEN NOODLE
Hokkien noodle is usually thick and round and yellow in color. Sometimes it is called yellow noodles. It is basically an egg noodles. They are available at the Asian grocery store at the refrigerated section.
WHAT TO SUBSTITUTE FOR HOKKIEN MEE?
I used linguine in this recipe. It works really well. You can definitely used spaghetti too.
MY EASY AND HEALTHIER VERSION
Traditional KL Hokkien mee is stir fried with lard and made with seafood combination such as shrimp, fish balls, squid, etc and also slices of pork belly. The finished dish is topped with crispy pork fat. My version is made with pork loin slices and cooking oil (grapeseeds oil to be exact) and I did not make any crispy pork fat. You are certainly welcome to adjust the recipe if you don't want the healthier version. They are just simple swaps. My family still loved the end result though, despite not cooking it with lard.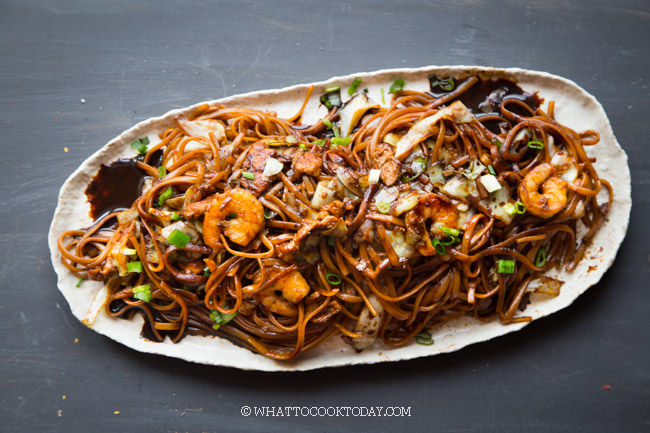 HOW TO COOK BLACK HOKKIEN MEE
1. Marinade the pork in soy sauce and cornstarch and stir all ingredients for seasonings in one bowl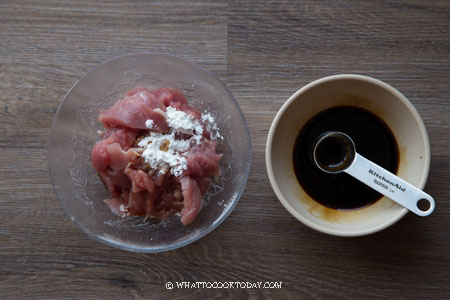 2. Cook the noodles according to instruction. I used dried linguine that I cooked to al dente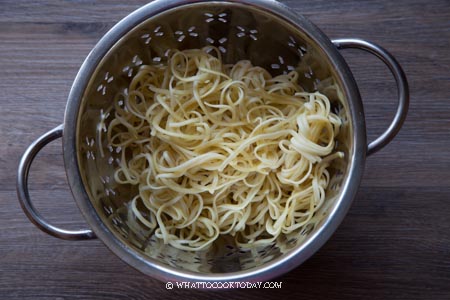 3. Preheat wok/skillet with oil. Cook the shrimp briefly and dish out


4. Next, cook the pork slices and dish out


5. Add more oil and cook the garlic


6. Add cabbage followed by some chicken stock. Cook until the cabbage softens slightly


7. Add noodles and seasonings


8. Give it a good stir to mix all the seasonings


9. Add cooking wine to the side of the pan/wok to deglaze. Scrape the brown bits at the bottom of the pan and stir everything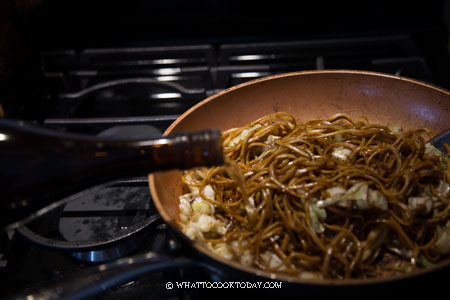 10. Add chicken stock and let it braise for about 3 minutes


11. Add the shrimp and pork back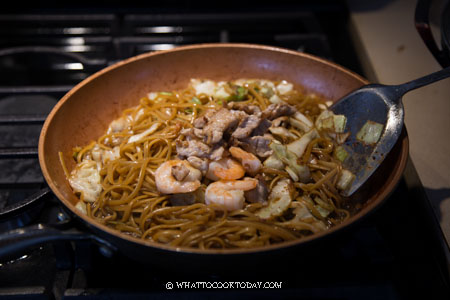 12. Stir to mix everything and have a taste. Add more dark soy sauce if you think it's not dark enough. Add more soy sauce and/or sugar to your taste if needed


13. Thicken the sauce with cornstarch solution and dish out to a serving platter. Garnish with green onion and top with crispy pork fat if using. Serve immediately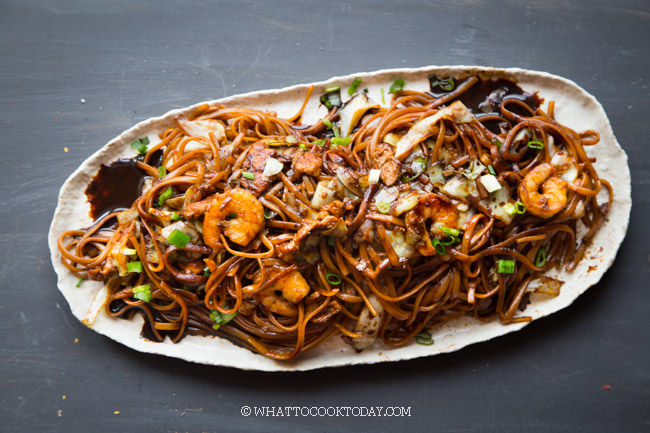 TOP TIPS YOU NEED TO KNOW
1. Cooking the seafood and meat first and then dish out will help to avoid overcooking them
2. Deglazing with wine will impart an extra flavor to your Hokkien mee. All the brown bits that stuck to the bottom of the pan/wok when you cook the shrimp and pork earlier will loosen and adds flavor
3. I suggest to prepare a small amount at a time instead of cooking a large batch. It's easier to get the taste right and not to mess up. This recipe is perfect for 2 generous servings or 3 regular servings
Have you ever tried any stir-fried or soup version of Hokkien mee before? What's your favorite?

This blog post contains affiliate links. I earn a small commission when you made purchase at no extra cost to you. Learn more.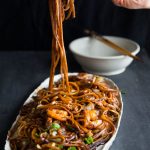 KL Fried Black Hokkien Mee (Easy and Healthier version)
Ingredients
450

gr

Egg noodles or yellow noodles

I used linguini

200

gr

cabbage

cut into strips

5

cloves

garlic

peeled and finely minced

4

Tbsp

cooking oil
Protein:
200

gr

large shrimp

(shelled and deveined)

200

gr

pork loin (thinly sliced across the grain)

or use pork belly if you wish

100

gr

fish cake

thinly sliced (optional)
Seasonings (just a reference, please adjust to your taste preference):
Thickening agent:
1

Tbsp

cornstarch + 2 Tbsp water
Garnish:
Green onion

finely chopped
If you want to make crispy pork fat:
Instructions
Marinade the pork with cornstarch and soy sauce for 30 minutes. The cornstarch help to make the pork slices tender

Prepare the noodles according to the instruction. I used linguini and cook until al dente. Usually, you need to soak the yellow egg noodles in hot water for few minutes

Mix all the seasoning ingredients in a bowl so it's ready when you need them
Cooking:
Preheat a wok or skillet over high heat. Add 1 Tbsp of cooking oil. Add shrimp and stir fry until they turn pink and cooked through. It won't take long to cook them. Dish out and set aside

To the same wok, add the pork slices and stir fry until they are cooked through. Dish out and set aside

Bring the wok back to high heat. Add the rest of the cooking oil. Add garlic and stir fry for about 10 seconds. Add cabbage and stir fry for about 30 seconds, add Shaoxing wine around the edge and it will sizzle. Scrape the bottom bits that stuck to the wok or skillet and then add about 1/2 cup of chicken stock and cook until the cabbage soften slightly, about 2 minutes

Add the noodles followed by seasoning and the rest of the chicken stock. Stir to mix everything. Let it braise for about 3 minutes. If the color isn't dark enough, add more dark soy sauce. Add the shrimp and pork back into the wok and give them a good stir to mix everything. Have a final taste and add more soy sauce and/or sugar if needed. The taste should be savory with just hint of sweetness

Give the cornstarch solution a stir and then pour into the wok and stir until the sauce has thickened and coated the noodles

Turn off the heat, garnish with chopped green onions, crispy pork fat (optional) and serve immediately
If you want to make crispy pork fat (and get the lard at the same time):
You can get the fat part from bacon or pork belly. Cut the fat into small cubes, about 1/2 inch pieces. Place them on a dry pan over medium heat and the fat will slowly render out oil. Continue to do so until the fat turns golden brown and crispy. Remove the crispy pork fat and place on absorbent paper towel. They will crisp up further as they cool down

The oil will solidify into a white solid at room temperature. You can use this to cook the noodles. They can be stored pretty indefinitely
Notes
Please adjust the amount accordingly as each brand of soy sauce may have different level of saltiness
Nutrition
Nutrition Facts
KL Fried Black Hokkien Mee (Easy and Healthier version)
Amount per Serving
% Daily Value*
* Percent Daily Values are based on a 2000 calorie diet.