Singapore Prawn and Pork Ribs Noodle (Hae Mee) – Noodles are served with umami-rich broth made of prawn shells and pork ribs. Recipes for both Instant Pot and cooking on stove-top are included.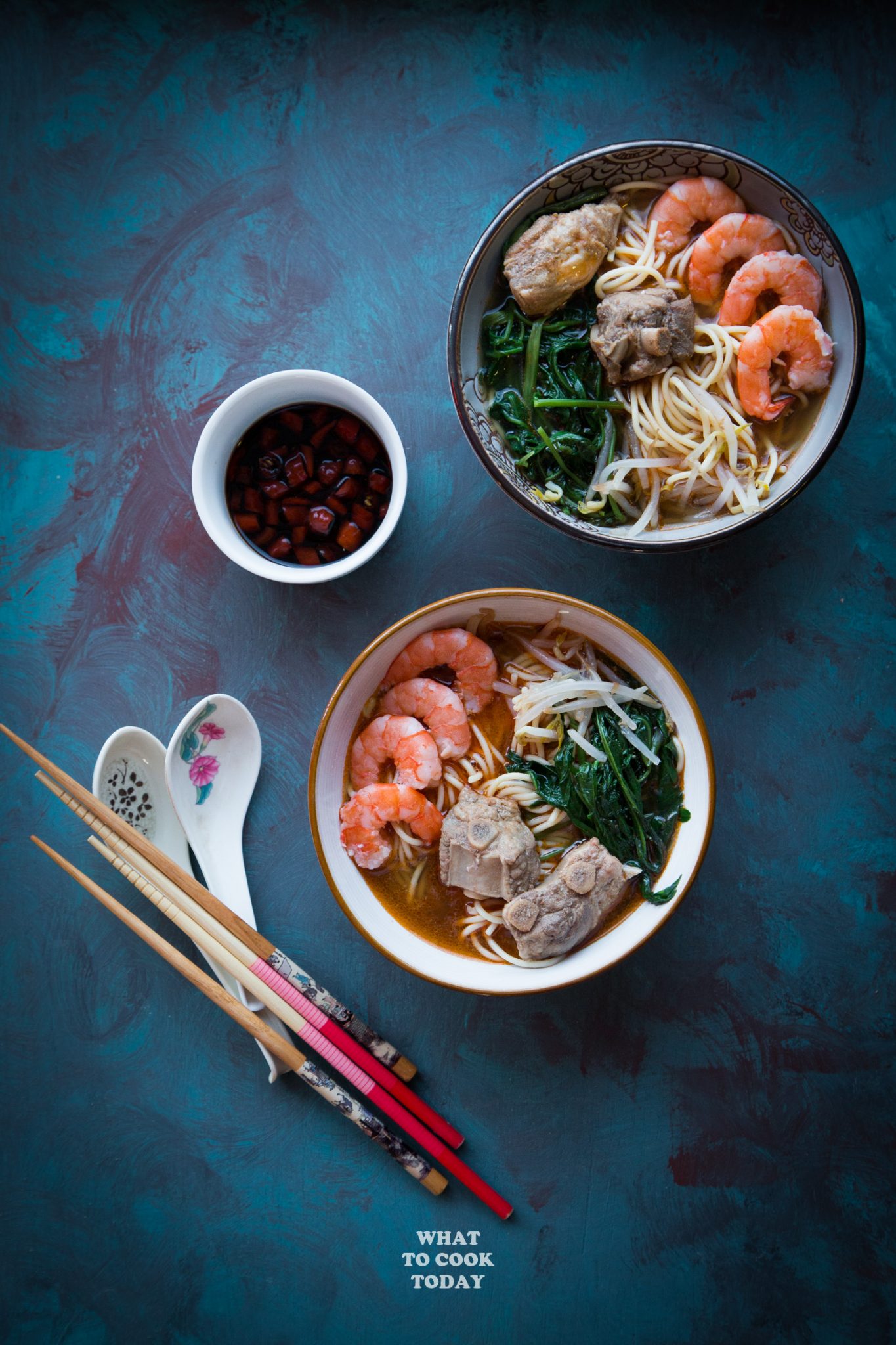 Every once a week or sometimes every two weeks I would "pamper" myself by having a bowl of prawn and pork ribs noodle soup for lunch near this place I used to work at in Singapore. I said pampered because I normally spend about $2.50 to $3.00 for lunch. This was back in 2008. A bowl of prawn noodles is $4.00 and if you add ribs it's $5.00. So, to me $5.00 is a little bit of a splurge for lunch if you know what I mean.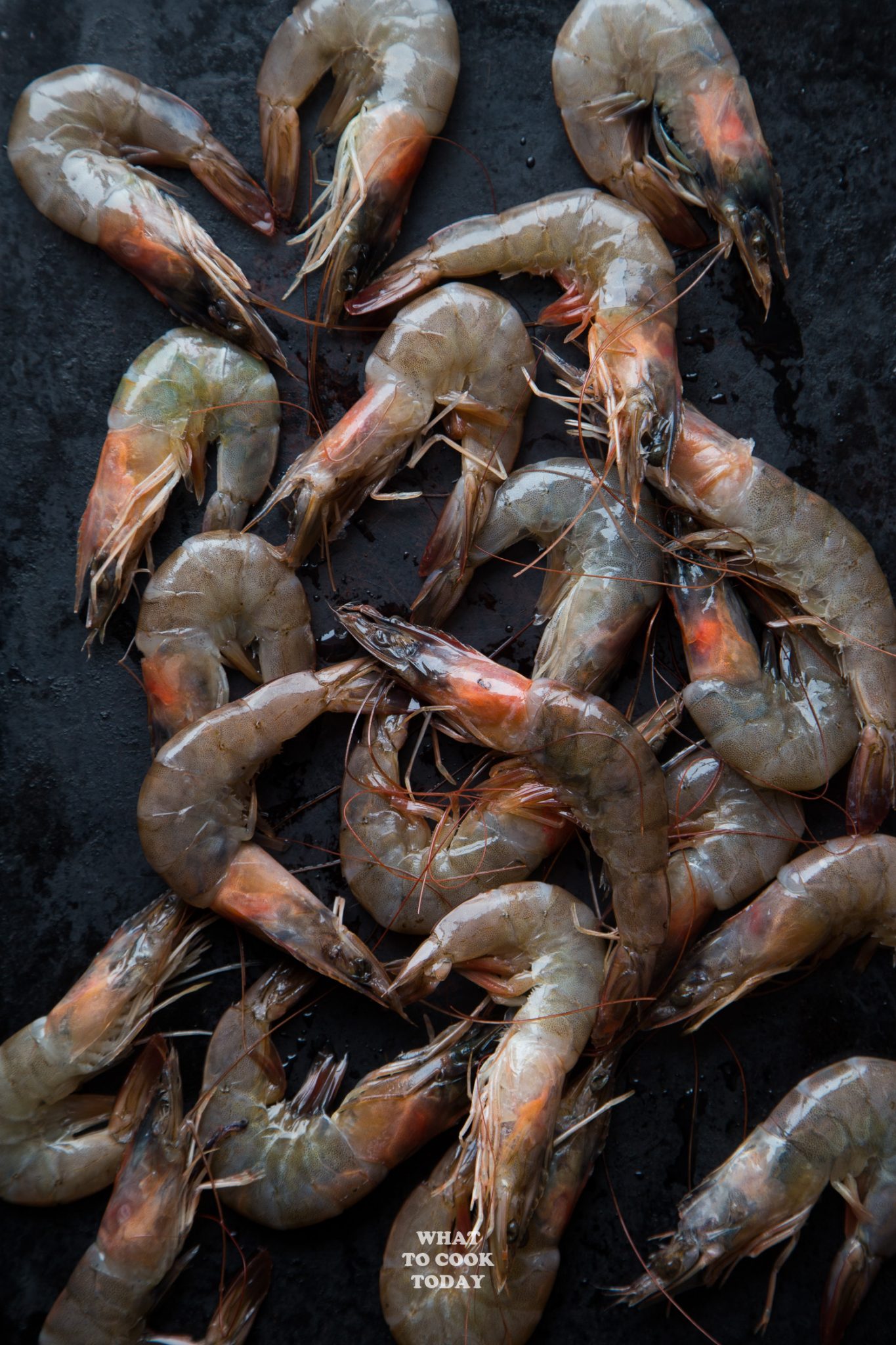 What I like about prawn noodle soup is the soup itself. It's kind of "briney" with a little hint of sweetness. It's hard for me to describe, but I like it. As with many other noodle soup recipe, the work is mainly in the soup itself.
If you are making this on stove-top, you need to have some time to prepare the soup and to make sure the ribs are cooked through and really tender. The soup is mainly made from the shells, heads, and tails of the very prawns you are going to eat. Sound gross you may say, but I encourage you to give this a try. The spices like star anise, cloves and peppercorns also give a very nice kick to the soup.
I made the soup and cooked the ribs in instant pot, which was really convenient.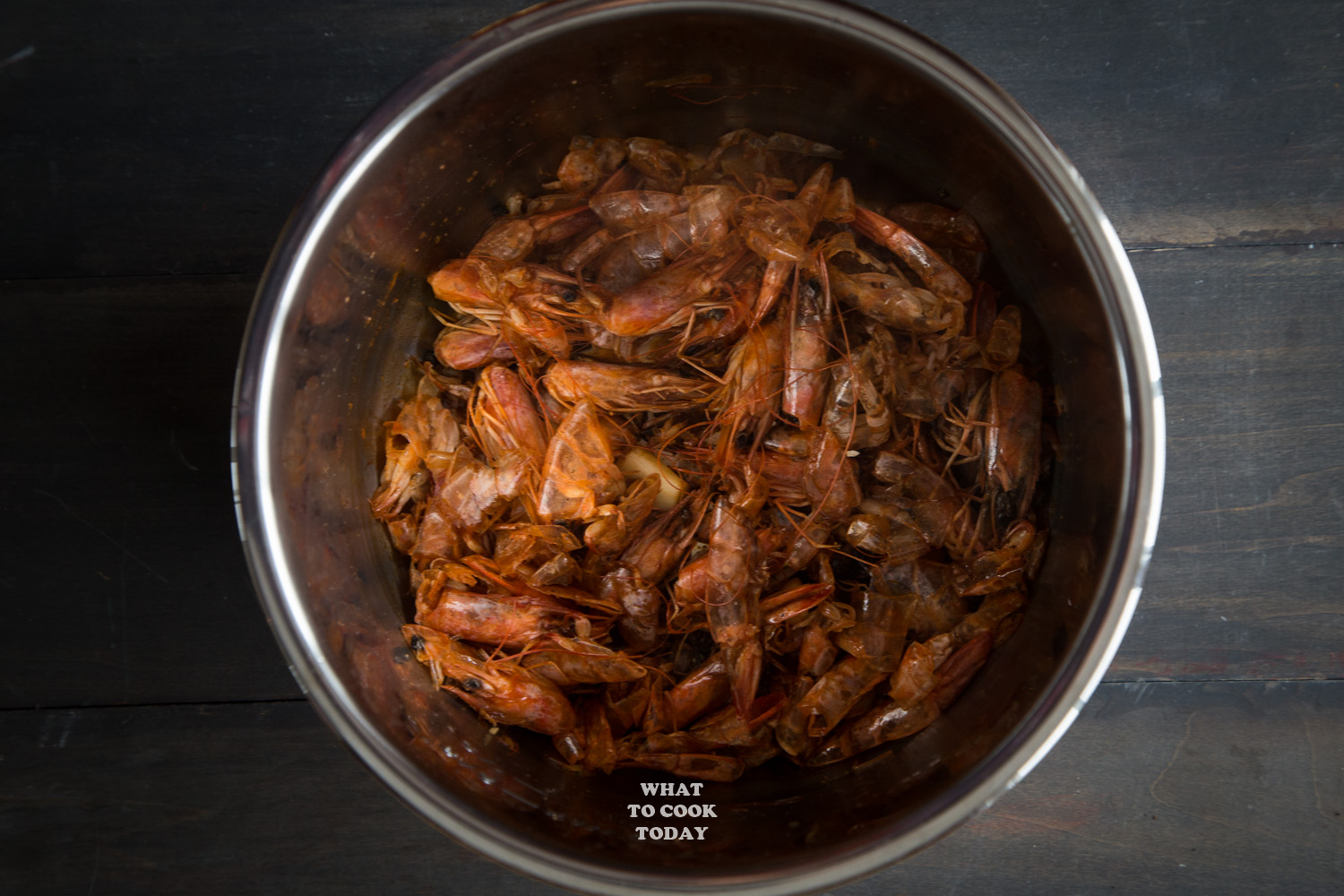 I then strained the soup and discard all the solids (except for the ribs) and then served it with noodles and blanched water spinach (kangkung)
I was craving for it so badly and decided to make this again. No one ever seems to complain if I make this. It's our favorite! The rich reddish color of the soup comes from the juice inside the head of the prawns!
A pure comfort in this cold weather. Well, I always have room for this even in the hottest of Summer 😉 Back at home, we don't really eat based on the season because it's either rain or shine. Noodle soup is a comfort food for many despite the weather!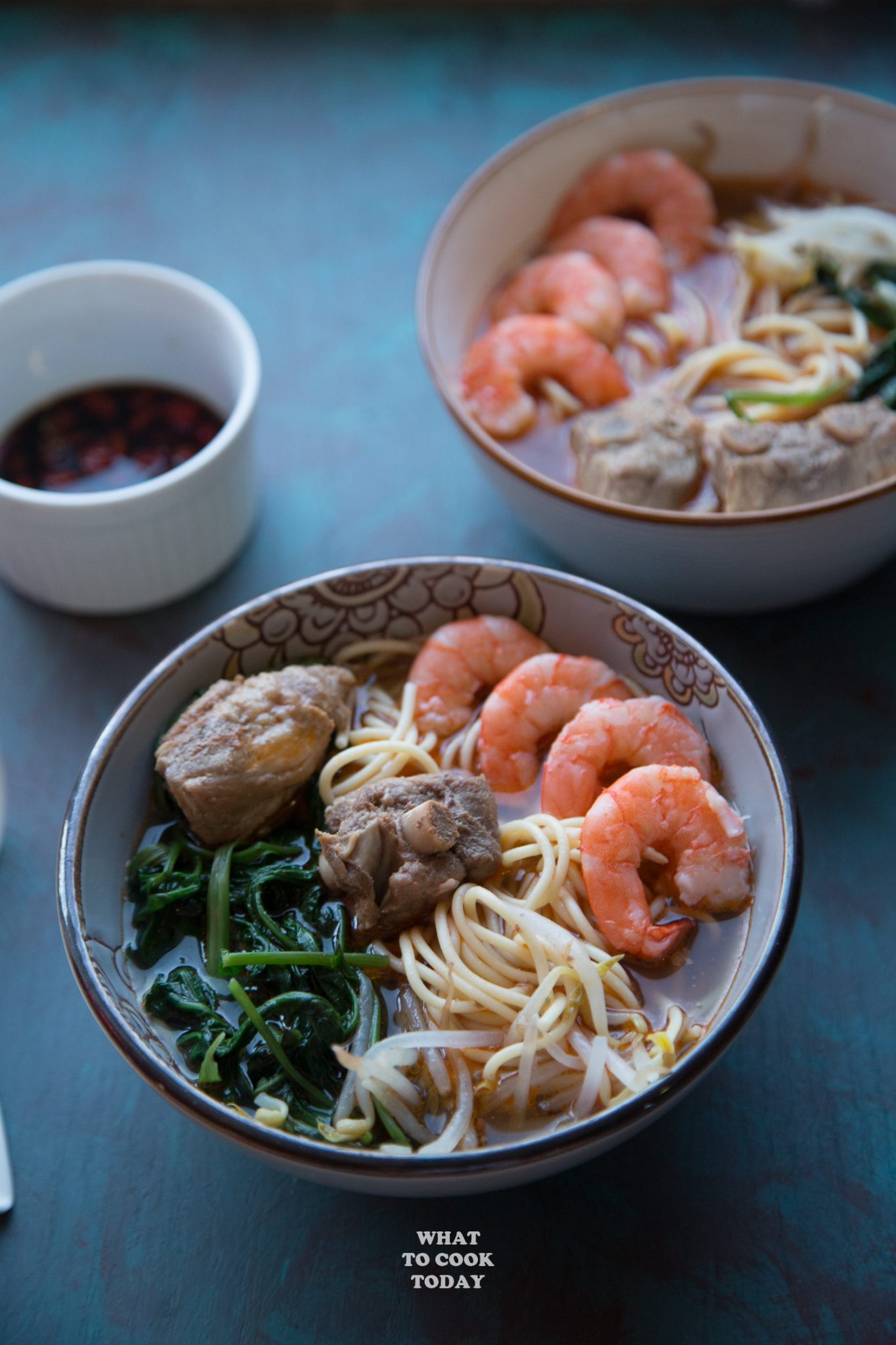 Now…allow me to indulge for a moment


*This post contains affiliate links, which support this site at no extra cost to you
Singapore Prawn and Pork Ribs Noodle (Hae Mee)
Noodles are served with umami-rich broth made of prawn shells and pork ribs. Recipes for both Instant Pot and cooking on stove-top are included.
Print
Ingredients
1

lb

of Chinese yellow noodles or rice noodles/vermicelli or flat rice noodles/kwe tiau or Spaghetti if you want

3

lbs

pork ribs

(cut into 2-inch pieces)

16-20

jumbo prawns with heads and tails intact when you purchase

(shelled and deveined, keep the head, tails and shells)

2

cups

fresh bean sprouts

1

small bunch of water spinach/kangkung

pick the leaves and tender stems

4

cloves

of garlic

(minced)

3 cloves

7

black peppercorns

1

Tbsp

of dark soy sauce

1

Tbsp

of brown sugar

2

Tbsp

cooking oil

Salt and white pepper to taste

6

cups

of water

4-5

red chili

(chopped)

Soy sauce for the chili
Instructions
If using water spinach/kangkung and bean sprouts, bring a medium pan of water to a boil, cook the bean sprouts briefly about 30 seconds in boiling water. Then blanch water spinach briefly for about 1-2 minutes. Turn off the heat, drain and run them under cold water. Set aside. Prepare the noodles by bringing a large pot of water to a boil, depending on which type of noodles you use, follow the instruction on cooking the noodles. Set aside

Clean and devein the prawns. Save the heads, tails and shells to make the prawn stock to use as soup base
Making the soup with Instant Pot:
Press saute on Instant pot. When it says "Hot", add 2 Tbsp of oil and saute the prawn heads, shell and tails until they are fragrant and the color changes to orange. Add the brown sugar and garlic and saute again until the garlic is fragrant

Pour in the water and add in the peppercorns, star anise, cloves, soy sauce and pork ribs. Turn off saute mode. Close the lid. Press Pressure Cook, High Pressure and set the timer for 15 minutes. When the timer is done, wait 10 minutes and then turn steam release handle to venting. Wait until the pressure valve goes all the way down and then open the lid

Remove the pork ribs from the stock and set aside. Strain the stock into another pot. Discard the shells and spices. Add the pork ribs back into the pot, turn the saute mode on. Bring it back to a boil. Add in the shrimps and cook for about 2 minutes. Have a taste. It should be savory, with a hint of sweetness. Season with more salt if needed or a bit more sugar to your liking.
Making the soup on stove-top:
Bring a large pot of water (enough to cover the pork ribs) to boil. Put in the pork ribs and blanch it until the pork started to turn color, about 5 minutes and turn off the heat. Drain the water and set aside. Clean the pot up of any scums. This step is to get rid of the "meaty" smell from the ribs

Preheat your pot again over high heat. Add 2 Tbsp of oil and saute the prawn heads, shell and tails until they are fragrant and the color changes to orange. Add in the brown sugar and garlic and saute again until the garlic is fragrant

Pour in the water and add in the peppercorns, star anise, cloves, soy sauce and pork ribs. Bring it back to a boil and then lower the heat and let it simmer for about 45 minutes to 1 hour or longer until the ribs are fork tender. Remove the pork ribs from the stock and set aside. Strain the stock into another pot. Discard the shells and spices

Add the pork ribs back into the pot, bring it back to a boil. Add in the shrimps and cook for about 2 minutes. Have a taste. It should be savory, with a hint of sweetness. Season with more salt if needed or a bit more sugar to your liking. Turn off the heat
Serving:
Portion individual cooked noodles, water spinach, prawns and ribs into serving bowls. Ladle the hot soup over the noodles and everything else

Serve with chopped red chili doused in soy sauce if you prefer

Check out these noodle recipes too:
SURIMI CELLOPHANE NOODLE SALAD
SAUCY CURRY SHRIMP CHOW MEIN
INSTANT POT OXTAIL HO FUN NOODLE SOUP
SHIO RAMEN