Kolak Ubi Pisang – Sweet potatoes, cassava, plantain, are served in creamy sweet coconut milk as dessert. Gluten-free and Vegan.

It's amazing how food can walk you down that memory lane. It's actually the main reason why I started this blog to begin with. I missed comfort food from home. The familiarity of the food makes you feel close to home. I remember vividly when my mom brought my sister and me to the market, there would be stalls selling dessert like kolak and we always made a stop and have some before continued on strolling the market that day.


I always like mine served cold maybe because of the hot tropical weather we have back at home. They will put some ice in it. Some people like it served warm. It was a fond memory that I can never forget.

Kolak is an Indonesian-style dessert made with gula Jawa / dark palm sugar, coconut milk, and screw pine leaves (pandan leaves) for flavor. This sweet dessert can be prepared using plantains, sweet potatoes, tapioca roots, and jackfruits. It's not unusual to add beans or even tapioca pearls. No doubt this is one of my favorite Indonesian desserts.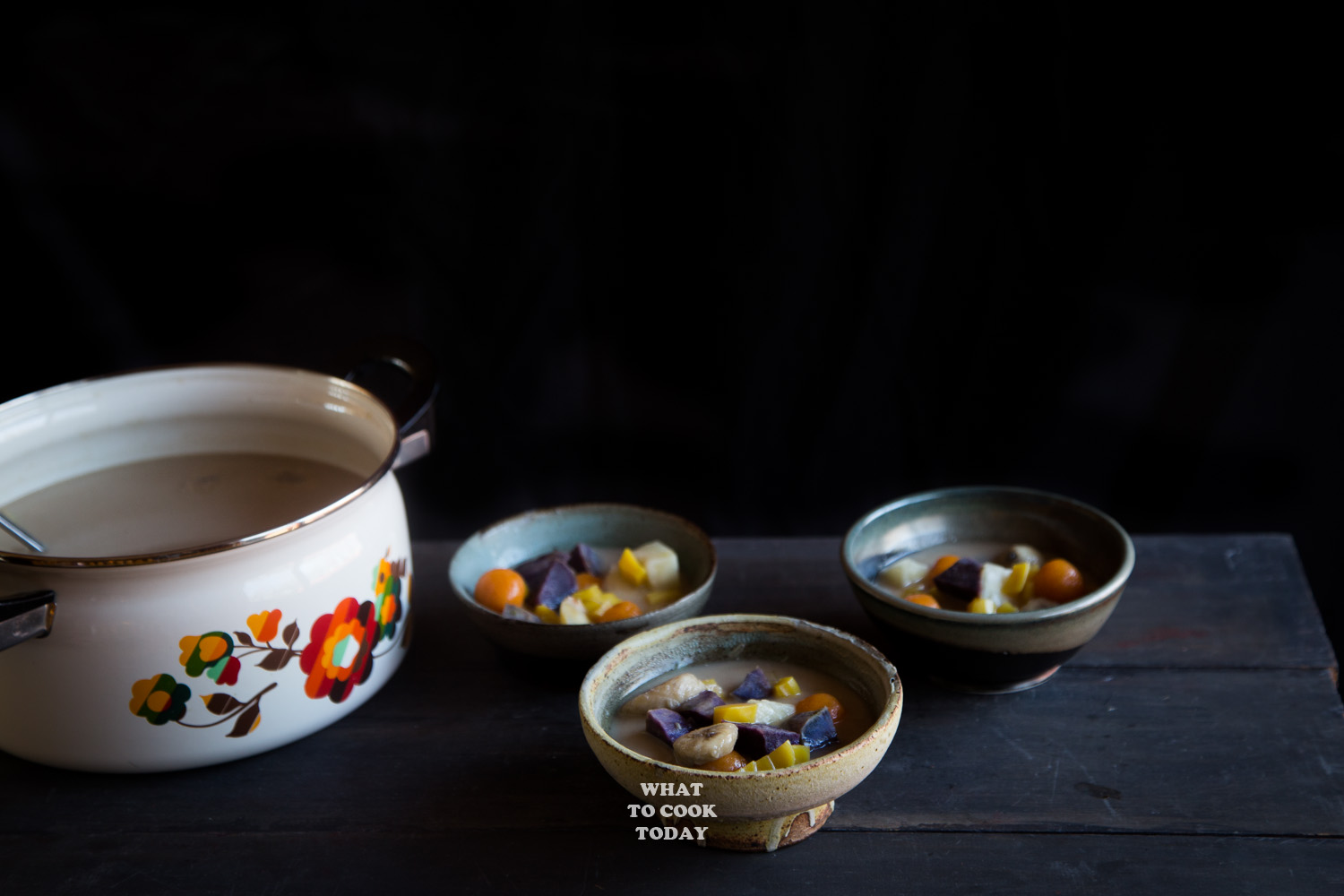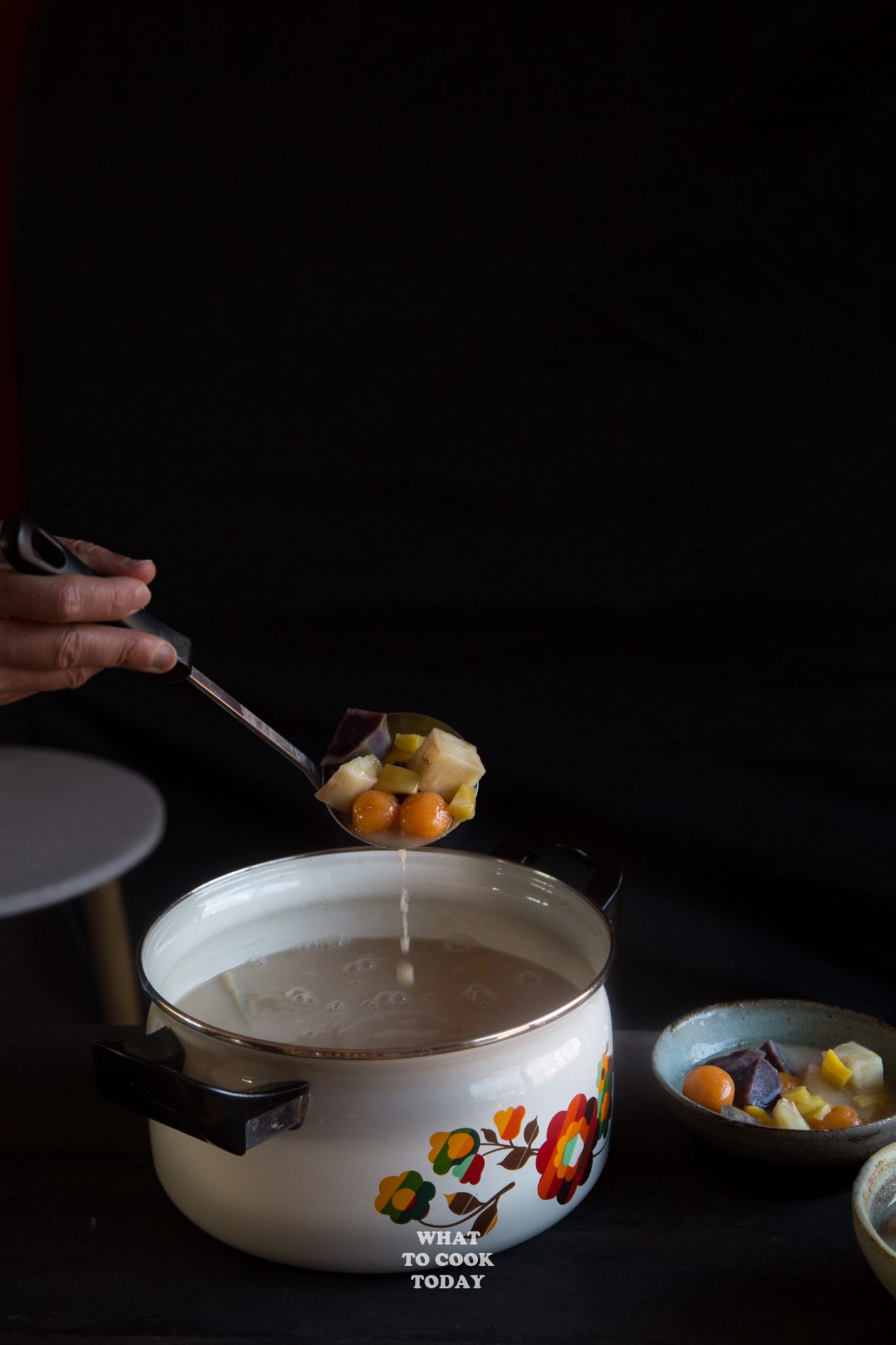 *This post contains affiliate links, which support this site at no extra cost to you
Kolak Ubi Pisang (Sweet potatoes, cassava, plantain in coconut milk)
Ingredients
300

gr

peeled cassava/tapioca

peeled, cut into bite-sized pieces

300

gr

purple sweet potato

peeled, cut into bite-sized pieces

300

gr

sweet potatoes

peeled, cut into bite-sized pieces

6

cups

water

2

screw pine leaves

washed and tied into a knot

240

ml

coconut cream

100

gr

palm sugar

or sub with brown sugar

4

-5 plantains

cut into 1-inch slices

6

pieces

of jackfruit – cut into bite size

you can get this in a can

½

tsp

salt

Small pinch of salt
Instructions
Prepare a steamer and steam the sweet potatoes, ube, tapioca for 7-10 minutes, or until they are soft when you pierce it with a fork, but not mushy. You may need to do this in batches. Meanwhile, prepare a large pot. Add water and bring to a boil. Add the screwpine leaves and palm sugar and cook until the sugar is melted

Add the steamed cassava, tapioca, ube and coconut cream. Continue to stir for the next 10 minutes or so, so the coconut milk will not boil over and separate and you will get white patches in your Kolak (not a pretty sight). Remove the screwpine leaves

Turn off the heat and add in plantains, jackfruits, and the sweet potato dumplings you made earlier. Add a small pinch of salt. Have a taste. It should be sweet and fragrant. If it's not sweet enough for you, add more sugar to your taste if needed. Ready to serve warm or cold
Notes
You can keep leftover in the refrigerator for up to 2 days. The tapioca pearls will toughen when cold, but will back to its soft chewy texture once reheated
CHECK OUT THESE desserts:
Biji Salak (Sweet Potato Dumplings in Coconut Sauce)
Kue Nagasari (Indonesian Rice Flour Cake with Banana)
Sweet Potato Ginger Soup