Sweet potatoes are cooked with dried black dates and dried longan and lightly sweetened with rock sugar and served as dessert.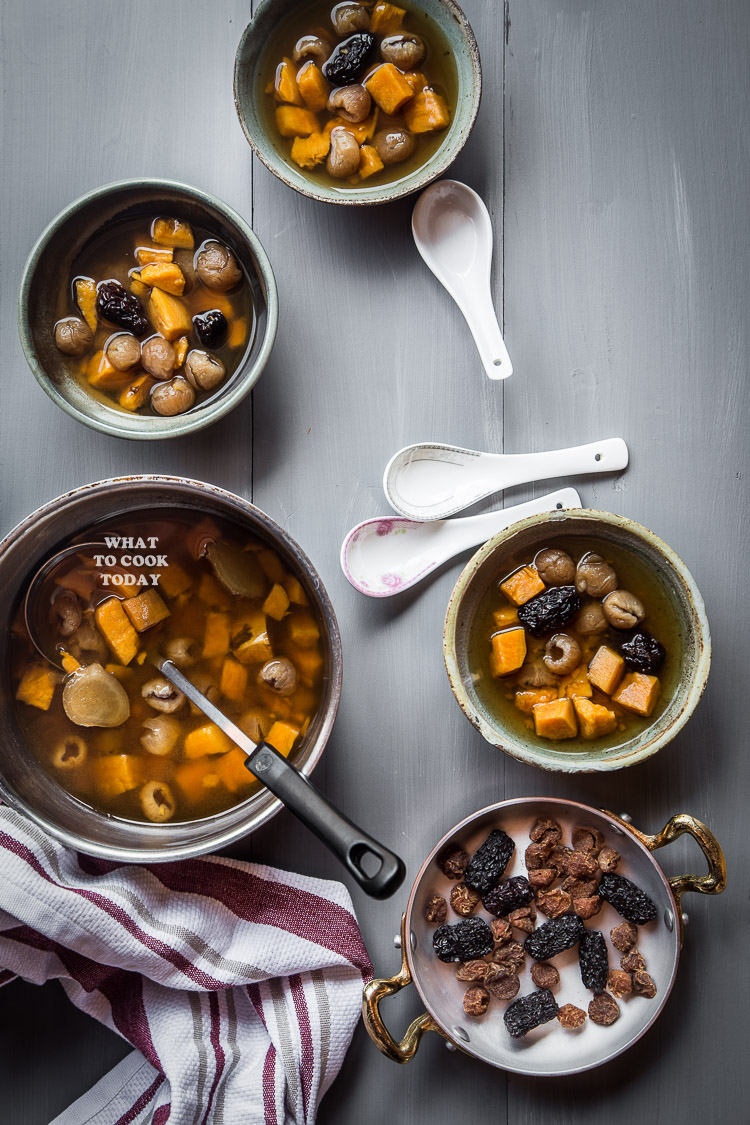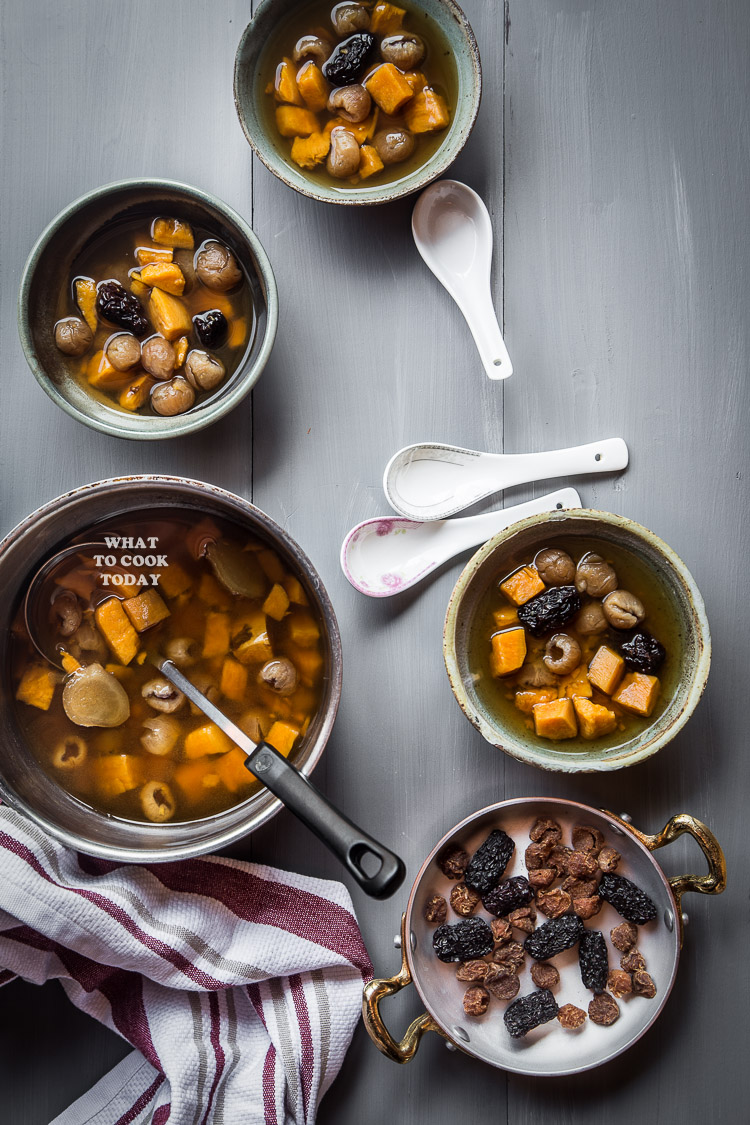 It just seemed like it's not that long ago that mom made me this sweet potato ginger soup. When our now, 6-year old daughter, was only 6 days old to be exact! I haven't made it since. How quickly I have forgotten about those super long sleepless nights. When I thought I couldn't go on another day and I was as good as dead when baby and I were on a marathon feeding all days and NIGHTS! "That too shall pass" only provoked my anger (my husband learned the hard way not to say that in front of me!).
My hubby would "catch" me trying to nurse my pillow while sleeping! I always had this vivid dream, I swear almost every night, that I couldn't find Fiorina's head to nurse her. Well, the fact that I couldn't find it was because I wasn't actually dreaming. It's almost like when someone is sleepwalking. I would sit on our bed and pat my pillow (as I would my baby) and tried to nurse the baby and ended up panicking because I couldn't locate her face and woke up only to realize that it's the FREAKING PILLOW! This went on for a while! Apparently, the lack of sleep and the frequent nursing (every 1 1/2 to 2 hours) that was going on for the first 6 months really messed me up! Sleep deprivation can do funny things to you! BUT… we laugh about it these days. I remember I swore to myself when we were done with breastfeeding I would nap every day and sleep 8 hours every night. Ha! guess what, no nap! and we often go to bed late at night (This woman never learns!)
I thought this blog would have been abandoned for a long while after the two kids, but, I guess I was wrong! It's my little corner. I work on it almost every night after the kids go to bed. In case you don't know, it's a lot of work to churn out a blog post or even just to do a little maintenance here and there 🙂 At least I feel that way! I was goint through some of the recipes and saw this sweet potato and ginger soup and I thought I would make it again (and also to update with "better" photos!)
My mom added dried black dates and dried longan to the sweet potato ginger soup. Those two added some sweetness to the soup and I especially like eating the all plumped up black dates and longan. The Chinese believe that ginger provides that "heat" that is good for the body. Dried black dates and dried longan are also considered as "heaty" ingredients. My mom has "lectured" me a lot on consuming "heaty" food after childbirth. It helps the body to recover and replenish the energy in the body. That was why she made me this sweet potato and ginger soup more than 6 years ago 🙂
This blog post contains affiliate links. I earn a small commission when you made purchase at no extra cost to you. Learn more.
Sweet Potato Ginger Soup
Ingredients
500

gr

sweet potatoes

30

gr

fresh ginger roots

peeled and sliced

6

cups

water

10

dried black dates

15

dried longan

20

gr

rock sugar

or more to your taste
Instructions
Peel, wash and cut the sweet potatoes into 2-inch cubes. Bring water to a boil. Add ginger, sweet potatoes, black dates, and dried longan. Lower the heat and simmer for 30 minutes or longer until the sweet potatoes are soft but not mushy. Add rock sugar and taste. You can serve it hot or cold