Alkaline dumplings are made by using sticky rice treated with alkaline water, wrapped in bamboo leaves to resemble cones, boiled, and then served with palm sugar coconut milk syrup or like me, just dip them in sugar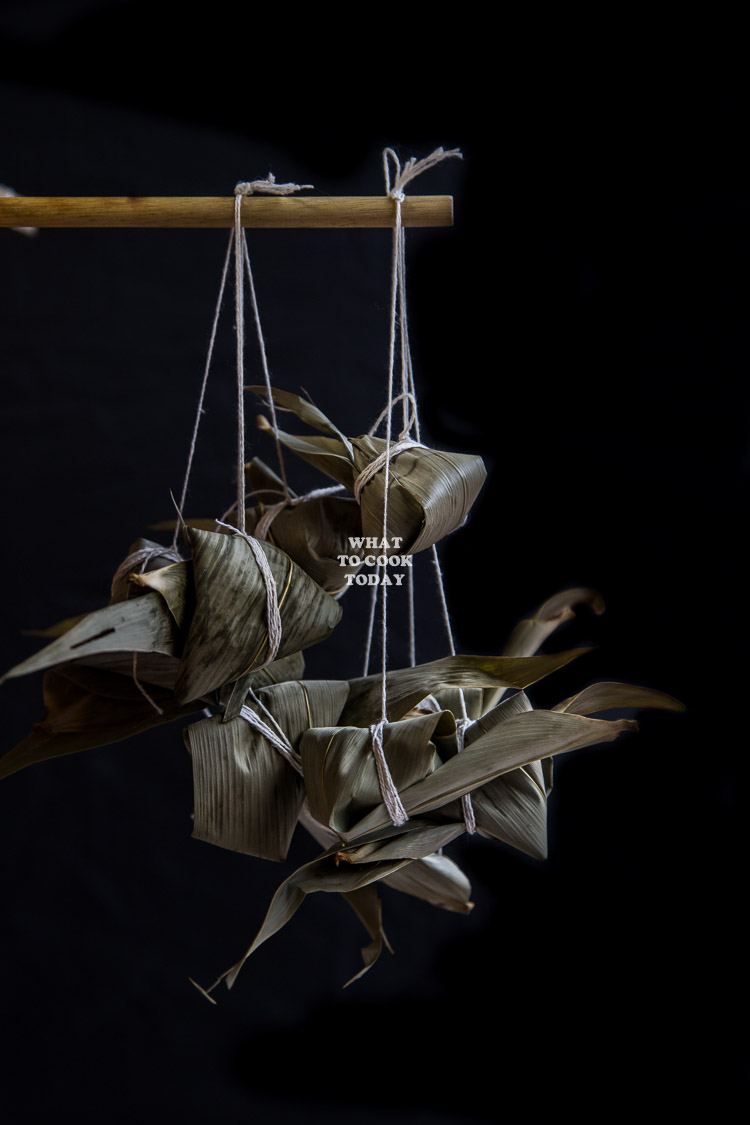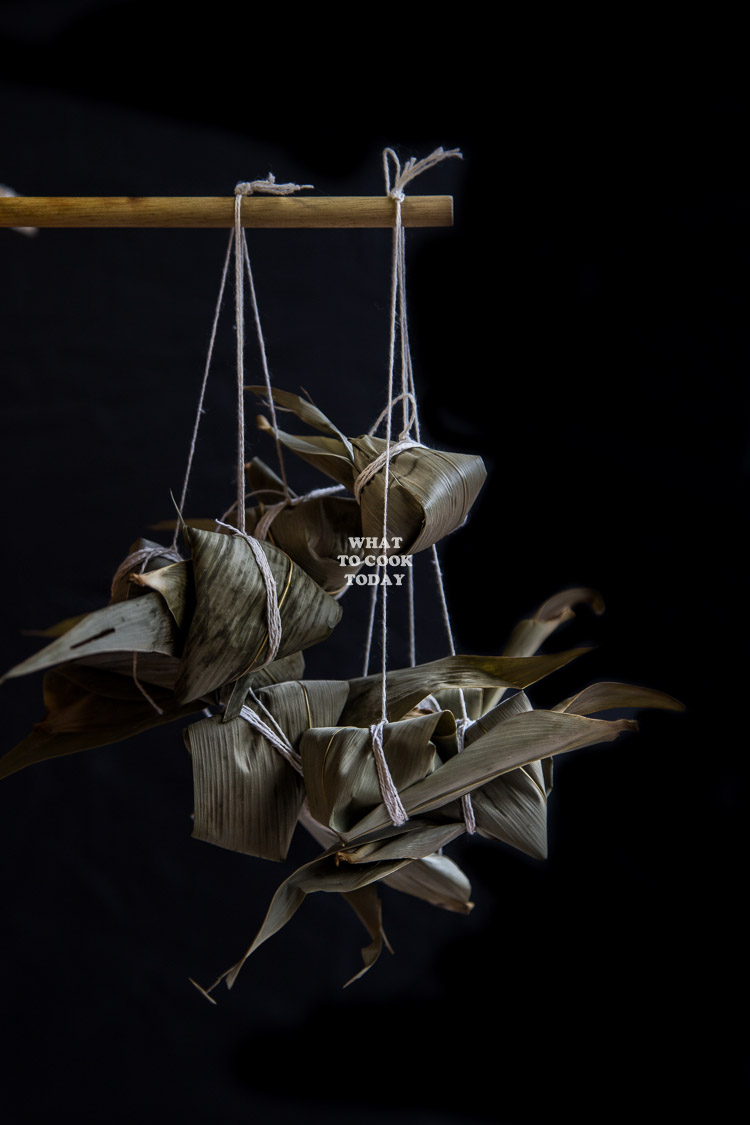 Duan Wu Jie (Dragon Boat Festival) usually is celebrated in May or June (depending on the Chinese Lunar Calendar), which means you will see sticky rice dumplings everywhere in East Asia and Southeast Asia. I talked more about the dragon boat festival on my other savory sticky rice dumplings /bak cang. Both kee cang and bak cang are commonly seen on this special day.
I love eating kee chang as a kid because there's nothing bring more joy than dipping the dumplings in a bowl of sugar! Biting into that crunchy sugar and sticky bouncy dumplings is pure foodgasm (so the husband said!)
Alkaline dumplings are usually made in smaller size (bite size) and so you can imagine how easily I could pop these babies in my mouth without thinking much. Glutinous rice is pretty "filling" though, so really 4 of these guys and they sure filled me up.
There are so many different ways to wrap dumplings and I'm by no means an expert, but just want to show you how I wrapped mine. Kitchen twine is easier for me to work with, feel free to use whatever strings you want to use.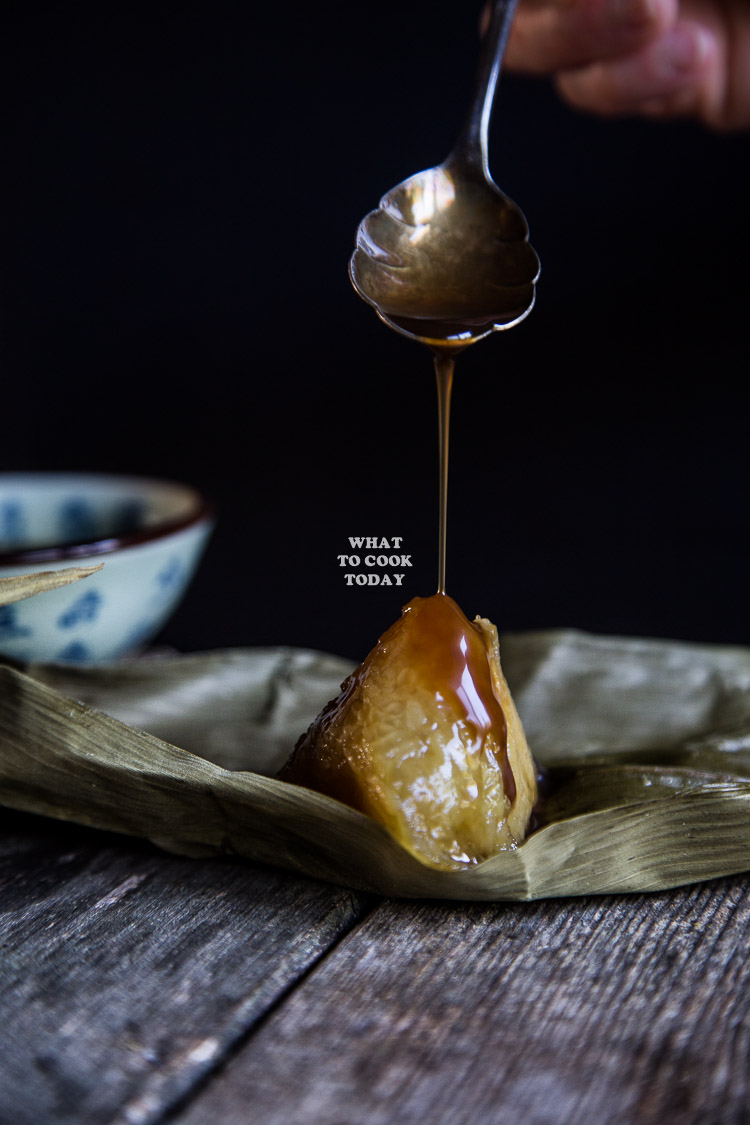 DISCLOSURE: This post contains affiliate links, which support this site at no extra cost to you. Learn more.
Alkaline Dumplings / Kee Chang
Alkaline dumplings are made by using sticky rice treated with alkaline water, wrapped in bamboo leaves to resemble cones, boiled, and then served with palm sugar coconut milk syrup or like me, just dip them in sugar
PIN RECIPE
PRINT RECIPE
Ingredients
1

Tbsp

alkaline water/lye/ kan sui

1

Tbsp

cooking oil

40

or more bamboo leaves

Kitchen twine to tie the dumplings
Serve with (choose one):
White sugar

Palm sugar coconut milk syrup (recipe follows)
Palm sugar coconut milk syrup:
250

gr

palm sugar (roughly chopped)

sub with dark brown sugar if you must

50

ml

water

100

ml

coconut cream
Instructions
Preparing the rice and bamboo leaves
Soak the rice in water (covering the rice) for at least 8 hours. You can do it for 4 hours too but just have to boil a bit longer. Soak the bamboo leaves in water the day before you plan to boil the dumplings

Drain the soaking water off. Place the rice in large mixing bowl. Add alkaline water and cooking oil. Use a spoon to mix. You will notice that the rice will change color slightly to be yellowish due to the alkaline water
Wrapping (please refer to short video above)
Drain off the water used to soak the bamboo leaves. Give the leaves few rinse of water. The soaked bamboo leaves should be supple and easy to fold now after being soaked. Wipe it dry and then lay one bamboo leave horizontally. Pick it up with both hands, and fold it to form a cone. Fill it up with rice leaving about 1/4 inch on top of the leave. Fold the top of the leave down covering the rice and then fold the two sides and fold again to form a triangle. Secure the dumpling with strings

Place the dumplings in a large pot and fill it up with water, covering the dumplings and boil for about 1 1/2 to 2 hours. If you soak for 8 hours and more, it will take about 1 1/2 hours to boil the dumplings. If you soak for 4 hours, boil for 2 hours. The dumplings are slightly soft at the end of cooking (this is normal). They will harden as they cool down. I place them on a cooling rack on top of the baking sheet to let the water drip off and cool down. Best serve the next day. You can serve by dipping in white sugar or make the syrup below
Making the syrup
Place the palm sugar and water in a saucepan. Let it cook until the sugar has melted. Add in the coconut cream and stir until the mixture is well combined and slightly thickened. Store in a jar in refrigerator for up to 2 weeks