Learn how to make smooth and shiny sweet red bean paste (dou sha) or known as Anko in Japan that you can use as filling for many Asian pastries, Chinese mooncakes, bread, baked buns, steamed buns, or just eat by spoonfuls if you wish. Instant pot-friendly. Vegan and gluten-free.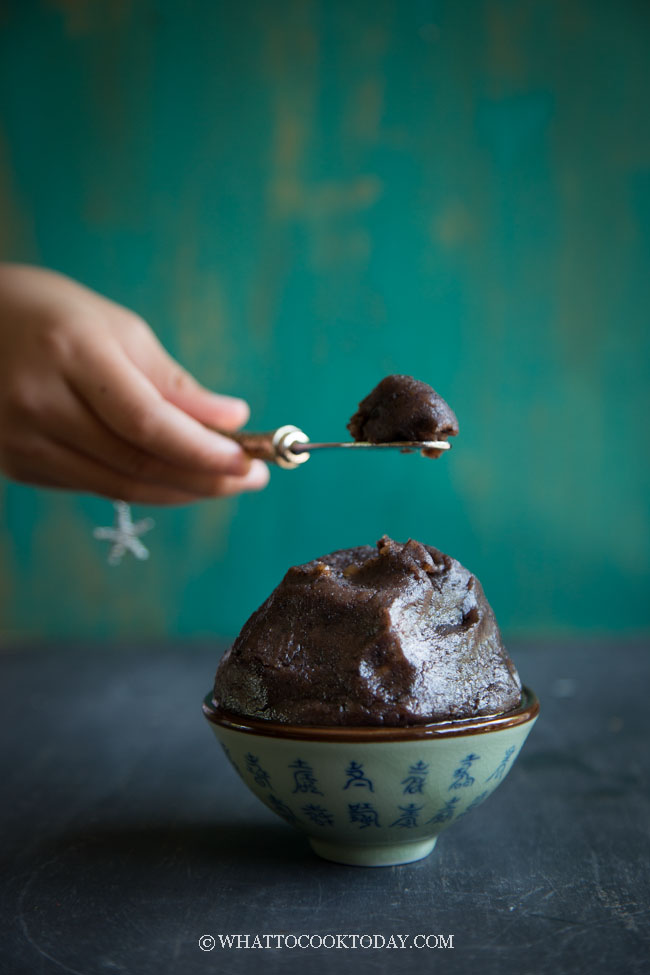 Sweet red bean paste (dou sha) is very commonly used as filling for steamed buns, bread, or pastries in Asian cooking. I used to buy readymade dou sha, but homemade dou sha is pretty straightforward to make too and with a pressure cooker, you don't even need to soak the bean if you don't want to.
INGREDIENTS FOR SWEET RED BEAN PASTE
1. SMALL RED BEANS (AZUKI BEANS)
Small red beans or azuki beans are available at Asian grocery store in dried form.
2. SUGAR
Regular white sugar is used in this recipe. The level of sweetness can be adjusted to your liking.
3. COOKING OIL
The cooking oil is added to create that shine and smoothness to the paste to make it suitable to roll into balls which you can use for filling later
4. CORNSTARCH
The cornstarch binds everything together and make the paste easier to work with
5. SALT
Adding a small pinch of salt really elevates the final taste of the sweet red bean paste. We love it!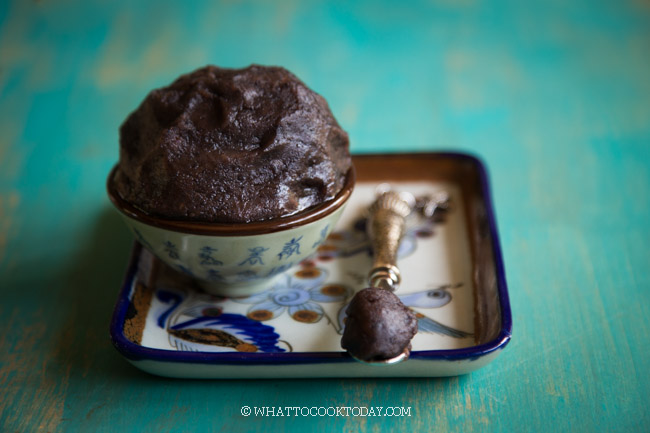 HOW TO MAKE SWEET RED BEAN PASTE FROM SCRATCH
1. SOAK THE BEANS FOR AT LEAST 6-8 HOURS
2. COOK THE BEANS
If cooking on the stove: Boil the beans for 45 minutes or until the beans can be easily mashed
If cooking with pressure cooker: If the beans are soaked, pressure cook the beans on high pressure with some water for 20 minutes. If the beans are not soaked, pressure cook on high pressure for 40 minutes.
3. BLEND
Blend the cook beans in a blender or use an immersion blender into a paste consistency.
4. COOK AGAIN
Transfer the bean paste to a saucepan. Add sugar and oil and cook over medium heat until the paste is dry.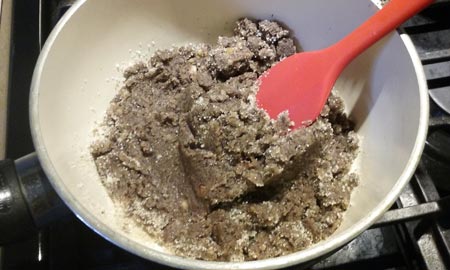 5. Continue to cook until the paste is shiny and started to leave the sides of the pan.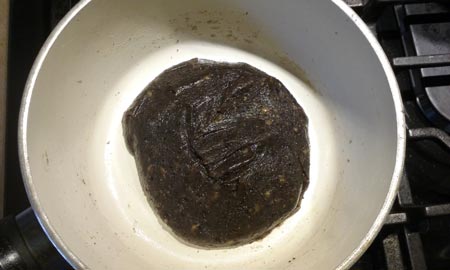 6. LET IT COOL DOWN
Let the sweet red bean paste cool down completely before storing. They can be kept in the refrigerator for up to 2 weeks. You can freeze them for longer storage.
WHAT CAN I USE DOU SHA FOR?
You can use it as a filling for : Dou sha bao, Jian dui, Red Bean Pastry (Tau Sa Pia), Dorayaki, Sweet Red Bean Popsicle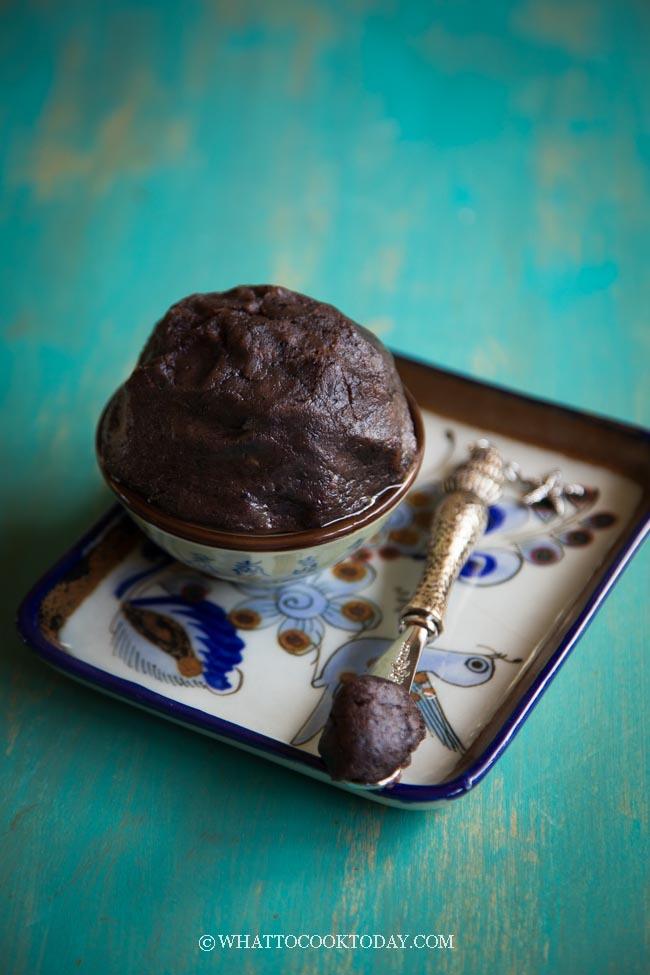 FREQUENTLY ASKED QUESTIONS FOR MAKING DOU SHA
1. Dou sha came out so runny
It is important to drain off water after cooking the red beans and cook off the water. Too much moisture will make it soft and not suitable as filling for bread, steamed buns and pastry as this will affect the overall result
2. Does it have to be smooth or chunky?
It can be both. It really depends on your preference. If you like a chunkier texture (you can still see some beans), then don't process it in a food processor and just manually mash it
3. Can I pressure cook red beans?
You certainly can. In fact, I love to pressure cook beans because I don't have to presoak the beans. See recipe for more detailed instructions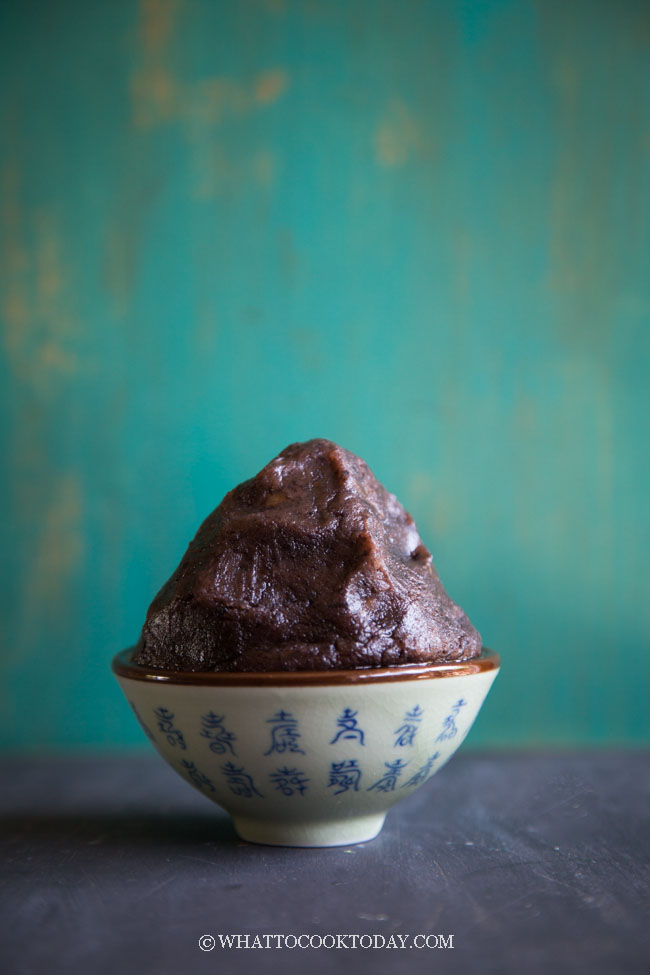 DID YOU MAKE THIS HOMEMADE SWEET RED BEAN PASTE RECIPE?
I love it when you guys snap a photo and tag to show me what you've made 🙂 Simply tag me @WhatToCookToday #WhatToCookToday on Instagram and I'll be sure to stop by and take a peek for real!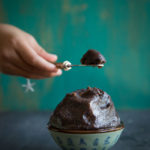 Instant Pot Sweet Red Bean Paste (Dou Sha)
Instructions
Stove-top method:
Soak the bean for at least 8 hours. I soaked mine overnight and then discard the water

Prepare a big pot and add water, about 2-inches above the beans. Boil the beans until they are soft or cracked open in most cases, about 1 to 1 1/2 hours. You may need to top off with some water along the way. Proceed to "Blending the paste"
Instant Pot method:
Place the beans in the insert of the instant pot. Add water about 1 inch above the beans. Cover the lid. Turn the steam release handle to seal. Press pressure cooker and set timer to 40 minutes if you did not soak the beans. If you soak the beans, set the timer to 20 minutes

When the timer is up, wait for 10 minutes and then release pressure. Discard the water. The beans can be easily mashed with your fingers when you squeeze it. Proceed to "Blending the paste"
Blending the paste:
Drain off the water and pour the beans into your blender or use an immersion blender and puree until they become a paste consistency. You can add the cooking oil to help it goes if necessary. Don't worry about discarding the shells of the beans, this will all be blended 
Cooking the paste:
Spread the paste on a non-stick skillet with a rubber spatula or wooden spatula and add the sugar,oil (if using), and salt. The paste will seem a bit "runny" at first but continue to cook it on medium-high heat until the color darkens and the paste is thickened again and most of the water has cooked off and the paste can hold its shape. The paste will be smooth and shiny and leave the side of the pot. This is perfect consistency if you are going to use the paste as filling in pastries, steamed buns, etc

Let them cool off before filling if you are using it. They will thicken further after they cool down
Storing:
You can portion them out into 2-3 servings in a glass jar and store in the fridge for up to 2 weeks. You may also freeze them and they can keep for 3 months. Just thaw in the refrigerator when ready to use them. No recooking required
Notes
You can omit the oil if you are using the red bean paste as a filling for steamed buns, bread, or baked buns. I won't recommend omitting the oil if you are using this as a filling for mooncakes or other pastries.
Nutrition
Serving:
1
recipe
|
Calories:
1154
kcal
|
Carbohydrates:
95
g
|
Protein:
17
g
|
Fat:
81
g
|
Saturated Fat:
6
g
|
Polyunsaturated Fat:
23
g
|
Monounsaturated Fat:
51
g
|
Trans Fat:
0.3
g
|
Sodium:
630
mg
|
Potassium:
807
mg
|
Fiber:
15
g
|
Sugar:
51
g
|
Vitamin C:
2
mg
|
Calcium:
78
mg
|
Iron:
6
mg