Learn how to easily make delicious Nyonya chang with Instant Pot pressure cooker or regular boiling method with step-by-step photos and video.
WHAT IS NYONYA CHANG ?
Nyonya cuisine or sometimes you will refer to as Peranakan cuisine is a hybrid between the traditional Chinese and Malay cooking. The term Nyonya or Peranakan is commonly used in Indonesia, Malaysia, and Singapore where both Chinese and Malay influence exist. Nyonya chang is basically a variation of the traditional Chinese zong zi created by the peranakan people.
DIFFERENCES BETWEEN NYONYA CHANG AND OTHER ZONGZI (BAK CHANG)
APPEARANCE
The Nyonya chang is typically characterized by its blue color on some part of the dumplings more often than not, though not always. It's totally fine not to have the blue color too.
THE FILLING
The filling is infused with a strong Malay spice we know as coriander seeds (don't be mistaken with coriander leaves, which is totally different in aroma and taste) or we call it ketumbar in Indonesia. Kencur (lesser galangal) is also added. These two make very distinct pleasant aromas.
THE TASTE
Chinese zong zi is savory in taste. Nyonya chang taste more at the sweet side than savory, thanks to the candied winter melon. Coriander seeds and kencur pair well with a sweet taste.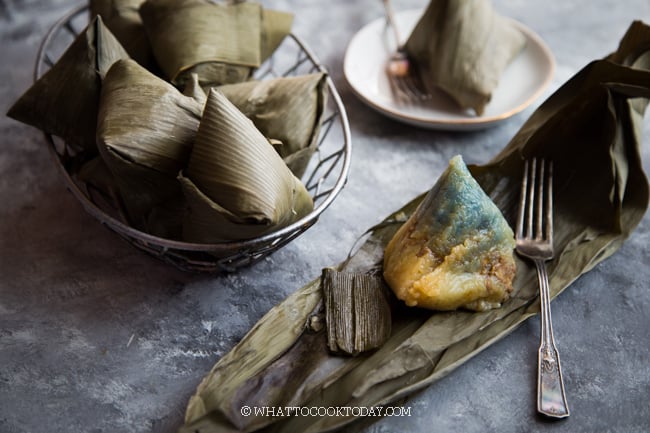 WHY YOU WILL LIKE THIS RECIPE
1. YOU CAN COOK NYONYA CHANG IN INSTANT POT PRESSURE COOKER
It seriously saves lots of time by doing so. I don't even need to soak the glutinous rice for hours. Boiling method will take about 2 1/2 to 3 hours. Pressure cooking takes 45 minutes! I could probably get away with 40 minutes, but 45 minutes turned out great.
2. INGREDIENT SUBSTITUTION
Traditional Nyonya chang uses winter melon candies in the recipe. It's nice to be able to bite into pieces of sweet candied winter melon in there. If you don't have any, just use regular Chinese rock sugar and the pork filling is still delicious. So there's really no need to go worldwide hunting for this.
COOK'S TIPS TO MAKE NYONYA CHANG MAKING LESS OVERWHELMING
Trying to do everything on the same day will seriously leave you breathless and frustrated. It can easily turn into a whole-day event. So here's what you can do:
1. PREPARE THE THINGS YOU CAN DO THE DAY BEFORE
– Soak bamboo leaves in water
– Cook the pork filling
– Soak glutinous rice (if you are not using pressure cooker to cook). You can skip this part if you'll use pressure cooker
2. ON THE DAY OF WRAPPING AND COOKING
– Discard water from soaking the rice. If not soaking the rice, simply rinse the rice with clean water
– You are pretty much ready to wrap the Nyonya chang at this point
Let's prepare the pork filling first shall we?
HOW TO MAKE NYONYA CHANG FILLING
1. Soak mushrooms in hot water until they are soft and plump. Cut into little pieces
2. Preheat a large skillet or wok. Add cooking oil. Add shallots and garlic and stir fry until fragrant, about 1 minute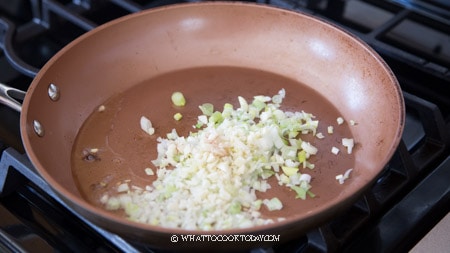 3. Add kencur (lesser galangal) if using and coriander powder. Stir fry for another minute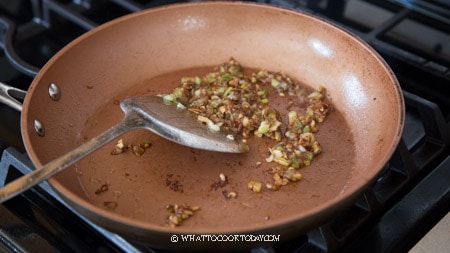 4. Add the pork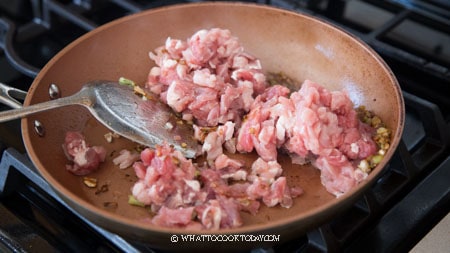 5. Continue to stir fry until the pork turns opaque


6. Add mushrooms and seasonings, candied winter melons. Stir to mix everything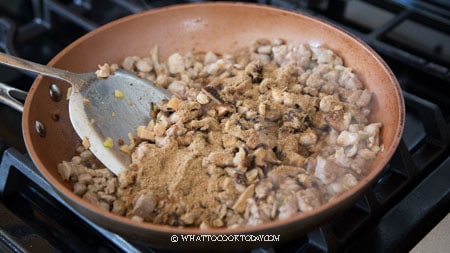 7. The final taste should be sweeter than savory. Add more sugar if needed. Add a small pinch of salt if needed too. Adjust the taste to your liking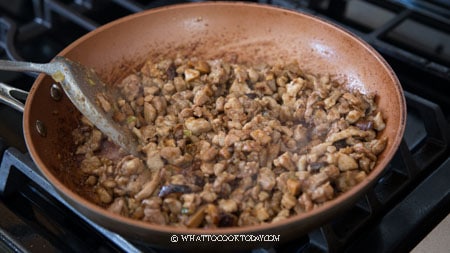 8.Let it cool down and then cover and store in the refrigerator until the next day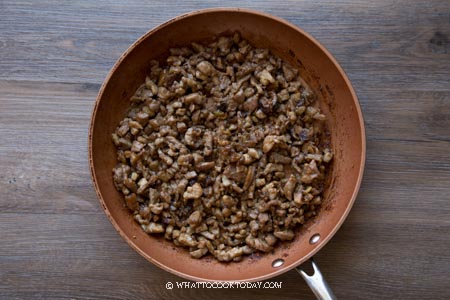 HOW TO WRAP NYONYA ZONGZI
Yes, I know the wrapping part can be overwhelming or a turn-off to most people. I have to admit that it does take some practice. The more you do it, the better you are at it. The first few dumplings you wrap may not be as nice, but you will get the hang of it. It's harder than it looks.
1. Use two bamboo leaves and place one on top of the other, I kinda slightly overlap them a bit to give a bit more space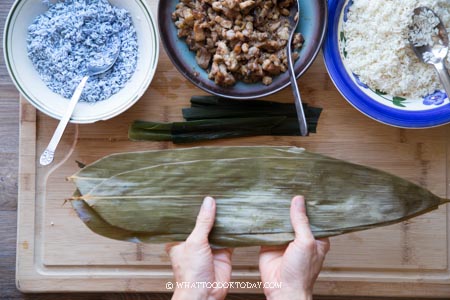 2. Fold in the middle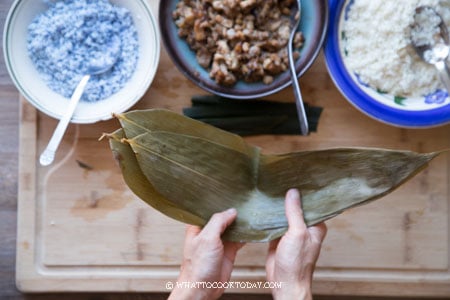 3. and then shape into a cone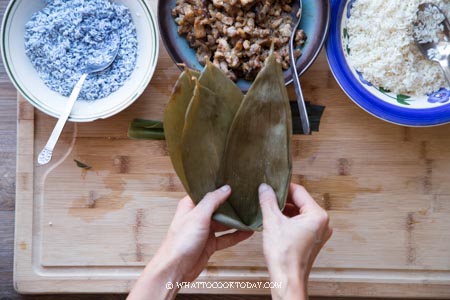 4. Place one small piece of pandan leaf on the side of the cone


5. Scoop in about a tablespoon of the blue rice. Use the back of the spoon to slightly pack it down


6. Scoop about 2-3 tablespoons of the pork filling on top of the blue rice. Again use the back of the spoon to lightly pack it down


7. Top up with more white glutinous rice, leaving about 1/4-inch from the top


8. There are many ways to wrap zong zi, you can use whichever way you are comfortable with. I fold one side down


9. Fold the opposite site down


10. They don't necessarily have to cover the rice after both sides being folded down


11. Fold the top part down


12. It will look like this now


13. Fold the two wings on the side down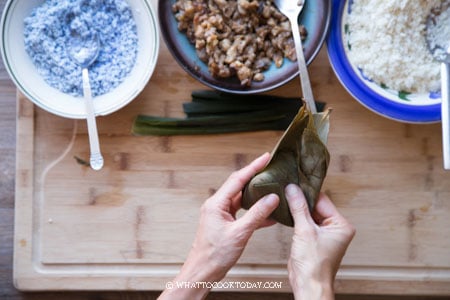 14. Now you have this extra piece on top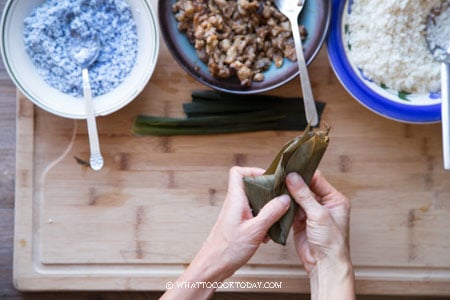 15. Simply fold it down to either one of the side


16. There you have it


17. Tie with a kitchen twine or bamboo strings to secure it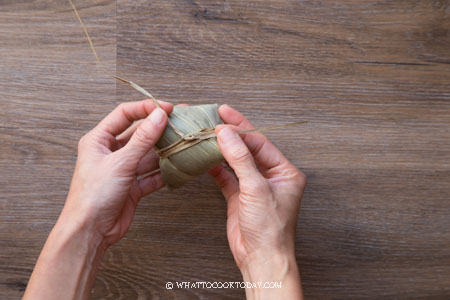 It ain't that bad, is it? LOL! It really isn't that bad! I promise. It took me many rounds to get comfortable with it too when I did this last year. This year I'm definitely better at it.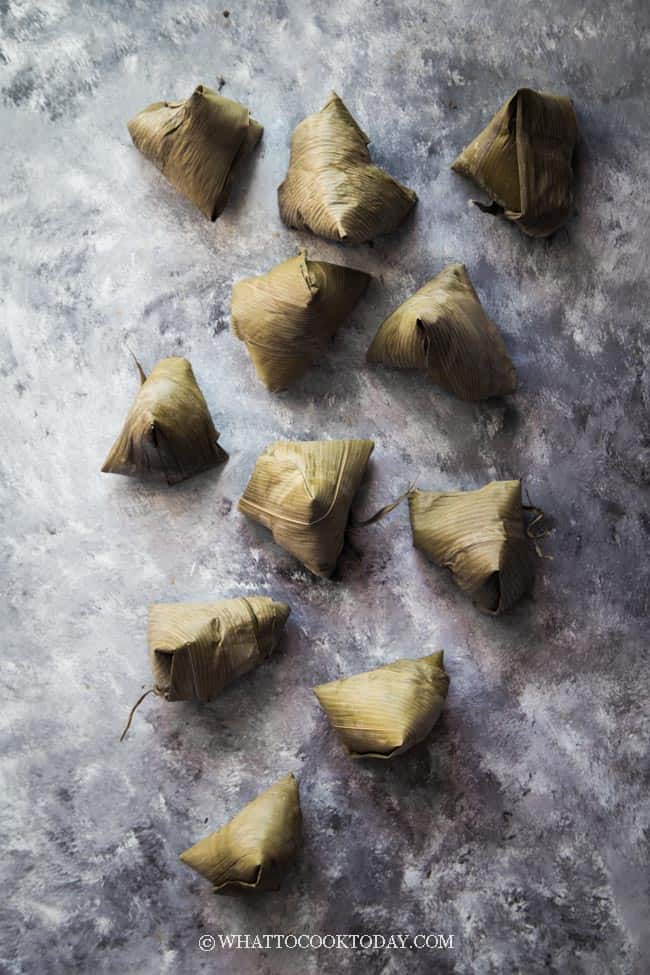 HOW TO STORE AND REHEAT LEFTOVER NYONYA CHANG
Storing:I recommend to store them in the fridge after they have cooled down completely the next day. You can keep them in the fridge for 5 days. If you plan to store it longer, freeze them and they can be kept for 3 months
Reheating: They can be reheated without thawing by steaming over high heat for 10 minutes.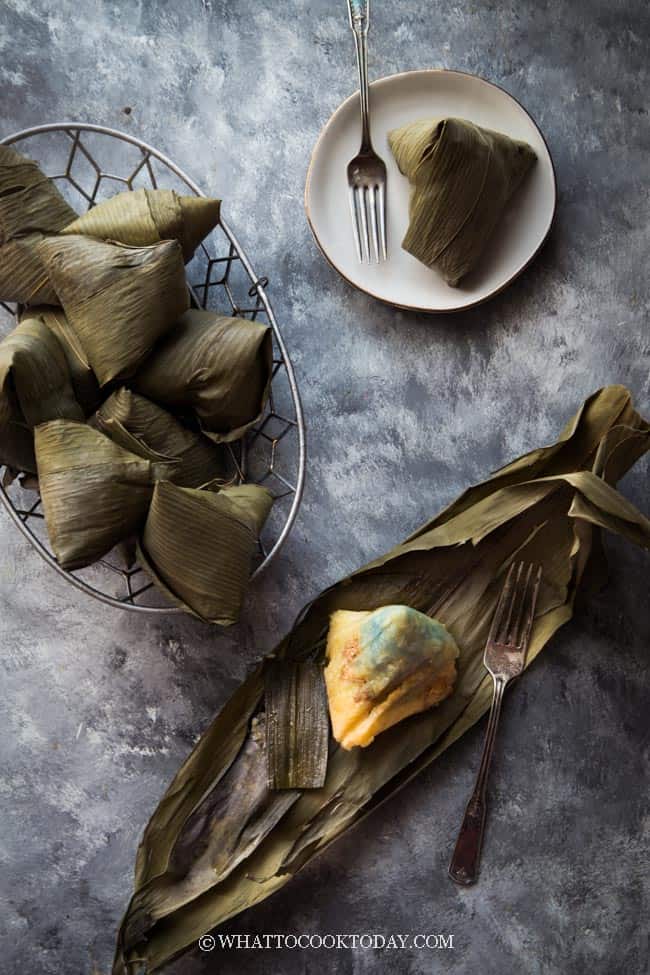 Nyonya Chang Glutinous Rice Dumplings (Nyonya Zongzi)
Ingredients
Instructions
Things to prepare the day before:
Soak the dried bamboo leaves in water until they are soft

Soak 400 gr of glutinous rice in water and then 100 gr of glutinous rice in blue pea flower juice for 8 hours or overnight
Cook the filling:
Soak mushrooms in hot water until they are soft and plump. Cut into little pieces. Cut the candied winter melon into small pieces

Preheat a large skillet or wok. Add cooking oil. Add shallots and garlic and stir fry until fragrant, about 1 minute. Add kencur and coriander powder and stir fry for another minute. Add the pork. Continue to stir fry until the pork turns color. Add mushrooms, seasonings, and candied winter melon. Stir to mix everything. The final taste should be sweeter than savory. Add more sugar if needed. Adjust the taste to your liking. Let it cool down and then cover and store in the refrigerator until the next day
On the day you plan to wrap the dumplings:
Drain off the water from soaking the bamboo leaves. Give the leaves a quick rinse of water and they are ready to be used

Drain off soaking water from the glutinous rice
How to wrap the zongzi:
Get the blue rice, pork filling, glutinous rice, and bamboo leaves, and kitchen strings/twine to your work station

Use two bamboo leaves and place one on top of the other, I kinda slightly overlap them a bit to give a bit more space. The smooth side should face you

Fold into a cone shape. Place one small piece of pandan leaf on the side of the cone (I actually forgot in the video LOL). Fill it up with about 1 Tbsp of blue rice and use the back of the spoon to pack it in and slightly create an indentation in the middle. Add the filling, about 2-3 scoops, depends on how big your leaves are. Top with white glutinous rice. Use the back of the spoon to pack it down, leaving about 1/4-inch from the top

There are many ways to wrap zongzi, you can use whichever way you are comfortable with. Fold one side down. Fold the opposite site down. Most people don't fold the two sides and go straight to folding the top part down (as shown in the next step). But I feel like this helps me to wrap "neater" and shows the triangle shape better

Fold the top part down. Fold in both sides. You'll have this extra piece on top now. Simply fold it down to either one of the sideTie with a string. Repeat with the rest of the filling and rice
Cooking with Instant Pot pressure cooker:
Place the zong zi in the inner pot of instant pot. I can cook 12 zongzi in my 6-quart instant pot. Fill up with water to make sure it covers the zongzi

Cover the lid. Turn the steam release valve to seal. Press "pressure cooker" and make sure it's on "high pressure". Set the timer to 50 minutes. I think I could get away with 45 minutes, but 50 minutes give me a good result. Wait 5 minutes and then fully release pressure

Carefully open the lid and use a tong to gently remove the zongzi from the pot to a cooling rack. Let the water drips down. The zongzi will still be soft to touch. I recommend waiting 24 hours before eating them
Boiling on the stove:
Bring water to a boil and add a pinch of salt. Add the nyonya chang in and bring back to a boil and then lower heat to medium, cover with a lid and let it boil for the next 2 1/2 to 3 hours or until they are cooked through
Test for doneness:
Remove one of the chang and carefully open the leaves. If the rice doesn't stick to the leaves and fall apart when you open it, the chang is ready. Get the rest out from the pot

Carefully use a tong to gently remove the zongzi from the pot to a cooling rack to let it cool down for 24 hours before eating them. They will still be soft to touch, but will firm up once they are cooled down completely
Recommended products: